Men, this one is aimed at you. Being on the water, we get a double hit from harmful UV rays so remember to protect your skin to prevent and avoid skin cancer. Scroll down for the survey.
**Press Release: Lifejacket Skin Protection
The boom in SUP boarding hasn't been met with an increase in people, specifically men, in protecting their skin when outside. SUP boarders get a double hit of rays – from both the sun above and from below when the rays bounce off the water. And this is all year-round, not just when it's sunny. The UVA rays that barrage us – even when it's overcast – are known as the silent killer. It's the UVB rays that burn us in sunny weather.
Plus, the situation is getting worse.
UK men are almost twice as likely to die of skin cancer than women.Male skin cancer cases have exploded over the past 20 years and they are forecast to double over the next 20. It's down to the simple fact that not enough men check their skin or protect it when outside – and if they do, they don't do it year-round. 
Only half of UK men (51%) consider using skin protection when it's sunny, ignoring the majority of the year when their skin is still being damaged, even when it's overcast.
Generally speaking, Men are also poor at checking or observing changes in their skin and doing anything about it. This can lead to diagnoses that are often too late.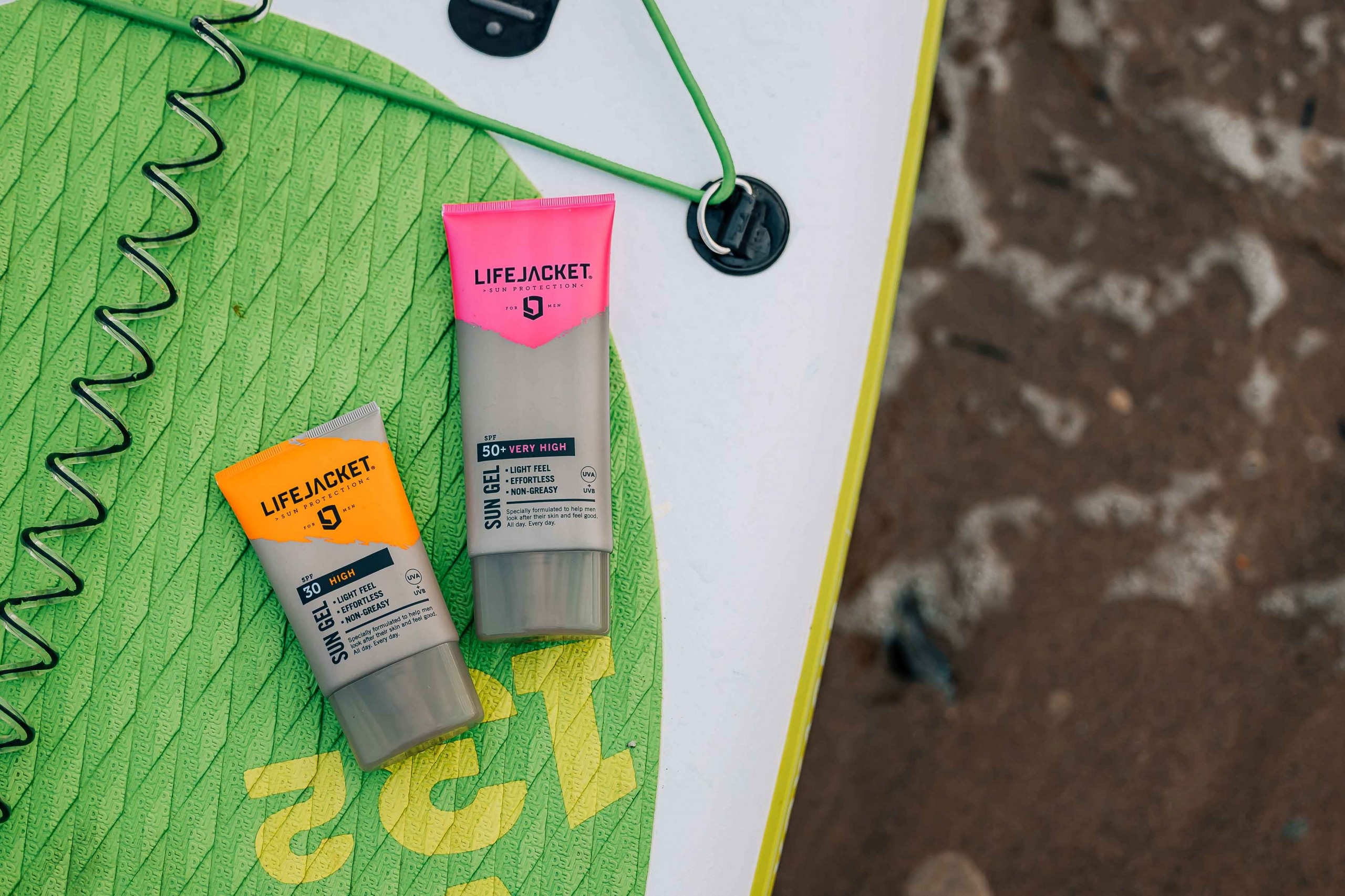 "Yet only 3% of the male UK population use a daily SPF moisturiser. "
Skin cancer (non-melanoma and melanoma) is the fourth most prevalent form of cancer.

The sun's ultraviolet rays are responsible for 80% of the damage to your skin all year-round. Skin damage includes everything from premature ageing, wrinkles, age spots and sensitivity, all the way to skin cancer. 90% of melanomas are caused by excessive sun exposure. 
The female market is well-served, with daily moisturisers incorporating SPF protection and make-up or foundation with embedded skin protection. Yet only 3% of the male UK population use a daily SPF moisturiser. 
In 2020 LifeJacket conducted original research with over 5400 men and women to understand why male skin cancer figures are so shockingly high. The research revealed:
• Women are over twice as likely as men to think about UV protection all year round, every day
• 70% of men avoid using sun protection because they find existing products on the market too greasy, thick, heavy, fragranced or aimed at women
• 90% of men use a moisturiser daily or on occasion BUT only 3% use an SPF moisturiser every day
• 93% of women surveyed worry about men in their life when it comes to skin protection
• 89% of men said they would be more inclined to use sun protection products made for them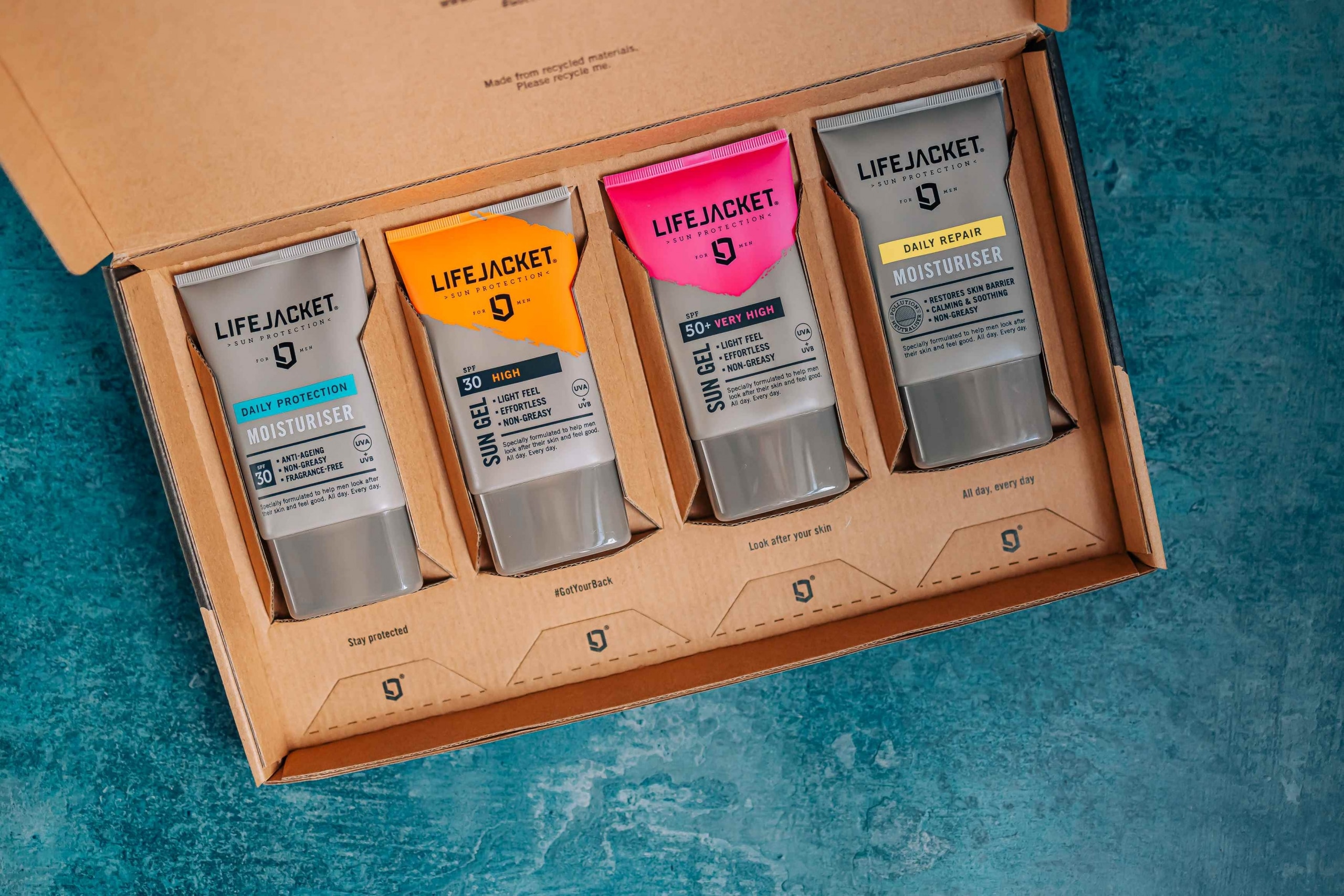 Billy, Jono and Rob were three healthy young men who thought they were indestructible. Then their lives were affected by cancer. Specifically, in four of their healthy and fit male friends of the same age, including Jono.
Sitting in hospitals with some of these friends while they had chemotherapy, watching the effects of the disease on them, they realised that cancer could happen to any man of any age. They wanted to do something about it. So they designed LifeJacket; a product range specifically for active men who want high-performance skin protection.
LifeJacket's skincare range is lightweight, water-resistant, reef-safe, cruelty free and non-greasy – all without compromising on safety, protection and performance. The products were designed by a team of experts and clinically and dermatologically tested in UK labs for a three-year period before being launched.
"You invest in your SUP board, now it's time to invest in your skin health."
Manufactured in the UK using state-of-the-art ingredient technology, the skincare products include daily moisturisers and two SPF Sun Gels, as well as convenient sachet packs. LifeJacket takes holistic skin protection seriously and also offers a range of high-quality UPF 50+ clothing to combat the fact that a white cotton t-shirt only offers the sunscreen equivalent of SPF 5.
LifeJacket co-founder Jono Sumner says: "You invest in your SUP board, now it's time to invest in your skin health. And just like your board, LifeJacket is engineered to perform. It should be a kit bag essential."
Find Lifejacket on Instagram
How do you use Sunscreen when paddling?