Stand Up To Cystic Fibrosis (SUP2CF) announces its inaugural fundraiser for June 2020. Join the wave of difference on a 30-nautical mile paddle from Weymouth to Bournemouth, UK. Find out more about this upcoming SUP challenge below...
On Saturday 6th June 2020, up to 100 stand up paddle boarders will SUP 30 miles from Weymouth to Bournemouth in aid of the Cystic Fibrosis Trust, to help raise funds for research into a life-saving treatment for this life-limiting genetic condition. The event is being organised by Laura and Kevin Barrett, a former professional rugby player and now strength and conditioning coach at Saracens, who have an 18-month-old son living with cystic fibrosis.
"After a torrid start to life in Great Ormond Street Hospital, our third son Bailey was diagnosed with cystic fibrosis. Lost as to how to help, we decided we would ask friends to sponsor us to SUP from Weymouth to Bournemouth, a place we had both spent our childhood summers and is now our second home. But it didn't feel enough. To create a wave of difference there needed to be a sea of paddle boarders with us and so the journey of SUP2CF began."
The 4:00am launch on 6th June 2020 will be marked by releasing 65 roses into the ocean for the many young children who pronounce their condition as 'sixty-five roses', a term now trademarked by the CF Trust, and will represent those lost and those living in hope.
SUPers will travel along the south coast taking in views of the stunning Jurassic Coastline, passing iconic landmarks such as Durdle Door, Lulworth Cove and Old Harry Rocks before being welcomed back to Bournemouth Beach.
The challenge is expected to take up to 8-10 hours to complete with a target of raising £20,000 for the Cystic Fibrosis Trust, the only UK-wide charity dedicated to fighting for a life unlimited for everyone affected by cystic fibrosis.
Though the risk of passing bugs to each other means that two people with CF can't meet face to face, SUP2CF is welcoming people with cystic fibrosis and working closely with the CF Trust to implement safety measures and let CF Warriors support one another.
"Bailey is the youngest of three brothers, a trio that are strong, active and outdoor loving. Together the Barrett boys are a force to be reckoned with. This fundraiser is to ensure Harry and Mylo don't mourn the premature loss of their brother, and that this fearless threesome grow old together. Through the powers of social media we are edging our way towards maximum capacity, but there are still spaces available to join and other ways to support the event," said Laura.
"We are determined it will be the first of many annual SUP2CF challenges and have already seen great take-up amongst the CF and SUP community, including sponsorship from local businesses The SUP Store, RNLI who are providing boat support and safety officers, and renowned photographer, Wave Slider."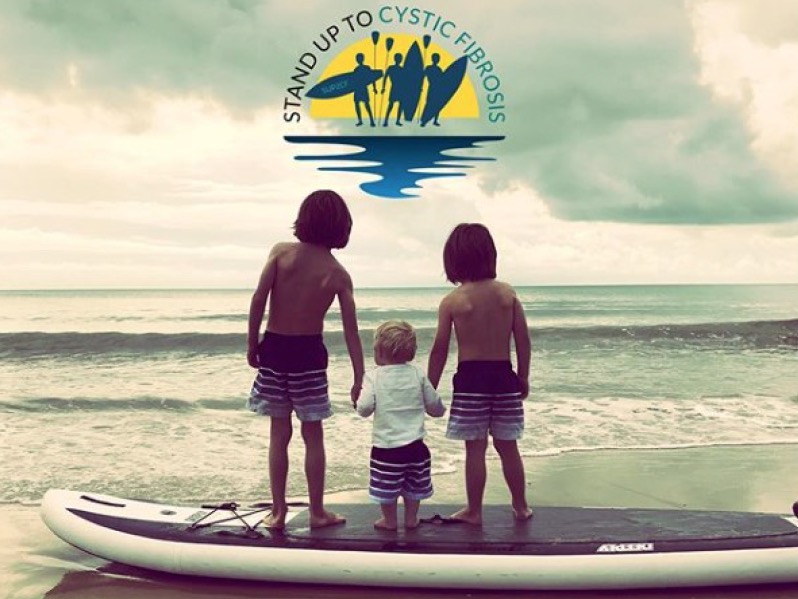 How to become part of the SUP2CF Wave of Difference
Sign up to join the challenge at www.sup2cf.co.uk. An entry fee of £100 covers the cost of this non-profit event and includes training support and advice. Please note spaces are limited.
Sponsor participants on our team fundraising page. All participants have their own Just Giving page, under a collective Team SUP2CF Just Giving page for an accumulative total.
A local business or brand? Sponsor the cause by contacting sup2cf@yahoo.com.
– Cystic fibrosis (CF) is a genetic condition affecting more than 10,500 people in the UK. You are born with CF and cannot catch it later in life, but one in 25 of us carries the faulty gene that causes it, usually without knowing.
– The gene affected by CF controls the movement of salt and water in and out of cells. People with cystic fibrosis experience a build-up of thick sticky mucus in the lungs, digestive system and other organs, causing a wide range of challenging symptoms affecting the entire body.
– People with cystic fibrosis often look perfectly healthy. But it's a lifelong challenge involving a vast daily intake of drugs, time-consuming physiotherapy and the worry that the condition can critically escalate very quickly.
– Despite recent breakthroughs in medicine including the announcement of a wonder drug this month, there is still no cure for Cystic Fibrosis.
– The CF Trust is a non-profit organisation, visit www.cysticfibrosis.org.uk to find out more about cystic fibrosis and the work of the Trust.
Words by : Laura Barrett (Founder of SUP2CF)