On the 28th-29th Sept the IrishSUP Surf Classic 2019 took place on the beautiful Achill Island in Co. Mayo, Ireland. Great conditions this year allowed for some good competiton, as well as the usual fun and laughs on and off the water! Paul Bryne from IrishSUP gives a recap of the event...
Last weekend saw the 7th edition of this epic SUP Surf Contest take place on Achill Island in Co Mayo. The re-run of the event was held as part of Irelands biggest Water Sports Music Festival called Battle for the Lake. This SUP Surf contest has become the highlight of the calendar in not only Ireland but also the UK.
Achill Island can be very fickle with forecasts but we scored GOLD…! After a stormy Friday with big swell and strong winds, Saturday settled down and provided good swell and plenty of waves. The winds had dropped a lot but were still onshore, however the last 2 hours of competition, when we got to the finals, had a glass off with no wind and perfect 3-4 ft waves. This allowed the competitors to really show their skills.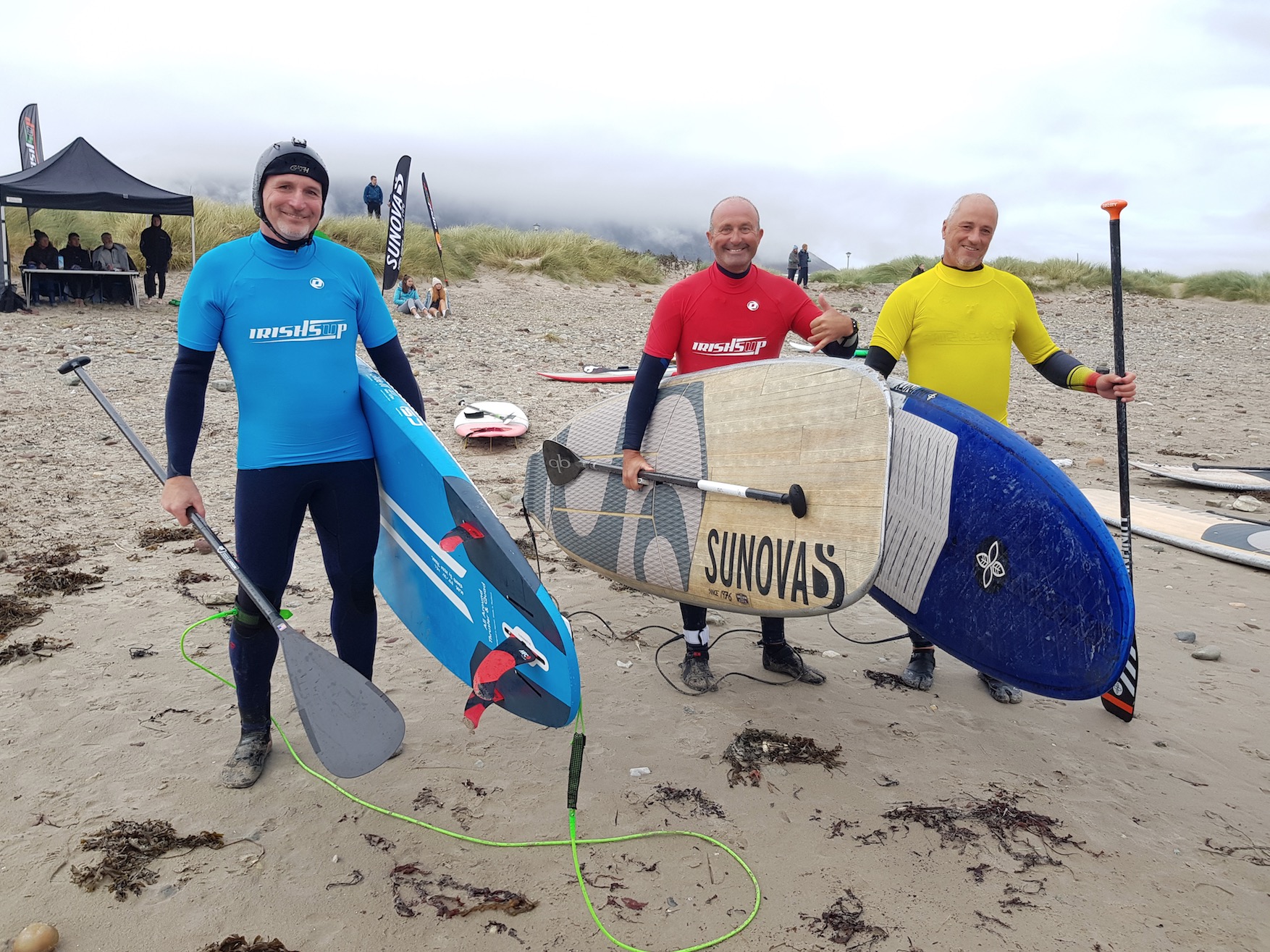 The event had 5 categories. We had 29 individuals enter and each was allowed to choose 2 of the 5 categories to compete in. We had all our regular crew and a few new faces join us from all over Ireland, and a few over from the UK.
Entries were down slightly on last years, possibly due to the first attempt at running the event back in April getting hammered by a big Atlantic storm. Never the less the heats were very competitive with some big upsets and others displaying great form.
On the Saturday afternoon we ran through the first rounds of all categories right through to semi-finals. It was evident from the get go that the standard was higher than previous years especially in the ladies and first timers' sections. The wind died in the evening and the surf glassed off and we would have been foolish to leave the beach and not run off our finals. This allowed all involved to fully embrace and enjoy the festival activities back over at the late Saturday night. There was a great selection of foods to savour and various live acts to entertain us into the early hours.
The First Timers was the first final to take place. This was dominated by Kevin Pierce, who slashed wave after wave on his Hypernut. Aaron Melvin also came to his first competition and surfed like a guy who had years of experience under his suit. Awesome to have all these first timers pop their competition cherry.
The Masters Steve Laddiman, Trevor O Rourke, David Mangan, and Tim Leary paddled out next. Our Welsh visitors got to work quickly and demonstrated that they were not just visiting to drink creamy Guinness. They intended on taking home a title. Steve and Tim both racked up big waves counts with a great exhibition of SUP surfing skills. Steve impressed the judges more and took the win.
Up next was the Ladies Final. Sligo girls Mia Hamilton and Nicola McCutcheon did battle, with young Mia displaying super athleticism, but Nicolas silky smooth surfing impressed the judges and gave her the win, in an extremely close battle.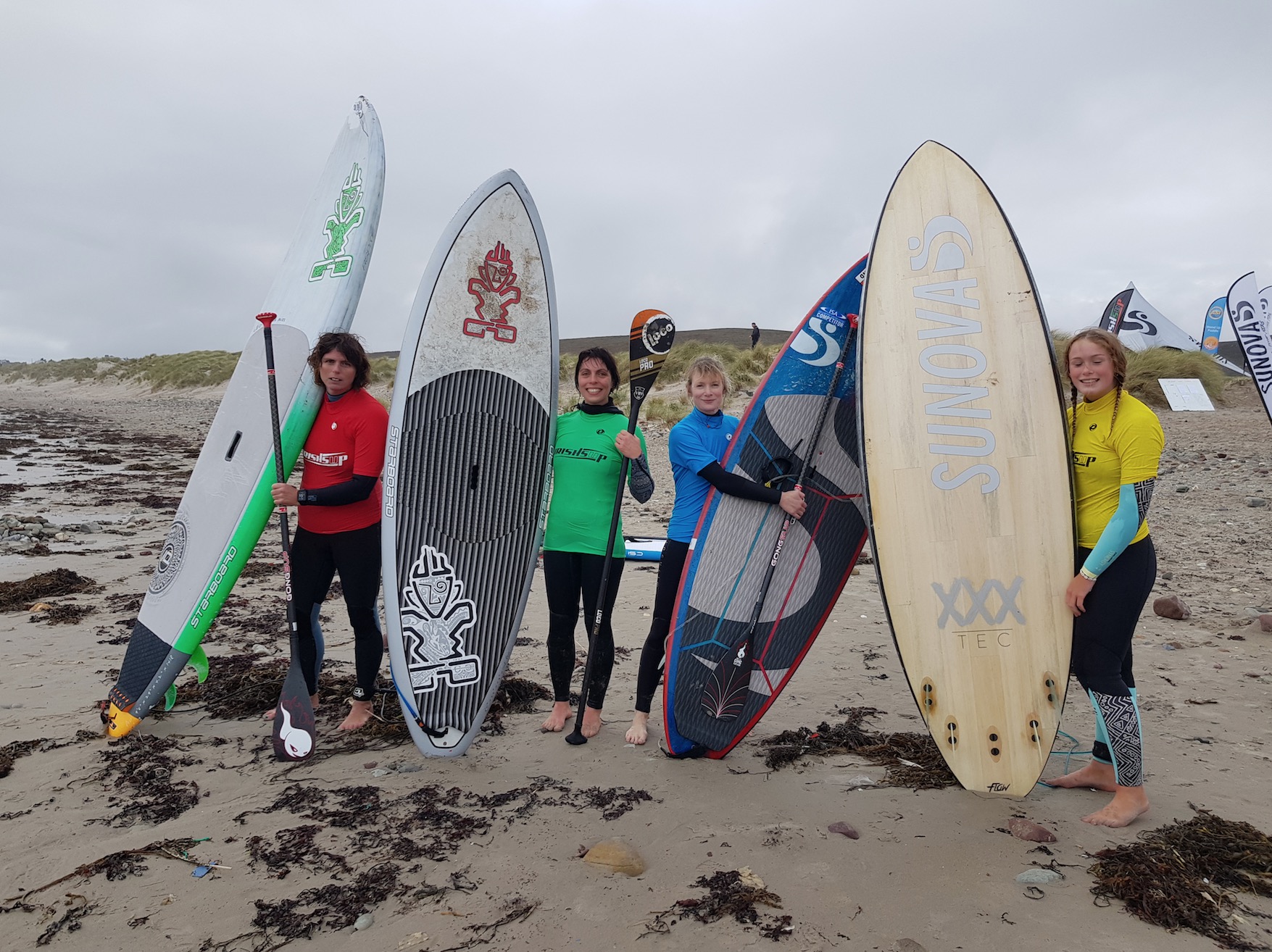 Next up was the Grand Masters. This is a new category and a first for our competition. The 50 years plus surfers were the crew that really epitomise what this competition is all about. Having the craic, participating because they love SUP Surfing and hanging around the beach with like minded people, they were the life and soul of the weekend. Don't let that fool you though the competition on the water was real. Tim Leary took the win here with Samir Naji runner up and John Bedford in Third.
The Open came out for the last final at Keel Beach. Here Daddy Laddiman (Steve) took on the Irish boys in Ross McGarry, Noel Danger, and John Stapleton. In what was an epic battle, the inform Noel Danger did just enough to pip his rivals to come out on top. It was obvious that his week on the West Coast in the run up to this competition had stood him well. Ross took runner up, Steve third and John fourth.   
Sunday's forecast was for the swell to drop off in size, and the winds to go offshore, and that's exactly what happened. Those that didn't have to get away, all got out and had an awesome free surf, there was a beautiful selection of clean glassy peaks to choose from.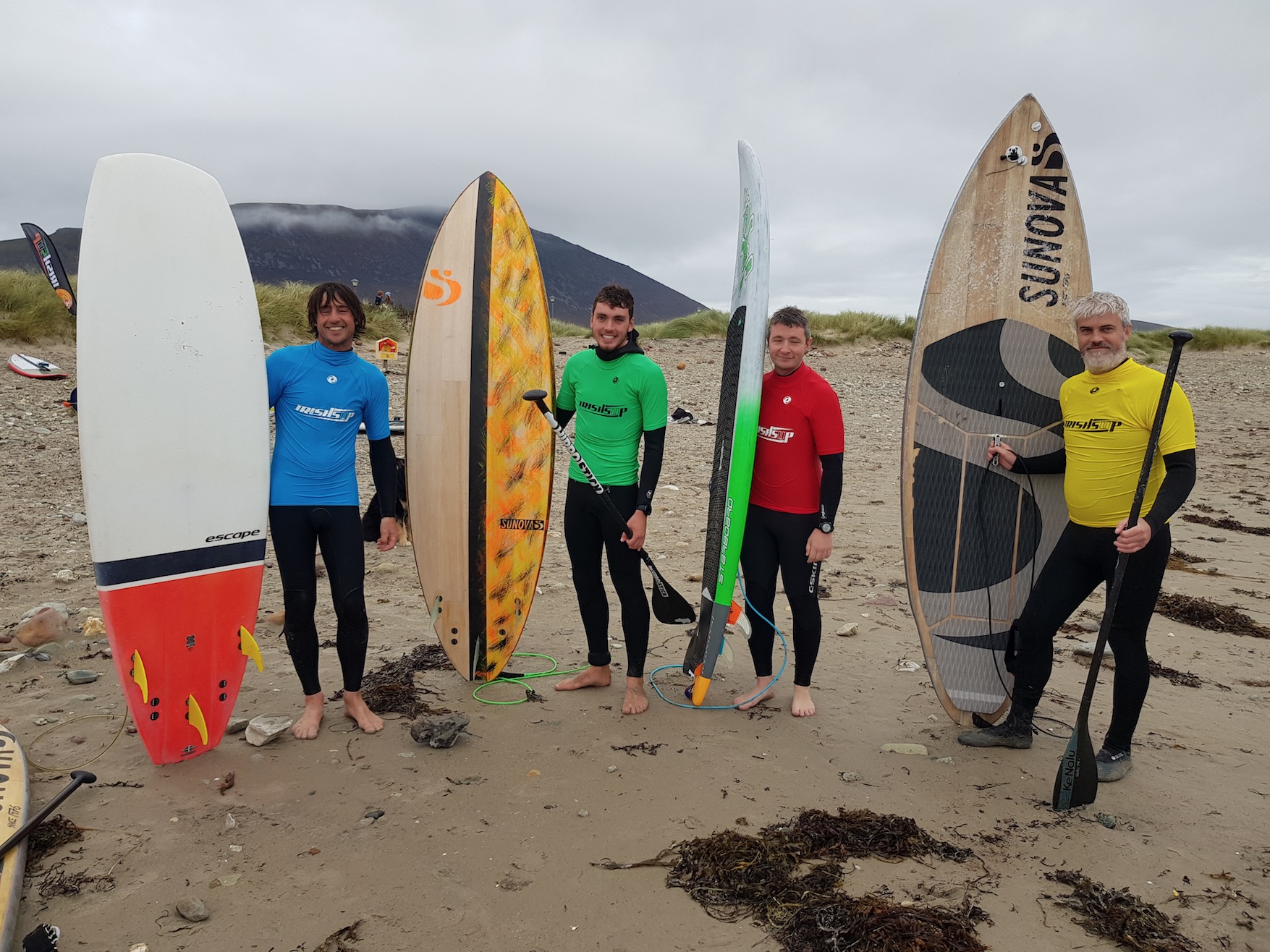 This was another awesome SUP Surf event hosted by Paul at IRISHSUP. A massive THANK YOU to all competitors who attended. New friendships were made and old ones rekindled!!
An event like this would not be possible without the sponsors who year after year are willing to help provide a great selection for prizes for the finalists.
Thank you to…SUNOVA SURFBOARDS, DIRTY DOG EYEWEAR, C-SKINS WETSUITS, SURFEARS, BREEZE SUP CLOTHING, FOUR SPRUNG DUCKS, ACADEMY OF SURFING INSTRUCTORS, BREATH BOARDWEAR, PURE MAGIC KITESURFING, HUKU BOARDS, SUPBOARDER MAG, ANIMAL UK.   
Looking forward to seeing you all again next year…yewww!!!!!!
RESULTS
FIRST TIMERS
1. Kevin Pierce
2. Aaron Melvin
3. Rachael Flynn
4. Sinead Hegarty
MASTERS
1. Steve Laddiman
2. Tim Leary
3. Trevor O Rourke
4. David Mangan
LADIES
1. Nicola McCutcheon
2. Mia Hamilton
3. Linda O Dwyer
4. Rachael Flynn
GRAND MASTER
1. Tim Leary
2. Samir Naji
3. John Bedford
OPEN
1. Noel Smart
2. Ross McGarry
3. Steve Laddiman
4. John Stapleton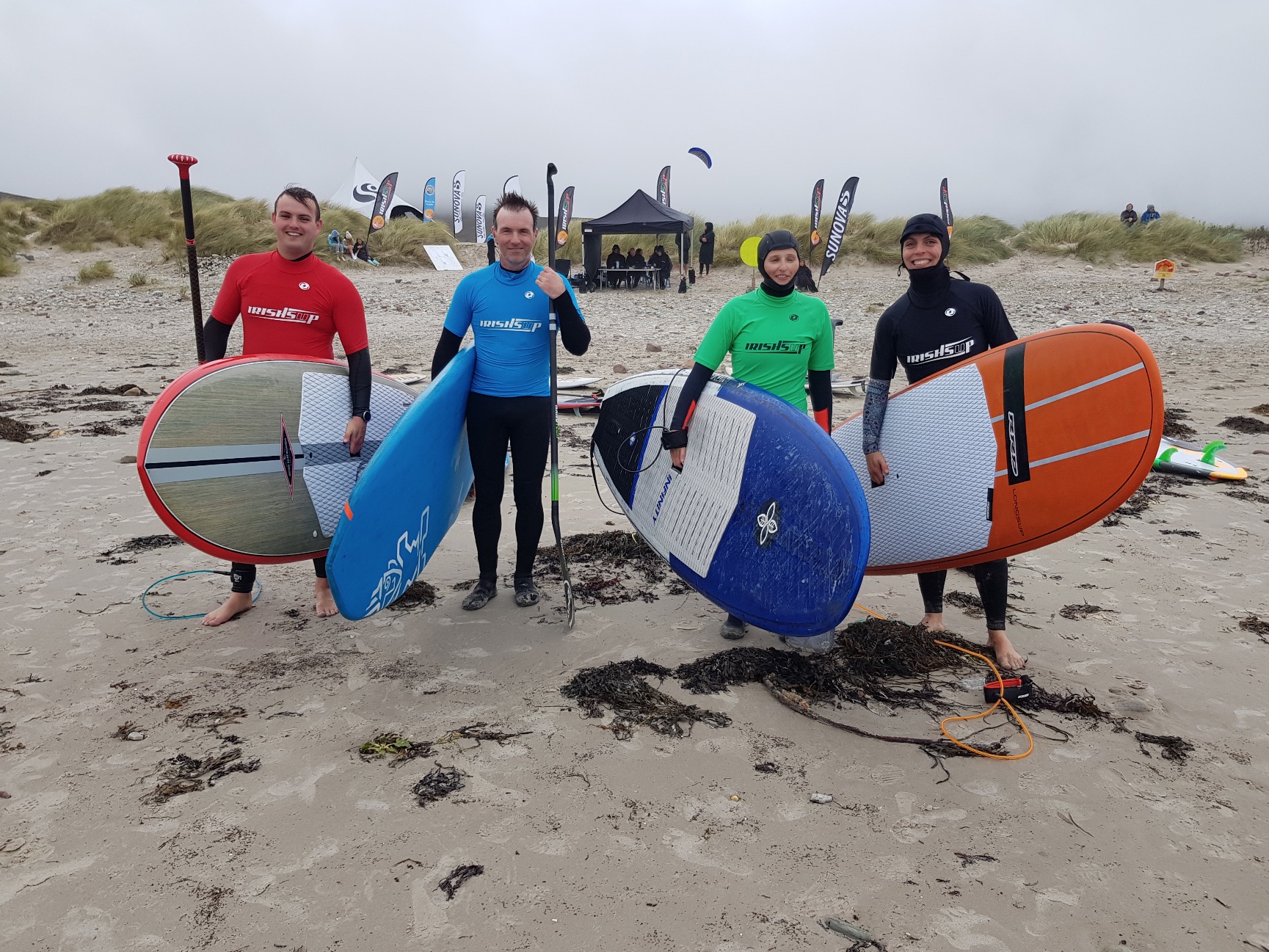 A great fun SUP surfing event for all ages and abilities, with plenty of surfing time guaranteed.