"It was definitely tough, one of the toughest things I've done" says Emma Hepplewhite, 39 yr old, mum of two and owner of Paddlefast based in Central Scotland, who recently completed her first endurance SUP race 'The Norfolk Broads Ultra.' 
The Norfolk Broads Ultra, part of the UK Paddle Endurance Series, is a 70km flat-water paddle challenge on the canals and rivers of the Norfolk Broads. There is the option of completing the challenge in 1 or 2 days (40km day 1 and 30km day 2), solo, as a team or as a relay. And race categories include SUP, canoe, kayak, surfski, OC1 and prone. It typically takes competitors between 8 and 15 hours to complete the race over two days with checkpoints every 10km. Emma was one of 33 paddlers (one of 11 females) competing in the two-day race and completed the 70 km course in an impressive 12 hours 46 minutes 22 seconds. As well as successfully finishing the event in May 2019 Emma raised an impressive £4,200 for two special causes – The Wave Project Scotland and the Forth Valley Chorus.
Emma only decided to take part in the race 5 months prior and with a busy home and work life she knew finding time for training was going to be tough. But despite her longest training paddle being only 24km and it being her first endurance race Emma successfully completed the paddle. Emma faced many challenges along the way, but with her previous paddling experience, good planning and knowledge from talking to others prior to the event it meant she was well prepared.
Emma shares with SUPboarder some of her endurance race experiences and how she overcame the challenges to make it to the finishing line still smiling!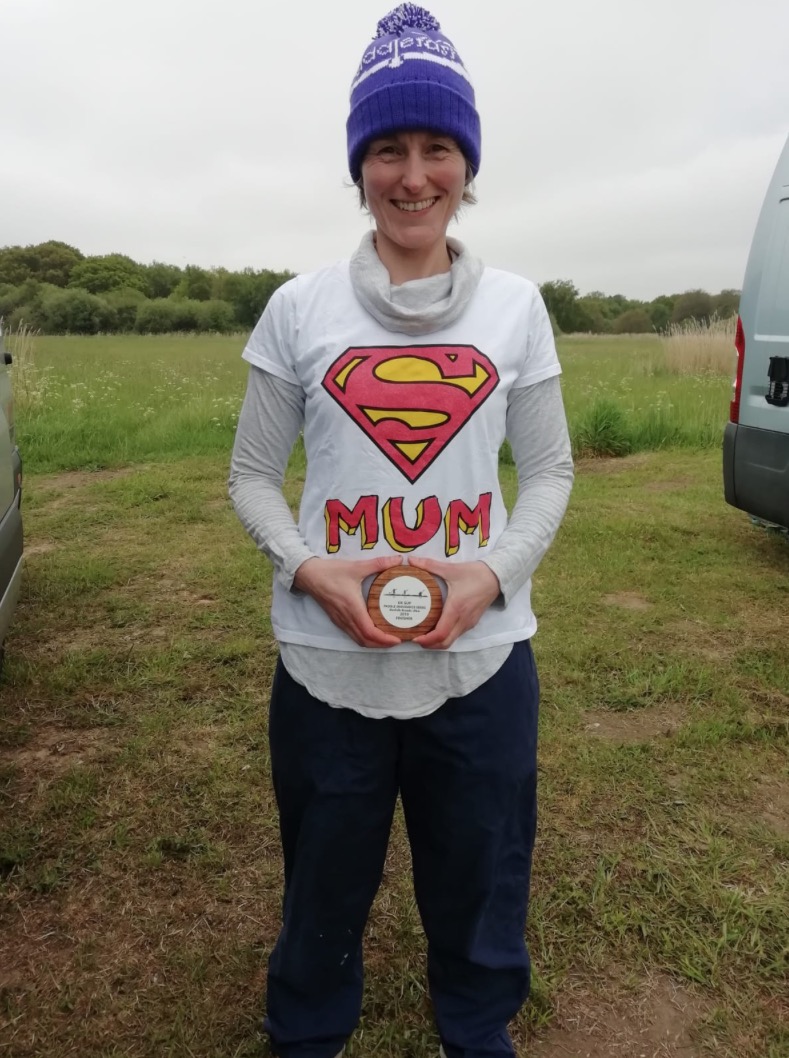 SB/ With such a busy home and work life how did you find the time to train?
EH/ It was difficult! A couple of times I got up at 5:30am to hit the canal at 6am, finish by 8am and be back home, showered and ready for the school run just before 9am! I did this a few times, coupled with 7-10km jogs once or twice a week. I managed a 17km paddle which was the furthest I had ever paddled in one go whilst at a 'no wind' sailing event. After that, I had to miss a couple of choir rehearsals to do 24km paddles (4 hours) but that was the longest training paddle length I managed to do.
I also took part in a distance challenge on Facebook for a few months running up to the event set up by race director Jo Hamilton Vale. You had to log your distances with Strava or similar, then send the details in to the event page. Jo added the distances up and the top male and female paddlers won a prize. Paddlers from across Europe were getting involved and I got quite competitive! It gave me a chance to see what others were up to training-wise having never done anything like this before.
I also signed up with a local PT, David White Running Fitness. David gave me some exercises I could do at home to improve my core and shoulder strength. This included press ups, squats, planks, dumbbell exercises, etc. Boring, but done regularly, it made a huge difference to my upper body strength.
As well as finding the time to train making the 8-hour drive down to Norfolk (and 8 hours back on the Monday) was also a challenge!
SB/ What was your board choice for the event?
EH/ Initially I was training on the Naish One Alana – a 12'6 inflatable. I decided that I needed all the help I could get speedwise to complete the race before the cut off times so upgraded to the Starboard Allstar 14ft race board. Niiiiiiiice.
SB/ Paddling 70km over 2 days must have been tough. How did you stay motivated during the tough times?
EH/ The first day was ok as I spent most of it paddling with one of the prone paddlers – we happened to be paddling around the same pace. The second day was harder as I was on my own for most of it. But I love music and to help me get through the long hours of paddling I had asked friends and family to make suggestions to add to my playlist for the race. I ended up with some 36 hours of music to listen to (and I am so glad I wasn't paddling for that long!)  My biggest treat was putting on the tunes from the halfway point. Apparently when Dolly Parton's 9 to 5 came on, I was off like a rocket!! My amazing playlist got me through some really low points. Highlights included Elton John's 'I'm still standing' and James 'Sit Down'.
My aunt and her friend who lived locally were my shore support throughout the event and they kept popping up in random places along the route which also helped spur me on. One point in particular on day 2, I was really struggling on an upwind and against the tide section. Inside my head I was giving myself a stern talking to – think of the people who have sponsored you, think of the kids, think of the finish line, you will feel amazing when this is done, etc… Then I heard, 'Come on Ems!' and saw my Aunt waving my can of pimms which really helped spur me on to the finishing line! They also treated me to a hot bath at the end of day 1, and a big steak dinner and another hot bath full of Epsom salts at the end of day 2 – bliss.
The camaraderie between the paddlers was also great. Every time you passed one another, you would get a wee whoop or a 'looking good, keep going' or 'the next checkpoint's just around the corner' (I heard that one a lot!) We all cheered each other on.
"My amazing playlist got me through some really low points."
SB/ How did you keep your energy levels up and stay hydrated?
EH/ The message that stuck with me from the race director, Jo Hamilton-Vale, at the briefing was 'if you can eat, you can paddle'. Little and often is key. In training I had a couple of jaffa cakes every half hour, a banana every hour and kept drinking the go juice. There were checkpoints every 10km on day one and at the halfway point (15km in) on day 2. The checkpoints had water, pretzels, bananas (I couldn't eat a banana for 2 weeks after the event!), etc. Keeping salt in your system was important to avoid cramps so I always took a few pretzels with me on the board and tried to munch them before they got too soggy!
I converted my husband's camel pac rucksack for the race, so that the drinking tube was higher up (thanks to a top tip from a fellow long-distance paddler). I used a magnetic clip and a piece of string to secure it in place. It wasn't perfect. If I were to do another endurance event, I would prefer to get a vest hydration pack which has zip pockets on the front for easy access to snacks.
I would definitely recommend practicing the art of paddling while drinking– it's a pain if you have to keep stopping to have a drink. You'd be surprised how difficult it is to breath and drink at the same time as paddling! A couple of sips every 10 mins is probably a good guide. I was drinking a mix of SIS energy and their new endurance Beta powder. I called it my go juice and every time I was about to have a tough, upwind section, I topped up.
"You'd be surprised how difficult it is to breath and drink at the same time as paddling."
SB/ What did you choose to wear?
EH/ I wore a Zhik hydrophobic fleece on the top and Zhik unisex paddle pants. The fleece is brilliant, I have worn it in 20 plus degrees of glorious sunshine and in 10 degrees on a dryish day and not been cold. The paddle pants are neoprene with reinforced material on the knees and bottom which is perfect for the extra wear and tear getting on and off the board. I was also wearing the Zhik ZKG water shoes which are mesh on top so perfectly ventilated and quite thin soles. Admittedly, we sell these items in our shop, but I like to properly road-test everything we sell! Sunglasses and a cap were essential pieces of kit too.
SB/  Were blisters/chaffing a problem paddling that distance? If so how did you deal with it?
EH/ I knew there would be chaffing points so did a couple of 24km practice runs to see where they would appear. Sure enough, it was the drawstring on my paddle pants rubbing on my right hip which caused the biggest problem. Hinging from the hips for 7.5hrs on day one and 6hrs on day 2, I was going to know all about it! Big blister plasters were the answer and I ended up with 2 on my right hip and one on my left hip to combat the drawstring chafe. In terms of blister prevention, I wore 2 different types of glove. The first, a set of neoprene sailing gloves were great at keeping me warm but a pain to then get into my rucksack for food breaks. The second pair were a biking pair and were much thinner – while they were slippy if they got wet, I could still use my phone in its waterproof case with them on. I was able to use my phone in its waterproof case with them which was handy.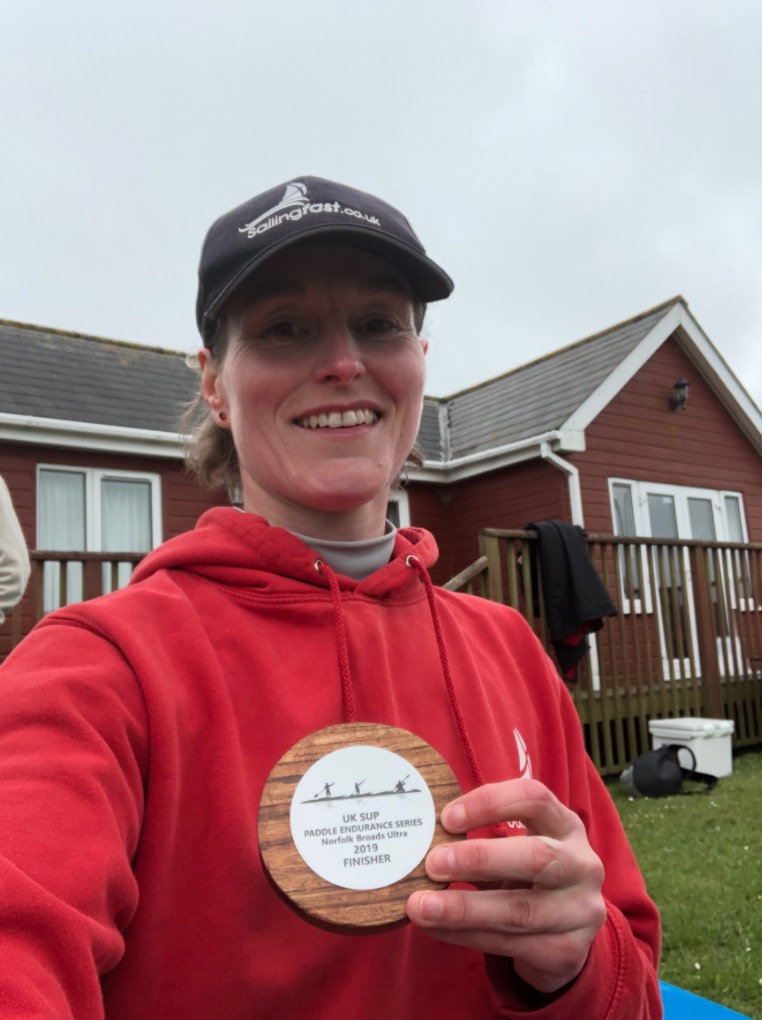 SB/ What made you enter a SUP endurance event?!
EH/ I didn't manage to complete a race in Paris last year and I felt I needed to prove myself by having another go at a race. I wasn't sure that short sprints were for me (although I'm keen to have a go), and the majority of the events are in the deep south. At an endurance event you are not really competing against other paddlers, you are competing against your own mental strength more than anything else, and that appealed to me. My new mantra is… "give it a try – you might surprise yourself!"
The event was really well organised and I'd definitely recommend it to anyone else looking for a new challenge.
Well done Emma. A great achievement. The first but no doubt not the last endurance SUP event you'll complete!
For more information about the Norfolk Broads Ultra and other endurance races check out the UK Paddle Endurance Series website.