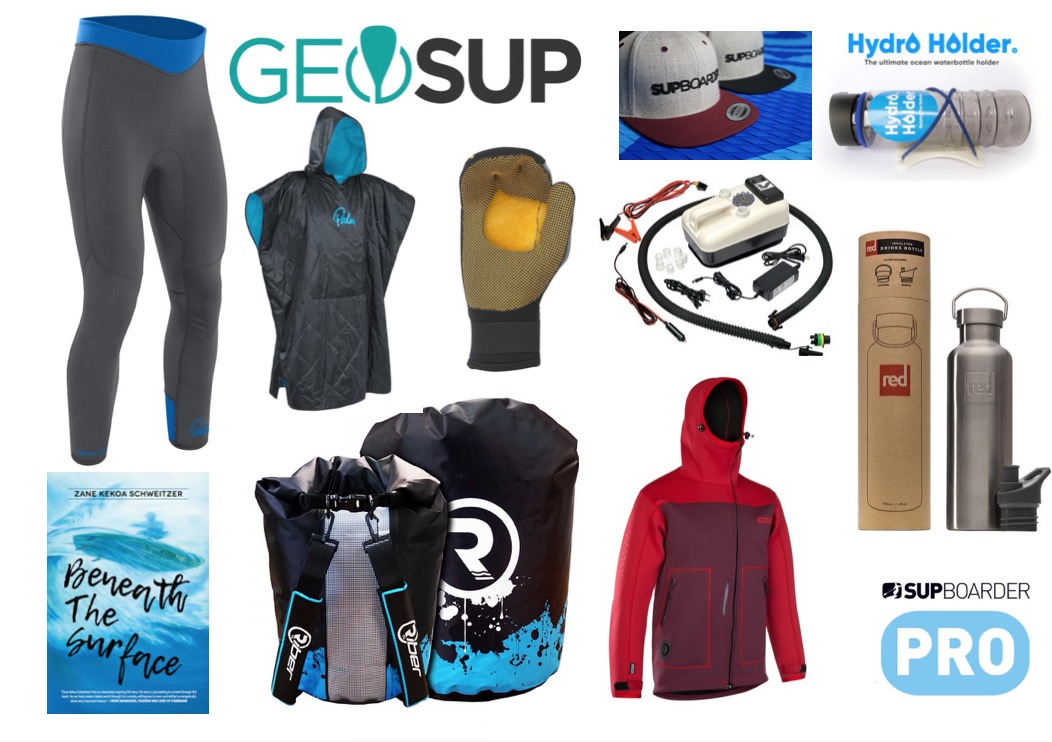 Are you struggling to know what to buy the SUPer in your family? Or do you SUP and want to give some ideas to avoid receiving another pair of boring socks this Christmas?!! Yes a full carbon board would be great to add to the list but if you're looking for something a bit more affordable below are afew ideas to bring a smile to any paddleboarders face this Christmas…
Palmless Mitts  – Open palm mitts which keep your hands warm whilst still allowing you to maintain your paddle grip. Available from Palm, Prolimit, Neil Pryde (£23.95-£28.95)
Hydro Holder – A great little gadget to ensure you stay hydrated on the water and your paddling essentials stay secure. Sticks to any hard, flat surface. Ideal for holding a water bottle, radio, phone etc… (£9.95)
SUP Books – Paddling Britain: 50 best places to explore by SUP, kayak & canoe by Lizzie Carr includes top places to paddle, safety tips, kit suggestions and weather advice. (£14.99) Or Beneath the Surface by Zane Schweitzer. True waterman Zane gives a fascinating inside into his life by sharing stories and telling us what makes him tick. An adventure story and self help book all in one! Available on Amazon (£15)
Palm Neoflex Leggings. Extremely comfortable full length leggings made of thin and ultra stretchy neoprene with a soft thermospan liner. The ideal paddling trousers all year round. Available in mens and womens. The SUPboarder teams go to item of clothing when board testing! Other neoflex products also available from Palm including tops & shorts. (£79.95)
Geo SUP – A mobile app which allows you to track, analyse and record your paddles, share your experiences and follow others, so you can search for great new paddle spots all over the world. An easy way to record your paddles as well as being a great training tool too. Currently available on IOS only however an android version coming soon. (£4.99)
Dry Bag – As a paddleboarder you can never have enough dry bags! Available in all different shapes and sizes. Check out some great dry bags from Riber, Palm, & Aqua Marina, (£11.95+)
Red Original Drinks Bottle. A high quality, super insulated, marine grade stainless steel flask which not only looks good it does a great job too. 24 hrs cold, 12 hrs hot. Red Paddle Original does a wide range of other great SUP accessories including deck bags, quick dry towels, board locks, carry straps, performance tees, cool bags and more… (£25)
Wave Pool Voucher – A ticket for guaranteed waves… what's not to like about that!? Ok you might not get sand between your toes and that salty post surf look but the waves are getting pretty good! Artificial wave pools are being constructed all over the world including Surf Snowdonia in N.Wales, Kelly Slaters surf ranch, NLand Surf Park USA, Siam park Tenerife, Eisbach Munich to name a few. (£30+)
SUPboarder Goodies – Yes you could say we're bias! But we love our new selection of quality SUPboarder Caps which we have available in a choice of colours and designs. (£19.99 – £28.99) Other SUPboarder clothing also available including tees, hoodies and baby grows!   
And for those paddleboarders who just want to know it all, how about a SUPboarder Pro Subscription. The next level of SUPboarder with extended product reviews, additional tuitional videos and features, a limited edition gift, ask the experts and more… (£24.99 a yr or just £2.49 per month.)
Changing Robe –  An essential SUPers accessory to allow you to change with ease and comfort wherever you are and whatever the weather. Available in a range of materials including lightweight micro fleece as well as weatherproof ripstop. From our experience the best ones come with hoods, large hand warming pockets and big arm holes! Check out those from Palm, Red Padddle Co & Robie (£38.99- £120)
Electric iSUP Pump – Don't waste energy pumping, save it for paddling!. Compact, quiet, quick and easy to use the latest upgraded 12v Bravo electric pump allows you and your iSUP to get on the water with minimal effort. Includes an integrated rechargeable 12v DC battery. (£199)
Neoprene Jacket – Designed to get wet and go over a wetsuit. Perfect to put on post surf, during comp heats or to take with you on a longer paddle. Very cosy! Available from Ion in different styles mens & ladies. (£149)
There really are some great SUP accessories out there. No reason not to keep paddling and stoked on SUP all year round! Hope Santa brings you everything you've wished for… including that carbon board!