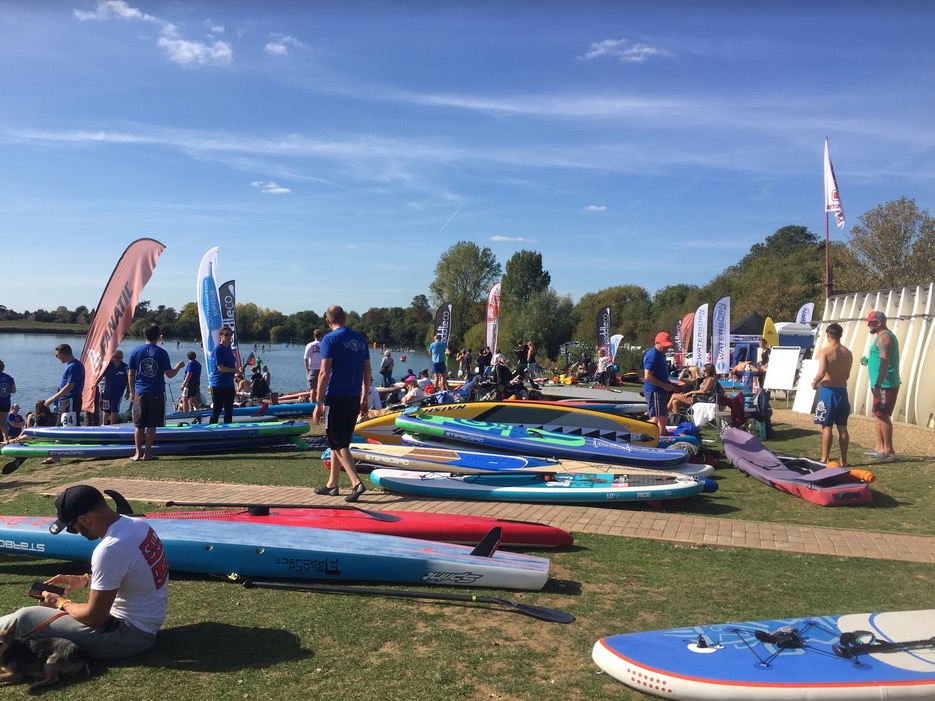 Back in 2013 an idea was formed by Sam Ross (SUP and Windsurf Coach) to create an event to allow SUP clubs to participate together and to cater for novice through to elite paddlers.  With the help of Simon Frost, owner of Bray Lake Watersports, one of the leading centres in the UK, the British SUP Club Championships (BSCC) were formed.  With the explosion of the sport, we have also seen the number of clubs continue to increase.
Fast forward to 2018 and now in its 6th year, this event has grown substantially from the initial 10 clubs and is a firm favourite for everyone.  This year saw 18 SUP Clubs from around the country take part in the event held at Bray Lake Watersports.  With an amazing 225 paddlers, it makes the Club Championships the 2nd biggest SUP event in the UK just behind the Head of the Dart SUP Challenge. 
With the popularity of the sport increasing, the UK has also seen a rise in the number of SUP Clubs forming.  This year saw 7 new clubs attend for the first time – some with only 4 paddlers others with an impressive 18 strong team.  With all places selling out in just over a week, it did mean another 6 clubs missed out this year and sets the scene for a stronger competition in 2019.
The BSCC is a full on fun and action packed day from the start to the finish.  Paddlers enter one of an astonishing 22 categories and take part in either a novice, technical or distance race.  Points are awarded to every paddler taking part and then the top 6 results for a Club are added together along with the results from individual sprints and team events.  The Club with the most points wins – simple! Well maybe not so simple for the organisers as the distance race saw 139 paddlers take to the water!
PJ Simmons (Waterborn SUP, Devon) and Marie Buchanan (Waterborn SUP, Devon) won first overall in the distance.  For the technical race, it was also a clean sweep for Waterborn SUP with brother and sister, Ben Pye and Holly Pye, taking the first overall prizes, with the novice categories being won by:
• Novice 12'6 board – Jonny Anderson (Northern SUP Race Team, Northumberland) and Sadie Atkinson (Juice Boardsports, Yorkshire)
• Novice All Round – Matt McAllan (SUPsect, Essex) and Laura Beatty (SUPSect, Essex)
• Novice Surf Shape – Jamie Ward (Waterborn SUP, Devon)
New for 2018 was the N1SCO One Design category, with Alex from Naish kindly providing a free board to each of the clubs to use on the day.  Organisers added this category in recognition of the popularity of the Naish Series and the fact some clubs are 100% N1SCO One Design.
Full results can be found here: Technical and Distance
As part of the competition, Clubs takes part in a series of team events including a team relay and Dragon racing. With help of sponsors Red Paddle Co, the event put on the biggest Dragon race in the UK with 3 heats of 6 Dragons and the top two from each going through to the final.  This year's race was won by Bay SUP (Bournemouth) with Waterborn SUP (Devon) in 2nd place and Northern SUP Race Team (Northumberland) in 3rd place.
Championship Results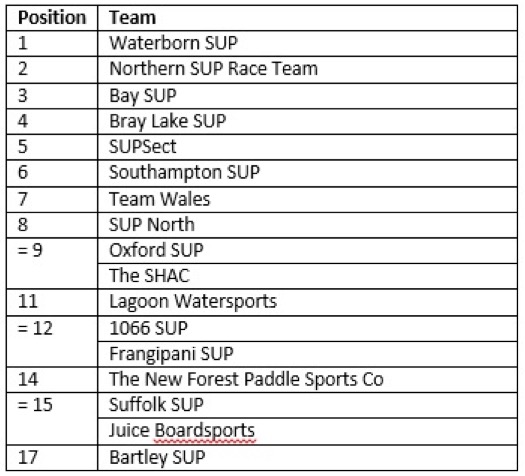 Why should a SUP Club look to attend this event?  Well Paul Simmons, Starboard UK Brand Manager sums it up nicely "Any event that brings together large numbers of keen paddlers from across the country deserves our support. The Clubs' Championships is an amazing spectacle that entertains and inspires with paddlers of all ages, from novice through to elite battling it out on the water in their various fleets. Always one of the first events to firmly book into the calendar!"
With the launch of the GB SUP National Series this year (5 SUP races and challenges around the UK), the challenge is now to encourage the large novice fleet to progress and participate in other events. With a growing event list for paddlers from the UK and abroad to attend, the UK race is scene is definitely one to watch!  For those, further afield you can now keep up to date via Sup Junkie's newly created Youtube channel.
A massive thank you has to go out to the fantastic team at Bray Lake Watersports, who once again pulled out all the stops to put on such an amazing event. The amount of work that goes into running an event of this scale should not be under estimated.  
"As the concept of Island SUP was beginning to emerge on Barry Island, Wales the fab British SUP Club Championships went live with the 2018 event. We collaborated with SUP South Wales Paddle Board Club for the event and became Team Wales.  As new clubs to the event each and everyone one of us had an amazing day taking part in all of the activities laid on. Highlights were the dragon board racing and the secret 3rd event which involved 4 people from each club using a selection of different boards to complete a relay. 1 N1SCO, 1 Red Paddle Co 10'6" and a dragon board. It was all about the dragon step back turn. Safe to say we nearly nailed it. 🙂 Thank you for a fabulous day. We are already looking forward to 2019." Team Wales Captain – Kerry Baker
"Hats off to the organisers and all at Bray Lake – what a superb day. Fantastic atmosphere and so much fun. Thanks to all involved. Team Wales had a blast." – Team Wales
"Amazing day thanks to the team at Bray Lake for brilliant, smooth running organising of the day. It was fast flowing from one race to the next made the day a brilliant one. Well done." – Oxford SUP Captain Andrew Tee.
"Massive thanks from all of us at #oxfordsupclub we had an amazing day. It was our first ever event as a club, and out of our 16 paddlers, the first time racing for 14 of us! Such a brilliant event, friendly and welcoming the atmosphere was epic. Thanks to everyone who helped to organise the event and make it so much fun. Cheers." – Andrew 😁 from Oxford SUP Club
"Red Paddle Co are proud to support the British SUP Club Championships. It's a superb event which sees paddlers from all over Great Britain, of all levels of experience and a huge range of ages, including a very strong Junior fleet, competing in a fun-packed program of paddle boarding events." – Lucy Pearce, Red Paddle Co Northern Sales Rep
"Fanatic UK loves supporting British SUP Club Champs as it is a great event that brings the club community together for some fun races and it is always a fun day for whole family for all ages.  Get involved with a local Sup club in your area and get to meet other clubs across UK and pros too newbies super fun day." – Jay Manning, Fanatic SUP UK Rep
"It was really logical for us to be involved with the British SUP Club Championships since it really is an event which reflects what is happening around the country with SUP racing. With the inclusion of the One Design N1SCO class I feel the days racing offers those new to racing a chance to see and experience the diversity of race disciplines available in this UK. Whether this is cutting edge Carbon 14's, One Design or Multi boards it is all there and happening together which is really cool. The packed schedule on the day really gives a great spectacle for clubs to get stuck in to and we loved the feel when we attended last year." – Alex Tobutt, Naish UK Brand Manager
Participating Clubs:
• 1066 SUP – Hastings
• BaySUP – Bournemouth
• Bartley SUP – Birmingham
• Bray Lake – Berkshire
• Frangipani SUP – Essex
• SUPSect – Essex
• Lagoon Watersports
• The SHAC – Surry Hills Adventure Company
• SUP North – Southport
• Team Wales – made up of Island SUP and SUP South Wales Paddle Boarding Club
• Northern SUP Racing Team – 
• Oxford SUP – Oxford
• Waterborn – Devon
• Juice Boardsports – Yorkshire
• Southampton SUP – Southampton
• The New Forest Paddle Sports Company – New Forest
• Suffolk SUP – Suffolk
For more information and videos about the British SUP Club Championships check out their facebook page. 
Words by : Fiona (British SUP Club Championships Team)