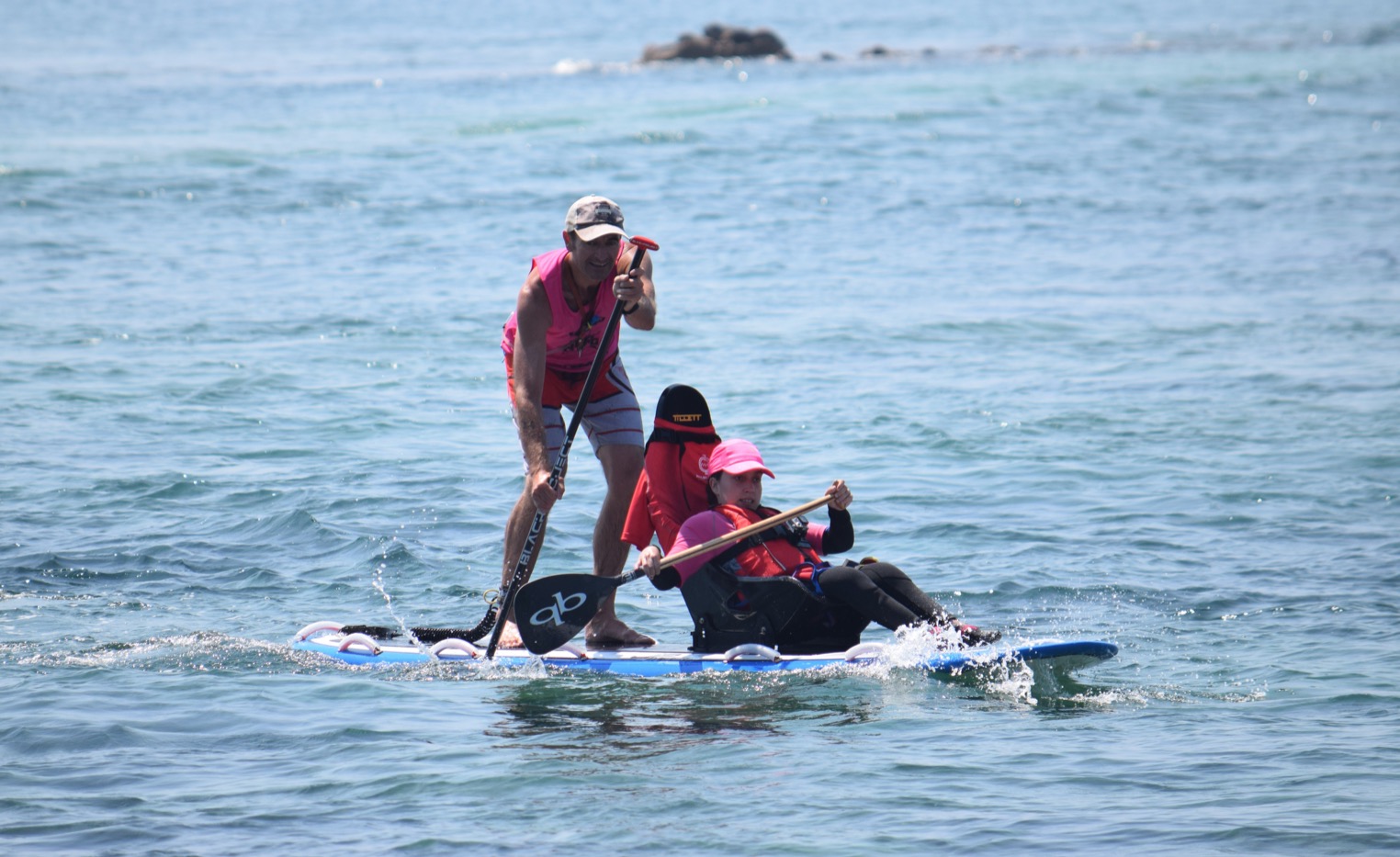 The smiles say it all! Last weekend endurance adventure paddler Andre Le Geyt and his paddling partner Melissa Alves showed how with a bit of team work and the right kit the sea and SUP really is accessible to everyone. Taking part in the El Tico Heritage Race in Jersey, Andre and Melissa (Team MelAndro!) not only successfully completed the 5 mile challenge they also raised an impressive £817.51 for Healing Waves Ocean Therapy, a charity close to both of their hearts. Andre tells us why he was simply stoked to cross the finishing line at home in Jersey …
Epic! The word I can use to express my feeling after completing the El Tico Heritage Race here in Jersey on Saturday with Melissa Alves on an adaptive surf board, made by JP Surf Boards and designed with Surfability UK.
I volunteer with Healing Waves Ocean Therapy, a Non-Profit Organisation in Jersey Channel Islands. Healing Waves enable individuals with physical, neurological & mental health conditions to access the ocean in a safe way, so they can experience it's therapeutic benefits.
A few weeks ago Melissa had a surf session with the Healing Waves team, and I suggested that the Heritage Race would be a fantastic event for Melissa and I to take part in together… so we did! 
The Heritage Race is a 5 mile endurance course, passing through the Corbiere Lighthouse causeway. With 5 categories – Out Riggers, Racing Skiis, Rescue Board, Longboard, Kayak and SUP. 
"We completed the race in 1 hour and 9 minutes, and we are simply stoked!"
May many more people with all levels of ability be inspired by Melissa.
Here's what Melissa has to say about Healing Waves Ocean Therapy:
"Words can't even describe the amazing things you all do as a team. I wish I could give you 100+ stars, it still wouldn't be enough. Thank you for one of the best mornings I have ever had. Growing up I have always been obsessed with the ocean/waves/beach and everything it has to offer. Being able to now say that I went surfing with amazing people that I am so proud to have met is the best thing! Thank you healing waves." – Melissa Alves (Healing Waves Ocean Therapy Facebook Page)

To find out more about the great opportunities Healing Waves Ocean Therapy has to offer and how you can get involved check out their website and facebook page. 
The sea is everyones playground. Get out there and enjoy it!