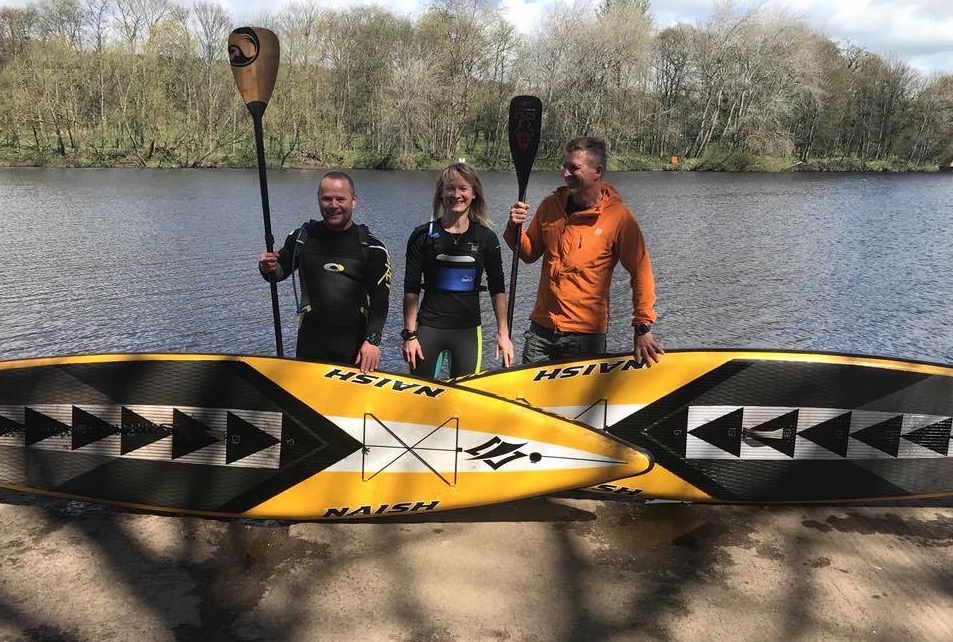 Sport was elite ironman athlete Bruce Smith's life. But when a debilitating injury robbed him of being able to run, he found himself at rock bottom. Stand up paddleboarding became the 44-year-old's salvation, paving the way not only for a great sporting comeback, but, he says, saving his life as well. 
Training and competing in ironman contests and 100-mile plus ultra marathons had steered Bruce from a toxic cocktail of excessive drinking and smoking as he battled with Post Traumatic Stress Disorder. Crippled with low self-esteem and anxiety following a vicious attack which had almost cost him his life, Bruce admits he was in a dark place before he began running.
"It was a horrible time," said Bruce. "I was in the pub every night drinking 15 pints and smoking 60 cigarettes a day. It was a journey of self-destruction. I knew I had to change my lifestyle and for years, running and training was what I did. Basically anything long and painful, that was my escapism and coping mechanism for me to deal with life."
This crutch was taken away when Bruce sustained a serious cartilage injury to his ankle. 
"I thought I was going to have surgery then have four weeks off for recovery. I woke up from the general anaesthetic to be told I could never run again. The shock just hit me and I found myself spiraling back into my old lifestyle. I was in a pretty bad place. It was massively hard to deal with." 
But a chance meeting with biomechanics coach and stand up paddle enthusiast Anna Little threw him a lifeline. 
"She basically said, as you can't run any more, why don't you start stand up paddling?" said Bruce. 
"Anna took me out on the water and I really enjoyed it. She suggested that while my ankle was getting better SUP would be superb for me to do. I found it amazing and pretty much fell in love with the sport there and then."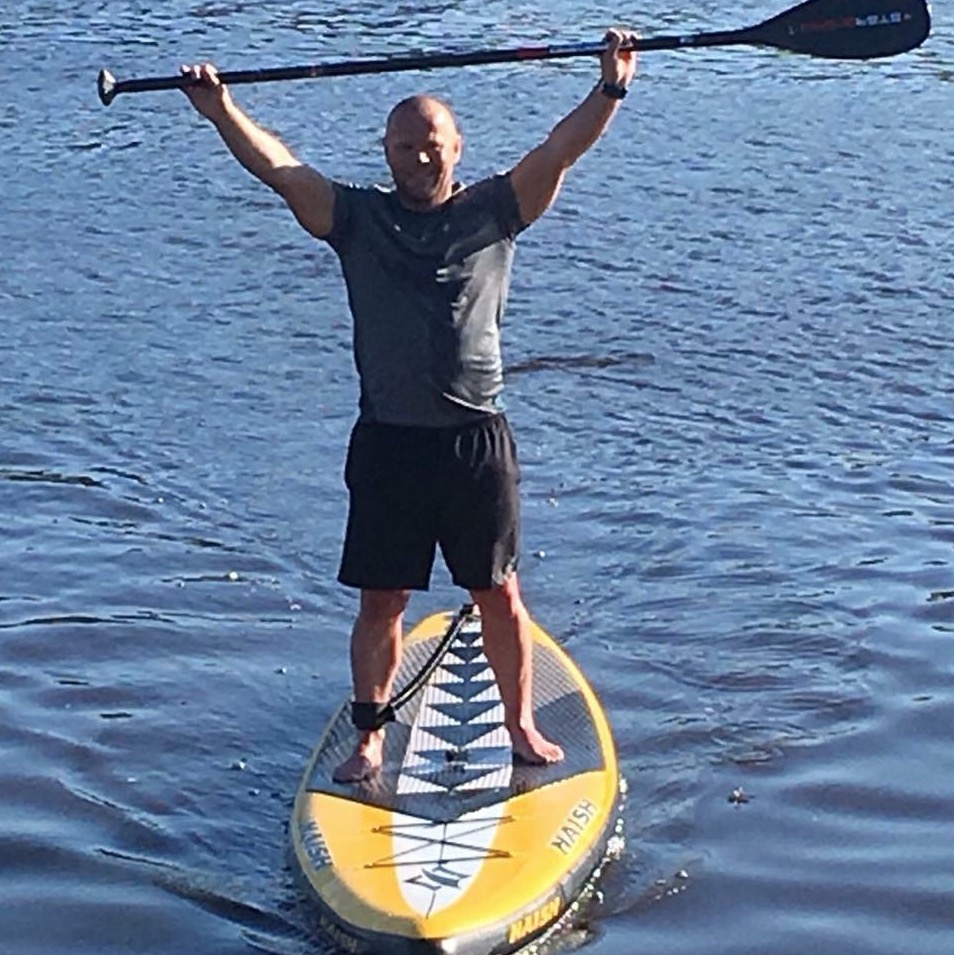 Bruce, from County Durham, started paddling with Anna on the River Tyne, helping her train for the races she had entered on her N1SCO board. It wasn't long before he started to experience the adrenaline buzz of having a purpose to train for again. 
"It gave me motivation and drive. The more we trained the fitter I started to become – and also the happier and more focused I became. 
"I was going out on a Red 10.6 touring board, but it was when I started going out on one of the N1SCO Naish boards that it really took off and I became focused on race training.
"Training on the SUP brought me back. It gave me a purpose again. When I'm on my board all I have to focus on is my performance and training."
Bruce, who now runs his own business Ironsmith Sports Therapy, has become an integral part of the newly formed Northern SUP Race Team, helping with training programmes, taster sessions as well as motivating and encouraging members. 
"I want to be able to give what I have found to other people and to give them a shared goal and to benefit from the experience" says Bruce.
April saw Bruce complete his first GB SUP National Series event, Battle of The Thames, passing through the Blue Chip arch in the strongly contested N1SCO Race (10km) male category to take a creditable 8th place. 
Said Bruce: "The whole buzz of this weekend made me feel alive again. I just want to get fitter, faster and have fun at the same time.  Being part of the Northern SUP Race Team is great. Whereas running and triathlon were very solitary sports, I'm really enjoying training within a team and having that support structure.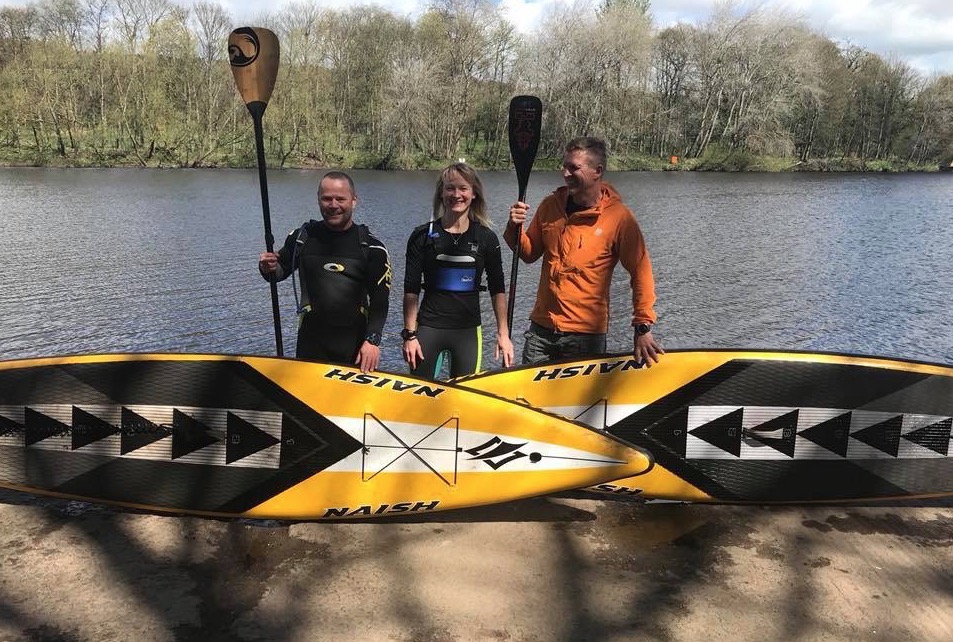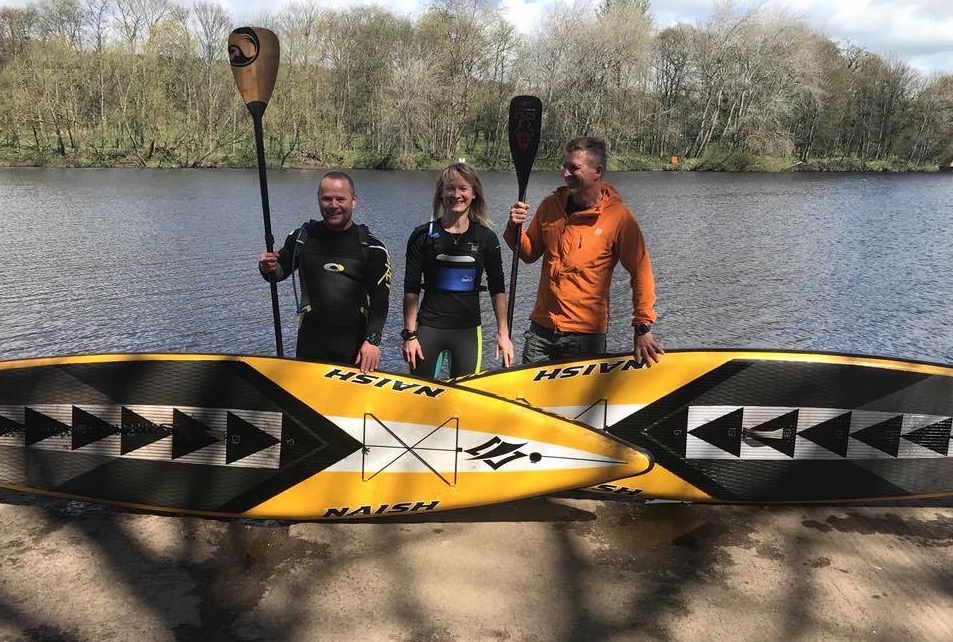 "It (being a part of the team) has massively benefitted me. It's the tips you learn, like preparing you for a race, your paddle stroke and technique. Training together with other people and pushing yourself out of your comfort zone forces you to keep going."
He added: "Crossing through the arch of BOTT was a relief, but it made me think, this is what I love – I love racing, that's why I train. Races aren't about the actual race itself. It's about the training journey and knowing you have done your best.
"I feel stronger, faster and more focused. SUP has made me fall in love with exercise, health and fitness again. It has rebuilt my life and is pushing me on to do more."
"I want to keep racing and see how far I can go and be the best I can be. I want to do a 100-mile paddle board race as well as compete in the N1SCO races and represent the club and be part of their team."
Bruce is vocal in his support of Naish's N1SCO race series. He said: "It's a fair platform as it puts everyone at the same level playing field. It's a great, all-round board to race on for everyone, from families and novices through to top end racers."
Northern SUP Race Team founder Anna Little said: "Bruce's story is the very reason why I wanted to set up the club. 
"I had a passion for letting people experience the joy that racing on the water gives to me – it's like oxygen to my soul. You're outdoors in the fresh air, you're improving your fitness and, quite simply, it makes you happy. 
"Finding like-minded people who love racing on a board is why I did it. I wanted to put people together who have the same mind set to race with and who can push each other while getting stronger and better. 
"I could not have won the UK SUP series last year without Bruce pushing me. It's having the support of people who say 'let's get out', no matter what the weather.  Training with other people inspires you to do better. I want other people to experience that – it's winning in the game of life." 
Back on his home north east turf after BOTT, Bruce said: "A few years ago I hadn't even heard of SUP. Seeing people standing around on boards in the sea on holiday made me laugh – it looked pointless. There was no physical challenge. 
"How mistaken could I have been? 
"Little was I to know SUP would save my life."
"It has pulled me and given me a whole new life changing challenge. It makes me focus everything else that I am doing to make me a better paddler. Pushing myself to see what I can do makes me feel alive. It's a whole new experience I wouldn't have found, if it weren't for SUP."
Words by Claire Thorburn (member of the Northern SUP Race Team)
Thankyou Bruce for sharing your remarkable story. A tough and truly inspirational journey. The SUPboarder team wishes you all the best in future events and a happy and healthy time on the water. 
Has SUP changed your life? If so how? We'd love to hear your SUP story. Get in contact via email – lucy@supboardermag.com