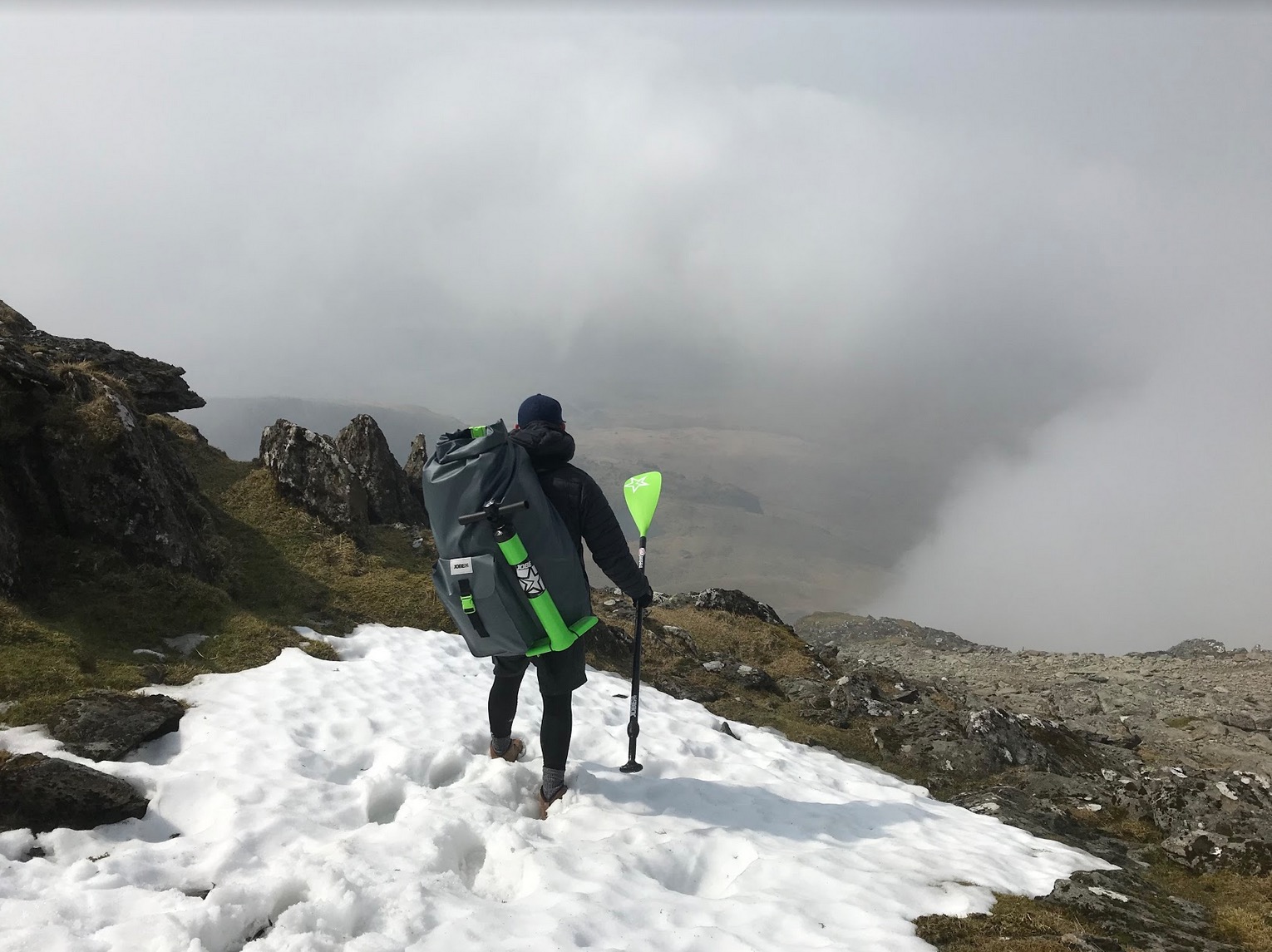 The SUP love comes to us all for different reasons and through different disciplines. Whether it's enjoyed through family fun, surfing, racing or wild and solitary expeditions, SUP ticks all the boxes. 
Passionate paddleboarder Kris Roach lives in Caerphilly, South Wales and is lucky enough to have both the beautiful Brecon Beacons National Park and the South Wales Coastline on his doorstep, offering incredible paddling opportunities. The high peaks are home to stunning views and secluded lakes which are only accessible by foot. An iSUP allows Kris to get off the beaten track with a board on his back and experience the mountains from a different perspective. 
Kris discovered SUP 2 years ago and first experienced lake paddling in Slovenia. Paddling on the stunning Lake Bohinj is what made Kris really fall in love with SUP and lake paddling.  Every chance Kris gets he's out exploring with his iSUP and this year Kris plans to SUP – hike – explore as many lakes off the beaten track as possible, particularly within his home country Wales.  
SUPboarder caught up with Kris to find out what it is about mountain lake paddling that he enjoys so much, what his plans are for 2018 and why everyone should make the most of what an iSUP has to offer and get exploring off the beaten track…
SB/ Kris, what is it about SUPing in the mountains that you love?
KR/ Heading to the mountains with a board is an escape. Nature is epic. Being able to explore and take in the views from the water by SUP is incredible. My last visit to Llyn y Fan Fawr during the winter sums up what I love about SUP. Paddling through the ice whilst taking in the views of the snow-capped mountains was like nothing I have ever experienced. This is what truly kicked of my addiction for mountain SUP.
SB/ What are your paddling plans for 2018?
KR/ I am going to continue exploring Snowdonia National Park, The Brecon Beacons and the Gower Peninsula. There is so much to discover.  I have paddled in white outs, snow, and ice during the last three months so I am now looking forward to SUPing in the sun and wild camping at the lakes.
"During 2018 my goal is to SUP- Hike – Explore as many lakes off the beaten track as possible, particularly within my native Wales."
SB/ Tell us a bit about the mountain paddling you've already done this year 
KR/ So far, I have successfully hiked to and paddled the following locations :
1. Llyn y fan Fawr  (The Black Mountains) paddled at 605 Meters
2. Llyn Cwm LLwch (Pen-Y-Fan, Brecon Beacons) paddled at 569 Meters
3. Llyn Cau (Cadair Idris, Snowdonia) paddled at 350 Meters
4. Llyn Glaslyn after Summiting Snowdon  paddled at 600 Meters
I hiked to all these locations with my iSUP ( Jobe 11'6 Duna) An iSUP is an incredible way to take in the views of the mountains and experience a real sense of escaping the crowds. Whilst these locations have now been ticked off my list, the ones near me will continue to be regular haunts as they are within easy reach, are stunning locations and somewhere I want to experience in every season.
SB/ What made you choose the 2018 Jobe 11'6" Duna for your adventure paddling?
KR/ I chose the Jobe  primarily because of the weight. When all packed up it weighs 11.5kg which makes it perfect for hiking and exploring. The bag has been great especially on my hike to Snowdon Summit. There is plenty of room in the front pocket to pack hiking essentials. The bag doubles as a dry bag, which has been a lifesaver keeping additional layers dry for my hike back from the lakes. When packed away it fits easily into the boot of my car so when camping its safe especially when you head off to the pub after a day of exploring! It also falls under the hold luggage requirements of most airlines so no extra costs when you want to take it along to explore more of the world.
SB/ Where are you particularly looking forward to paddling next?
KR/ I am particularly looking forward to exploring the Lake District in a few weeks' time. I'm camping, so the lightweight, easily stored Jobe ISUP makes the perfect companion. The Lake District boasts the largest lake in England, which is be surrounded by a playground of mountains and hidden lakes to paddle. I'll then be wishing away the weeks before I head to Montenegro in July to paddle in the sun.
SB/ You've obviously found the passion for mountain paddling.  Why should everyone grab an iSUP and get off the beaten track?
KR/ Whilst I want to keep these locations all to myself heading off with an ISUP truly is an awesome way to get out adventuring. It does take effort hiking with your board through ever changing weather conditions but this is what makes SUPing in the mountains a great challenge, which rewards you with unforgettable movements and memories.
SB/ Have you any top tips for SUPboarders wanting to experience mountain paddling? 
KR/ My top tip is Coffee! And a lot of it.
The boring bits which I am sure are obvious but are so important; always pack emergency blanket, spare clothes, your phone (keep it warm as they turn off in minus temperatures – as I have learnt!), plan your route, always tell someone where you plan to go, be aware of the forecast, be safe, respect the mountains and paddle/hike with a friend. Most importantly, do not put yourself at risk. You don't want to be calling for mountain rescue!
We look forward to hearing more about Kris's iSUP adventures. You can follow Kris on instagram @kris_roach87
Where are you and your iSUP planning to paddle this year? Get exploring and why not record your adventure with the cool app – GeoSUP.  A great app for not only tracking your paddle but also sharing and finding new places to paddle.