In the summer of 2015 Jared Munch from Northern Wisconsin set off solo around the largest of the Great Lakes in North America. He knew it was going to be tough but don't think he was prepared for quite how tough! "Cold, painful, hungry!"… They're the 3 words Jared uses to sum up his 1300 mile, 50 day self-supported SUP around Lake Superior. 
Read more about Jared's epic paddle below…
Lake Superior has been paddled around hundreds of times – by kayakers. For some reason, I was the only person willing to give it a try on a SUP! And hopefully my narrative doesn't dissuade anyone else from trying!
I had planned on doing this journey for a long time. It took me a year and a half to actually prepare for it once I had set my mind to do this.  At the end of my year and a half preparation, I was as confident as I could ever be, yet the sinking feeling in my gut grew stronger and stronger until I had finally made my official departure.
"I knew this journey would not be easy. I knew it would be cold. I knew I would be hungry. I knew I would feel pain."
What I hadn't prepared for, however, was the generosity and general enthusiasm of the people I met along the way. Yes, sections of the lake are very remote, and I spent times further away from any civilization as most people will ever be. Alone, yet very content with where I was at the time. I typically paddled 12 hour days in remote areas, making 40-50 miles per day. The goal was to get the most remote and most rugged sections of the lake done with while I had good weather – because I didn't want to be stranded during a storm.
"Aside from the typical aches and pains, I fell into this routine quite well… Camp. Paddle. Camp. Paddle."
This routine was, of course, gladly interrupted by groups of fishermen and locals of the lake when I was near civilization. I had lost 15 pounds on the northern side of the lake. The south side of the lake was a different story though, since it's more densely populated with people eager to feed and house the passing paddle enthusiasts.
I had departed from my home in Duluth, MN and paddled the 150 miles to the Canadian border, only to return to Duluth to teach paddlesports to youth in Duluth for a week.  My journey was also being used as a fundraiser to provide outdoor programming for at-risk youth.
A week later, I returned to the Canadian boarder and paddled the remaining 1,150 miles back home – the long way!  The journey took me 50 days to complete.
"Once I finished, I swore I would never paddle again… that didn't last!"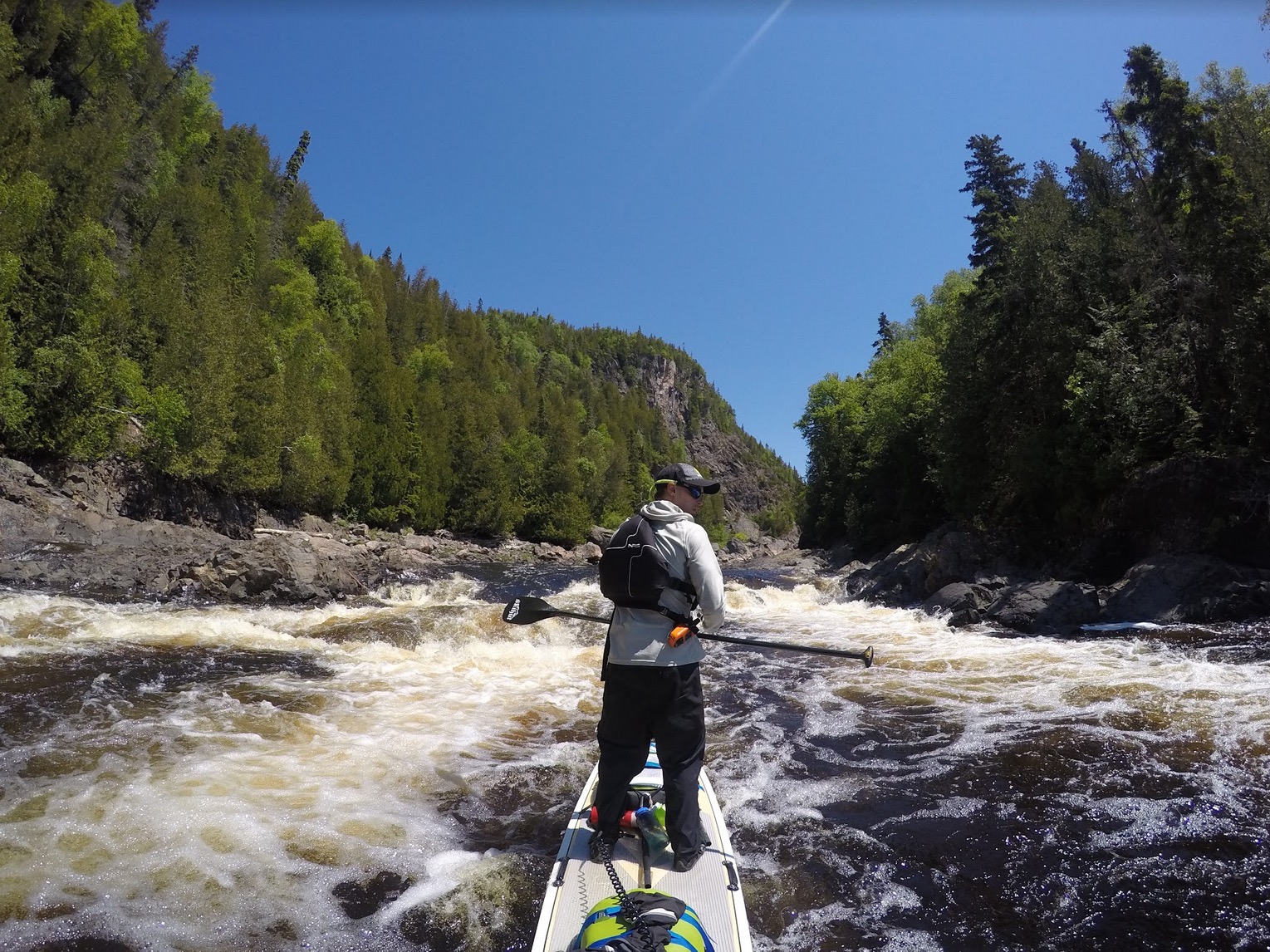 Since then, I've become proficient in whitewater SUP, and am planning a trip this spring that mixes both my touring and whitewater skills. I am planning on paddling the Steel River into northern Lake Superior.  There is also consideration of doing a complete open-water crossing of the lake. This, however, would entail back to back 20, 50, 90, and 10 mile open water crossings in fairly unpredictable and extremely sporadic wind and weather conditions. It's a stretch, however, that can be done given the correct window of opportunity and a good support vessel. Watch this space!
Words – Jared Munch.
To find out more about Jared's extreme paddling including SUP surfing freezing Lake Superior mid winter click here.