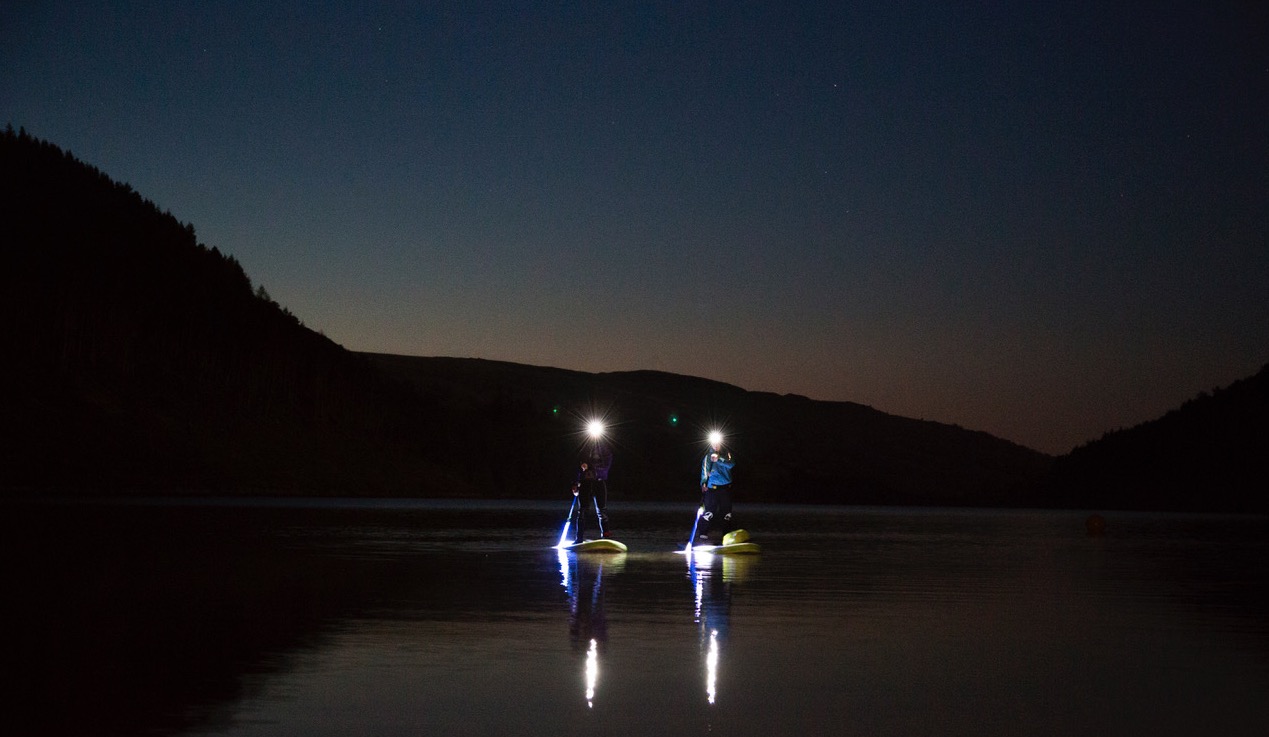 SUPing in the sunshine is great, but SUPing under the stars at night is an experience like nothing else. The sounds and sights that surround you in the dark, make gliding across the water on a SUP a truly magical experience. If you haven't tried it yet you really should! Sian Sykes from Psyched Paddleboarding in North Wales, UK is a big fan of night paddling and shares her experiences…
Night paddleboarding offers such a magical experience, completely different from paddling in the day. Your senses are heightened.
When I go night paddleboarding, I enjoy the stillness and the calmness at dusk. The noises change as the owls herald in the night see bats pirouetting in the sky. As you watch the stars begin to fill up the sky and the bright white moon rises. This is when your senses kick in, following the white reflections from the moon as they ripple across the water.
"It is a great opportunity to just pause, to emerge ourself in the surroundings and just lie on the board and look up to the stars."
That's when we have some pure quality solitude time. It's also a perfect way to watch meteorite showers, by floating like waterlilies, looking at the sky seeing such an abundance of shooting stars, better than any fireworks display. These are the moments people cherish.
While paddling off the coast of Anglesey, I've been lucky enough to see the sea lit up with phosphorescence – an incredible, magical light show caused by the disturbance of plankton. When you place your paddle in the water, a wonderful display of colour lights up the water, sparks of bright light illuminating the sea.
"This is what I love about paddleboarding… being connected to nature, to escape from it all and to experience something like no other."
Before setting off on your own night time sup adventures, you need to consider the following:
Paddle based on ability – Plan your night sup journey based on your skill and experience level. Always paddle on the side of caution.
Have the appropriate safety kit – Make sure you have the correct safety kit, you know how to use it and where it is stored on yourself or on your board.
Have a communication device – Make sure you have a way of communicating for example if you need to contact the emergency services or speak with the coastguard.
Check the weather conditions – Before embarking on a night trip, check the wind direction and air temperature. If on the sea, check the tide too.
Dress appropriately – Dress for the water temperature even if you don't plan on getting wet! At night the temperature drops, so make sure to layer up
Know how to navigate – Make sure you can navigate off a map. Don't rely upon on shore lights as markers as they may be switched off.
Be seen on your board – Ensure you and your board have lights so you can easily be seen. Use reflective tape on the board, paddle and light on yourself.
Words : Sian Sykes (Psyched Paddleboarding)
If you'd like to find out more about Psyched Paddleboarding check out:

www.psychedpaddleboarding.com
twitter.com/psychedsup
www.instagram.com/psyched_paddleboarding
www.facebook.com/PsychedPaddleboarding
Or contact Sian on:
07928 475 419 | 01248 440 831
sian@psychedpaddleboarding.com 
Hear what Sian has to say about her Psyched Paddleboarding Night SUP sessions: Be guided by a magical moonlight and starry sky for your SUP adventure in North Wales. It is truly a special way to SUP, experience being close to the water, senses heightened to hear wildlife. Snowdonia has been awarded Dark Skies Reserve due to the outstanding quality of the night air! We are pretty proud as its 1 of only 11 dark sky reserves in the whole world, impressive! If conditions are good we also run sessions in a sheltered bay in Anglesey. So come and join us to paddleboard on a starry night in North Wales. Create wonderful memories and experience special moments.