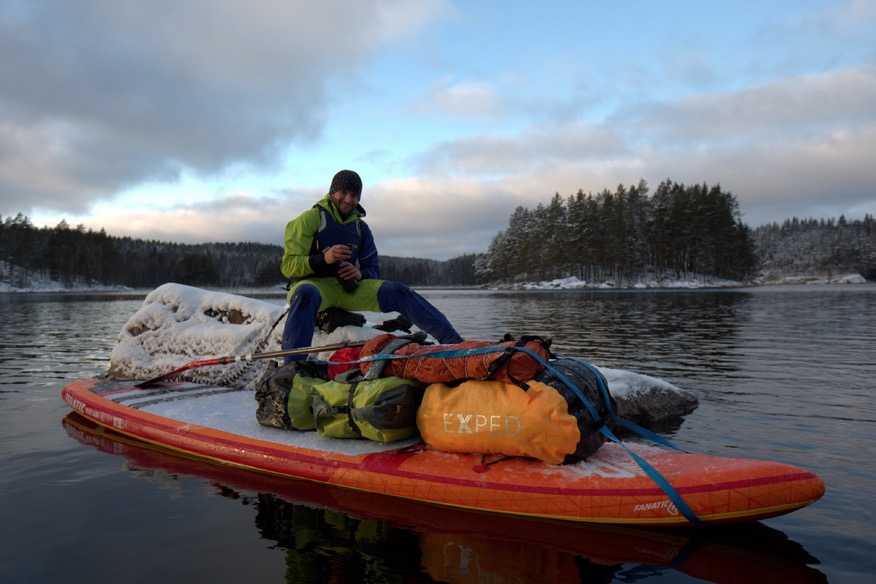 Extreme adventure paddler Thomas Oschwald recently spent afew weeks in Finland. A layer of ice covering his kit and the risk of frostbite are just afew of the challenges faced when paddling in colder climates. So why do it?!! And how do you do it?!! SUPboarder caught up with Thomas to talk super cold SUPing and get some tips on the best things to wear when paddleboarding in the extreme cold…
Hi Thomas. Just looking at your pictures makes us feel cold! Paddling in a chilly wind is one thing, but paddling in minus temperatures with ice on your board and your boots is a whole another challenge! 
SB/ How do you do it?And what do you wear when paddling in extreme cold climates?
TO/ On the water I wear a breathable drysuit from DADOR. Depending on the temperatures, I can put on more or less layers of clothing and thus optimally vary the climate within the dry suit. I always wear a life jacket, which also protects my upper body from the cold, along with base layers from ION. The side pockets and the front pocket of the ION Booster X lifejacket offer enough space for the most important accessories, such as my emergency sender, GPS and energy bar, which I always carry with me at hand. Down trousers ensure enough warmth on the legs. And to protect my feet from the wet, I wear rubber boots, which I can waterproof connect with the dry suit. At very low minus temperatures normal rubber boots without an inner lining are no longer sufficient. Then I use waterproof winter boots. The feet must remain dry in any case, otherwise they would cool down in no time. At temperatures above freezing on my hands I wear Open Palm Mittens 2.5 ION, which are very good for paddling, as they keep my hands nice and warm aswell as allowing easy operation of the camera. At temperatures below freezing I wear normal mittens since the isolation of Neoprene gloves is no longer enough. It is important that these gloves stay as dry as possible, which is not easy in bad weather. Therefore, it is always advisable to take replacement gloves.
SB/ What else do you do to stay warm and keep your kit dry?
TO/ In freezing temperatures, it is important to keep the inside of the gloves dry. Otherwise your hands will soon be very cold. For rubber boots, it is important to ensure that they are waterproof connected to the dry suit and have a sufficiently high insulation value. Otherwise, the cold penetrates mercilessly through the thin rubber layer of the boot inside and there is a risk of frostbite on the toes. When camping on land, in addition to a warm sleeping bag, the insulation mat is very important. In cold and humid environments I prefer sleeping bags and mats with synthetic filling. Down filling which gets wet quickly loses its insulation value. All my equipment I wrap twice in waterproof pack sacks. I use a waterproof Duffle Bag by EXPED as a first layer and additional packs as a second layer.
SB/ What are you the biggest challenges when paddling in the cold?
TO/ Due to the cold, the feel-good room is extremely reduced. On the water I can move freely and discover the world. But on the shore is the only place where I can feel warmth and security – in my sleeping bag in the tent. Especially for tours over several weeks, this is a psychological challenge, which should not be underestimated. For day trips, the biggest challenge is to leave the comfortable sofa in the warm living room! Paddling in the winter is extremely nice. With good equipment it is as much fun as it is in summer.
SB/ How do you stay motivated during the winter months?
TO/ Whether summer or winter, rain or sunshine, I always find a way to motivate me. To be outside and to experience a real adventure is for me something of the most beautiful thing there is.
There is only one paddle season for me and it starts on the 1st of January and ends on the 31st of December!
For me, there is only one reason that I do not paddle even in the rain and snow… and that is my own laziness! To overcome this convenience always requires the greatest motivation.
SB/ Any top tips for winter paddling? !!
TO/ Invest in good winter gear and you'll have a great time on the water all year round. Mirror-smooth lakes, deserted shores, crystal-clear water and a fresh breeze that will sweeten your day… that's paddling in the winter.
Overcome the inner bastard and you will experience a real adventure that will warm your heart (and hopefully your body) even in the lowest freezing temperatures.

So… no excuses. Get yourself kited out properly and you can enjoy 365 days of paddling wherever you are!If you want to paddle everyday, you can. 
So… no excuses. Get the right kit and you too could enjoy 365 days of SUPing this year.
Where's the coldest place you've paddled? We'd love to hear from you and know how you stayed warm on the water.
Follow Thomas and his adventures via his Facebook page