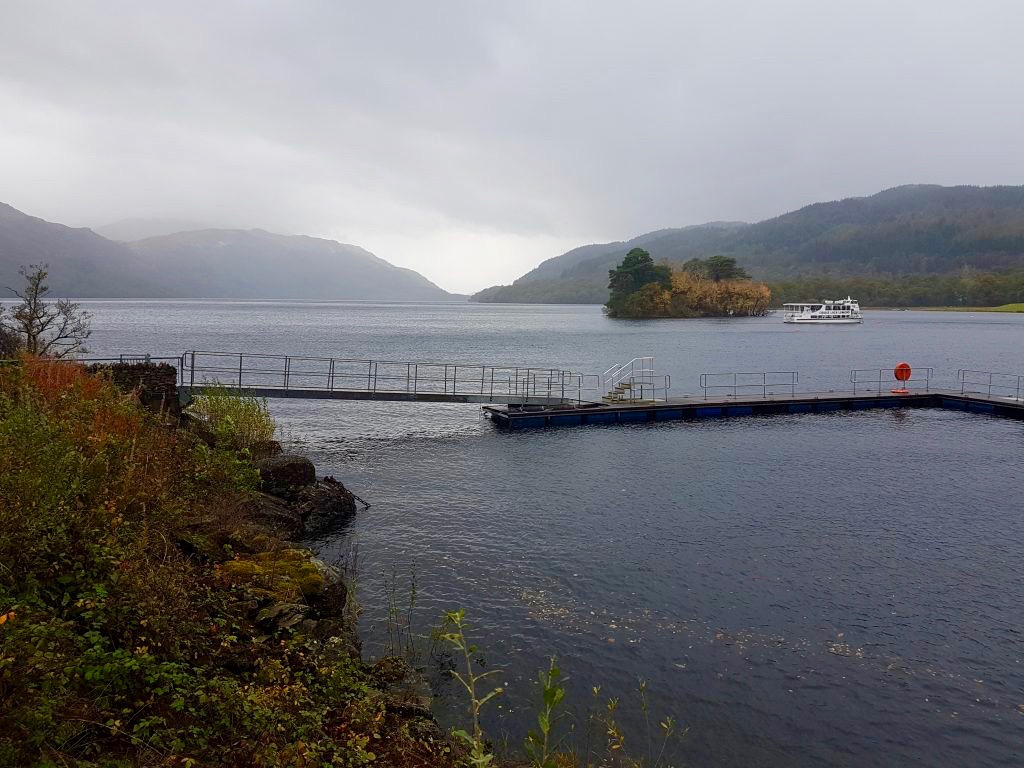 The Great Glen Paddle, along the stunning route from Fort William to Inverness, Scotland is always a good challenge due to the tough 57 mile course. But this year the challenging weather and paddling conditions really pushed paddlers to their limits. Even with the right kit choices and plenty of training the strong winds, big chop and tough downwinding conditions meant only afew paddlers were able to make it to the finishing line.
Jersey paddler Andre Le Geyt was one of those determined paddlers eager to complete the paddle as fast as possible. Andre tells SUPboarder about the conditions on the course, why he didn't let the weather stop him crossing the line, as well as offering some top tips for those of you wanting to take on a real paddle challenge and enjoy a wee dram of scotch in 2018!…
I heard about the Great Glen Ultra Challenge last year whilst reading articles and from speaking with other UK paddlers, Phil Plume and Joanne Hamilton-Vale. It sounded like a great challenge which would include lots of different aspects, and I was really intrigued about the downwind opportunities on the lochs. So when the event registration opened in March I was straight on it!
Suddenly it was only a few weeks away and I had to get from Jersey to Scotland. I travelled as a foot passenger with my board and kit on the ferry, and then luckily Phil Plume had a seat in his van for me to travel up to Scotland from Portsmouth. Maurice Guy kindly met me from the ferry, we had a bit of rest, then the long journey north began!
The start of the race was quiet as it was 2am so no loud horn start as we headed off. It was quite a sight, 25 SUPS paddling into the dark. Some paddlers had great lights on their boards which lit up the canal pretty well. I got to the front and paddled with Nick Kethro. We had a good pace but the pack wasn't too far behind.
One of the big challenges with this race is the portages (basically getting out, running around a loch and jumping back in!) In this race they go from 200-750m. They offer a good break to wake up the legs, and chance to eat some food down. We did 10k or so, a few portages then hit Loch Lochy with the wind behind us. You could feel a good breeze and for the first few kilometres not really many bumps, then all of a sudden WOW! I was off and running on a good size bump, with spray coming off the nose of my board. When it hit my light it was like a flash going off in your face, so I decided to kill the light and it worked much better, with the half moon giving a little light. The wind really whipped up, and the bumps were at least waist high, breaking all over the place.
"Real down-winding, in the dark… it was epic!"
I stacked it quite a few times just not being able to see where my nose was in the dark. The water was pretty chilly and the wind would flip your board so you had to be careful.
I got to the first check point and was met by Mark & Ali (??? race officials) to be told the race was over! Some people had lost paddles, boards and got washed up on the shore and had needed to get into their survival bags, so the organisers had no choice really but to stop the actual race. I wasn't happy to stop, as I felt completely comfortable with the conditions, and I had spent a lot of money and time travelling up for the race. Soon, Nick Kethro and Daz Ready came in. Nick and I had a conversation and agreed to carry on to Fort Augutas.
Once we hit the canals again it couldn't have been more different – it was like glass and we carried on for a few hours on sheltered canals listening to stags calling on the near by mountains. As the sun starting rising you could see just how beautiful the scenery was. We arrived at Fort Augusta (which is the half way point) with Loch Ness ahead of us and then a final 10k on canals to the finish point at Inverness. I was keen to crack on but Nick rightly wanted to check the up coming conditions as we now had no emergency cover as they were looking after the other paddlers, and the wind was due to pick up. We spoke to Jo HV and she told us there were 2 more paddlers behind us, Phil Plume and Adrian Bacon, so we decided to wait for them and then head off as a 4, which gave us safety in numbers. Nick also switched boards jumping on Jo's Ace. The first 5k or so… no bumps…what was going on? 10k a few started… then it was on!
"Waist to chest high bumps breaking on Loch Ness! Proper down-winding… bump after bump after bump… we were flying along!"
Nick was loving it with his board change. We would sit and wait for everyone to group up every few kilometres then about three quarters of the way Phil and Adrian were tiring and said go on ahead, they would stick together. By now we were 10 hours in, and it was getting harder to paddle onto the bumps, but luckily the wind was helping us by blowing a fair old bit now. The bumps were amazing, but then we hit the last stretch of flat canal.
"It was crazy how it went from full on to calm again – and the last 10k lasted a long time!"
We were greeted at the finish by Pete Vale and Keith Gorman. I didn't expect a time, I just wanted to make it. Our time of 12hrs and 09 minutes wasn't bad, but if we hadn't waited and kept racing we would have been much faster. Would we have gone faster than Barts time? I'm not sure, but I think we may have got close! The evening finished with the prize giving for the overall series – but the highlights were most certainly the Scottish dancing ,the addressing of the haggis, and the wee dram of scotch!
"A crazy race – I loved it! It tests everything about your paddling… in the dark, some flat, some full on downwind, long distance and just getting there! Bring on the Great Glen Ultra 2018 Challenge!"
Top tips for completing the Great Glen Paddle…
Choose your board carefully – Choose a good all round board that works well in a wide range of conditions, as you will be paddling flat canals, flat out downwind and everything in between! – I choose a 14' x 24" custom CG from Charlie Grey, approx 240L and felt it was a good choice.
Do your research – Before doing any event I always try and speak to people who have done the event before to get an idea of what to expect and any handy tips.
Consider your paddle – Your usual paddle should be fine but going slightly longer and a smaller blade can make it easier paddling over a long time.
It's all about layers! – Keeping warm can be a problem as you are starting at 2 am and can face all weather during the paddle… rain and wind, as well as sheltered parts. I usually go for layers you can quickly take off or put on as you get hot and cold. Also knowing it could be good downwinding I went for a wetsuit longjohn, a couple of compression tops and a zip up wetsuit jacket… guessing I might be going in a few times… which turned out to be right !! If it had been mainly canal then I would have gone for my SUPSKIN.
Don't forget your feet – I went for wetsuit boots but when paddling much over 10 hours wet shoes or trainers are a good choice as your feet get tired and having arch support can make it more comfortable.
Keep safe – Safety gear was mandatory and you could use either a waist life jacket or a full jacket. I go for a full one as you have pockets to store stuff and most now let you put a bladder in so you don't need a camelpack too. I always carry a small knife, ducktape and a short length of rope, to hopefully fix or patch up things. A bivvy bag incase you get stranded and need basic shelter. A whistle to call for help. I use a Samsung phone with a back up battery pack as it has GPS that works without phone signal so if you download the maps before you always have an idea where you are.  If I'm going further out then I use a Spot Tracker. This isn't like a GPS to track your paddle but a device that if the worst happens calls for help and gives your exact position. You pay a monthly fee but worth it if you do a lot of exploring or solo paddling.
Try out your kit setup beforehand – A deck bag slows you down a lot more if your board nose goes under a bit when you are downwinding. I found out the hard way and it made for a few offs in the dark! Something to think of a solution for next time.
Consider calories and hydration – I knew there were a few stops where you could fill up your stocks so you don't have to carry too much. I usually just put hydration tablets in with my water and get calories from things like nuts, dried fruit, cooked chicken and boiled eggs. I have switched to a paleo style diet and try to have very little sugar. I find this helps keep my energy levels more consistent. On longer fresh water paddles a filter bottle can be a good idea. Can save you from carrying a lot of weight. I usually carry my food in my life jacket and a bum bag thingy. You just need to get to your food quick and easy.
Words : Andre Le Geyt.
So if you're an experienced paddler who fancies a serious SUP challenge in stunning scenery next year, then the Great Glen Paddle in Scotland could be the event for you. It's going to be tough but it can't be that bad as Andre is planning to go back for more!