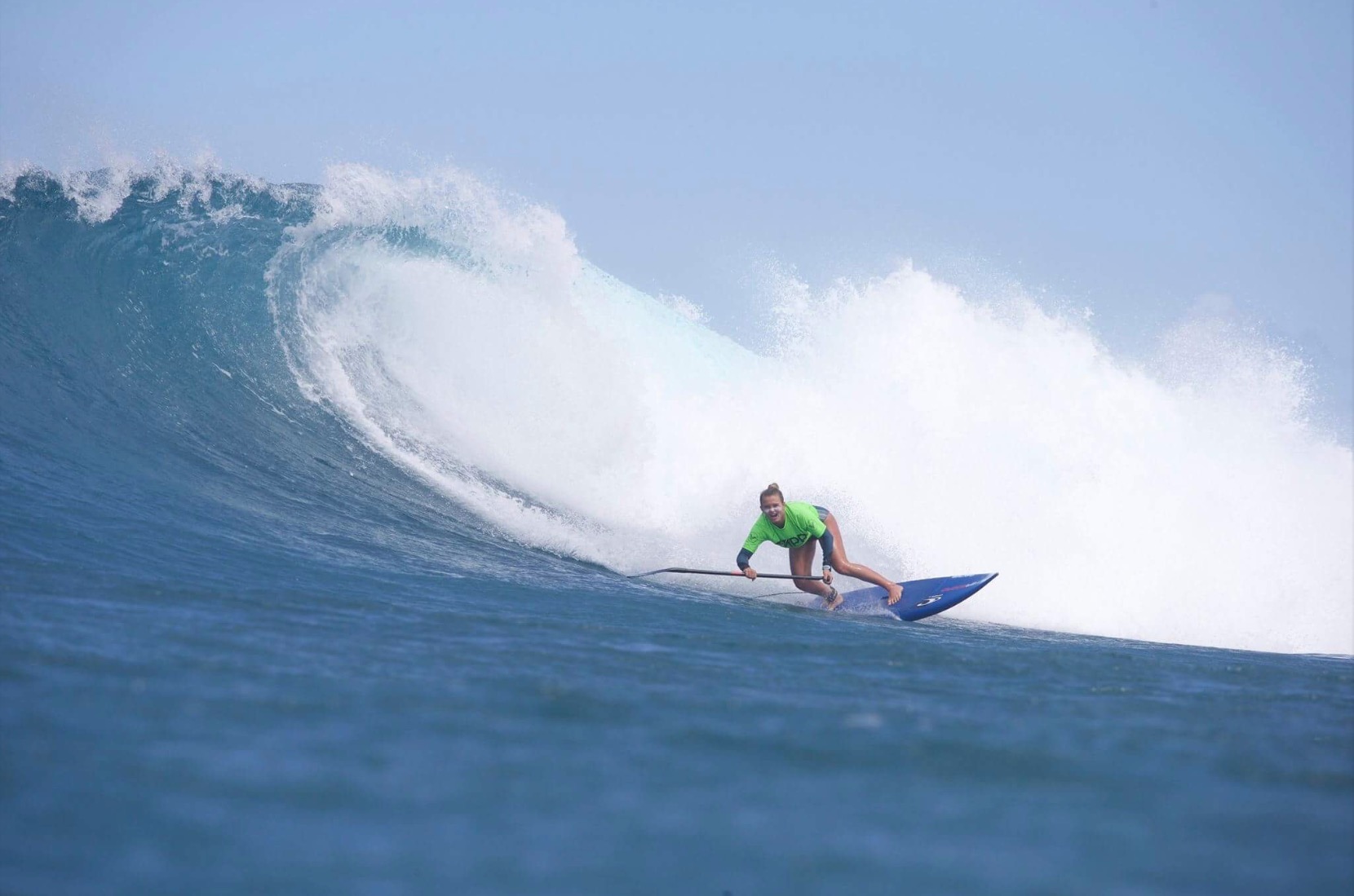 There are some amazing female SUP athletes competing at the worlds highest SUP level. But there aren't that many that can compete at the top level in both surf and race disciplines. Fiona Wylde is one of the most all rounded female waterwomen in the world, and she isn't just a pretty face. Fiona can take on some of the biggest waves and the fastest paddlers in the world. And we do like a girl who knows her gear! Fiona gives us a run through of the kit she has been using in 2017…
Name: Fiona Wylde
Age: 20
Weight: 125lbs
Height: 5'3″
Home Country: USA
Main SUP Discipline: SUP Race and Surf
No. of Boards in Quiver: 14 boards between SUP race, SUP surf, shortboard, longboard, windsurf, and inflatables.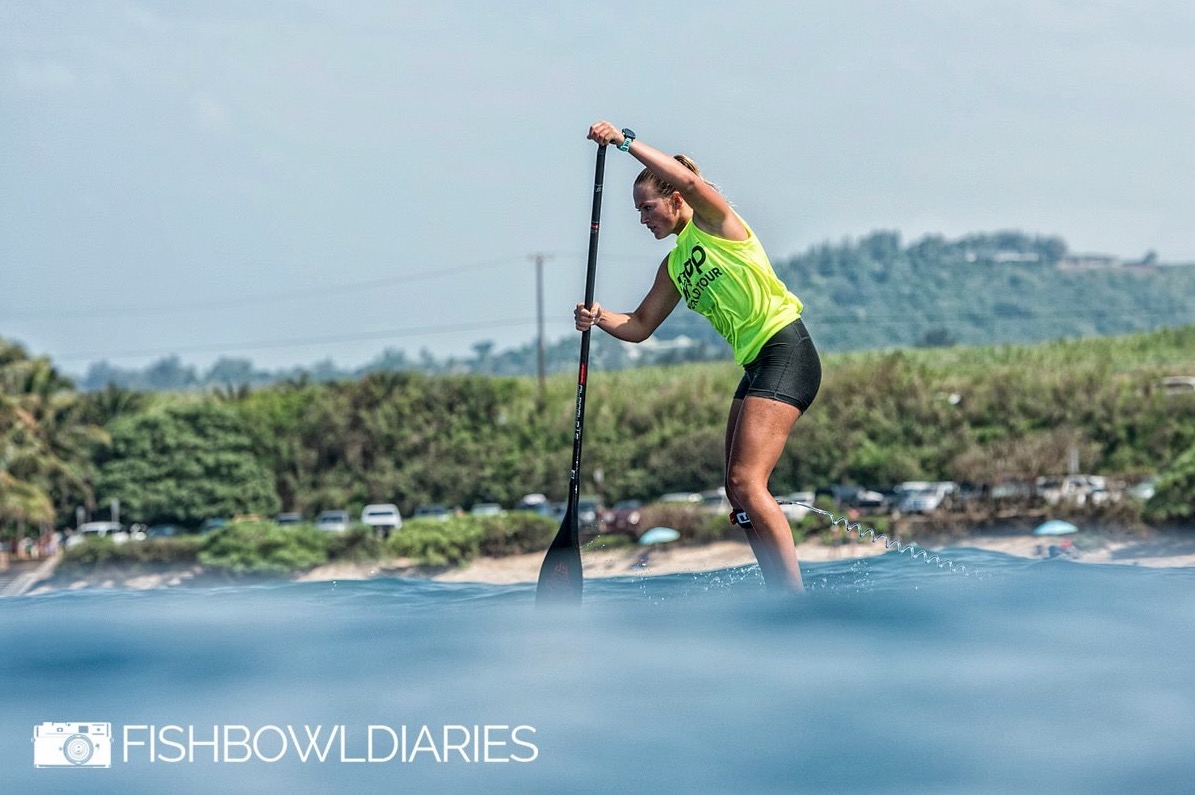 Board name and when used: I've had the pleasure of riding and working with Starboard for the last three years and the thing that I am most excited about is the variety in their board line. I have quite a few boards spread between all the disciplines that I compete in and those I partake in just for fun! But yes, the weather conditions greatly effect what board I use.
When it comes to racing, the first decision is weather to paddle a 12'6″ or 14′. Typically the race decides that question for you, but for training or just going for a paddle, sometimes it is nice to mix things up and paddle different boards. If I am going for a long distance paddle, 10 miles or more, it is pretty common of me to paddle with a 14′ just to get the sensation of a longer board. However I very much prefer paddling a 12'6″. I am not a very big person, so its easier for me to turn, surf and simply maneuver a 12'6″. I absolutely LOVE the Starboard Allstar! This is the all-around board that you can use for flat water, for surfing, or downwinding, and it is my favorite! If conditions are absolutely perfect and glassy, then perhaps I will use the Starboard Sprint, but you can pretty much bet to find me on the Allstar. It makes traveling easy having one go-to board, and I am confident that whatever water conditions occur on race day, I will have a board that can handle it. I ride the All-star that is 23.5″ wide, but its important to get a board that is the right size for your body size and your ability level.
For surfing my go to board is the 7'2″ Pro Model. This board is perfect for an all around board. It's stable if the conditions get choppy. It's quick, so if you're in point-break-style waves, you can accelerate down the line, and this year the rails are much sharper, so turns are much more precise than in previous models.
When I am monkeying about on a whitewater river I go for the Stream or the X-Stream. All the boards in this line are uber durable, and expected to be smushed up against rocks and take a beating, which is so nice to not have to worry about damaging your board when you are in a whitewater river. Instead you can just focus on staying upright! 🙂 They're also super stable with quite a bit of nose rocker compared to Starboard's other inflatables, so i's easier to get into whitewater paddling and start progressing more quickly.
Like I said before, the coolest part about being on a team like Starboard is the versatility that I am fortunate enough to have with my equipment. I's a pleasure to be working closely with them to bring you amazing boards and paddles so everyone can have fun on the water.
Paddles: I use the Bolt series for racing and the Enduro series for surfing.
For racing, I use a Medium for short distance sprints. This helps me get as much power out of my stroke initially, transferring directly to speed. However, this can be a bit too much torque for someone my size during a 10+ mile paddle so I prefer to use a Small blade during those longer distance events. This helps keep my shoulders and the rest of my body fresher without taking away any performance.
I only use a small blade on the Enduro when I am surfing. This gives me plenty of power to catch the wave and for me to be able to paddle back out, without having too big of a blade to get in my way when I am surfing.
Favourite Leash: I use the Dakine Kainui Team 7 1/4″ when I am surfing with my 7'1″. If you are using a longer board, or a shorter board, it's important to get the right size leash for the length of your board, and to make sure it is the right thickness.

Favourite Fins: I am so proud to have signed with Black Project SUP and we have already been working on some pretty incredible fins! My favourite race fin is the Tiger 20, which has been working so well in every condition. I am really impressed with how well this fin crosses over between flat water and downwinders and surfing. It's easy to control, tracks well, and doesn't feel like you have any drag. It's a very smooth fin.
For surfing, I am really enjoying the Bernd Roediger signature model. These fins are built for bigger waves that have more of a wall to drive into, which are my favourite kind of waves. These fins carry a ton of speed and help you get your board on rail to carve through those big turns… which in my opinion, is the best feeling in surfing! 🙂
Sponsored by: Starboard SUP, Black Project SUP, O'Neill, Dakine, Olukai, Garmin
To find out more about Fiona Wylde check out her website and Facebook page.