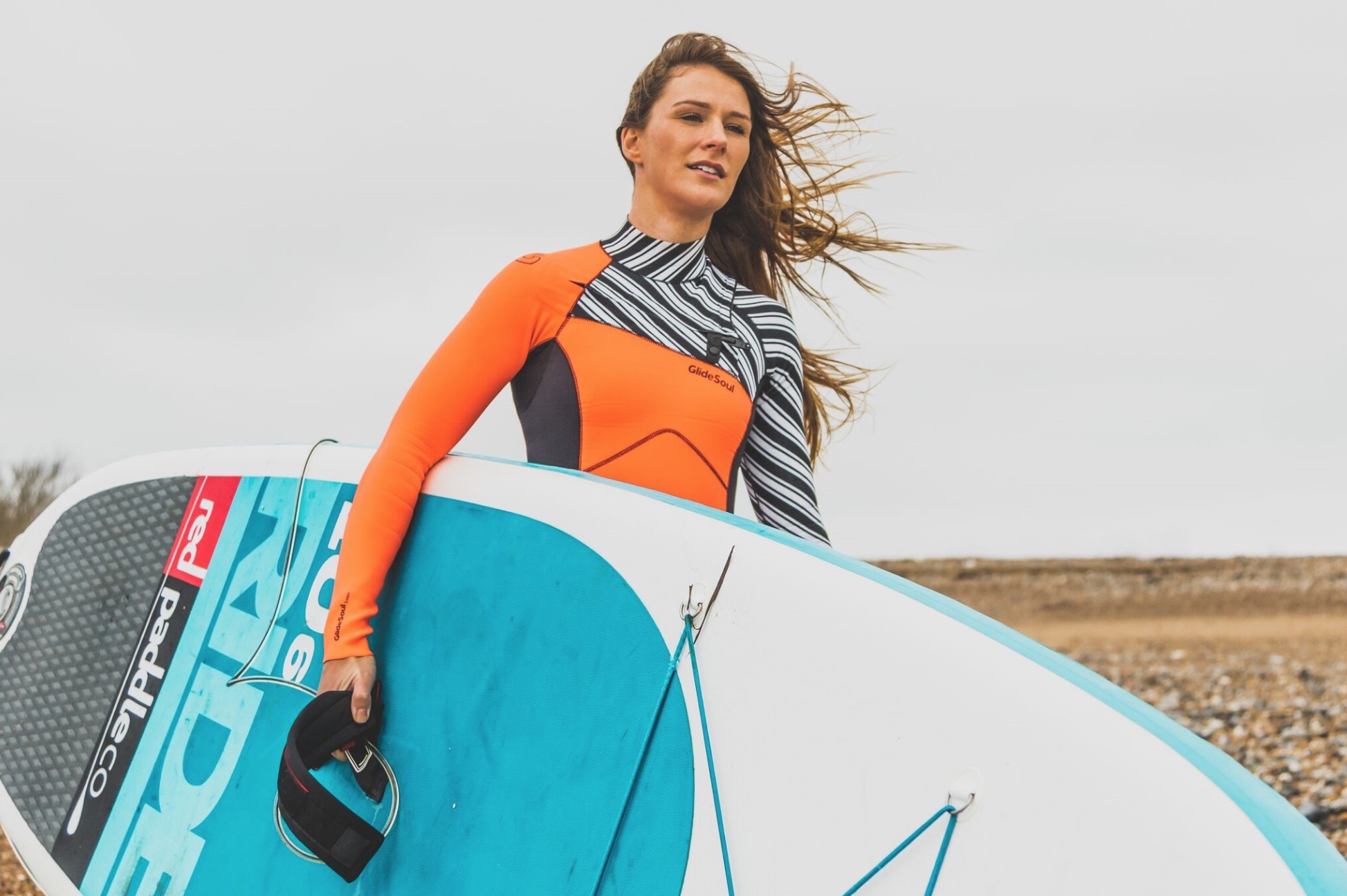 First female to stand up paddle board, solo across the English Channel – Driving the #PlasticPatrol campaign
Lizzie Carr is attempting to become the first female to SUP across the English Channel, solo and on an inflatable paddle board. Last year Lizzie was the first person in history to paddle board the entire 400-mile length of England's waterways – solo and unsupported – and is currently on stand-by for the ideal weather to SUP the 24 miles from Dungeness to Boulonge. Weather permitting Lizzie is hoping to set off across the channel at 7am on Thursday 18th May.
The channel crossing will take approximately 9 hours of solid paddleboarding and will see Lizzie negotiating the busiest shipping lanes in the world and the very unpredictable nature of the ocean with its tides, currents, swell and winds. Although Lizzie's waterways adventure provided a great training ground for her, the channel crossing will present a very different set of challenges that she will need to overcome.
Paddleboard for change
As well as a huge test of endurance and strength, Lizzie is using the challenge to drive her Plastic Patrol initiative with the goal to remove as much plastic from our inland waterways and coastlines by the end of 2017.
A staggering 80% of marine debris comes from inland sources and Lizzie will be using her channel crossing to highlight the global plastic crisis we are facing. She will be collecting water samples for micro plastic analysis along the way and every four miles will be capturing samples using a trawler net; the rest of the time plotting and mapping the bigger pieces to add to the existing map http://lizzieoutside.co.uk/blog/the-canals-are-choking. She will be working closely with Plymouth University to analyse and compile the results to build on the links between the big pieces of plastic we see everyday, and the detrimental impact of what this results in – micro plastics – and the journey it takes from inland to the ocean. The voyage will also help to illustrate the scale of what it out there based solely on Lizzie's single journey across the channel.
Lobbying for change
Fighting against the millions of tonnes of plastic that enters our oceans annually is no easy task, but modern day environmentalist Lizzie Carr is looking to tackle the issue from the root of its problem and then lobby the powers that be – through detailed research and analysis – to identify trends, hot spots and pressure points that will allow us to make real and immediate change. In the UK alone we spend more than 1 billion pounds a year combatting litter and plastic pollution.
Everyone is invited to join the campaign
From June, Lizzie will be galvanising the people of the UK to join her in her nationwide #PlasticPatrol campaign and staging a series of stand up paddle boarding clean ups where people will be able to 'have a go' at SUP – completely free of charge – and help with plastic patrol efforts from both inland waterways and coastal areas across 14 locations in the UK.
To coincide with this, Lizzie will be launching the free #PlasticPatrol App (available on android and IOS) for people to plot plastic they find to paint a picture of problem areas and where resource is needed for clean ups. And it's a global app so people can share findings from all over the world. All the results will then be populated on the first and only global interactive mapping system for plastic pollution.
Pushing back the boundaries
Lizzie's campaign is a simple yet powerful initiative where she is pushing every single one of her own personal boundaries and comforts to bring about change. By inviting people to join forces and take ownership she is hoping that as a whole we can push for change and highlight the catastrophic impact of plastic use.
Lizzie who will be attempting her mammoth voyage aboard an inflatable Red Paddle Co stand up paddle board comments: "I am nervous about the challenge. I've been training hard but crossing will be unpredictable and although you can plan as best possible some things will be out of our hands. Conditions at the moment are too dangerous to cross but this gives me more time to train and prepare, which is always welcome!
"It's so important to get the message out there about plastic pollution, and although this will be tough knowing I have so much support and goodwill will really help push me."
SUPboarder caught up with Lizzie prior to her epic solo English Channel SUP crossing to find out a bit more about why and how she's planning to cross one of the busiest shipping lanes in the world on her trusty Red Paddle Co iSUP!
SB/ What made you decide to undertake this particular challenge?
"Following the 400 miles I covered last year paddling the English waterways plotting plastic, I wanted to make the connection between inland plastic and where this flows out to and the problem we have globally in our oceans. The plastic erodes and breaks down and this is what is particularly harmful to the environment and wildlife."
SB/ Solo and unsupported – are you really going to be crossing the channel all on your own?!!
"I will be completely solo on the board but I will have a support boat by me. This is the busiest shipping lane in the world so it's important to take safety precautions."
SB/ What weather conditions are you waiting for?
"Ideally very little wind but if any wind then tailwind. I can still paddle in the rain but it's not ideal as the visibility is lowered."
SB/ We know you're planning to use a RED but which board will you be paddling?
"I'll be using the 13' 2" Explorer as it's what I've been training and paddling on for the past year. It's similar to a race board but is slightly wider, so will glide well through the water but as I start to fatigue during the journey the width will give me extra stability and balance if the wobbly legs set in!"
SB/ And what other kit will you be taking with you? (e.g spares, food, how much water etc…)
"I'll pack a spare fin and lots of water. I've also cooked up loads of protein bars that I found on the British Cycling nutrition section of their website; basically water supplemented with vitamins and minerals. Keeping hydrated is going to be critical and taking on enough sodium and potassium so that my body doesn't just shut down is key. I'll also have hydration capsules and carbohydrate gels.
"In terms of kit I'll wear neoprene leggings and a neoprene jacket and if it gets cold I'll add layers or change to a wetsuit. I really don't want to get too hot or indeed too cold and I'll have a Dry Robe at the finish in case I get cold when I come of the water."
SB/ How have you been training & preparing for the challenge?
"I've been packing in the miles in the ocean to try and replicate conditions as much as possible. I've also spent time with the stand up paddle board sprint champion, Phil McCoy who has been giving me tips and advice to help with effective paddling, so I don't fatigue too quickly. He's been great at analysing my technique so I'm as effective on the water to conserve energy as much as possible
"I've also been doing lots of gym work, including weights and strengthening core training and mobility exercises. So, I guess I'm pretty prepared although there's always more I feel I could do!"
SB/ Safely crossing one of the busiest shipping lanes in the world is a challenge in itself! How are you going to do it?!!
"The ships do have radars that will have sight of the support boat and I plan to use an IRS tracker which picks up the board in the same way as a boat. You can usually see sight of a ship from 20 miles away, giving us the chance to slow down or speed up. It's unlikely to cause too many problems if timed properly. It's just a case of timing it right."
SB/ What do you expect to be the biggest challenges?
"Physically it will be trying to avoid dehydration, plus cramping and fatigue. It's also the unknown as we don't know what the conditions will be like when we're out there and what we'll  be up against. Collecting the water samples for the plastics analysis will also add an extra layer of complexity on an already difficult challenge."
SB/ Have you ever paddled 9 hours straight before?!!
"Yes, when I did the 400 mile paddle through England. I generally did about 10 -11 hours a day. Obviously the conditions were very different but this will still help with muscle memory within these new conditions. Alongside the points and tips from Phil, I'll be more prepared for this new set of challenges."
SB/ What would you say to someone thinking about setting themselves a SUP challenge?
"Don't overthink it! Train for it but don't overthink or you might talk yourself out of it!"
To find out more about Lizzie, her inspirations, challenges and campaigns check out:
www.lizzieoutside.co.uk
www.facebook.com/lizzieoutside
www.twitter.com/lizzo010
www.instagram.com/lizzie_outside
www.youtube.com