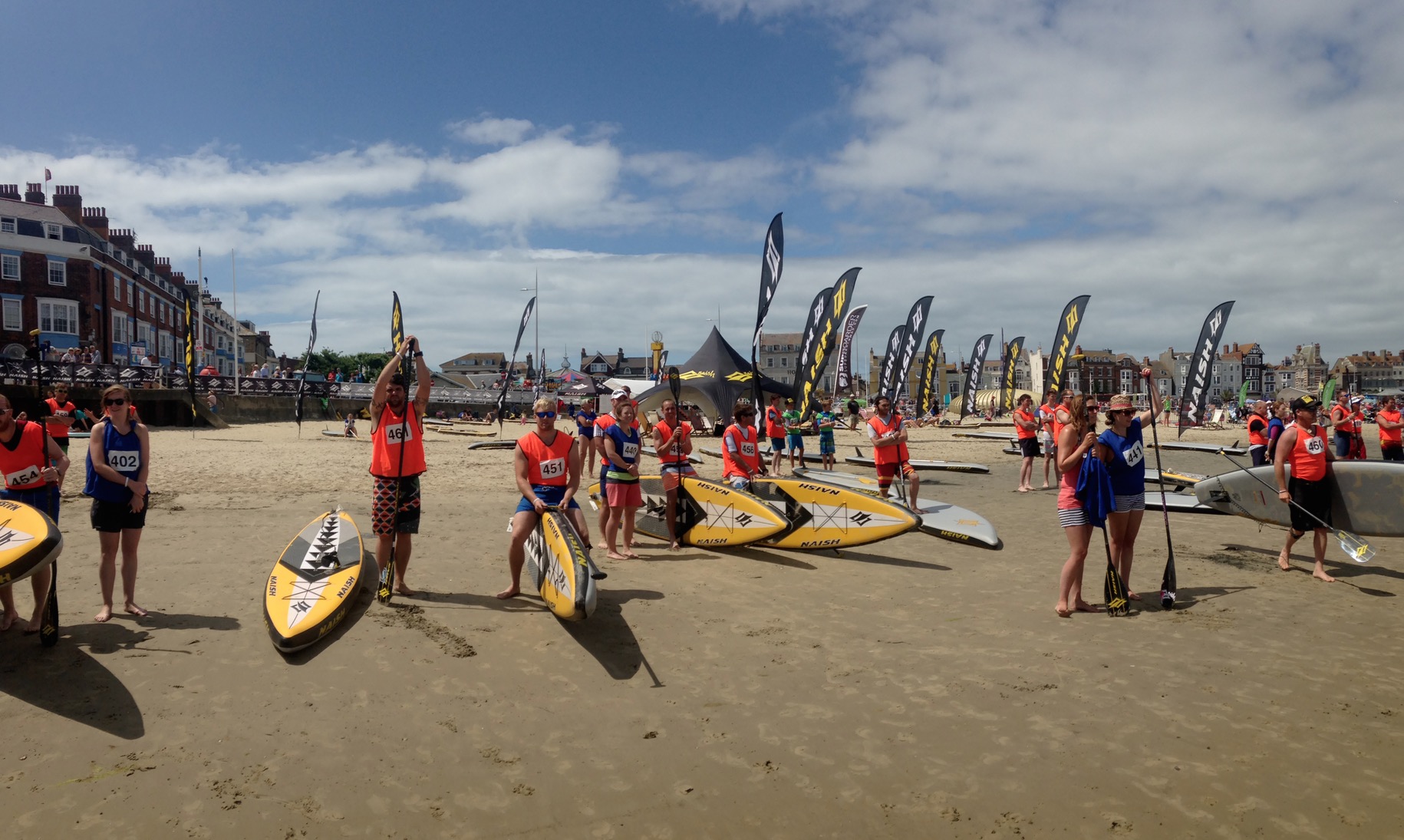 SUP race training – Where to begin?
Naish UK team paddler Dr Bryce Dyer is back, with the 2nd part of his SUP training series providing some excellent training guidance to get you ready for that first race of the season. It's not long until the race season kicks off, so if you're interested in completing an 8 week training programme, don't just think about it, do it!…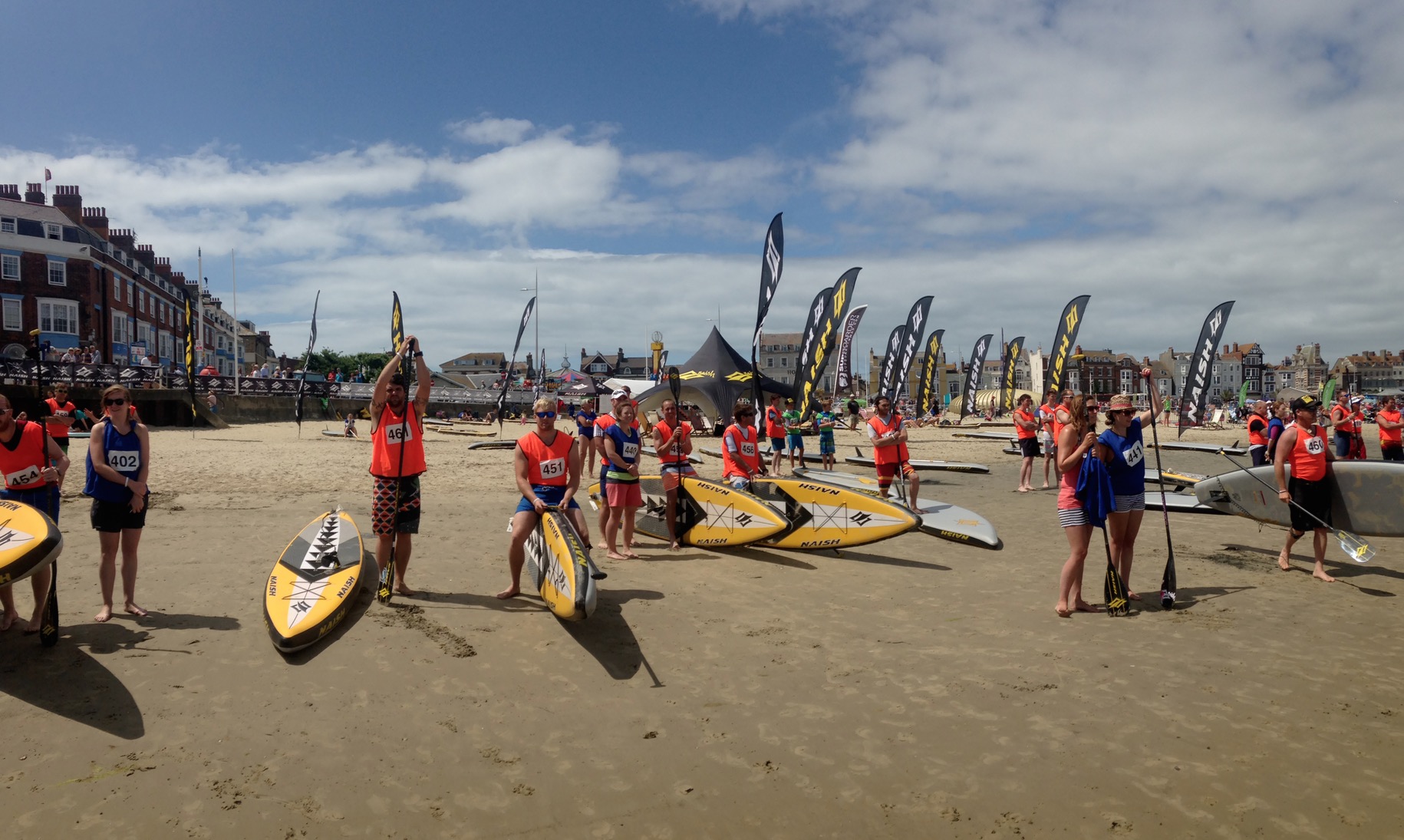 In the Part 1, we went through the principles of training and training philosophy and looked at the N1SCO sprint event. This time, I'll go through the two other N1SCO events and then show you a training plan to help support them.
The other two events of a N1SCO event are a middle distance technical race and a long distance endurance event. These both require the ability to keep yourself going at the highest sustainable speed that you can manage. The middle distance technical race also has quite a few buoy turns too. However the large fleet will also mean that drafting, overtaking and a sprint finish may well all be on the cards. They are both aerobic events so provided you practise your buoy turns from time to time, new paddlers can pretty much train the same way for both of them.
To measure how hard you are working, you need to have a gauge to measure your efforts. Whereas I would typically prescribe my own exercise intensity in cycling or running based on my power output, SUP's don't have the ability to measure this yet. Instead, we need to resort to heart rate, stroke rate or pace. In this case you're going to rely on either heart rate (if you have a heart rate monitor) or use what is known as Borg's 'rate of perceived exertion' (RPE). Borgs RPE is a 1-10 scale (with 1 being little more than inhaling to 10 being 'maximum effort – you're about to implode – save me now'). Here's a reproduction of the scale for you below.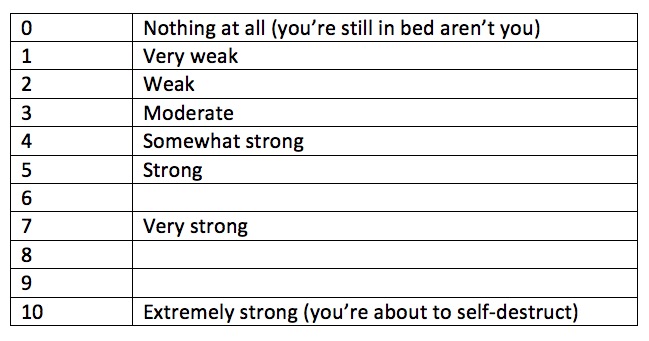 However, if you're going to use a heart rate monitor instead, you'll need to determine your lactate threshold heart rate (LTHR) with a short test before you start this programme. Whatever you do, please don't use the old '220 minus your age' to find your maximum heart rate as this is outdated thinking and rarely right. To find your LTHR, I recommend using a test proposed by well-known endurance coach Joe Friel who advocates a 30-minute time trial on your own. This test should be as hard as you can sustainably go for its full duration. However, 10 minutes into the test, click the 'lap' button on your heart rate monitor. When you're done, look to see what your average heart rate was for the last 20 minutes. That number is a rough approximation of your LTHR.
So then, onto the plan itself. This is an 8 week plan that you can start a couple of months out from your chosen N1SCO event. Just to clarify how to read it – if the schedule says '15min warm up, 30 mins @ 90-94% LTHR (RPE 3-4)', this means that you do a 15 minute gentle warm up paddling, then do 30 minutes in the at 90-94% of your lactate threshold heart rate. If you do not use a heart rate monitor, this is equivalent to a Borg scale 3-4 effort. Make sense ?
Click on the below image to enlarge…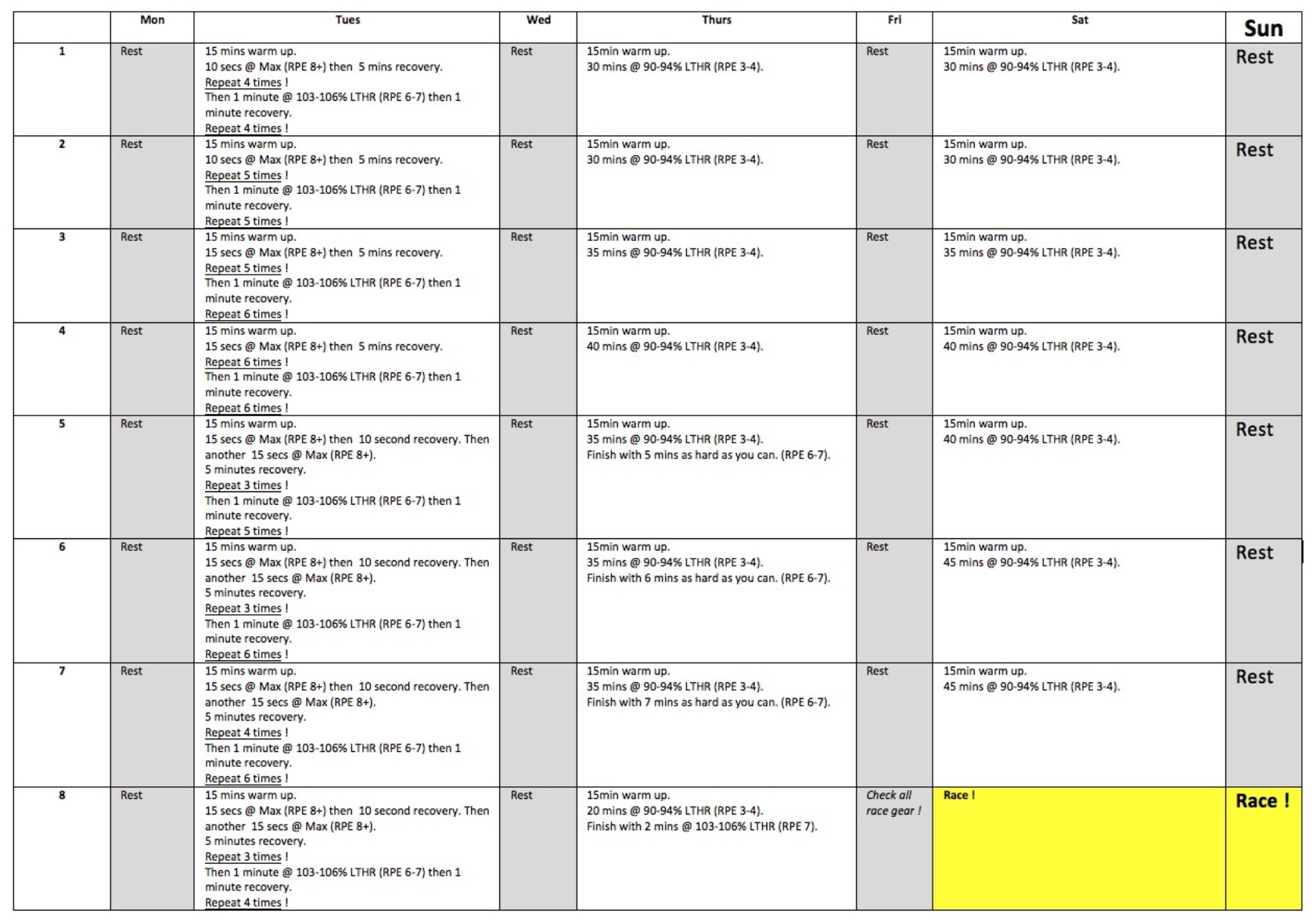 …..and here are the key points to bear in mind:
The plan assumes you'll be able to paddle three times a week and will ask you to have a full day off between each one.
The sessions are generally shorter than an hour to complete (but don't skimp on the warm up and an easy paddle to cool down!).
If illness or life gets in the way, take the time out and just pick the plan up from where you left it once you are well.
Due to the limitations of your time, it has an emphasis on moderate to high levels of intensity.
The order of these sessions is important. The higher intensity session is first in your week and should have had a day or two off before it. Don't mix this order up as you won't get the best out of it.
The first 4 weeks have an emphasis on increasing your raw abilities you'll need but the emphasis shifts in the last 4 weeks towards a greater level of event specificity. However, there is always progression!
I've put some suggested training days in for you but the key is to make sure that whatever you're first day training actually is, give yourself a clear rest day before each next day's paddling.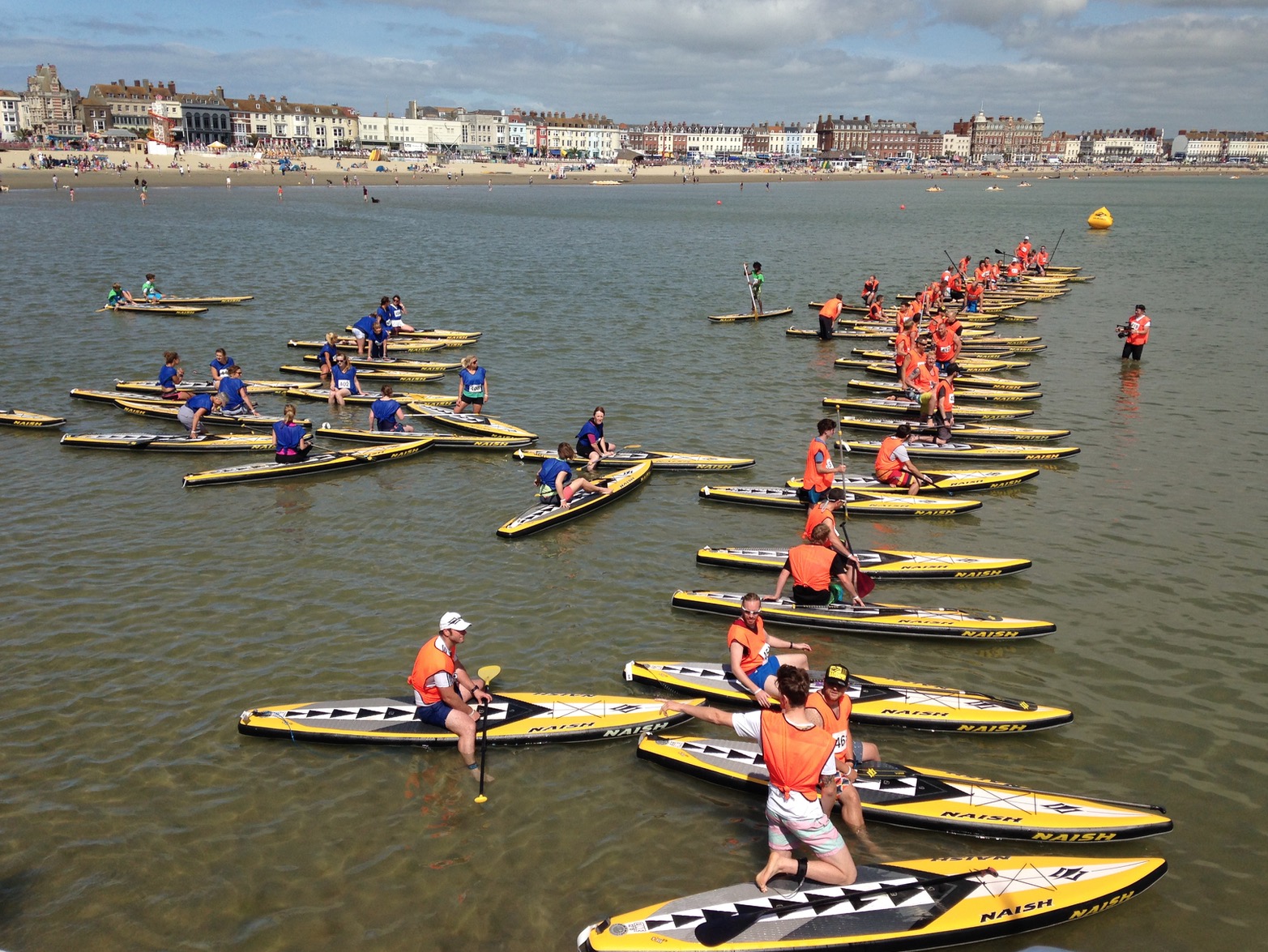 And there you have it, that's the 8 week plan! Bear in mind that it's not essential to train for a N1SCO event – it's an inclusive and fun day out for anyone. However, sometimes it's nice to have a bit extra in the tank. A day out at a N1SCO event should be (and is !) a fun experience for everyone there – irrespective if it's your first ever race or if you're a seasoned competitor. I hope to see you all there later in the year.
Words – Dr Bryce Dyer
So, even if you're planning to take part in an event this year just for fun there's no harm in doing a bit of training and getting your body paddle fit. You'll probably enjoy it more and definitely ache less the next day!