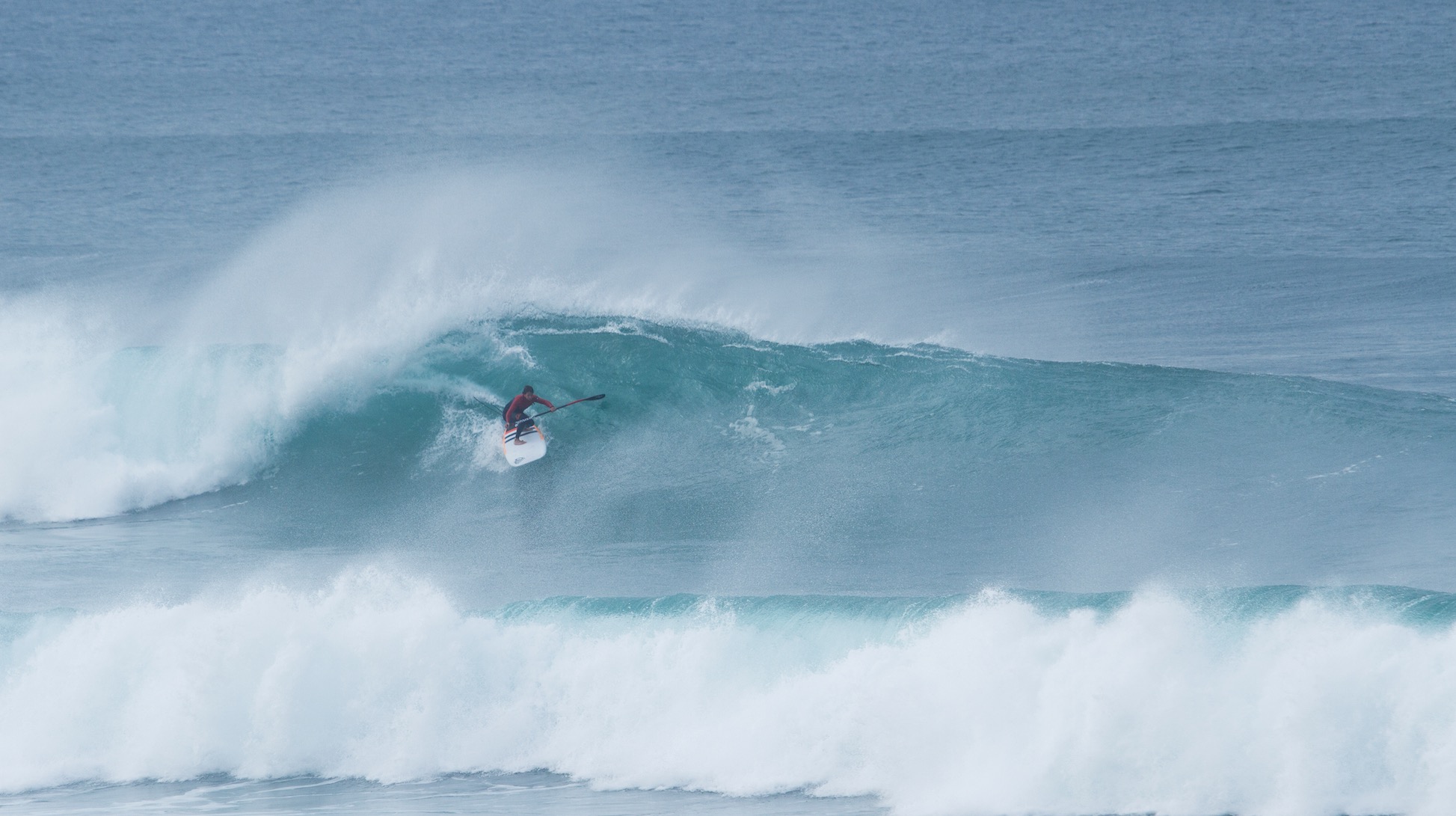 Conditions have recently been firing at Guincho, Portugal, and Alex Unwin from Moana Surf School was one of the lucky guys to be able to get out and make the most of the perfect peaks… and even luckier to capture it all on camera! Alex gives SUPboarder a recap of his day, and shares his thoughts on the new Fanatic 8'6″ Stubby…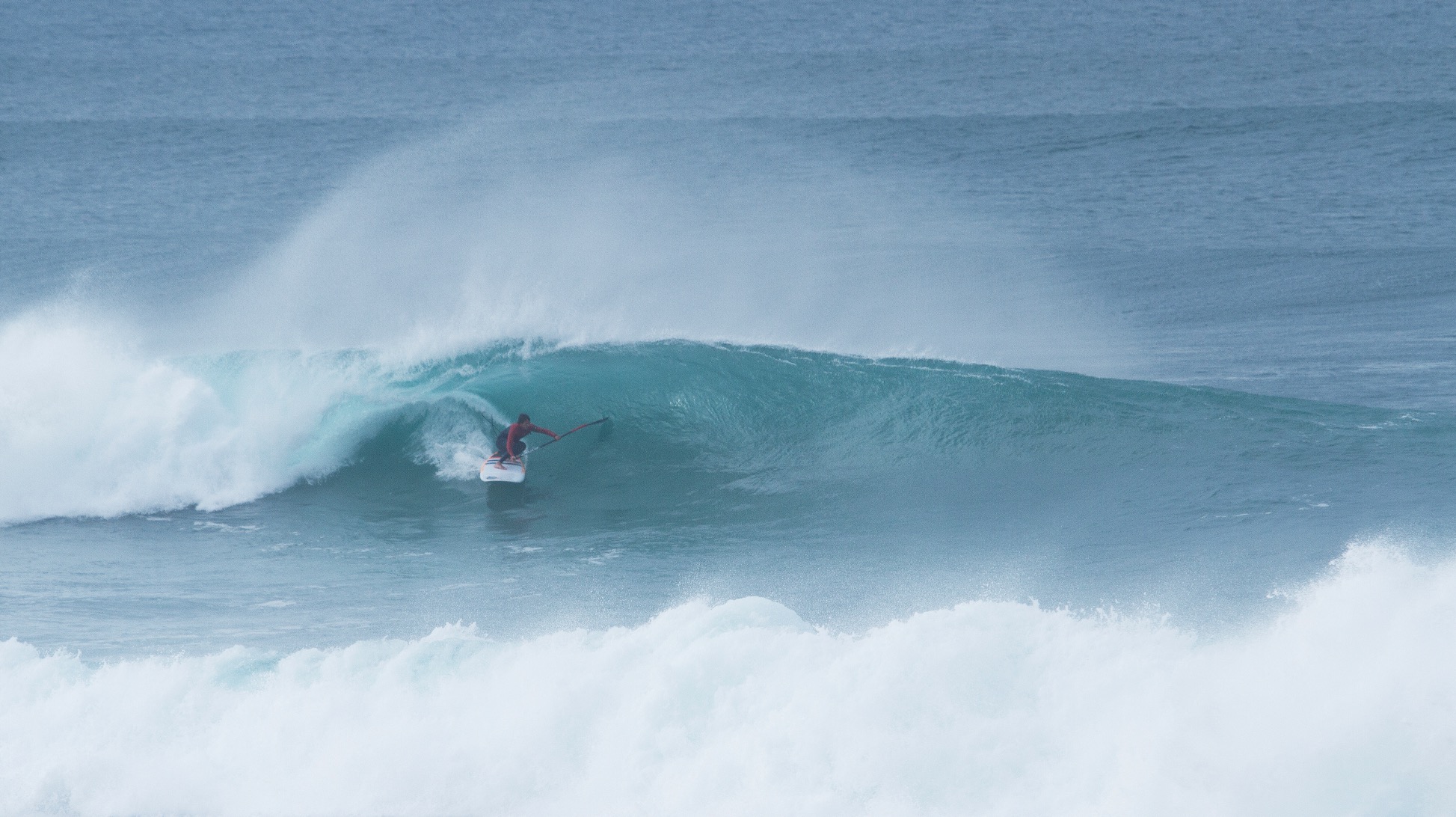 Guincho Beach. 29th November. 2016
After checking the forecast again the evening before, I thought it would be good! Took my little hero Milo to creche (the coolest son ever), my lady went to yoga and work… and I went to pick up some surf students from The Salty Pelican Hostel (a very cool new hostel to stay near Cascais with super cool owners!) As soon as we drove over the brow of the hill and saw the waves I knew it was ON!! Got Sebastian on the phone… he was on his way down anyway with a couple of Fanatic Stubby boards for us to test. Sent the surf students out with the instructors for some white water action!… and YES… green light and some nice new toys to test with Seb. And just to put the icing on the cake… I met French Mat, a great photographer just coming out of the water from his surf session… "mate I'm going to take some photos"… so voila!!
The tide was coming in, the wind was offshore, and as you can see from the pics there were plenty of nice waves coming through. It was great to have some nice walls infront of me to really get a feel for the board.
After a full stomach of waves the tide was almost too high so it was perfect timing! Back up to the surf school and Bar de Guincho for my favourite milky, sugar loaded coffee! Then back to the Salty Pelikan with some very happy surf students who also had a great time learning to surf. Everyone super happy and a win win day for us all! PERFECT!
A big thanks to all my friends who helped make this day and memories possible : Fanatic /Quiksilver/ Sebastian Wenzel/ Mat Pelikan Photography.
Words – Alex Unwin (Moana Surf School)
Photos – Mat Pelikan Photography
Having tested the new Fanatic 8'6″ Stubby in all swell sizes here's what Alex has to stay about the board…
"The 8'6″ Stubby is super easy to paddle onto the wave with and is really versatile. It turns really well too, especially when you get your back foot right on the back of the tail pad. Acceleration and speed is something we have been working on with the prototypes and with constant testing… and we seem to have nailed it! The acceleration and speed is key to the bottom turn and all the other manoeuvres, and with the stubby 8´6" it all comes together perfectly.
The 8'6″ Stubby is stable and user friendly and I am sure will bring back some very positive feedback from riders across the globe." – Alex Unwin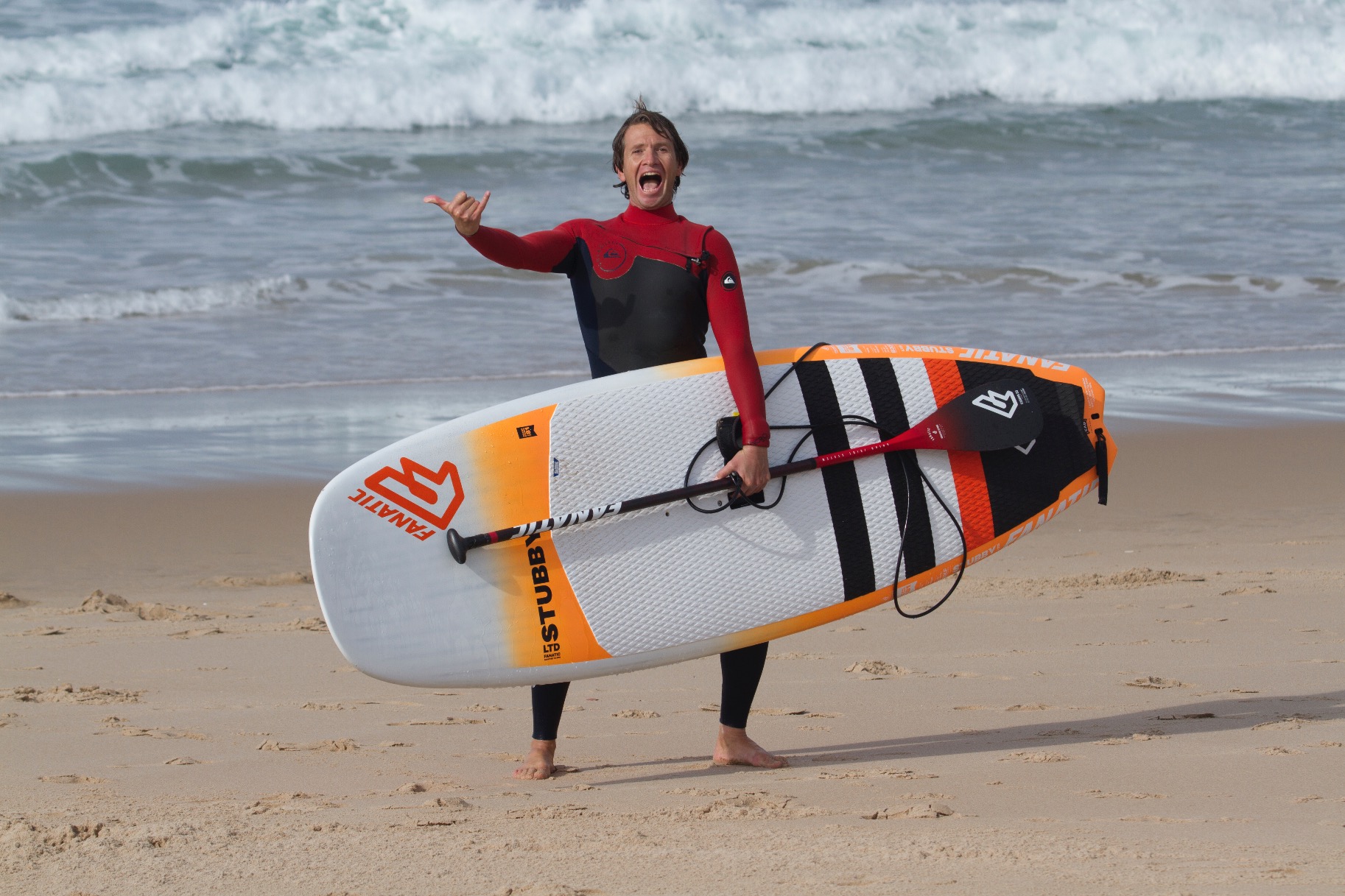 So… Alex is enjoying the 2017 Fanatic Stubby but what's the SUPboarder verdict going to be?!! The SUPboarder Team look forward to getting their hands on one soon. Watch this space!
If you're going to the Lisbon / Cascais area for SUP or Surf and need any tips then be sure to get in touch with Alex at info@moanasurfschool.com or tel: 00351 964449436. He's the man to know in the area!