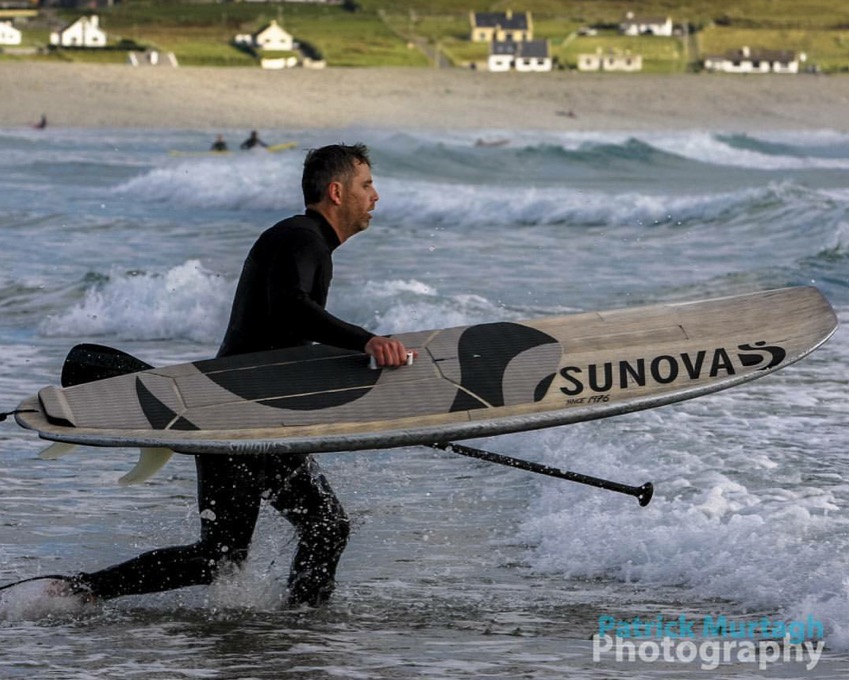 The relatively new lift SUP handle is available on certain brands of boards. The SUPboarder team have tested and used the handles and think they're a great idea, but don't just take our word for it! Paul Byrne from Irish gives his thoughts on this quirky looking handle, and why you shouldn't knock it until you have tried it!!!!!
We all know what it feels like trekking across a few fields and over the dunes to get to that remote secret spot….don't we? Forearms burning from holding our paddle against the board and finger tips going numb trying to keep control of the board in strong winds!!
Well recently I bought a new SUNOVA SPEEED which came with a LIFT SUP HANDLE fitted! I will admit that at first I was very sceptical about it and was hoping that I hadn't made a mistake I would regret. From the very first walk to the water I was amazed how good it felt, how easy it was to carry and how little effort there was even over long distances. My paddle shaft sitting nicely across the handle itself allowing my forearm and hand remain relaxed.
The Lift SUP handle stands apart from other SUP handles and carrying systems because the handle is above the deck and allows you to have a full grip, which in turn gives you much better control of the board. When the handle is not being used it sits flush with the deck of your board and there are no open holes on the deck of your board where your toes or feet have the potential to get caught.
The actual handle is a soft rubber coated handle that provides a more comfortable and secure grip. The rubber also helps keep the handle in place and prevents any plastic rattling noise from occurring.
Recently I've read lots of reviews singing praises for the lift SUP handle. It's proving to be very efficient and effective in SUP racing, especially in beach starts and board transfers.
SUP Fit classes are using the handle as an attachment point for resistance bands, bungee cords, or whatever you use through the handle and the handle becomes the perfect aid in giving you a steady point that can support the weight and pressures you put on the handle when pulling on your bands.
It has even proven as an excellent point to securely attach your board, whether you are locking it to the roof of your car, to the board rack at the beach or in your garage.
My advice to you is….don't knock it until you have tried it!!!!!
Words : Paul Bryne www.irishsup.com