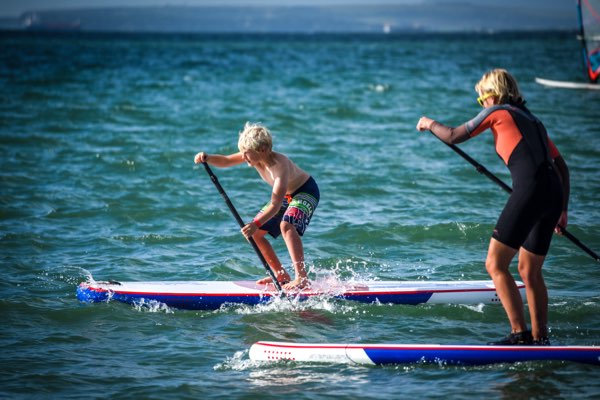 The National Watersports Festival (NWF) celebrated its 10th anniversary over the weekend with the usual great mix of racing, clinics, live music, parties and plenty of wind! 
Where SUP has dominated the event for the past couple of years with light winds and blazing sun, which has brought the spectators out in their droves and 'giving it a go', it was the windsurfers' turn to get the lion's share of good weather and get their best sails out to race hard.
Despite some of the SUP events being cancelled there was still a big SUP presence at the festival with riders still grabbing boards and getting themselves out on the water. The traders were also able to take time chatting to interested punters and show off the latest kit with every type of SUP you can think of on show either in the trade tent or on the beach.
"A big element for us is getting people into the sports and we've certainly delivered this over the past decade," explains event director, Allan Cross. "Not only have we got hundreds of people into the water on the taster sessions but we've then been able to show them what they'll need to get into the sport and introduced them to key personalities within the disciplines.
"This year we also put a lot of effort into the live music over the weekend so people were able to kick back and enjoy the atmosphere or wonder around the trade tent and outside area where there were things to do for the whole family."
This year the festival welcomed Ollie Shilston to the event who was on hand to chat about his latest SUP adventures and he ran a packed clinic on SUP techniques. There were other NWF gurus running clinics throughout the weekend, showing both newcomers and intermediates various skills and SUP practices which many then trialled in the water.
Nick Dempsey, fresh from the Rio Olympics where he won a silver in windsurfing, dropped by to support the event and commented: "The NWF is a fantastic event and it's the only one throughout the year that brings everyone together from the windsurfing, SUP and whole watersports community. This is the second time I've come to the NWF with an Olympic medal (Dempsey also won a silver at Weymouth) and the atmosphere is buzzing. It feels great to be here with old friends."
Justin Goodwin from Birdham comments: "I've been coming since the event started where there's been both wind and no wind and there's always a great vibe. It's great to get the pros and amateurs together and the event creates a fantastic bridge between the two."
Photos : Global Shots