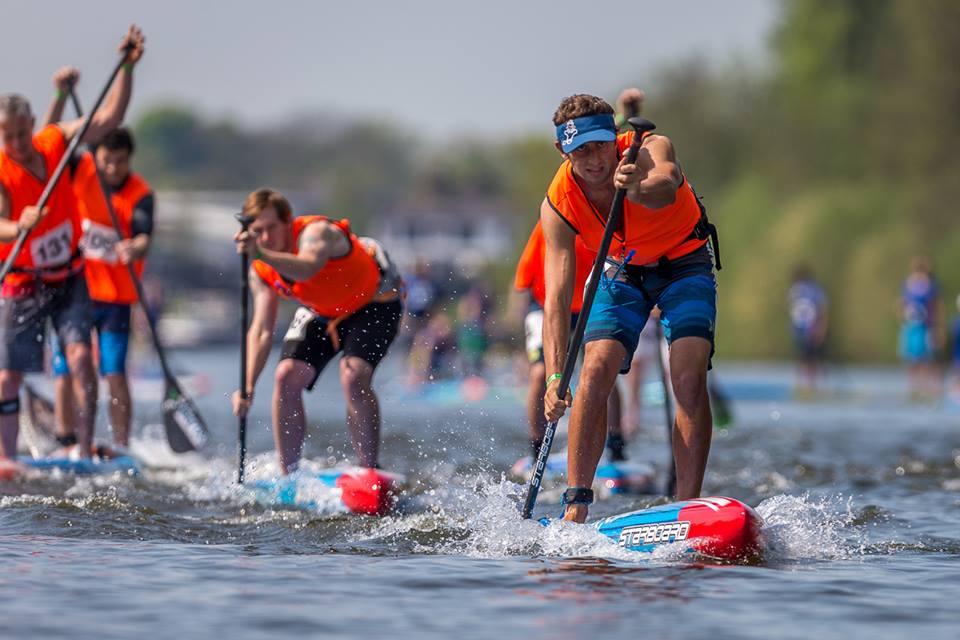 Now that the race season has started it's a good time to think about nutrition. And that doesn't just mean what you have for breakfast the morning before the event. It means thinking about what you eat in the days, weeks, and even months leading up to the big day, as well as your food and hydration during and after an event. Everyone will have their own pre-race favourites and maybe even their own lucky food ritual. There's no right or wrong. But it might make the difference between making the finishing line and not!
SUPboarder caught up with some top SUP racers to find out what they eat. It's quite an eye-opener! 
Pete Holliday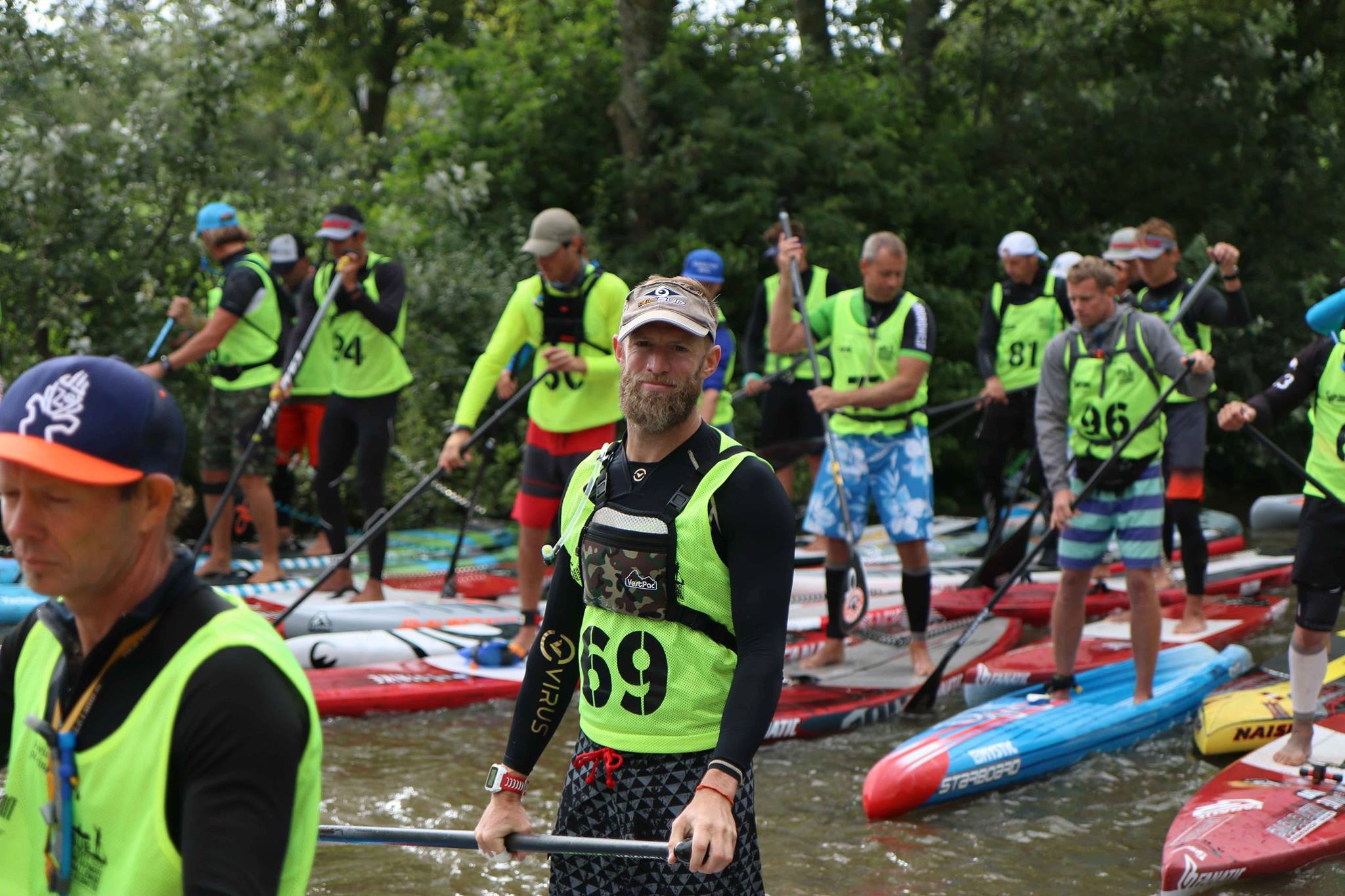 Getting nutrition and hydration right on race day is vital, and something that should almost be treated like training, in that you're used to it.  The golden rule is never try anything new! Ryan (James – ed) helped me look at my general nutrition and hydration several years back and it's been totally life changing. It's a big topic, and not one to cover in its entirety today. 
Typically races start mid morning to lunch time. Bearing in mind they often involved 2-3 hours travel my schedule for a race like Battle of the Thames might be as follows:
Night before
Load up on sodium using Precision Hydration 1500 in 500ml of water and eat a normal dinner
Race day
If time I'll always try and eat a normal meal. If not I might have a magic shake for breakfast too. If I've time to prepare something I'll have a fried breakfast (streaky bacon x 3 / black pudding / 2 fried eggs) which I have more or less every day. Double espresso (with coconut oil & a splash of double cream). Precision Hydration 1500 in 500ml of water.
Water (or Precision hydration 500) to sip during the morning and travel and 2hrs before race start a magic shake containing:
Full cream milk

Double cream

Banana

Coconut Oil

4 egg yolks
45mins before race start 1 – 1.5 Precision Hydration 1500 in 500ml of water (depending on temperature).
During and after the race
1 Precision Hydration 1500 in 500ml of water which I don't tend to have much of but sip post race too.
Ryan James – Team Mistral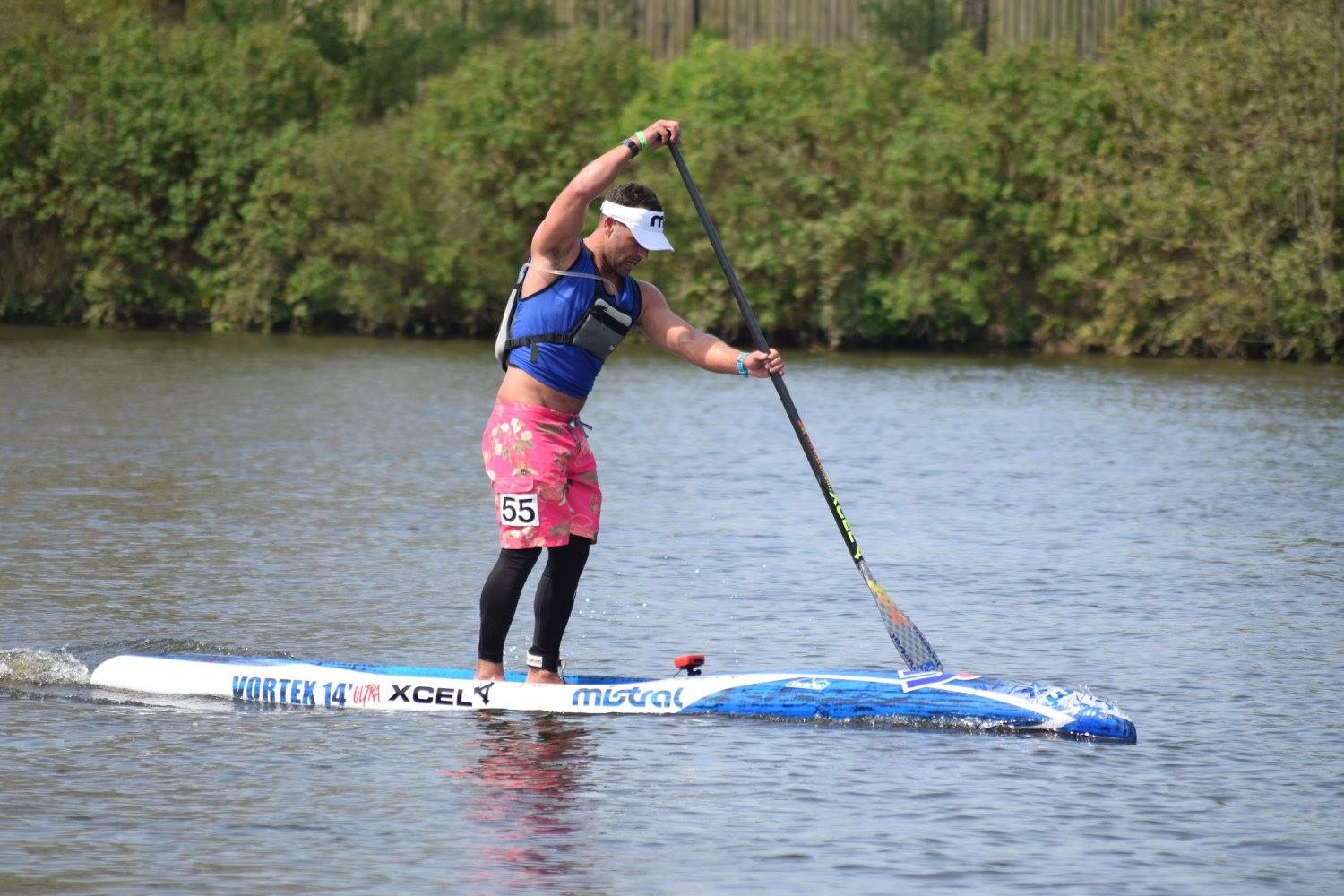 For me nutrition has been one of the pillars of performance not just for all the sports but life in general.  I don't want to waste my time being injured or ill so I put a great deal of research and thought into what I eat.  For me there is no such thing as sports nutrition, just performance food. Food should make you feel energised whether you're competing, training or starting your day at the office or the beach. It feeds into a positive lifestyle.  
The science part is probably the most overlooked aspect of the whole subject. In layman's terms, now here's the cleshay "you are what you eat." The food that you eat goes to make every cell in your body, and therefore this should make you think about what you put in your mouth. Your body needs nutrients, and all your job is, is to supply your body with them.  Something like 51 nutrients are needed at each meal, by nutrients I mean, vitamin A,B,C, sodium, potassium, calcium, magnesium etc…
Now you don't need to know what these look like, just focus on getting real food into your body.  Real food is the normal food stuffs you all know, fruit, vegetables, meat, eggs and dairy.  All these foods should be unprocessed, minimum tamper and of high quality, local if possible.
All these foods should have that positive effect on you, they should make you feel good or great, if not remove them from your diet and don't feel the need to replace them with alternatives (whole milk with a nut or bean dairy alternative for example).  
Before the race
Leading up to an event this diet doesn't change. This is important, because if you try new things just before you risk messing up all the hard work.
One of the key things athletes, recreational athletes and competition athletes can do better is turn up to the event hydrated. Pete mentioned preloading with sodium prior to the event, this is important – the longer the event the longer you can preload for.  If you're preparing for the 11 cities then preloading could start a week out from the event.
During the race
During the event depending on your environment its recommended up to 500 ml every 30 minutes but this will depend on your sweat rate and composition (get a sweat test). There is an on-line sweat test available from precision hydration.
Event feeding should be tried and tested prior to the event, ideally in training.  Gels are the easiest and most efficient way to supply your body with carbohydrates. This is ok for shorter events I would say up to 15 km (<2 hours). However once you start getting into longer events you need the composition of a meal, (carbohydrates, fats and proteins) and you need to work out a way of achieving this. I get all these in the magic shake, and I've be using this for 6+ years. Just remember you may need your own version as everyone is different (biochemical individuality).
For <2 hours I use hüma chia energy gel  as its the closest to real food I've found and tastes great. This needs to be taken about 30-45 minutes into the event to allow digestion and the benefit to gain during the event. But again turn up to the event prefueled.
Have a think about the delivery system, how are you going to carry your hydration and food? Both Pete and myself use Westpac, these have large and small interchangeable bladders and front pockets that fit at least 4 gel sachets but most importantly they are like a second skin and allow you to focus on paddling.
Closing thoughts for all paddlers; focus on being hydrated, eat real foods and learn about your body as it has all the answers you need.
Peter Kosinski – Team Starboard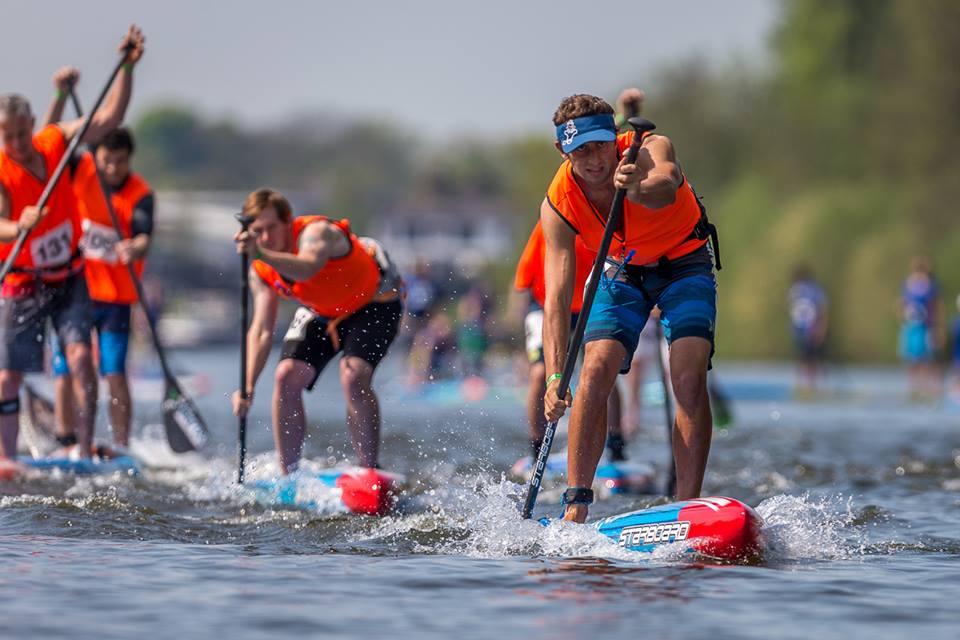 I think my race day nutrition is pretty bad because I am in a different country every race but my hydration is the same every race.
Before the race
I have been SUP racing for 5 years now. In that time I have probably raced in over 150 races in nearly 20 countries. From racing though Paris at 7 am during a very cold December morning to racing downwind in New Zealand in 30 degree weather. I try to keep one thing the same with my race routine. That is – my hydration. Before an event I will buy a few bottles of an isotonic drink, something with sodium in it. Combined with water. I will drink a pretty weak concentrated mix before a race to ensure I am properly hydrated.
During the race
During a race I always put water in my hydration pack. I have experimented with different products but none of them have worked for me.
After the race
Post race depending on the climate, I will drink an isotonic drink with some water. In addition I will try and eat as soon after a race as I can. My hydration routine is simple. That's the most important thing with racing keeping it simple. On a race day you have to micro manage everything. Equipment, time management, nutrition and a whole host of other things. So, keeping everything as simple as possible will benefit you when it comes to getting on with racing.
Glenn Eldridge – Team Starboard and Team GB 2016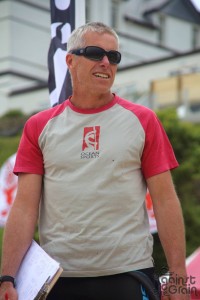 Getting ready for that big race can be nerve racking no matter who you are. Entertaining the thought of putting something into your already groaning stomach is the last thing from your mind whether you are out for a cruise or aiming to spearhead the faster divisions. But the last thing you eat is likely to be the one thing which will dictate how well you do in that event.
Having completed the Molokai in 2001 and reaching near delirium mid channel, I remember legendary Australian surf Ironman Grant Kenney telling me that the Molokai is an eating event which happens to be on the water! These sage words of wisdom (pardon the food reference) have never left me. So for those of you who go all of a quiver at just over an hour (I used to last only one hour thirteen minutes; exactly!) or are all of a sunder at 90 there is hope! I use the following five things to help me get through longer events.
Before the race
Food is fuel and not for taste. Remember this if you can't face eating before the big event, find something which sits well and eat it ideally 90 minutes before the start (no later than an hour). I like a bowl of muesli!
Hydration. This is not always needed in a race but definitely starts at least three days out and not on race day.
During the race
Don't waste money on hydration / refuelling drinks. If you get your pre event hydration right and eat at the right time water with a dash of cordial will do for most events up to 90 minutes.
Take something sugary to chew on just in case. I like nougat (vegetarian type), chop into little chunks and eat when needed. I like nougat because it is chewy, it stays in the mouth longer (this is a good thing) and the chewing helps distract me from the grind!
And possibly my most important thing is to not tough things out early on. Recognise your signs and take action. The longer you leave it the longer it will take to recover – for me my fingers start to tingle and when it is really bad I'll see spots in front of my eyes!
And finally, it is possible to train yourself to race for longer without use of carbs, it is all in the prep.
Ginnie Odetayo – Team Mistral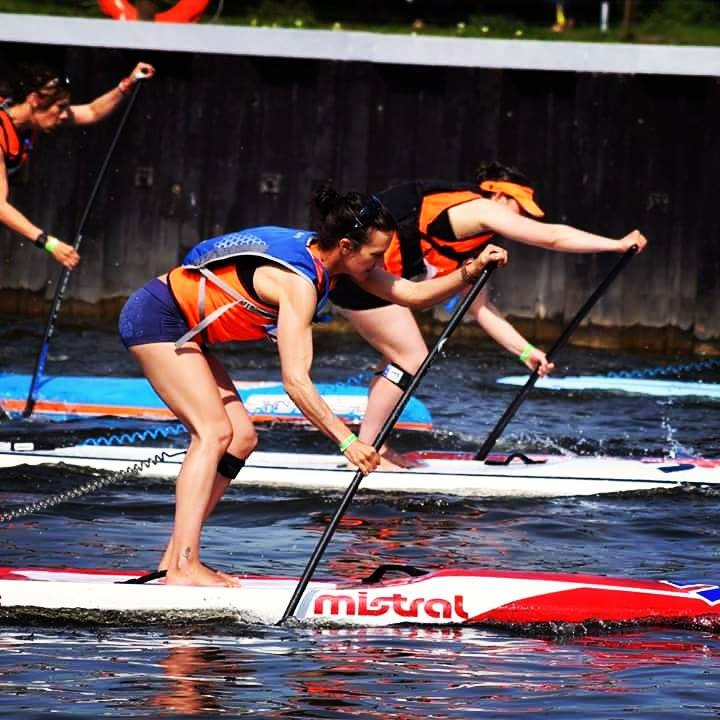 Now that I'm one year in to SUP race training, I have only just begun to look at my diet. With 3 kids and full time work, I tend to grab food on the run and use the excuse that I dont have time to obsess about it – my body is no temple! I recognise this needs to improve.
Before the race
We do eat home cooked family meals fairly regularly and pre-race I have got into the habit of eating lots of sweet potatoes, greens, nuts and eggs. I never feel like meat for some reason. Race morning it's porridge and honey and slices of a cranberry, orange and pumpkin seed loaf.
During the race
During the race I have a carbohydrate mix in my hydration pack.
After the race
Post race – I'll eat whatever's at hand during the long drive back to Penzance!
It goes without saying that every paddler is different, as are our personal goals when we line up for an event. SUP race fuelling is also a very personal thing. Those who have a long history of racing can take a very technical view of their nutrition, others will go with what they feel works best for them and others are new to the endurance side of SUP racing and are still working out what's best to do. There is no right or wrong answer. But one thing that stands out from all our contributors, is that race day is not the time to try something new.
If you have any top nutrition tips you'd like to share, from Jellybabies to home made flapjack recipes please comment below. 
Featured image : Dave White