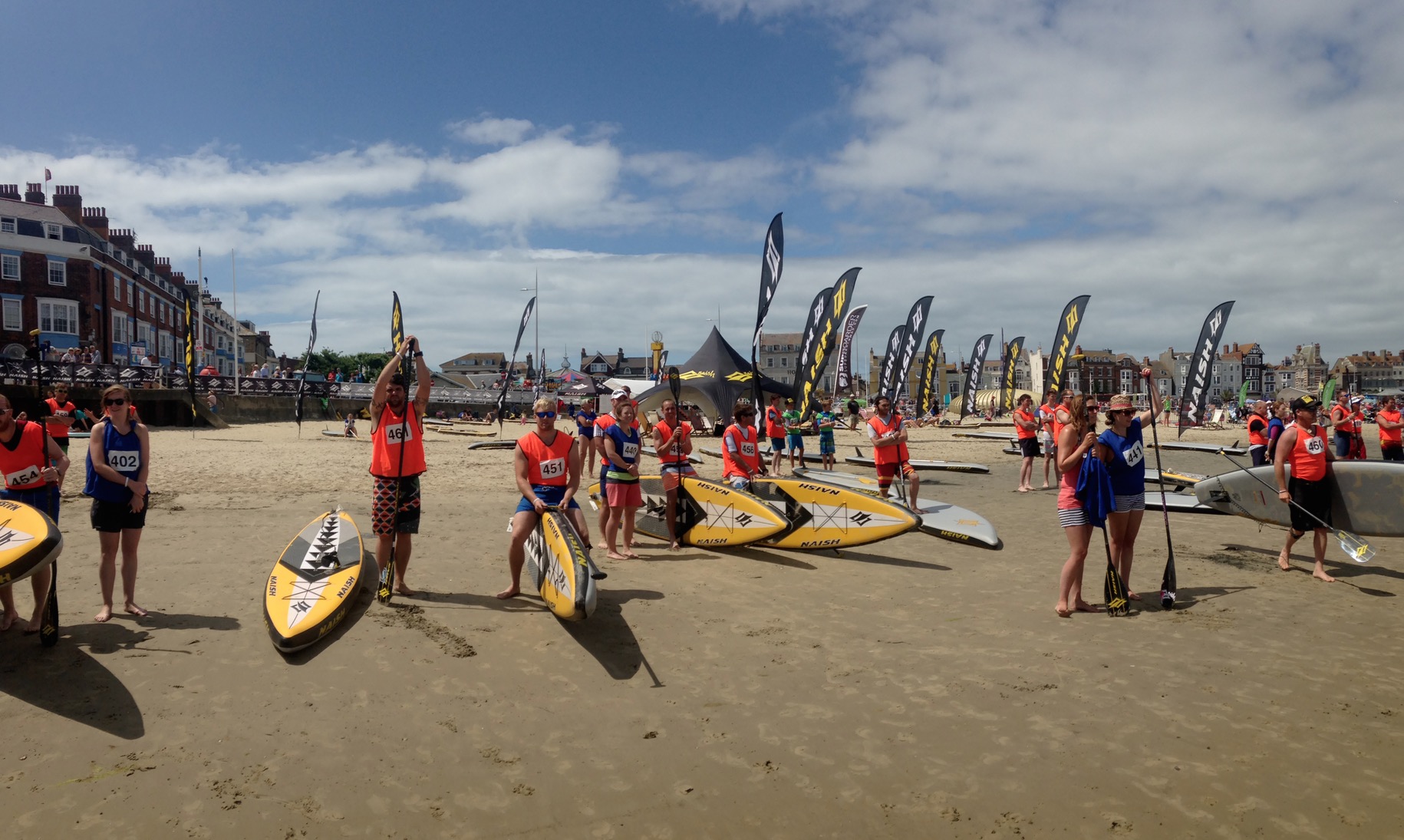 Back for its third season the Naish N1SCO series is now a big fixture on the UK race scene. All paddlers using identical 12'6 Naish One inflatable boards, there's plenty of racing and fun to be had on the water. Alex Tobutt has the details on the 12 paddlers that will be flying the yellow Naish flag for 2016…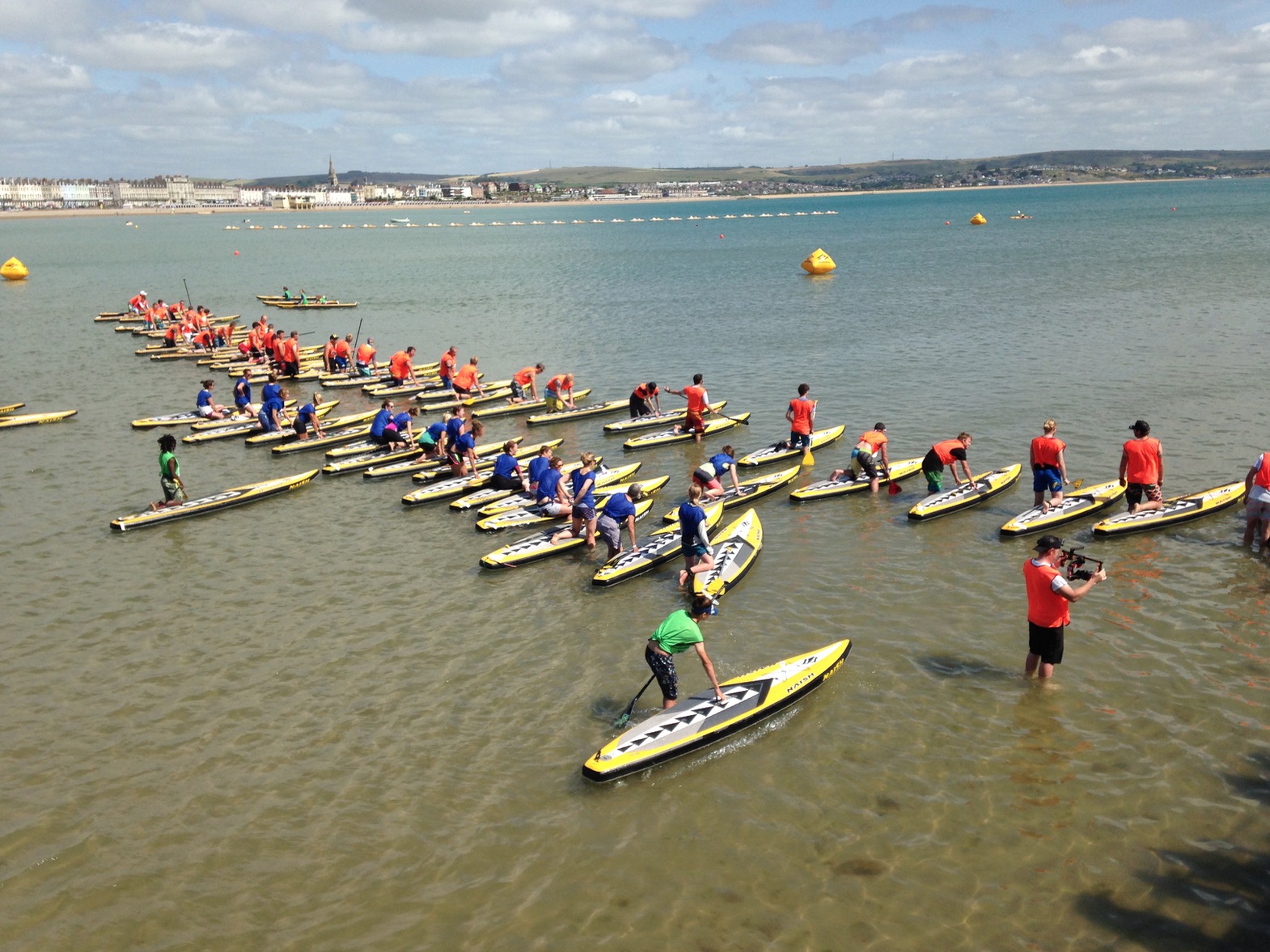 2016 will be the third year of N1SCO racing in the UK. N1SCO is a One Design SUP racing concept put together by Naish using identical 12'6 Naish One inflatable boards. At 30″ wide the boards can be raced regardless of the riders experience or weight and at under £1000 the idea is that the racing is accessible to all and very inclusive. N1SCO racing in the UK takes two forms with the board having its own fleet within the UK SUP Clubs tour and Naish organising two stand alone N1SCO racing events. At the N1SCO events, racers enter 3 races in one day consisting of sprints, mid distance and long distance. It is worth noting that even the long distance event is relatively short at around 5km so all race distances are attainable, even by the novice. At the UK SUP club events however, racers follow the same course as the main event which is usually a single longer distance race.
Each year, Naish put together a N1SCO rider team with a dozen riders selected to be loaned a board for the year to participate in the racing. Ability, experience and age have nothing to do with the selection criteria so anyone can apply. What Naish look for is enthusiasm to get involved in SUP racing in the UK. This leads each year to a very diverse bunch of people coming together to race and has allowed many paddlers to develop their racing in a very supportive environment with the more experienced members of the team taking the role of competitor, mentor and friendly face to those experiencing racing for the first time.
Last year saw bumper fleets for the N1SCO fleet with nearly 80 One Design boards racing at the classes Nationals. To aid the growth of the fleet still further, Naish provide loan boards at both of their N1SCO Championship events so those wanting to dip their toes in, can without committing to buying a board. One such paddler is Dr Bryce Dyer who has been a regular on the UK SUP Clubs tour over the last year. Bryce was interested in the One Design concept so attended last year N1SCO Nationals. Bryce has this year been successful in gaining a spot in the rider team and has been training hard all winter so will have his eyes firmly set upon nudging some of last years regulars off the podium.
Racing tends to be very close throughout the fleet since everyone is on identical kit so there is no longer a kit advantage to think about. At the the last UK SUP Clubs event of 2015 in Kingsbridge the top 10 in the N1SCO fleet were changing positions throughout the entire 8 miles with the days podium decided in the last 20m. This was a regular occurrence in the N1SCO fleet and will be one to watch for 2016 with all to play for.
The 2016 N1SCO racers
Sally Newman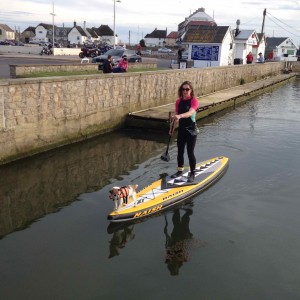 How long have you been paddling? 
Four or so years. I borrowed a friends board for a while, and then bought (second hand) an Ocean Kayak Nalu, one of those moulded sit on and stand up if you want boards, great for picnics and bashing over rocks at low tide. It's a tough old board.
Then as a treat to myself for my 50th a few years ago I bought the  Alana Naish womens board. Callum from 109 Watersports kindly added a patch of rubber deck grip to the front for where my dog Tally stands. It's a lovely stable board and ideal for the choppy waters off West Bay.
Favourite location to SUP?
Close to home, a paddle from West Bay along the coast towards Seatown and Charmouth. I love that by being on the board I can get away to quiet deserted bits of coast. Last June I spent a wonderful few days with my sons paddleboarding  around The Isles of Scilly. I plan to go back.
What attracted you to N1SCO racing?
My boys are both at Uni, so I now have time for myself… racing will give me an incentive to paddle a bit harder than I usually do and help keep the middle age menopausal weight off.
I find paddleboarding very meditative and get into a bit of a daydream when on the water and tend to just gently paddle along enjoying the rhythm of the sea.  Racing will give me a focus.
SUP goal for the year ahead? 
SUP surf,  I am rubbish. Tally the dog is better than me.
Dr Bryce Dyer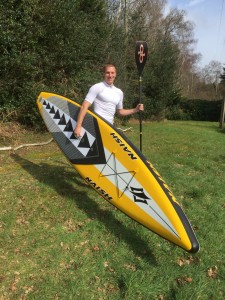 What got you into SUP?
I only tried SUP by chance as I was bored of going to the gym to cross train when I was doing competitive cycling. I'd hired a board a few times and found SUP had a short learning curve and was also a really good workout. It wasn't long before I wanted to try racing.
What attracted you to N1SCO racing?
Its not without a sense of irony that my occupation involves an interest in researching or designing sports technology but that I would then opt for a one design board class where we all use the same equipment. However, I did the N1SCO national champs last year for the first time and it had the most fun, the best organisation, the best atmosphere and was the most well attended class race I did all season. The races this year have different styles and lengths of racing so that really appealed to me too.
SUP goal for the year ahead?
I'm a competitive animal at the end of the day so I'm looking for an improvement in my paddling from last year and to be as fast as I can get.
Sarah Louise Smith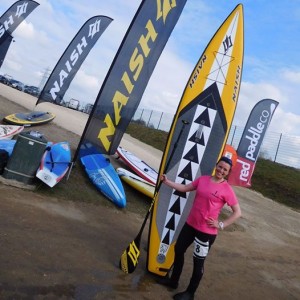 What got you into SUP?
I've surfed for about 8 years, I took my daughter to the wakestock festival 3 years ago, there was no surf so I hired a SUP. When I graduated uni my parents asked me what they could get to celebrate the first Smith to get a degree and I had to have a SUP.
What attracted you to N1SCO racing?
At Sup Armarda last year I had a sprint race with my friends and I won! I have been looking at race boards for a while now but it's always been the Naish one that's had its appeal, a fantastic opportunity to race and promote a board that I really like.
Stuart Dove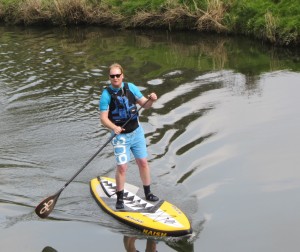 What got you into SUP?
Our village holds a country show each year and a few years back Frangipani SUP were showing SUP demonstrations on the lake.  I had been looking at getting into some kind of water sports as we live close to the water and this looked like great fun.  So I signed up on the same day to complete a beginners course and have been hooked ever since!
What attracted you to N1SCO racing?
I first came across Naish SUP Boards in my local water sports shop WetnDry Board Sports last year and liked the look of the N1SCO Board.  I then had an opportunity to join in on some of the Naish sprint races at SUP Armada last year, which I really enjoyed so I decided to see if I could get my name down for this year.
What are you SUP goals for the year ahead?
As I am only used to touring, getting into the racing side will be a great challenge for me. I hope I can improve on my paddle technique and learn from the more experience people on the team, as well as gaining experience on the UK race circuit.   I'm also planning to really push myself to improve on my fitness and find a style that suits me.
James D Roorda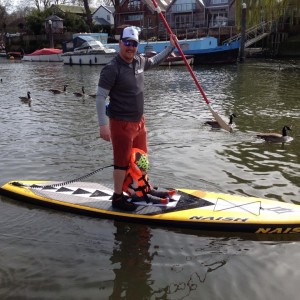 What got you into SUP?
I love watersports, but have never lived by the sea.  I love how versatile the sport is and being able to SUP on/in rivers, lakes, and the sea appeals to me.
What attracted you to N1SCO racing?
I have always been interested in racing, but have been intimidated by not having access to a quiver of carbon fibre race boards for open water / sprint.  I want to have a personal board that is good for all conditions, as most of the paddling I do is for relaxing or teaching.  The N1SCO is perfect for this.  The egalitarian part of me likes the fact that everyone is competing on the same board, we are all starting from the same place.
SUP goal for the year ahead?
To finish each of the races I enter.  And hopefully have some fun too.
James Kay
What got you into SUP?
I guess Mark Price and Dave Dunker-Brown are responsible for that! They're both good friends of mine so when they started PeakSUP last year I started going to the club nights and really enjoyed it.
How long have you been paddling?
Only a year, and I've not done massive amounts. Hardly did anything over winter!
SUP goal for the year ahead?
Improve my technique and confidence on the board and not come last! I'd also like to do some more paddling in the lakes.
James Thornby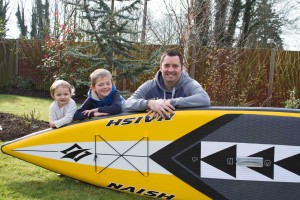 What got you into SUP?
My brother bought a board after trying SUP down in Cornwall and suggested we have a go. So with the family in tow we headed down to the seaside and splashed about for the day. Even though all of us were spending more time in the water than stood on the board we all had a great time.
What attracted you to N1SCO racing?
I was looking for a way to motivate myself to be fitter and to give me even more of an excuse to get on the water with the family. I was planning on entering one of the leisure class races this year but when I came across the N1SCO opportunity I jumped for it. I really like the format of the N1SCO events as they have 3 races with different distances which gives people more opportunities to do well.
SUP goal for the year ahead?
As a SUP racing rookie I am hoping to enter as many of the races as possible and make it to the finish line! As well as trying my luck at racing, I would like to give SUP surfing a go this year, but overall I am just looking forward to another fun year on the water with my family.
Paul Dewey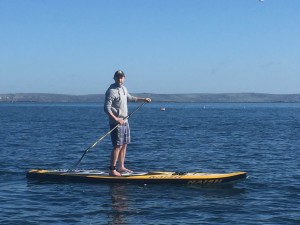 What got you into SUP? 
A friend at work got me into the race series, and adventure 4 all with his Sunday morning paddlefit classes.
What attracted you to N1SCO racing?
The chance to meet new people and paddle in some cool locations which I otherwise wouldn't get or think to visit.
SUP goal for the year ahead?
Just not to finish last in any of the races.
Rebecca Littlewood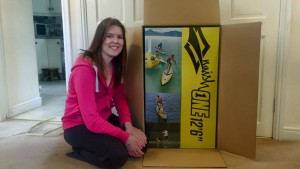 What got you into SUP?
I first saw people paddle boarding in the Canary Islands and always wondered what it was all about. When I was on holiday last year in Lanzarote, I wanted to do something different, so went along to the local surf school and decided to give SUP a try. Needless to say I was instantly hooked, went out on a board again the next day, bought my first board as soon as I got back home, joined my local SUP club and have never looked back!
What attracted you to N1SCO racing?
I'm always looking for new things to try out with SUP. I wanted to give racing a go and had completed a couple of races on my all round board at my local club and the Northern SUP Racing Series . When I saw the opportunity for the N1SCO sponsorship, it was right up my street, especially having the opportunity to take part on a race board. I can't wait to get stuck in and see how I get on!
SUP goal for the year ahead?
My goal for the year is to hopefully see my race times improve as the months go by, although at the moment I'm going to be celebrating completing my first race no matter what time I do it in!
Amanda Kesley
What got you into SUP?
I saw SUP on a few tv programmes (Hawaii 5-0) and wanted to give it at go; I was lucky enough to try it for the first time on holiday in Lanzarote and loved it.  As soon as I landed back in London I looked for somewhere nearby to get out on the water, not thinking that I'd be lucky enough to have the Docklands SUP club practically on my doorstep.
What attracted you to N1SCO racing? 
Neil who organises our club paddles has entered the N1SCO Battle of the Thames Race this year and I thought that racing sounded like fun.  After googling various UK SUP races I thought the N1SCO racing would be a great introduction as there is good variety across the races and also the idea of everyone being on the same board appealed to me as a beginner.  There seems to be a really good atmosphere at the races too.
SUP goal for the year ahead? 
I'm really looking forward to challenging myself by racing and hopefully improving my technique.  I'm really excited to be a part of the team and am looking forward to meeting new people and spreading the word about SUP in the UK.
Eilidh McIntyre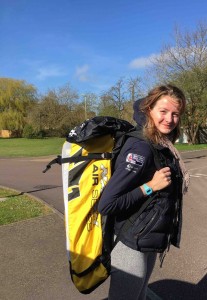 Favourite location to SUP?
Hayling island but hoping to broaden my horizons this year.
How long have you been paddling?
Very sparely for a number of years but want to use it as a source of fitness and socialising!
What attracted you to N1SCO racing?
A couple of my friends do it and love it. Love the people love the events and support they get whilst at them and I wanted to try something new.
SUP goal for the year ahead?
SUP to take my board with me on my travels and explore beautiful places via the sea/water.
 
Alex Perks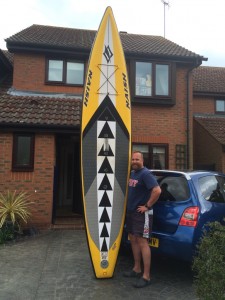 How long have you been paddling? I have been into SUP for about 4 years now, I found it more fun than surfing and gave me more time in the waves and on the water.  I love SUPing around Portland and the Jurassic coastline there is nothing quite like it in the UK.
What attracted you to N1SCO racing? N1SCO racing is going to give me the opportunity to meet a whole new group of people, have a bit of fun and get fit.  I love the way the N1SCO has made SUPing and racing so accessible for those that don't have ready access to water.
SUP goal for the year ahead? My SUP goal for the year is to complete 7 or 8 races improve on my results and get fit, I'm really looking forward to the challenge
If you're interested in having a go at racing and taking on the N1SCO team then you can hire a broad at any of the events listed below;
12th June Inland Championships, Kingston Upon Thames (Enter here)
9th July National Championships, Weymouth (Enter here)
Then the Naish One Design fleet starts at the following UK SUP Club events;
7th May Blue Chip, Battle Of The Thames
18th June BaySUP, Bournemouth/Poole
23rd July SUP Armada, Bewl Water
3rd September Central SUP, Tamworth
9th October WSA/Puravida, Cardiff
22nd October Jurassic SUP, Weymouth/Portland
You can also try your hand at the SUP Bike Run events this year where N1SCO sprint races will be happening.