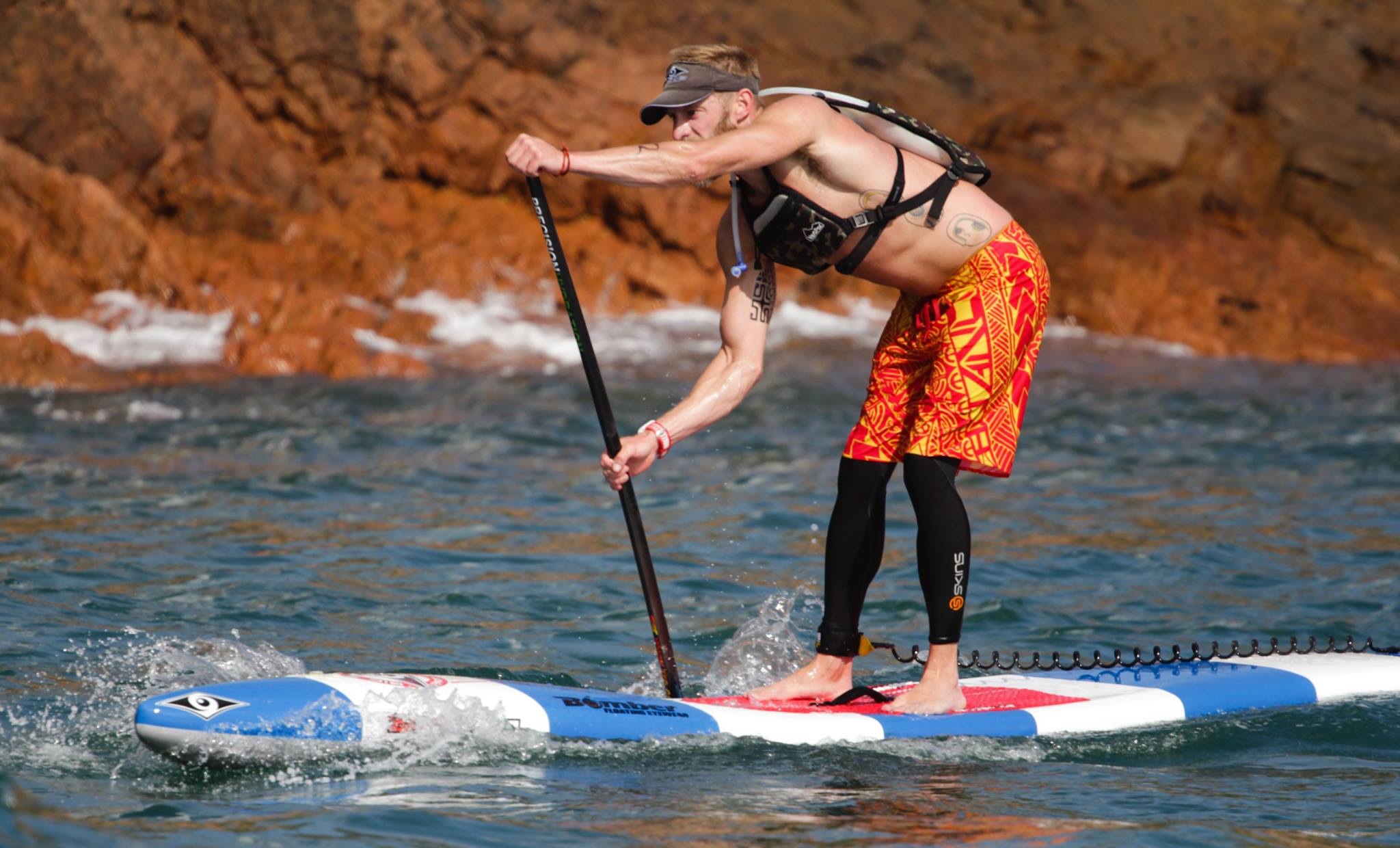 Race training isn't just for the elite men and women at the front of the pack. Sorting out structured training will benefit paddlers who have got a couple of seasons under their belt and are looking to step up their race performance for the 2016 season. SUPboarder caught up with one of the top racers and paddle trainers in the UK, Pete Holliday, to get his thoughts on how best to take your race performance up a level this season;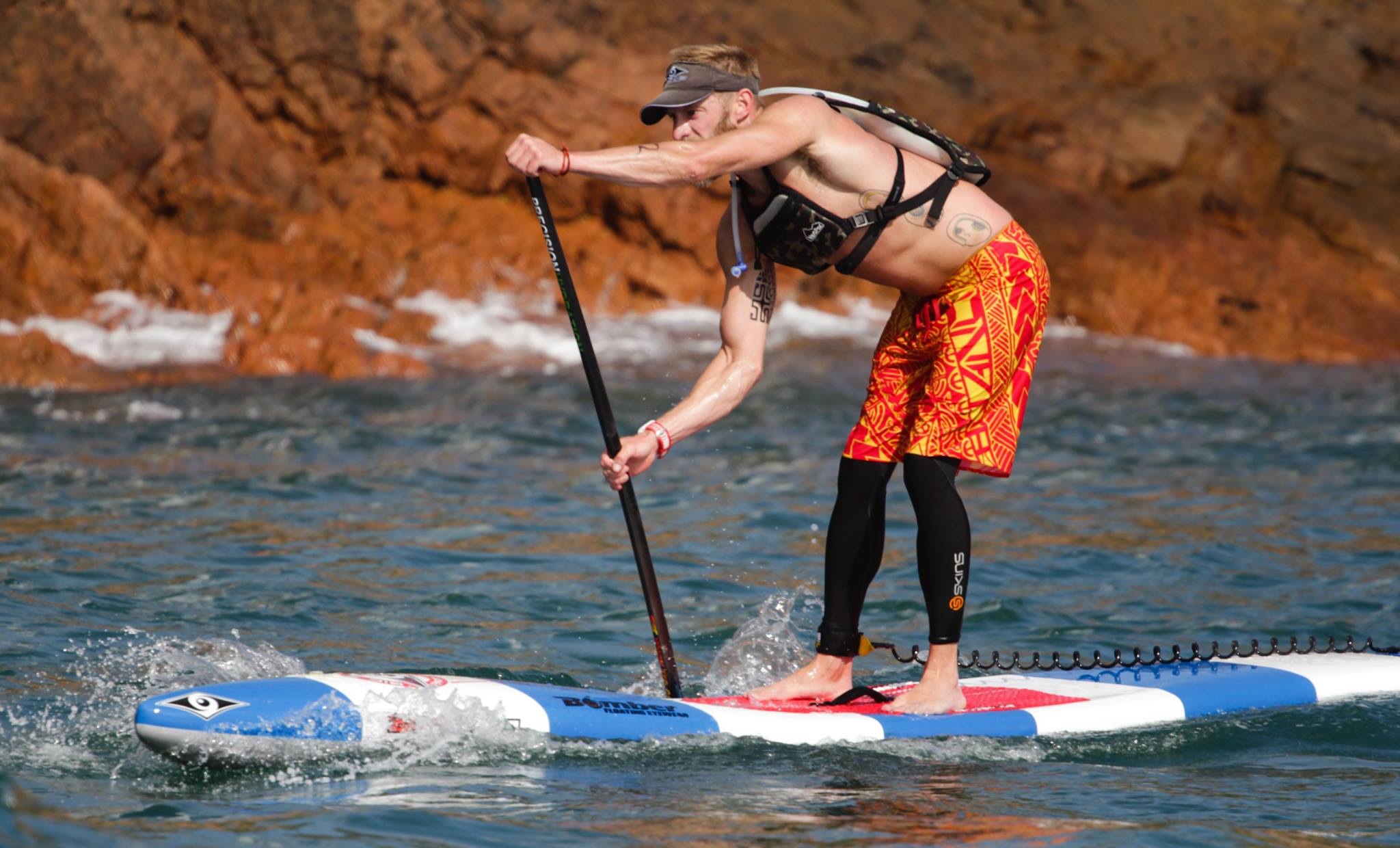 Prior preparation prevents poor performance
We've all heard the phrase before, it is true & does make sense. If you're looking to step up your racing and training for the 2016 SUP season then here are some top tips.
Peaks
Our SUP race season is long… it's almost impossible to remain at your best for the entire season unless your name is Ryan James or Ollie Shilston! It may be that we have other demands on our time so racing & training all season is a hard task and may not win you any favours at home 🙂 It is possible to maintain performance like the top guys do but as I say, for most of us we may want to have some time back in our lives and do other stuff. If that's the case try & split the season into 3 chunks of around 3 months, look at the events across that period (The SUPboarder Events page has a great list of events now) and decide which parts of the year have the most races that suit you. (By suit it could be the distance, format or location that make it work better for you). Pick one chunk for your main peak, then you can look to maintain through the rest of the season if you want to continue to race.
Training
Moving out of the winter and into the early season you should now have a good aerobic base from lots of good steady distance, and some solid weight training to build strength & muscular endurance.  Depending on when your peak is (early / mid or late season) you can adapt your training to fit this & build in more & more high speed / interval work for the 3 months building up to your peak. It's then a case of maintain & race, keeping a fine balance & listening to your body through your peak. Then when you move out of your planned peak period don't be afraid to take a couple of weeks off and do some cross training, surf and just have fun.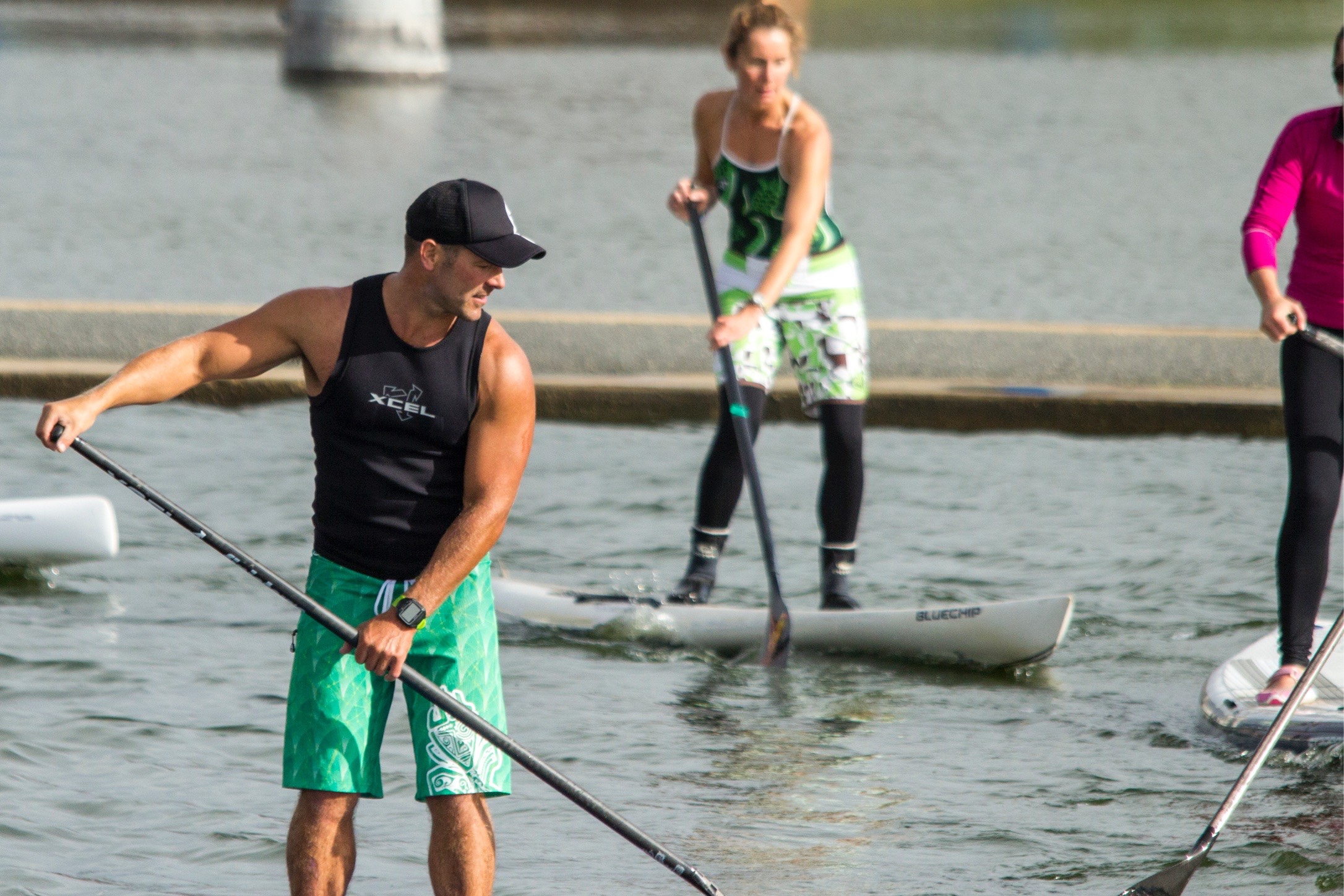 Structure
Training structure is vitally important to make sure you stick to your goals. Find a good coach or trainer to help you lay out a programme to fit your race calendar.  You may think you don't need help, but believe me the value it adds is immense.  
Never be too proud to ask for help.  It's you that will be doing all the paddling so stick to that, that's what you're good at! If you get a good coach all your sessions will be planned, you can forget about what you have to do and just follow the schedule, easy peasy.
This year myself & UK No1 Ryan James set up a training programme business www.paddlertraining.co.uk to help people put this structure in place. We have learnt the hard way over the last few years and want to share with the paddling community what we have learnt and how it can help.  We've seen some fantastic results already from our paddlers.
Rest
Arguably more important than the training… don't ignore rest.  Look for the signs of overtraining or stress & give your body a break.  A day off early on when the signs show will pay dividends later.  If you're struggling with sleep, feeling lethargic, struggling to get your heart rate into higher zones, or constantly getting colds & sniffles then you may be run down. Time to take a break.  Remember training is just another form of stress on your body just like work, family, bills, drinking… it all adds up so also think about what's going on around your training and how that could be affecting things.  A busy week at work with lots of travel might mean a forced few days off training.
Wellbeing
While in your heavy training period it may be worth investing in some good sports massage or physio to keep your body loose and treat any injuries or niggles before they become a problem.  We're lucky in Bournemouth to have a top sports physio Dave Mott who's been working with us as local paddlers for the last few years to understand in detail the movement patterns and typical injuries. It's really money well spent to avoid destroying your season through injury and wasting all that precision time spent training.  During my peak for 11 Cities last year I saw Dave every week for 3 months.  It was worth EVERY penny.
In addition to massage also try & build some movement drills and yoga into your practice. Look at what guys like Ido Portal & Erwan Le Corre are adding to top martial arts athletes training. This kind of training adds strength, balance, fun and variety into training.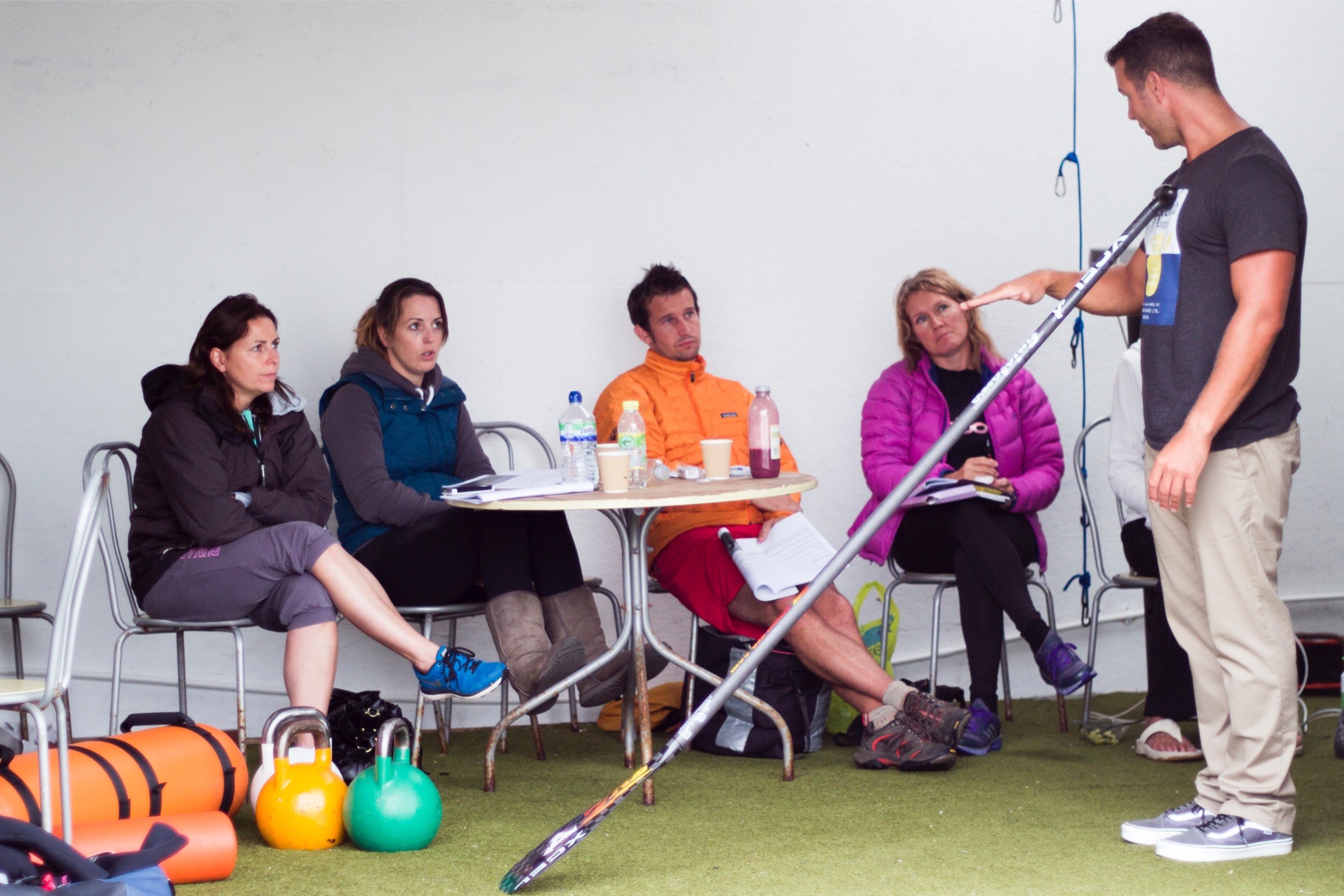 Nutrition
It's such a common question… what should I eat for racing and training?  The answer is simple… Real Food!
Put simply that means locally sourced, seasonal, organic, fresh, unpackaged, untreated produce. In terms of what to buy, there is a simple traffic light food selection system with what's best to eat, what's ok and what to avoid at all costs. Pop over to read the full article we wrote recently on the PaddlerTraining blog (link) and see the traffic light chart.
The key thing to remember is NEVER change what you eat for race day.  Whatever your body is used to for breakfast each day, stick with it.  If the race is mid morning then a normal breakfast should see you through.  
If you don't normally eat gels then don't try them for race day, some can make you pretty ill.  Avoid high sugar products as much as possible. There are now many more natural gel supplement products on the market so do your research and try a few before race day in your training sessions.
Race day
Take your time to research the race. Make a note of the proposed timings and locations for everything as well as any mandatory safety requirement such as leashes. Make sure you arrive in plenty of time so it's not rushed and stressful. If you need to, escape to your car for 10 minutes shut eye to calm your body down and rest if you feel stressed or nervous. If you've done any yoga use some breathing techniques here.
Make sure you are clear on the course and rules. This means know where the turns are, which way you need to turn and what the route is. You wouldn't believe the number of times top racers have gone the wrong way in big races both here and internationally.  
If you're doing a beach race make sure you have tested how deep the water is for the beach start so you don't go arse over tit right off the bat. If the race is a river race make sure you know the tides and currents as these can dramatically effect your speed.
Know your start time for your class and get on the water to make sure you're nice and warmed up and loose.  You should have a little sweat on before you pull up to the start line.
Ideally use your GPS and set your watch to start on the 1 minute horn (this is fairly common for most races now) then you can count it down for yourself and focus on being ready to hit it.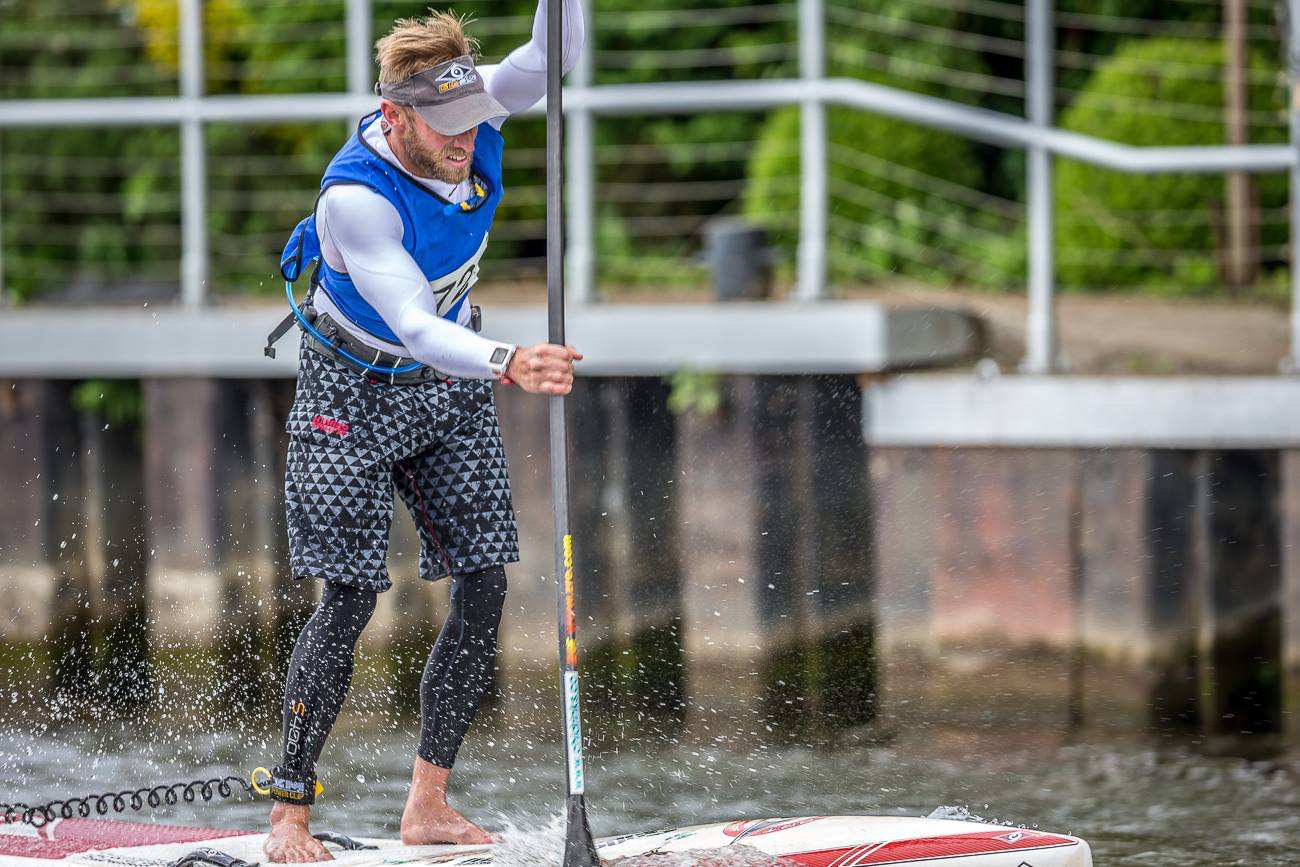 Have fun and share the stoke
Most importantly make sure you have fun. Don't put any unnecessary pressure on yourself. There is nothing to prove to anyone, remember you're paddling for YOU and it doesn't matter where you finish as long as you have a smile on your face at the end. If you are lucky to finish the race quickly then always try and hang around to cheer others over the finish line to celebrate their own achievements.  If like me you are generally freezing cold after a race just run off, quick change into some dry stuff and get on back to the finish.
Some great race training tips from Pete. All that's left to do now is put it into practice and get on the water and have fun! 
For more information on Pete and Ryan's bespoke training plan for SUP, outrigger and surf ski see their website; www.paddlertraining.co.uk
Words – Pete Holliday
Feature Image – Jersey battle of the Rock
Training Images – PaddlerTraining
Final Image – Dave White