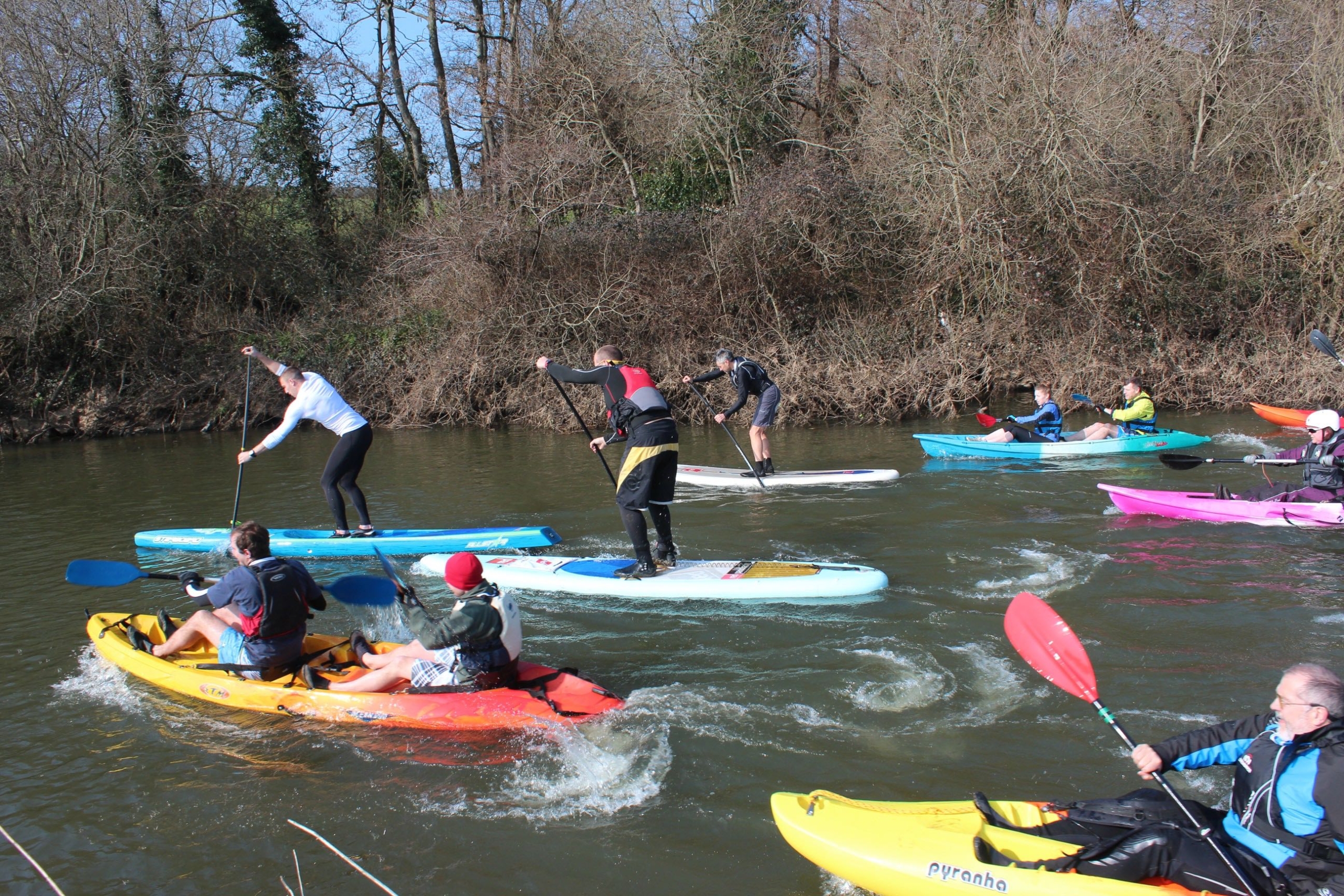 SUPboarder contributor Dr Bryce Dyer recently took on the challenge of the 30th River Axe Kayak Race on his SUP. Here's his lighthearted account of his SUPRunSUP event;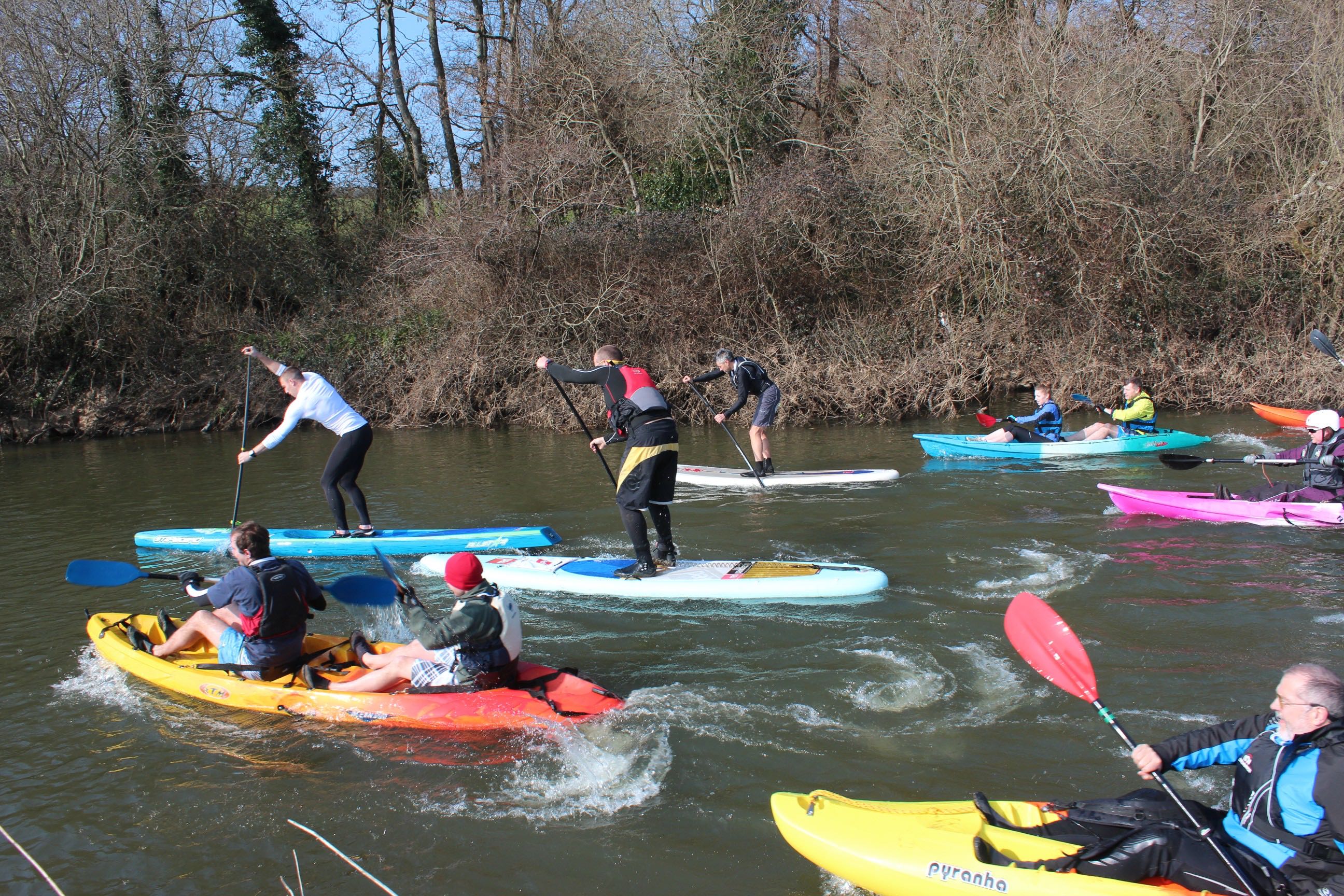 I've spent the last 3 months cranking out my largest ever total volume of training for this time of year. However, beyond the graphs, the sofa sprawling levels of fatigue and the likely grounds for any paddlers divorce, the only real way to know how well things are going is to find a start line somewhere, have a good thrash for a bit and the truth will be quick to show itself. As a result, I'd decided to head into Devon and have a blast at the River Axe Kayak Race. This race (now in its 30th year !), saw over a 100 paddlers (spread across a half dozen categories of different kinds of watercraft) racing downstream on the River Axe and finishing in the main estuary of Axemouth. SUP's were allowed for the first time into the event last year which was great as the race calendar is pretty light at this time of year for many of us.
The 8km race was split with the first 6 km being in a very winding narrow section of river but with the last 2km out in a wide and exposed estuary. The event attracted everyone from ages 6 to 65+. Some of the paddle craft too varied from elegant racing K1's through to Canadian C2's and robust inflatable SUP's.
The start is traditionally by the weir at Whitford Bridge and to be honest with you, I was pretty desperate to get out of the traps and get going (partly through enthusiasm, partly through being a tad underdressed) which manifested itself into a pretty healthy early lead. Luckily for me though, I discovered that I was also going to have plenty of chances to get some recovery when I discovered that the recent rainfall hadn't contributed much to the rivers depth. I proved this scientifically when I ploughed into a gravel bar in the middle of the river at 10 km/h. That then involved a dismount, a run and carry with the board…. which isn't easy if you haven't run and carried a 14ft race board before. Now this pattern repeated itself for me several times for the first half of the race.
It was at this point I realised that my use of a 24cm fin probably wasn't the smartest decision I'd ever made. The other kayaks could just bulldoze their way through the shallows, the K1's had pop up rudders and could slip through and for the others on SUP's, well, they were all smart enough to use shallow fins that wouldn't ground at all.
My early and healthy lead evaporated into my falling behind by distances that started to require binoculars or could be best measured through the use of a sundial
Finally, with just 2km left, we finally hit the estuary so with sunny skies, no more issues of sandbars and my willingness to paddle like a rabid animal, I dumped the tank, cranked the pace up to 10km/h and headed towards the finish. I caught back up with the lead group quickly but the issue was then that we'd also hit a block headwind which worked against those of us on boards as those who were sat down presented less resistance to the wind. Still though, I continued to gain ground and pull out a couple of minutes lead which wasn't bad for the short time I'd had to get it.
The fun bit was the finish which was positioned just after a pair of bridges whereby the water suddenly funnelled in. A right hand hard turn would then be required to then take you gently to the yacht club and the finish line. For those that can remember their GCSE in physics, you might recall that water speed picks up when the area for the fluid to flow through reduces. Now it's entirely possible that was the day I was at the Headmasters office for setting off a C02 fire extinguisher pretending I was a ghostbuster because despite a reasonable level of education since then, the idea that this might require a bit of care clearly hadn't crossed my mind. The funnelling lifted board speeds to levels you just couldn't obtain by yourself and I hit 13km/h as I tried to turn hard to starboard. That wakes you up. One of my fellow competitors later tried to turn hard right as he came through and then got catapulted from his board a fair distance into the water….. much to the pleasure of the crowd that had gathered on the bridge and on the shoreline. However you slice it, a leash is a must here otherwise your board might well turn up in Holland.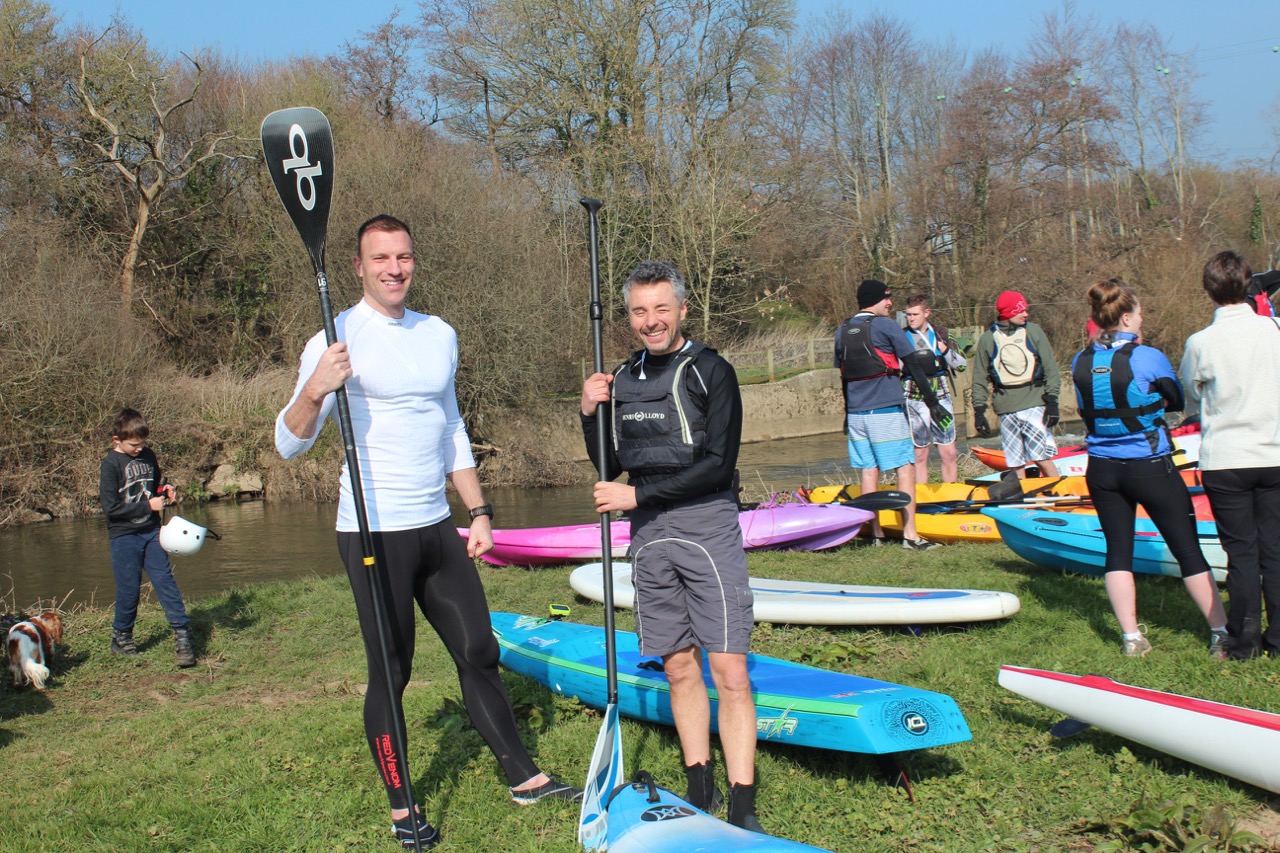 All in all, I was really pleased to win my category by a healthy margin and especially to have beaten the times of faster craft in other categories like K1's and K2's. Whilst I'm yet to face the titans of the UK paddling fraternity this season, I was really pleased to see that in just 4 months graft I had shown some decent improvement.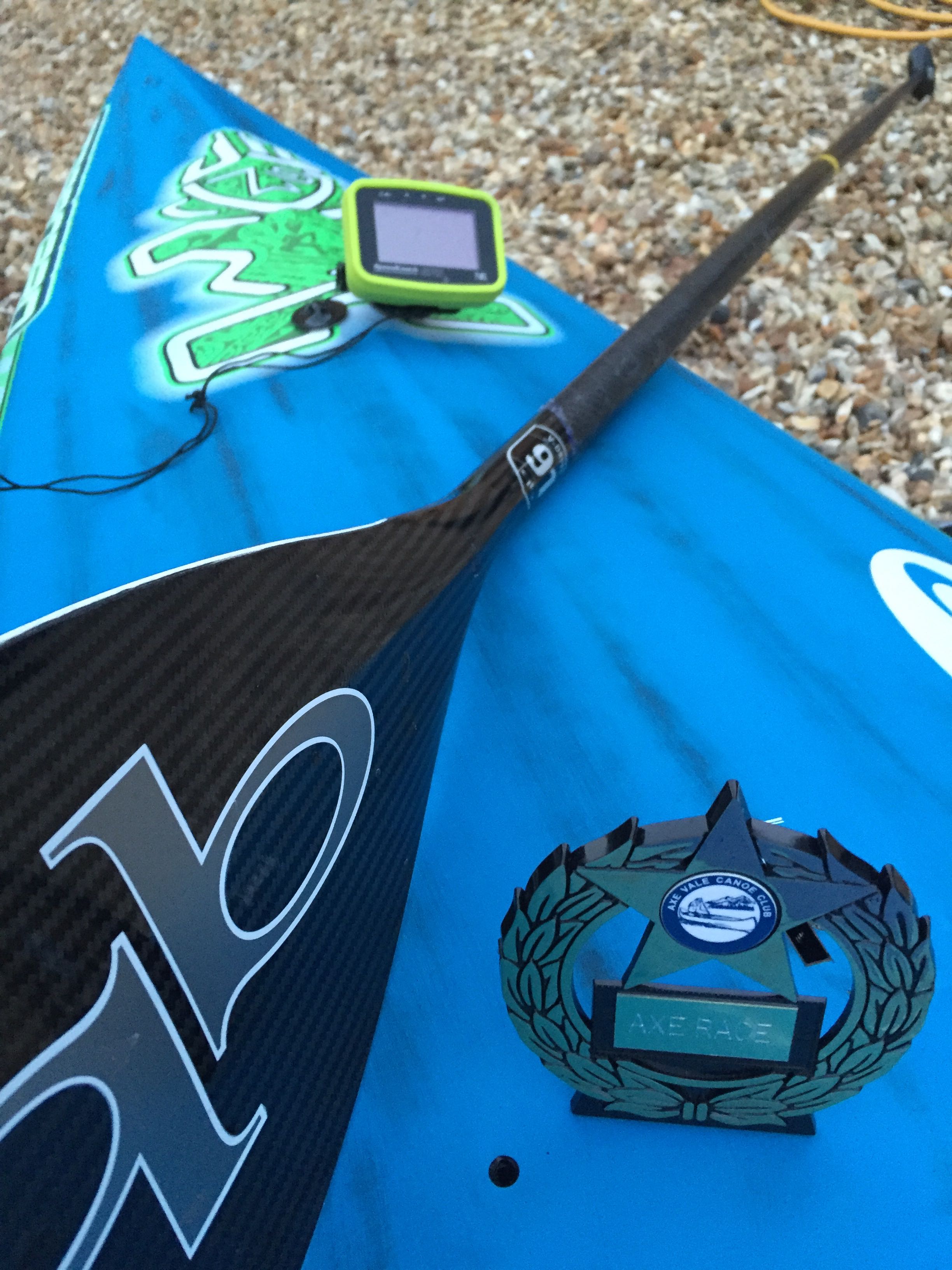 The event was a great way to race anything you have with a paddle in a safe environment with everything slickly run, safely marshalled and with an atmosphere that had the main emphasis on fun and participation. I hope more kayak races open themselves up to SUP entry in the future because it could fill out the calendar with some safe and varied racing. For anyone interested in having a go next year, the race is typically in March and pretty much any kind of board is viable but I would recommend using the shortest fin you can lay your hands on that allows you to maintain your tracking as I would have finished in a considerably faster time if I hadn't had to stop as much as I had. Just a quick thank you to my supporters this year and these include The SUP Hut, Quickblade paddles, Nielsen-Kellerman and Red Venom compression wear.
Some stats from the Axe Vale Canoe Club;
100 boats with 120 paddlers
Youngest was 6 (in open canoe with his Dad).
Youngest solo K1 paddler was 9 (and won the U12 group).
Approx 30 U18s (inc 5 U12).
9 paddlers over 65 year old.
28 K1 paddlers, 19 K1 Touring, 14 C2 opens, 18 slalom kayaks, 11 Sit-on/SUP paddlers
Full results can be found on the AVCC website here. The fastest time recorded on the day was 36 mins in touring K1, slowest was 84 mins in Slalom category.
Words – Dr Bryce Dyer
Images – Axe Vale Canoe Club and Bryce.