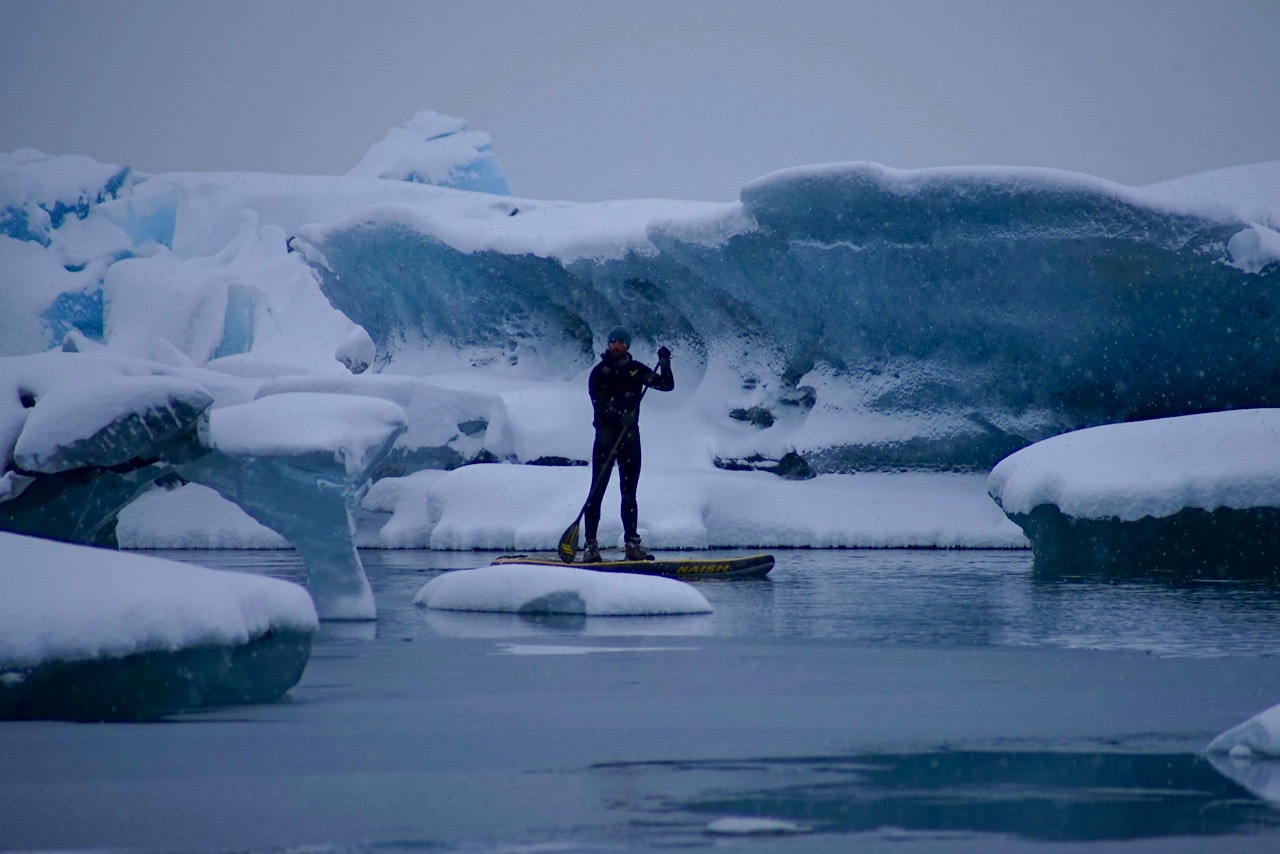 An inflatable paddleboard (iSUP) gives paddlers the opportunity to travel with ease, explore more and get off the beaten track. Alex Sergison from Adventure4All was heading to Iceland on holiday, hoping to see the Northern Lights, but decided he couldn't go without a SUP! So he packed his Naish N1SCO iSUP (or so he thought!) and headed north. Alex shares his trip and chilly SUP Iceland paddling experience with SUPboarder…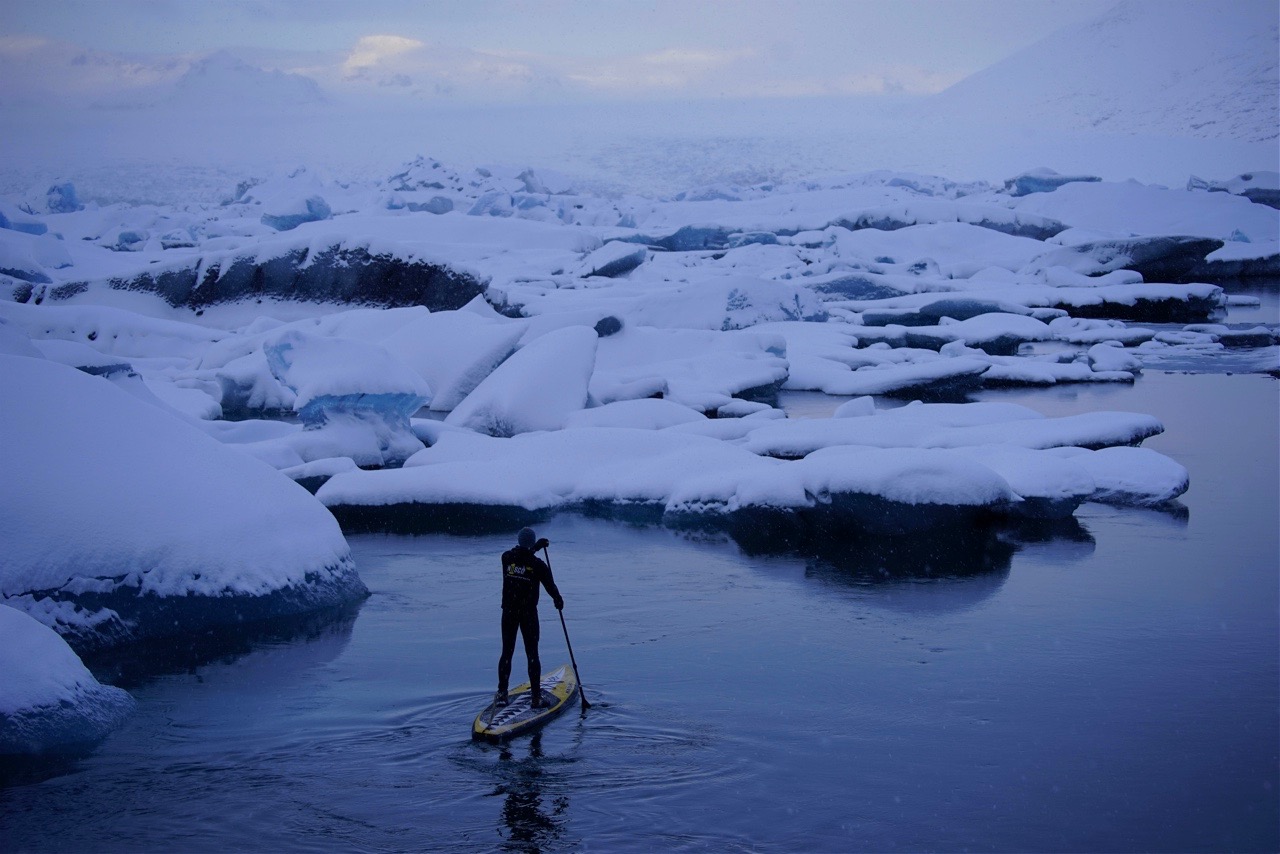 Everywhere we read, everyone we asked, all we heard was "Iceland isn't as cold as you think"….
We arrived at the train station in Weymouth early. Bags packed, smiles on our faces and excitement brimming over. It was only going to be a short trip to Iceland over the 5 nights, but our itinerary was full of adventure and we hoped mind blowing sights…
After a frantic dash from work our hearts started to calm and pre holiday bliss began to enshroud us. It was then I suddenly remembered my fin. The one that was sitting on a bench in our store. The one that was 20 minutes drive from where we were. With 5 minutes until the train was due to depart there was no time to race back and save the day.
Settling into our seats I tried to console myself the board had only been an after thought. We weren't really going to SUP. It didn't matter, from the moment that I had read about Jökulsárlón, a lagoon at the foot of the giant Vatnajökull glacier and play pen for mini icebergs before they escaped into the sea, I knew I had to paddle there. Featured in James Bond, Batman and a whole clutch of big screen smashes Jökulsárlón was reputed to be beyond photogenic.
As we pulled slowly out of the station I knew I couldn't let this go. The first desperate call went to Stu a friend who worked just up the line in Poole. Maybe he would have one in his van. No answer. Next a call to a Poole based SUP shop, followed rapidly by an even more desperate one to another in Southampton. Maybe they could get a fin to the station. Both calls were greeted incredibly sympathetically, but no good, they didn't have a fin for my N1SCO in stock. Both immediately suggested I call Callum in Weymouth. Sick to the stomach I had to explain we were heading away from Weymouth, that I knew Callum who is a friend of ours, and was well aware his shop 109 Watersports would be able to help me find any fin I wanted.
Last chance, Active 360 in London. I rapidly explained the situation to a lovely girl at their base who immediately gave me the owners mobile. Shortly later a plan was hatched. We would detour across London, meet at Kew Bridge and then taxi up to Heathrow to make it just in time for our flight. Clockwork it wasn't quite, as the trains weren't running to schedule. Never the less a hero was realised in the owner of Active 360. Well after he should have been home and free from work, he pulled up at the station on his bike, fin in hand, grinning. He had already pre booked a taxi for us and shortly later we pulled up to the airport with time to spare.
A brief 3 hour flight and we were in Iceland. Car collected we finally arrived at our hotel at 1:30 a.m. Me relieved to have a chance to paddle an ice lagoon and Katy relieved to have a narrow escape from a severely grizzly boyfriend!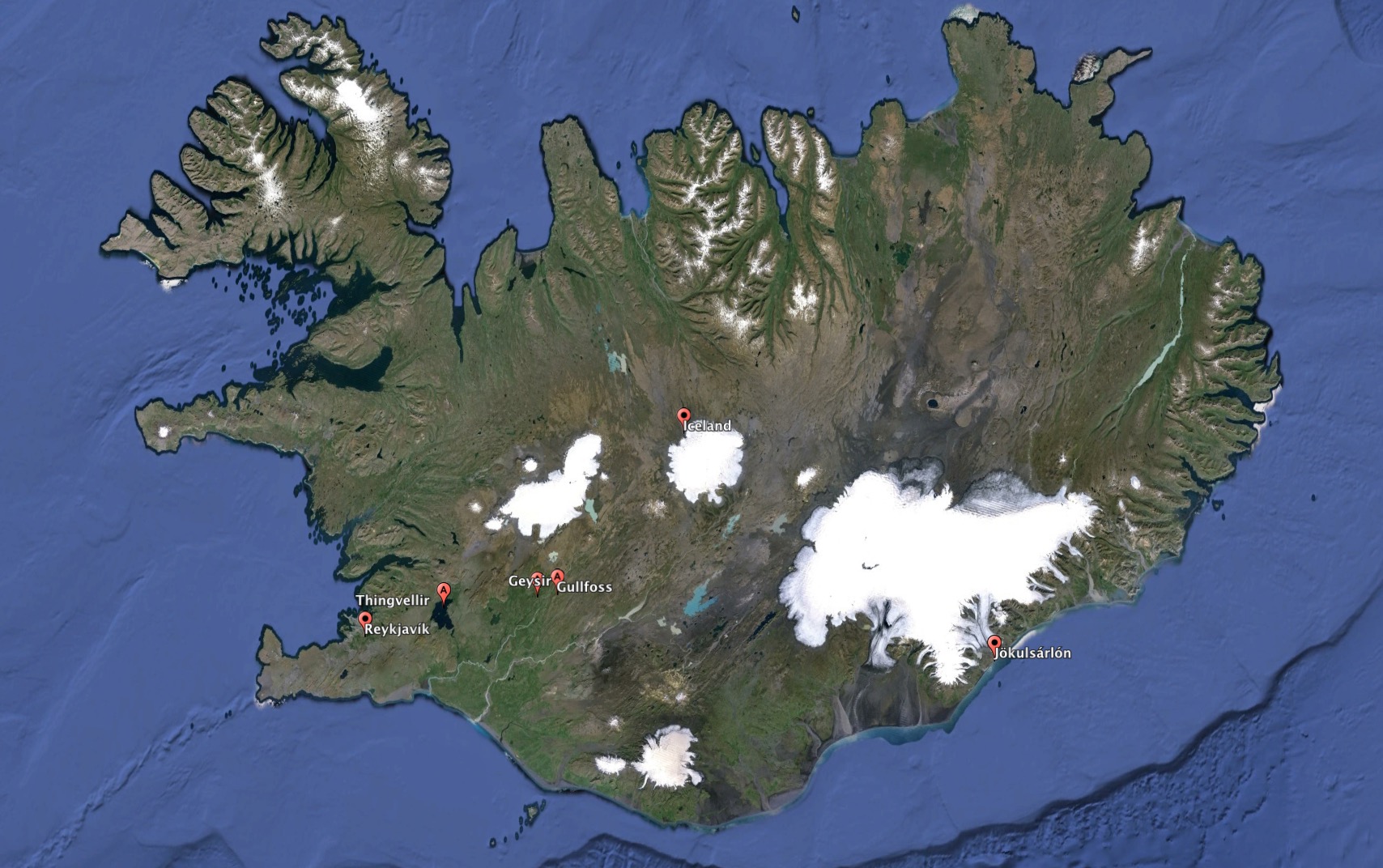 The next day we pottered around Reykjavik, drank coffee, ate salted cod, got laughed at for wearing flip flops as the first light snow danced around us, and generally mooched to our hearts content. A lovely city, especially when decorated in glittering Christmas lights and encircled by snow frosted mountains. The perfect place to catch your breath before heading out into the wilds of Iceland.
The next morning we were up and driving well before day break. Although when the sun doesn't rise until 10:30 during the winter, that isn't too much of a challenge. We brushed the snow from our little car and cautiously headed out through the ice. It is astonishing how the temperature drops as you leave the coast and slowly climb into the hills. By the time we pulled up at Thingvellir National Park into thick virgin snow our thermometer read -13°c. Now I may admittedly come from the South Coast of UK, and I do head further south as soon as the winter rears it's head each year, but I am sure in anyone's book, -13°c is cold. The realisation that I would be SUPing in this 24 hours later left me a little nervous.
Thingvellir is the most sacred place in Iceland, it is the home of their first parliament. More impressively it is a place you can walk between the two tectonic plates of Europe and America, gently absorbing a sense of earths power, and the forces capable of driving these two great plates apart carving our landscape from solid rock. Awe inspiring
Next on the list was Gullfoss, reputably one of the most powerful waterfalls in Europe and not somewhere to SUP. The spray is intense and the vapour instantly freezes to your hair and clothes. Icicles hang from the rugged cliffs around the falls and the snow capped hills do nothing to lesson the wild atmosphere.
Last stop of the day, and no less impressive, a sulphurous, steaming geyser. Actually home of "The Geysir" for whom all other geysers are named, this is an area of boiling pools of water churning between snowy boulders. Although Geysir no longer blows, his sister Strokkur does. Almost to clockwork every 10 minutes she erupts and for a moment the sun dances through the vapour and multiple rainbows appear accompanied by whoops of joy from onlookers waiting eagerly at her base.