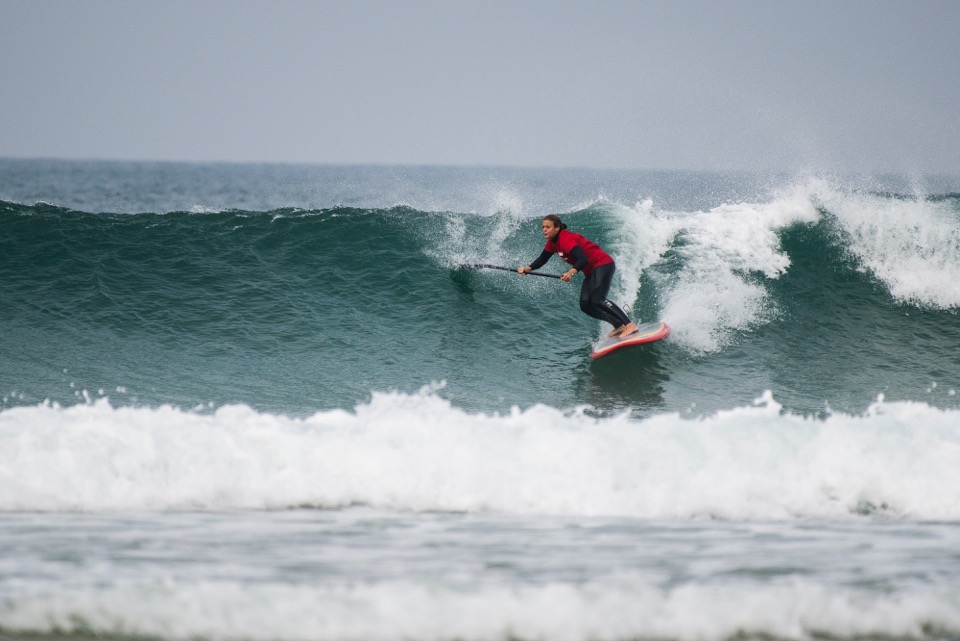 The level of SUP surfing in the UK is on the rise, with new faces making their mark across the country every year. In the women's fleet 2015 saw a new SUP surfing champion – Tina Beresford. Tina busted onto the SUP surfing scene just last year, but this year took the overall win at the 2015 BSUPA National SUP Surf Championships at Watergate Bay. Demonstrating her extensive long and short board surfing background it was only a matter of time before we saw Tina on the competitive SUP surfing scene.  
SUPboarder caught up with Tina to talk about her SUP surfing, what it is she enjoys about the sport, her plans for 2016 and her top tips for girls wanting to give it a go…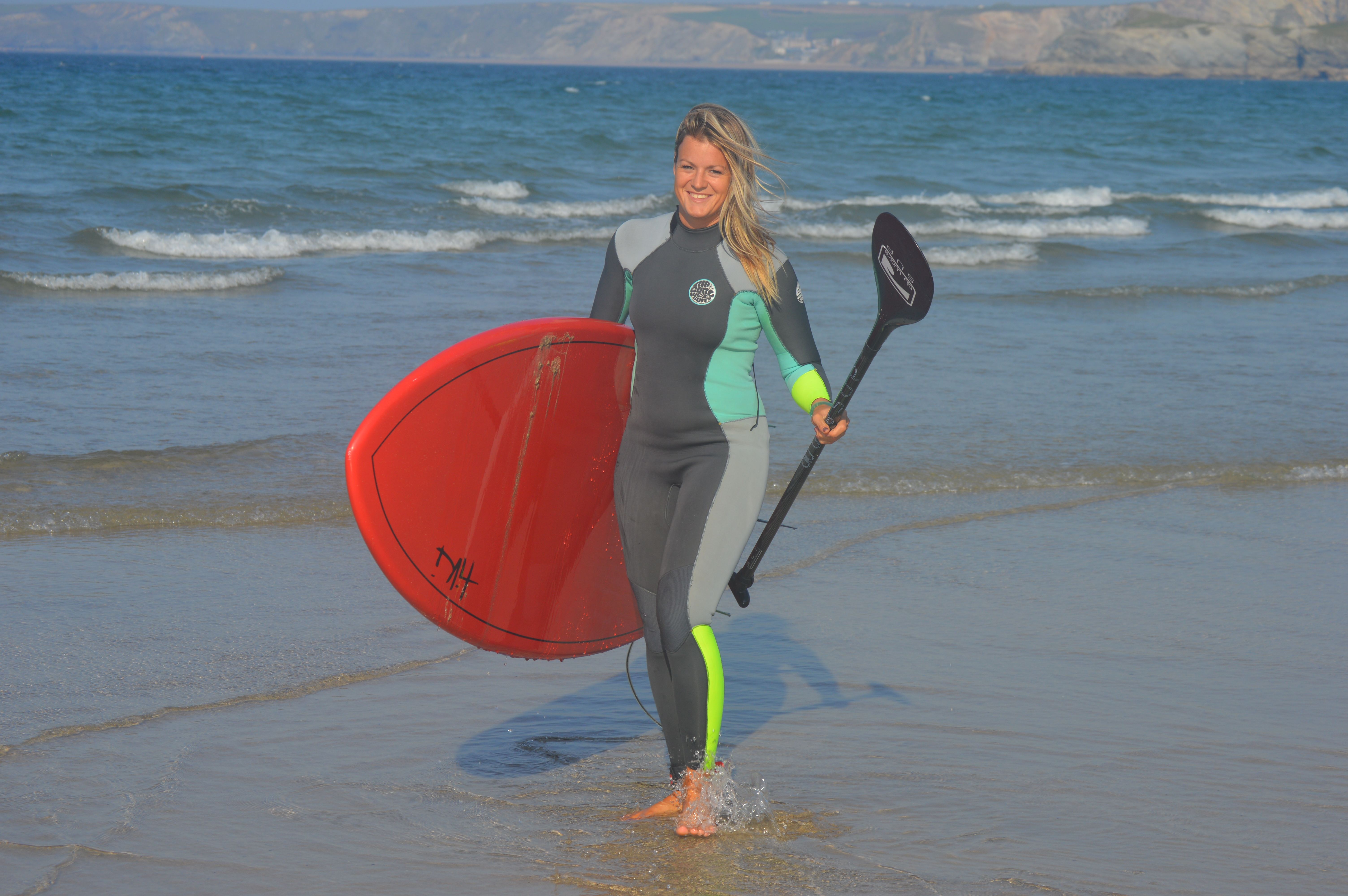 SB/When did you start surfing?
TB/I've always been in love with the sea and spent most time of the time underwater at my swimming lessons when I was little, thanks to the influence of the Little Mermaid! I first remember thinking that surfing was a good idea when I was about 14 as the Quiksilver shop arrived in Manchester. It was opened by some Hawaiian big waves surfers and it was like nothing else I'd seen before. My first opportunity to try surfing was with Sheffield Hallam Uni surf club when I was 18. I was hooked after the first trip and ended up running the club. I then had major hip surgery as I turned 19 and as I couldn't compete at the same standard in athletics anymore I started putting all my energies into surfing and became pretty obsessed by it.
SB/When did you first go on a SUP and when did you start SUP surfing?
TB/The first time I ever paddled on a SUP was at Waimea Bay at the North shore in Hawaii when I did a year of travelling after Uni. It was a totally flat day and there were some guys there encouraging people to try SUPs. Amazing place to try it! Following that I paddled with Central SUP in Tamworth for a while when I lived near there and I learnt a lot about paddling techniques from Chris and Stacey there. First time properly SUP surfing was using a board from Loco SUP last year at beaches in Cornwall and I entered the Nationals soon after.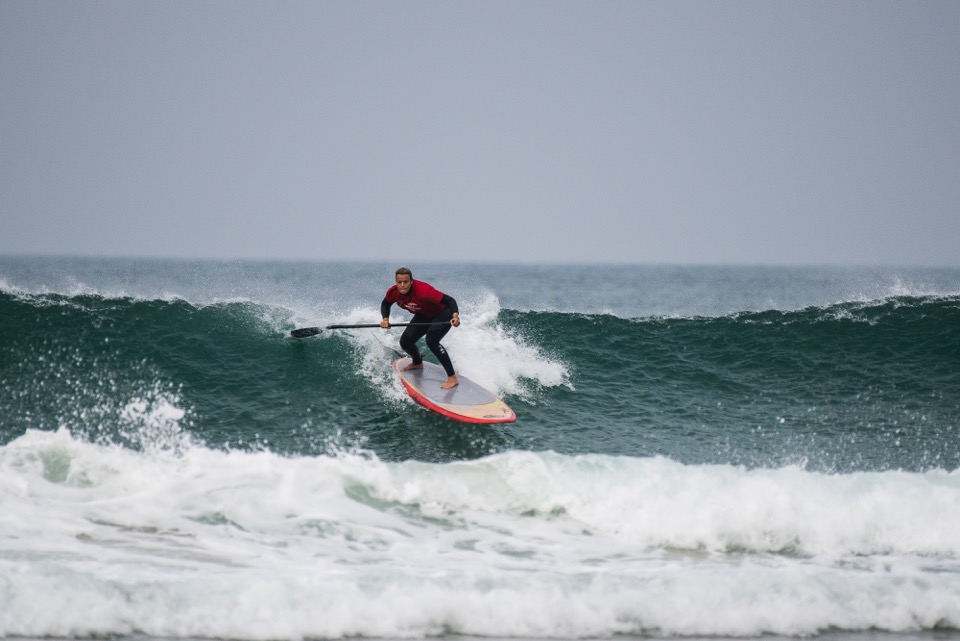 SB/What are the biggest differences you find between surfing and SUP surfing?
TB/I feel lucky that I have the choice of a range of different types of boards so can pick between SUP, short and longboards to surf. I compete in all three surfing disciplines and this enables me to be in the sea most days and catch waves.
The benefits of SUP that I've found over surfing are that you can get out back quicker, see the waves coming earlier, move to the peak quicker, surf waves you can't get on with a short or long board, get more waves and generally have more time standing up riding waves!
Having the use of a paddle means you can generate more speed and make it through flat sections where you could just stop on a shortboard.
For surfers the time spent using your legs and standing up on the board is pretty low, so the core and legs muscles aren't always developed as much as when SUP surfing. Mixing surfing with SUP surfing means you work your body muscles in different ways improving your core and leg strength which can only benefit surfing overall.
As winter hits I find I'm much warmer when I SUP surf than shortboard as your body is out of the water longer, plus I'm physically working the bigger leg muscles harder generating more heat!
But there are days when I'd pick a shortboard, such as if it's a crowded break with only shortboarders out and it's beneficial to be able to duckdive. Plus I do love longboarding and the feeling of walking the board when riding a wave.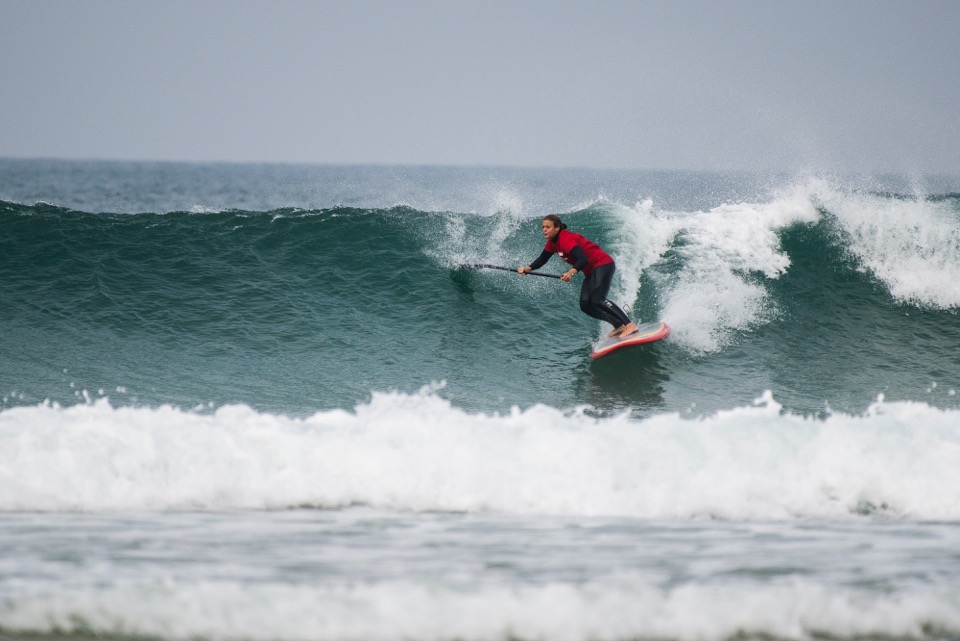 SB/Where is your hometown and nearest break?
TB/Newquay is where I'm based and the closest breaks are Fistral, Towan, Crantock and Watergate.
SB/For any girls that are looking to get into SUP surfing what would be your 5 top tips?
TB/If they have never surfed on a SUP before and have only flat water paddled then:
Have a SUP surf lesson. With a good instructor you'll learn the basics quicker, start with better technique and will be safer in the water.
Check the surf report. When looking at surf reports look for days with gentle winds to make staying on the board easier, plus a smaller swell to practice on and get your confidence up. The wave period is important to look at and it usually needs to be over 7 seconds for waves to break. The bigger the period the bigger the waves are likely to be.
Pick your beach and time to surf carefully. Look for beaches with lots of space and get up early to avoid crowds. As you learn you will wipeout lots as you get used to paddling out back and into waves so having crowds of surfers round you makes catching waves more difficult. At the beaches I surf the best tide for learners tends to be between mid and high as waves tend to be more gentle and forgiving than at low tide, but it does depend on the beach and conditions.
Pick a stable board to start with. Read up on reviews of boards, try a few before buying if possible and ask for advice from other female surfers. Too small with low volume and it will be hard to stand on and to paddle into waves. Too big and heavy and it will be harder to turn and may put you off dropping into waves when learning. A board between 7-9ft is about right and look at the volume.
Find good people to SUP surf with, to learn from and to help you progress quicker. Surfing with people better than you pushes you and helps develop better habits. See how they paddle out, where they take off, their body position when riding the wave and also how they ride out or wipeout at the end of the wave.
SB/What are you looking forward to doing and achieving next year? 
TB/I look forward to SUP surfing every day possible and to finding the right boards to help me improve and push my surfing. I'll be focusing on developing my surfing techniques, paddle fitness, lower body strength and general stability. In 2016 I will be looking to enter any SUP surf competitions available and to go to the ISA worlds for Team GB. As I'm new to SUP surfing I feel I can only get better and my surfing will develop a lot next year. SUP surfing will be my focus and I'm excited to see where I can get to over the next year.
SB/What kit are you using at the moment?
TB/Since the nationals I have been trying out a few boards to work out what I need to help me surf better with speed, power and flow. The SUP I have at the moment and used at the nationals is a 8ft Tiki SUP and I have a Blu Wave carbon fibre adjustable paddle. Recently I enjoyed a Blu wave 8ft SUP I demoed which was great to try as a quad and more manoeuvrable than the Tiki. I'm now looking for a smaller, lighter board to improve my competition surfing.
Looks like Tina has a big year ahead of her with new boards and the opportunity to compete at the ISA World Championships next year. SUPboarder will be following her progress. Check back here to see how she's getting on in 2016.
Images thanks to BSUPA  and RJPhoto.co.uk