Last bank holiday weekend (29th August) saw the 3rd annual British SUP Club Championships taking place at Eton Dorney. A fantastic event designed to get all of the SUP clubs from across the UK, together for a day of fun racing and SUP action. SUPboarder were there soaking up the atmosphere and caught up with the captain, Crispin Jones, from this years winning club 'Waterborn' in S.Devon, to find out what the event was like for them…
Now in its third year the UK has hosted a British SUP Club Championship at the iconic venue of Eton Dorney's Olympic rowing lake. Waterborn from Kingsbridge, Devon set off up country to make themselves known and prove that they have a club worthy to contend with some of the biggest in the country.
Within the UK, Stand Up Paddleboard racing is going from strength to strength. The UK series is gathering popularity and interest from all ages and bringing in competitors from other disciplines such as cycling, running and swimming, all wanting to push themselves to excel in another sport. With all the race events on offer, whether part of a series or a standalone event it's fantastic to see this particular race bringing all members together to showcase the diversity of their entire club, from juniors and youth right the way through to super veterans, each class gathering vital points in order to crown Club Champions. As well as the main event, SUP Polo and Giant XL racing took place, a 4-6 person crewed team, so plenty on offer to keep people smiling and competitive.
Once again we were treated to a spirited Sam Ross championship race briefing, his amazing to scale replica course was uncanny. The novice crossover class took to the water first, a 5km circuit for first time racers, there was a decent attendance for this race which is great to see as promise for new faces within the sport. Once the novice race had finished everyone took to the water in order to hold a minutes silence to remember Andreas who sadly lost his life on a training run in the states before a downwind race.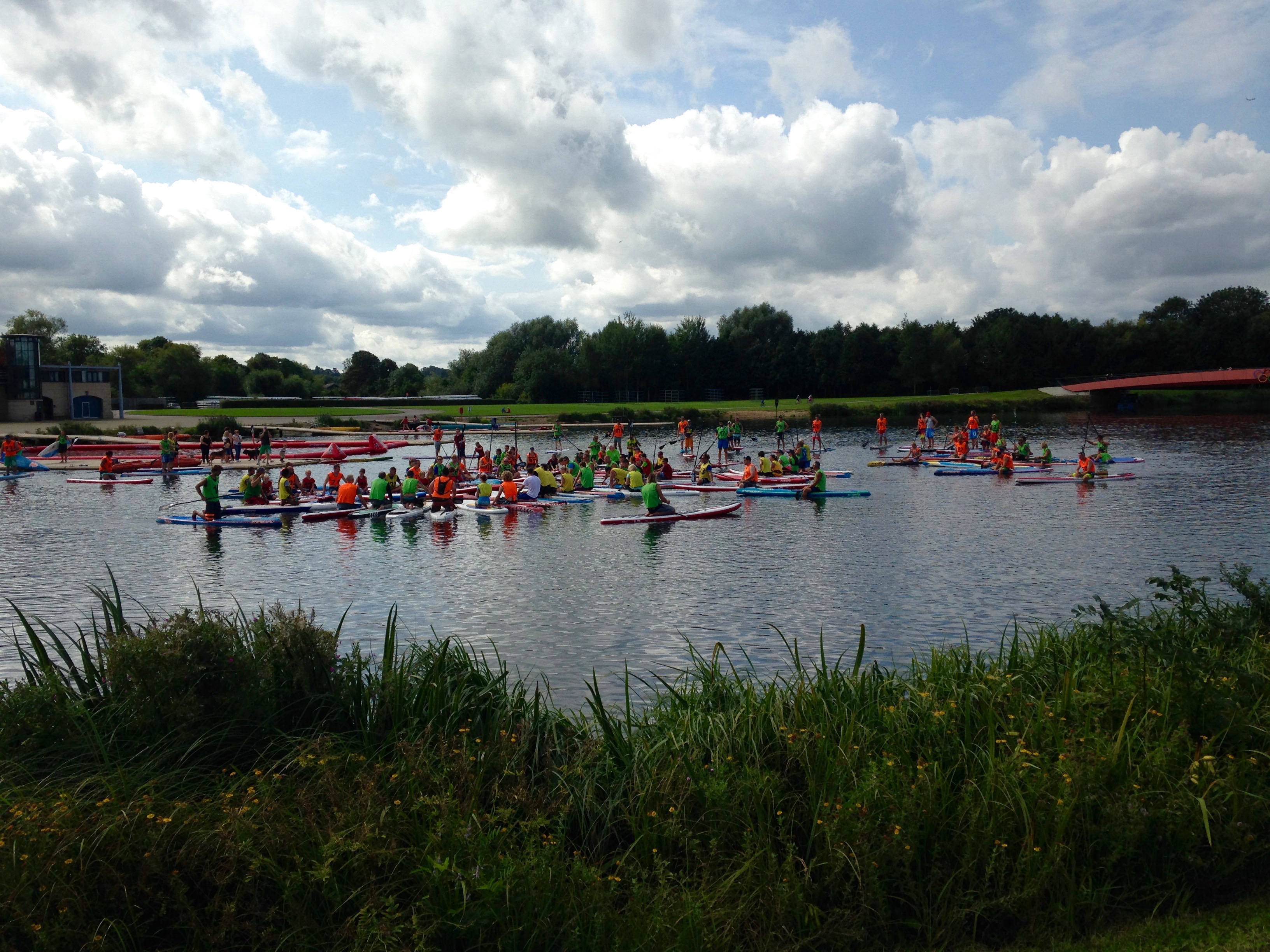 It was then time to start all the class categories, the lake was glassy and perfect for flat water boards. Part of the difficulty of the club champs is working out who you should put in which class to maximize points, I wished I was on my trusty c14 and directly racing the usual suspects but took to the inflatable to do my bit for the club. Straight off the line I hit clumps of weed, I managed a great start being on a nice light board but kept snagging the fin. Once I cleared the Olympic bridge I could really get going, it took most of the up leg of the lake to really work out how to get the board moving effectively, my usual heavy paddle strokes weren't working. I had opted not to take hydration with me but it was a surprising warm day and half way round it felt like I'd made the wrong choice. Myself and Paul Simmons kept jostling for position and tried to catch up with the solid boards, we caught up a few places but couldn't catch the main 14' fleet.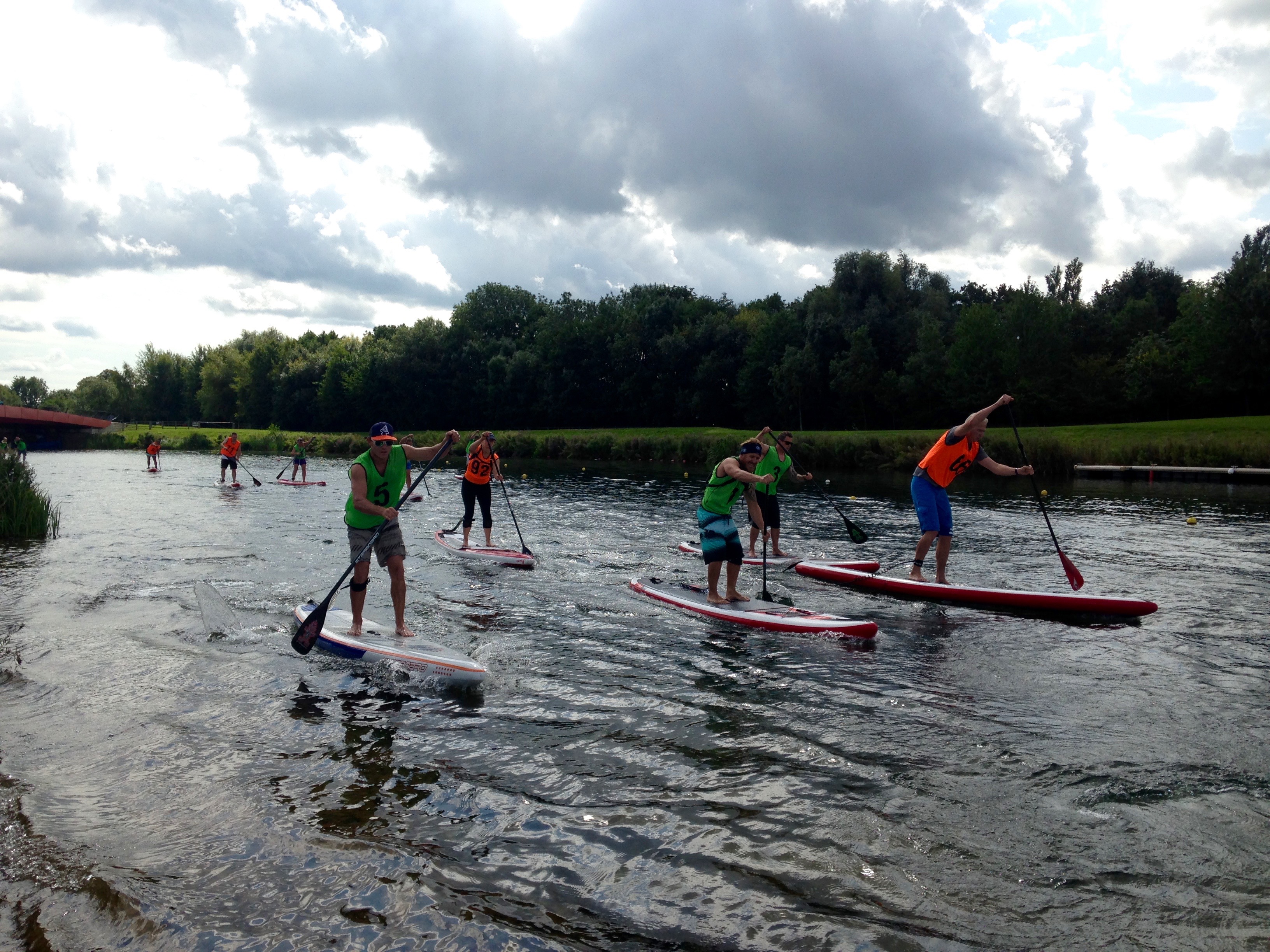 As we crossed the line I congratulated all the Waterborn paddlers on a solid performance. However it was now time for the fun events to take place. Having a few practice nights with the polo goals we felt pretty confident going into the tournament. It was fast paced and exciting for everyone watching. Competitive and fierce at times you could tell this fun event was important and getting through to the next round in order to get more games was on everyone's mind. After the a handful of knockouts had played out it was time to give the juniors their turn. Then XL racing got underway, opting to have 6 on the board so everyone got to play it seemed as though the 4 man crews could get more speed but we progressed into the finals In both the men's and mixed races. Our women's team also stormed to victory however a wrong turn round the marker meant a disqualification, we were all gutted but these things happen. Back to the polo tournament for an all Waterborn final so we just enjoyed a friendly game and soaked up the atmosphere. After the polo it was back to the XL finals, it was relentless and exhausting but everyone was glad to have made it up for the event. Congratulations to Hove for their XL victory they truly were flying.
Now came the nerve wracking time of prize giving, I knew we had all done well but its always hard to call. As each class got called up we had a healthy amount of people taking to the podium. Then came the count down, each place called out by Sam Ross I was sure he would say Waterborn. The final call though it was either us or Jersey….. Waterborn are the 2015 British SUP Club Champions!!
I'm so proud of everyone, they all gave their best and it has paid off. Many of us have seasonal jobs so it's hard for us to get much training in for club events during the busy summer months but we didn't let that slow us down, we showed the country what us Devonians are made of. We all had such a brilliant time; it was busy, energetic, but thoroughly enjoyable. The highlight was definitely the SUP Polo tournament, a great way to finish off a day racing. Words by : Crispin Jones.
But you don't have to be a dedicated racer to take part in SUP racing. With numerous classes these events really are for paddlers of all abilities who just want to get involved and give some fun racing a go. First time racer Claire Davis from Bray Lake tells us about her first racing experience:
"I now know the meaning of Type 2 fun! Even though I learnt to paddle last year, a wakeboarding accident meant I didn't really start properly paddling until April this year. It was supposed to be for fun and a little bit of exercise yet somehow I found myself moving up through the boards and signed up for the SUP Championships novice class. Thanks Simon! I have never competed at anything sporty. Me and exercise aren't the best of friends… but it was a really beautiful day, a relaxed yet encouraging atmosphere and Team Bray cheered me round. I felt the burn, not just from the sun, and after the longest 57 minutes of my life crossed the finish line! I didn't come last which, other than surviving, was my goal, and even overtook one of the men who started before us. It really made me feel so proud of my first "athletic" experience at 37!! I may be slow, but I'm lapping everyone still on their sofa!"
Waterborn are hosting the UK Series Finale in Kingsbridge on Saturday 24th October 2015 and plan to make it a year to truly remember. So if you fancy watching or taking part in some more fun racing why not head down to see what it's all about.