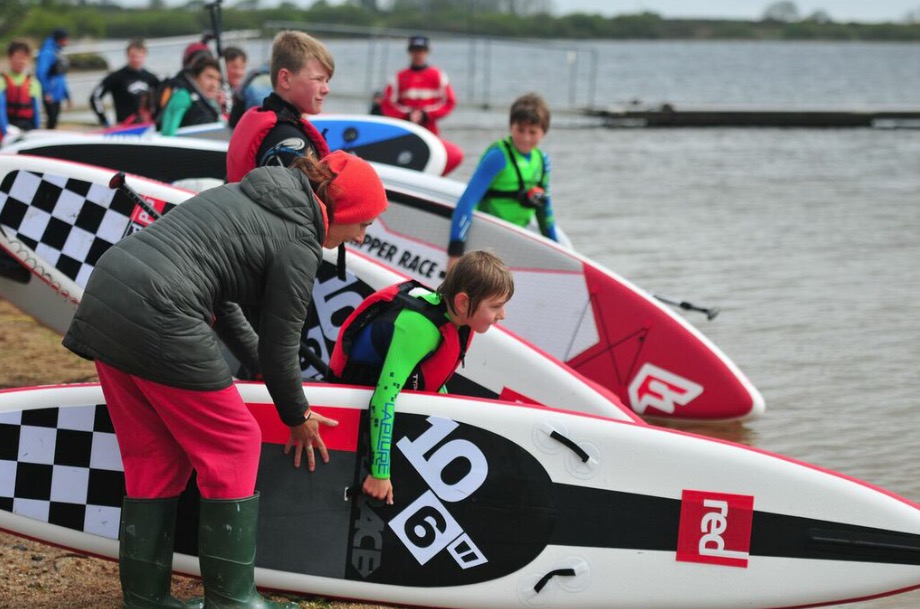 Last weekend (2–3rd May 2015) the Junior National Watersports Festival took place at Stithians Lake in Cornwall. Lots of SUP and windsurf kit, lots of enthusiasm, lots of fun… and lots of rain! Despite the weather, there were lots of smiles, and a great time was had by all.
Below is a write up of the event from Allan Cross (National Watersports Festival):
The National Watersports Festival Junior  took place at Stithians Lake, Cornwall with the sole aim being to inspire a generation of watersports enthusiasts, delivered by an industry collective.
It was obvious from the forecast prior to the event that it was going to be windy and very wet, which no doubt had an effect on the overall numbers participating. Nevertheless we had 45 keen, eager and enthusiastic youths waiting to be coached and mentored by an equally enthusiastic set of instructors and worthy assistants from across the Windsurfing and Sup industry. Names including Zara Davis, Andy Chambers, Andy King, Jem Hall but to name a few. The objectives were to introduce youths to a series of taster sessions across Windsurfing and Sup, in addition to a series of skills based coaching and optional fun level competitions.
At a 10am briefing on Saturday morning everyone was spilt into their chosen discipline and ability groups and introduced to their respective instructors for the weekend. By this time the wind was steadily increasing to 20plus knots S/E and raining! However, this didn't stop them all getting stuck in to the day ahead, a testament to their hardy, positive nature as even the newcomer to the sport and experienced alike were lapping up the vibes and their enthusiasm was contagious. Within their 'on water sessions' everyone had the opportunity to visit the trade stands to discuss and demo their latest equipment from Bluewave, Redpaddle, Jimmy Lewis, Starboard, Tushingham, Fanatic, North, JP Neilpryde, Takoon, RRD & Ezzy.
It was then time for a quick spot of lunch before getting back on it for the second session of the day. The advanced group housed some serious young talent who were being taught a range of advanced skills in Freestyle and Racing and they were certainly enjoying the increasing winds. However, the SUP group located themselves in the most sheltered parts of the lake, going through the Skills lessons and introducing their young team to downwind Supping.
At 1700hrs it was now time for food, which was supplied by Hayley & Mark at Stithains Lake café. Whilst desperately trying to locate an area to dry off their kit – yes you've guessed it – the rain continued to pour! But nevertheless it was apparent from the stories of the day and young smiley faces everywhere that everyone had a great day and hopefully would sleep well.
Day One debrief was conveniently located at the pub, all of 400m away. Within the NWF Team, everyone was so impressed by the enthusiasm, energy levels and sailing skills of these young guns from all ability groups and disciplines. After a limited time of rehydration it was time to hit the sack and yes it was still raining!
Day Two @ 0700hrs the rain had stopped briefly and the young guns were awake, charged and ready for more action. After our briefing at 10am, I kept getting reminded by my loyal ginger friend Pete Davis – that I was no longer serving in the military… sometimes though it's better to manage these type of events like a military exercise I may add! It was time to get the show on the road yet again. However, due to the thick mist that had descended upon us, we decided to get the Sups out for some friendly, non competitive racing, yeah right!
There were some small and also very big and no I am not talking about our young guns but the Sups themselves. The Fanatic Fly XL against the Redpaddle XL Ride came out to do battle with some serious Paddlers giving it their all, after which we completed a series of individual Sup races and yep you've guessed it… it was still raining but it was easing with a slight glimpse of the sun appearing briefly. To be honest, morale was sky high irrespective of Mother Nature's weather patterns.
By mid morning the Windsurfing sessions had resumed in the 20 knots SW and it stopped raining for a period. After a very quick lunch it was out for some racing and speed gun action, which rounded off what was a fantastic 2 days on the water. None of this could have happened if I hadn't secured the support of the RYA, its Instructors and professional mentors from the Industries and Trade alike plus Matt ,the Stithains Lake Centre Manager and all of his staff. Thanks also to Dave White, Pete Davis & Andy Stallman for all the photographs and video action.
We rounded off the event with an awards ceremony and don't get me wrong everyone did brilliantly in the challenging conditions but worthy of a note are:
SUP Racing
1st Sam Axeford
2nd Blue Ewer
3rd Sam Anstey
Basic Windsurfing
Best Improved
Todd Sawyer
Joe Sawyer
Best Female
Storm Ewer
Intermediate
1st Race Jacob Morrall
Best improved Dexter Harding
Speed Gun
Fastest Scotty Stallman 46 kph
Advanced
1st Race Scotty Stallman
Best Improved Eddie Sioufi
Best Fast Tacking
Lauren Goodhall
Best Freestyle Move
Joe Trinder
The NWF Junior weekend video will be released and available to watch on SUPboarder soon. 
If you missed out this year, don't worry it will be back again in 2016 and no doubt even bigger and better!