Sunset Beach Pro 2015 final Day 3 Highlights above. As the swell was dropping fast, the final day of competition was run in the unusually small but perfectly clean waves for Sunset Beach. Well done to Kai for his first victory for 2015.
Final results:
KAI LENNY

(HI)

CAIO VAZ

(BRA)

MO FREITAS

(HI)

JUSTIN HOLLAND

(AUS)
Press release from the Waterman League.  Day 3 on the 18/02/15
Kai Lenny wins the 2015 #SunsetBeachPro, World Tour Opener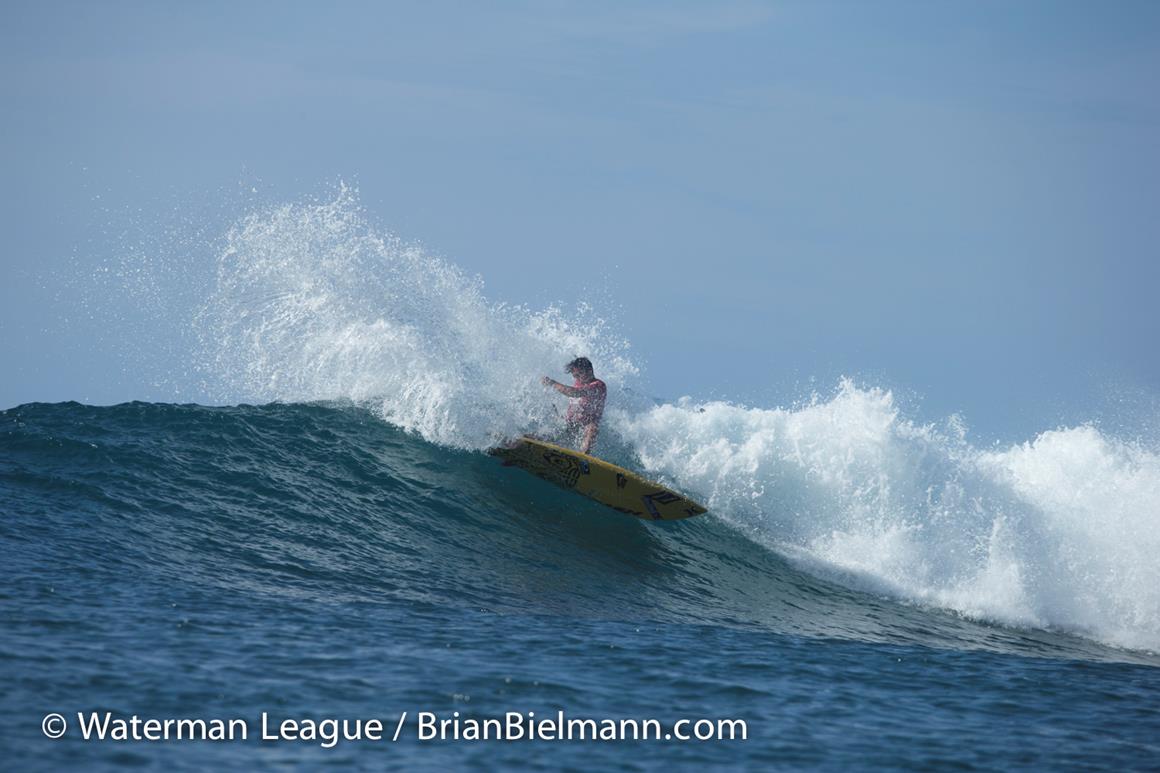 Kai Lenny leaves it until his last two waves of the final to win the #SunsetBeachPro.
In what proved to be testing conditions through the day the waves turned on for the final heats of what was a dramatic close to the 2015 Sunset Beach Pro. In 30 minutes Kai Lenny (Naish), Mo Freitas (Focus Sup), Cai Vaz (Art in Surf) & Justin Holland (Starboard) caught 41 waves between them in 30 minutes.
Kai Lenny was on impressive form throughout Day 3 dominating all his heats on the way to the Final. In an awesome display of surfing in Semi-Final 1, his 17pts (8.33 & 8.67) left his opponents needing a combination of scores to better his.
More flair and radical turns on his final two waves in the final (7.77 & 7.5) mean't he takes his 4th SunsetBeachPro event (out of 6) and starts the 2015 season with a win
Caio Vaz impresses but just fall short in the final and can't retain his #SunsetBeachPro crown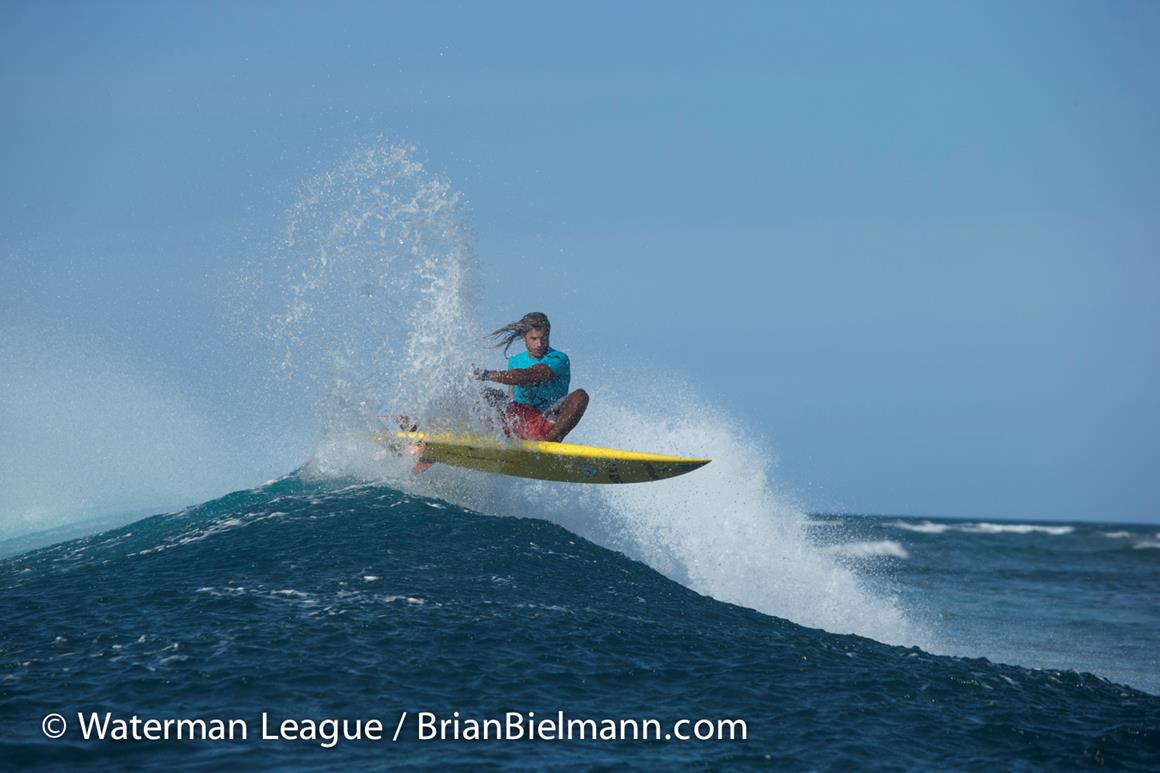 Caio Vaz (Art in Surf) was looking to repeat his heroics here last year with a repeat performance. In very different conditions the young Brazilian showed sparks of why he is so dangerous on the #SUWT. Winning his Round 1 and 3 Heats comfortably, Caio, snuck into the Semi-Finals edging out Sean Poynter (Starboard) by just 0.51 to take second place behind an on form Kody Kerbox (Naish).
In the Semi-Final the Brazilian must have reminisced back to last year's heroic performance to pull off a 14.5 heat score total to win Semi 2 and progress to the Final. In a repeat battle of last year's final and even year, it was Caio and Kai battling for the top two positions. Posting 10 scores, he just couldn't find those excellent scores he needed to retain his Sunset Beach Pro title and had to settle for second place on the first stop of the 2015 Stand Up World Tour.
North Shore local, Mo Freitas, finishes 3rd despite fracturing his pelvis just two weeks ago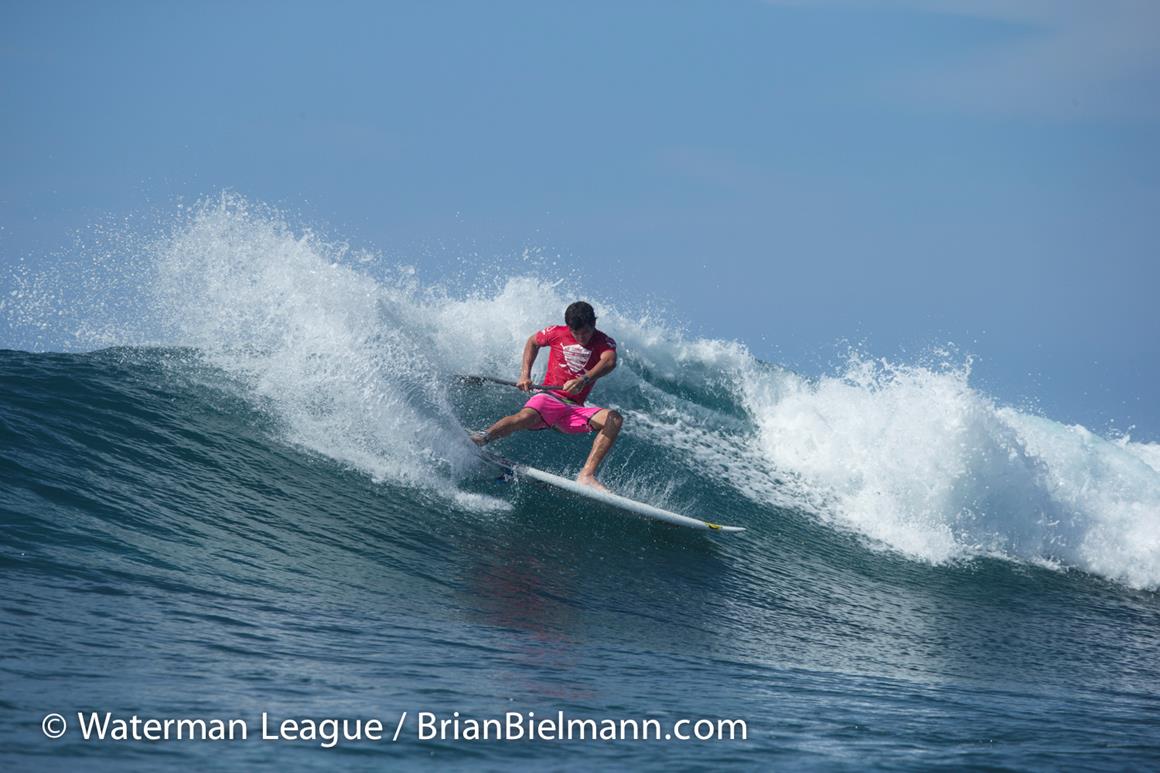 Halewia born, Mo Freitas, (Focus SUP) displayed exceptional talent at one of his home breaks and showed assembled crowds some powerful and progressive surfing to finish 3rd at the 2015 Sunset Beach Pro. Recovering from fracturing his pelvis at Waimea just 14 days ago, Mo probably shouldn't have even been surfing, but not wanting to miss not only the all important first stop on Tour, but an event right on his doorstep, the North shore the youngster took it easy through the first few rounds progressing as runner-up in Round 3. Into the Quarter-Finals Mo scored one of the single highest waves of the day (8.66) to advance to the Semi's. Scoring another excellent wave he dominated Semi final 2 to advance through to the 30 minute Final.
Up against Kai and Caio, you could see that after a long day's competition the youngster couldn't find the waves he needed to post a combination of scores in the excellent range. However, there is no doubt that Mo will be a major Title contender in 2015, especially once he is back to 100% fitness.
Justin Holland shows his hunger with a fourth place finish at the #SunsetBeachPro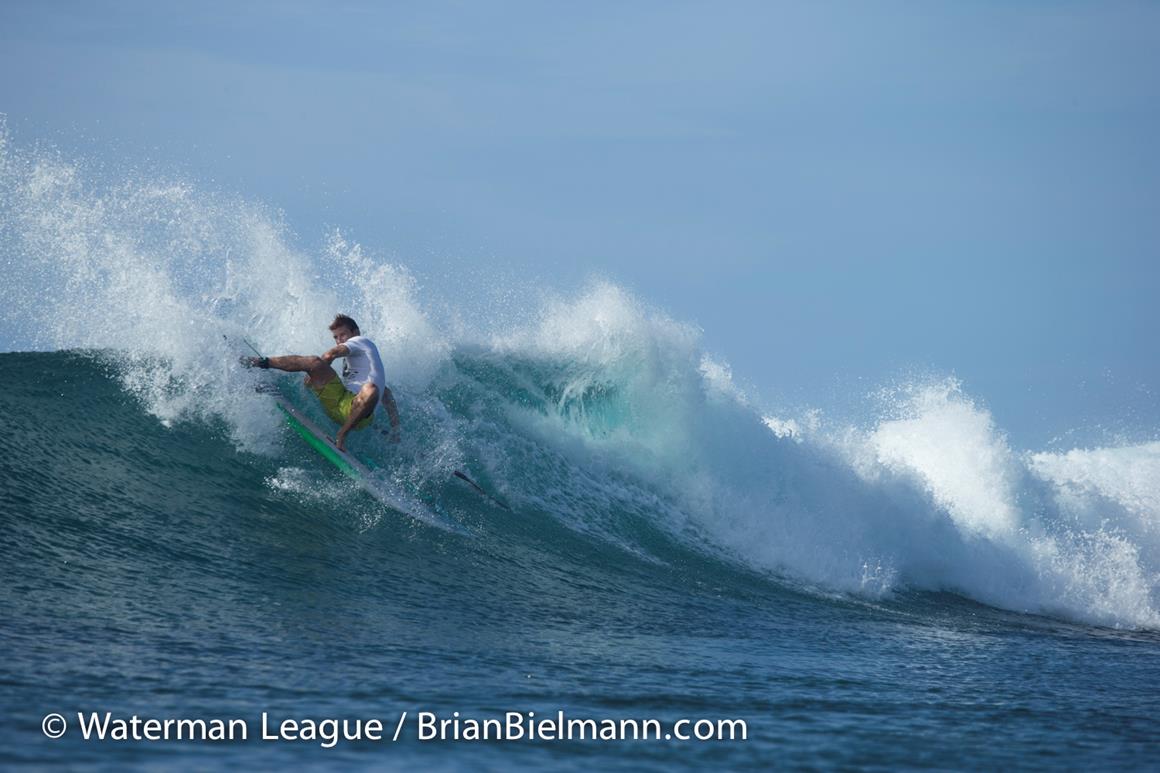 Justin Holland (Starboard) reaches the #SunsetBeachPro Final as he starts his 2015 campaign in excellent form. After missing the back half of the 2014 season through injury the Australian was determined to perform on the international stage and show he that he is every bit a force to be rekoned with. Consistently scoring solid wave scores, Justin, picked out the right waves and lay down some radical full rail turns.
Two second placed finishes in the Quarters (12.33) and in the Semi's (9.3) showed the judges and his fellow athletes that he isn't here to make up the numbers on Tour and a fourth place finish at Sunset is something to be proud of as we head to the next stop in Brazil in just over a month. Watch out for Justin Holland in 2015 as he looks to make this 'his year' on Tour
Other standout performances from a spectacular day of action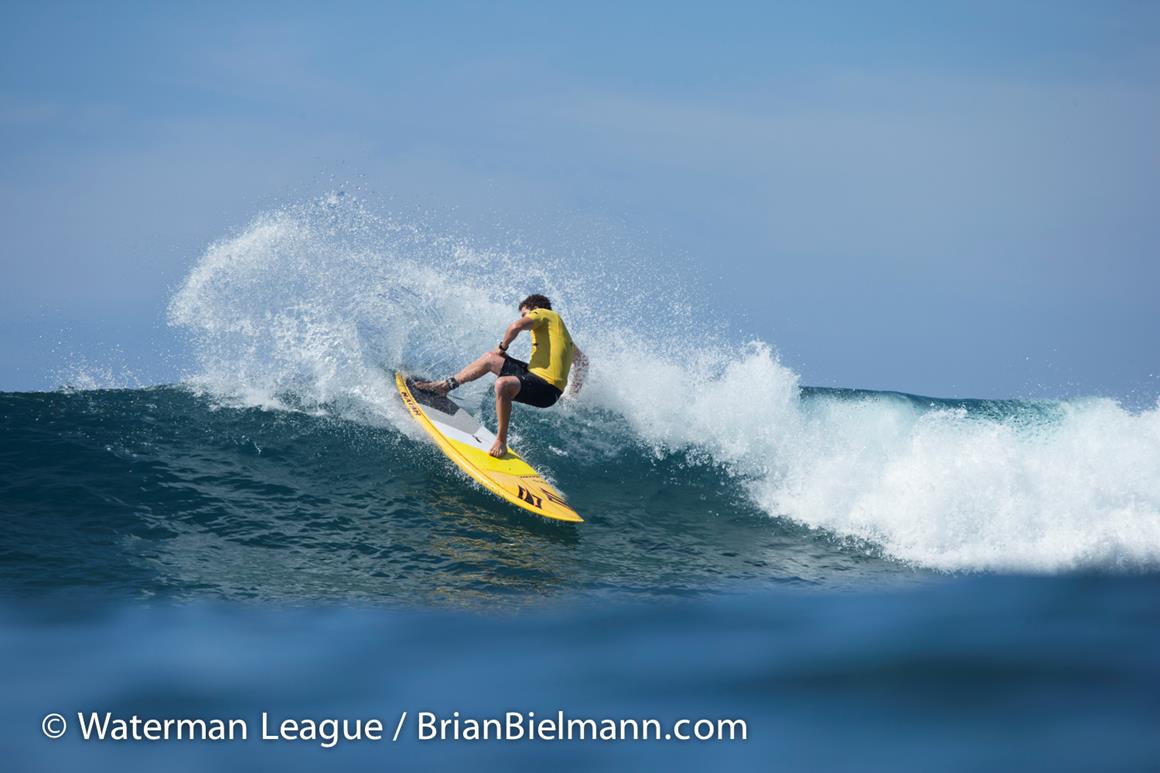 Kody Kerbox (Naish) pulls off the highest wave total and single wave score of the day with an 18.5 ride (8.73 & 9.77). The young Maui born rider narrowly missed out on a place in the Final but it was his score in Round 3 that he will remember.
Beau Nixon (Naish) after a strong performance on Day 2, continued his great form as he dominated his Round 3 Heat. Australian born, Beau, who has been training hard throughout the winter demonstrated impressive flow and critical turns throughout, but was unable to progress out of what was an incredibly stacked Semi Final.
Bernd Roediger (Quatro), another young Maui born rider, excels in big surf but showed here in a challenging Sunset that he can put on a display of performance surfing at its best to earn his spot in the Semi-Finals.
Poenaiki Raioha (F-One) is the leading light from the wave and talent rich Tahitian Island chain. Dominating his Round 3 and Quarter-Final Heats with some exceptional and incredibly consistent surfing he just couldn't find the right waves to score and progress through to the Final.
Stand Up World Tour 2015 – Sunset Beach Pro – Day 3 LIVE FEED above
Sunset Beach Pro 2015 Day 2 Highlights above.
Press release from the Waterman League.  Day 2 on the 13/02/15
Day 2 of the #SunsetBeachPro produces some incredible surfing in testing conditions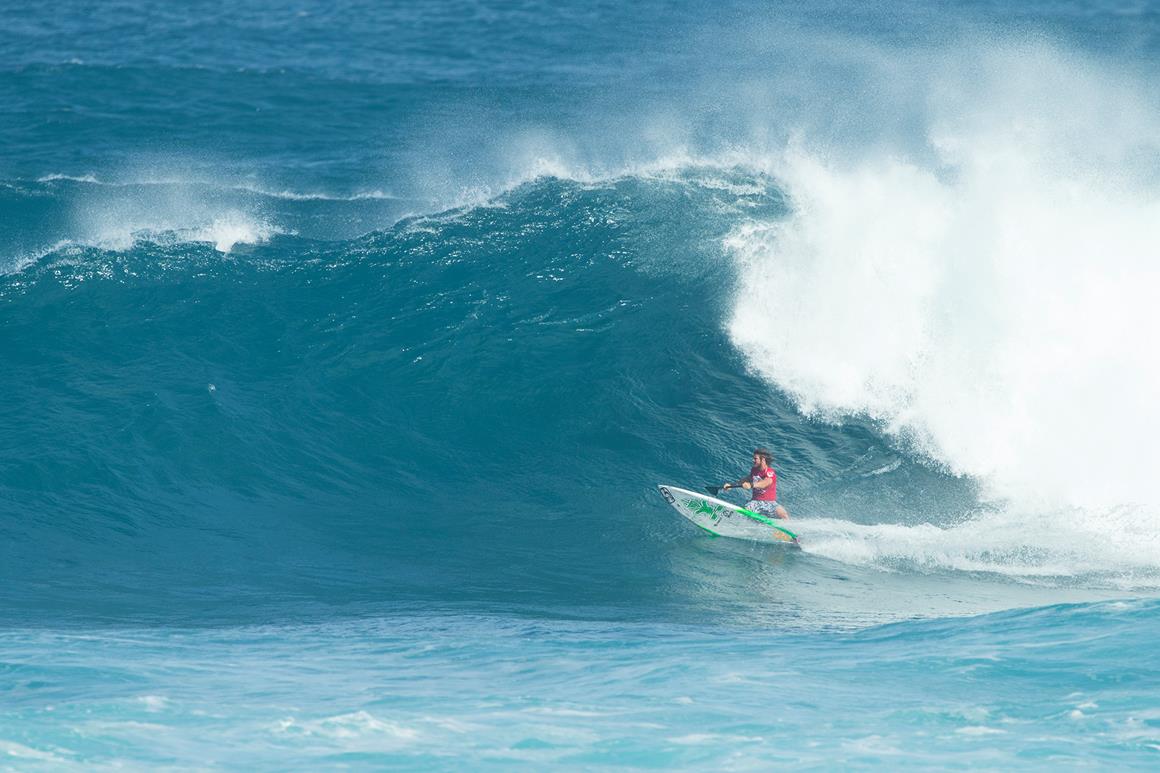 Zane Schweitzer (Starboard) produced some of the best surfing of his #SUWT career to score the highest heat total of the competition so far. A 9.77 and a 8.33 (total: 18.1) in Round 1 of the #SunsetBeachPro was clearly the stand out score of the day. The Maui youngster showed he has an excellent array of talent and composure to score highly in any conditions.
Starboard teammate Sean Poynter also looked at home with the wind adding another dimension for the athletes to cope with. A solid 13.26 score (6.93 & 6.33) saw the Californian progress to Round 3 and continue his hunt for a third successive win on the #SUWT after his back to back wins in France & Morocco at the end of last season.
Poenaiki Raioha opens his 2015 #SUWT season in spectacular fashion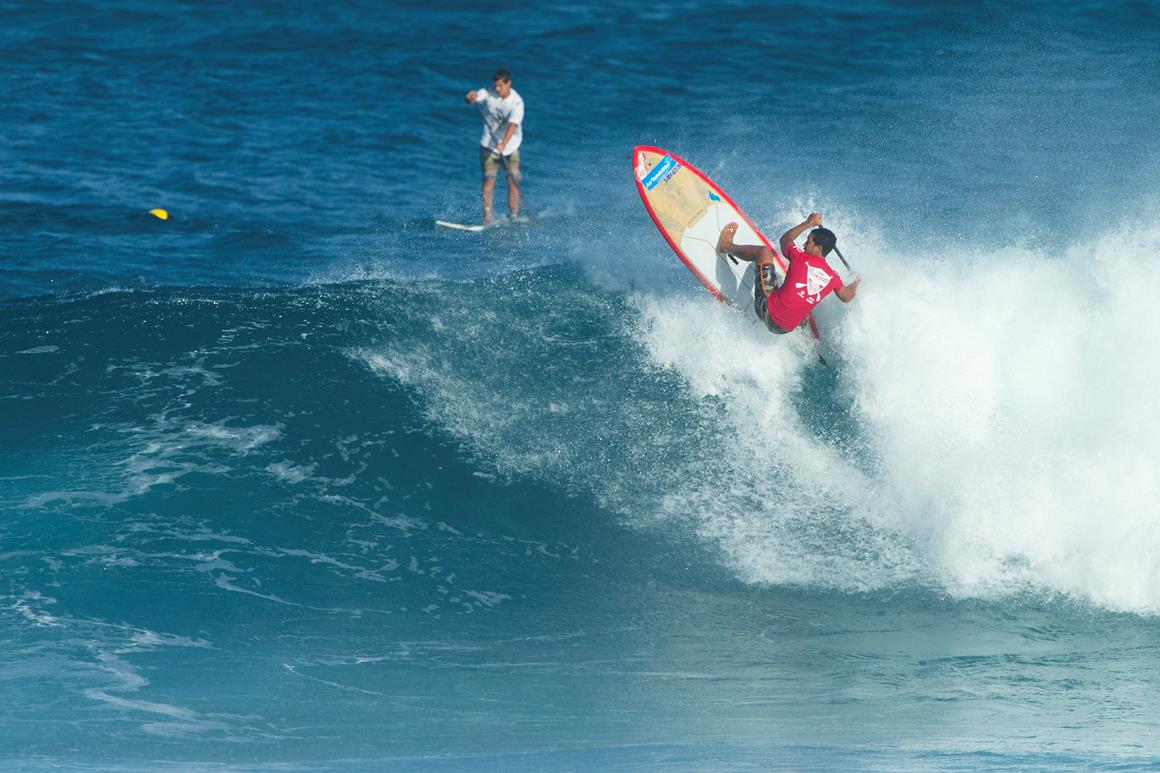 Poenaiki Raioha (F-One) continues where he finished at the end of last season and dominated his heat here at Sunset. A 13.5 score (6.67 & 6.83) saw him snatch the third highest score on Day 2. The young Tahitian, who finished 4th on tour last year, gave the audience watching on the beach a display of powerful surfing, with some critical turns and stylish manoeuvers: he will definately be one to watch this year.
Another young talent putting on a phenomenal performance in today's tricky conditions was the young Peruvian talent, Sebastian Gomez. As son of Jose Gomez, a big wave surfing legend in Peru, it is clear that his father's talent did not bypass young Sebastian, as he posted one of the highest single wave scores of the event so far. Watch out for Sebastian in Round 3 when competition resumes.
Keahi De Aboitiz comes back from injury in great form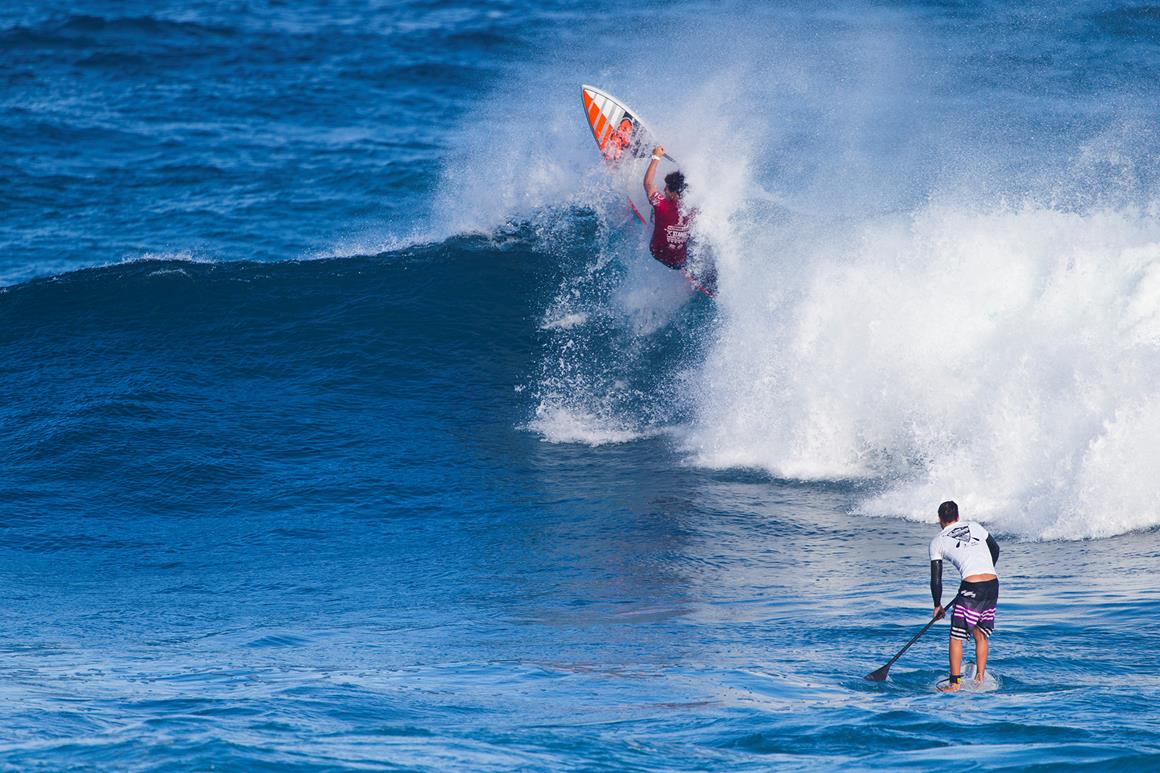 Keahi De Aboitiz (JP-Australia) returning from a broken leg that caused him to miss the final two #SUWT 2014 events, scored a solid 11.74 (6.67 & 5.07) to advance through to Round 3. In a stacked Heat 5 of Round 1, Keahi found the right waves and made the most of them with some precision cut backs. While he did advance through American Matt Becker could not match the Australians dominance as Keahi looks strong going into Round 3.
Fellow Australian Beau Nixon (Naish) put on some last minute heroics in his round 1 heat, jumping from 4th to 1st with a 6.1 & 7.33 to advance through to Round 3.
Brazilians rock the Round 2 Repechage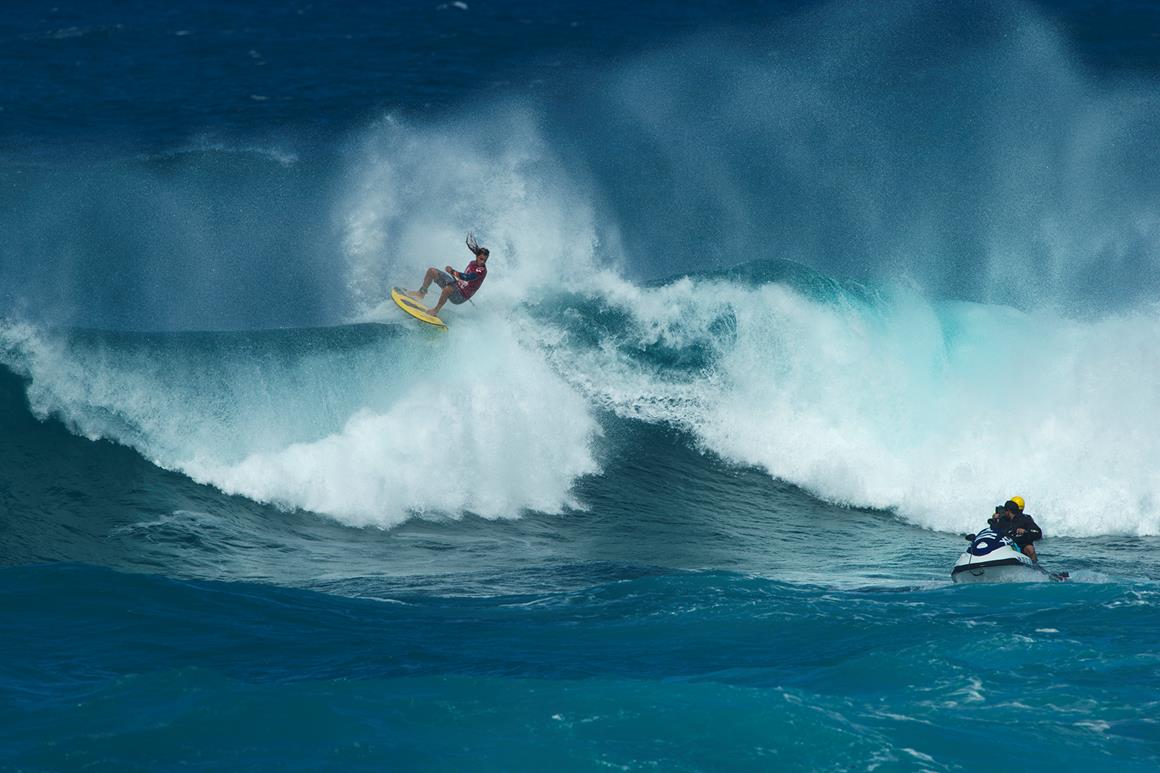 Current #SunsetBeachPro Champion Caio Vaz (Art in Surf) looked comfortable in Round 1 finishing 1st (12.2) in heat 12.
Meanwhile his brother, Ian Vaz (Art in Surf) needed the second round repechage to progress but pulled it off with some style, scoring the second highest heat total of the day (7.1 & 7.4) 14.5.
Kainoa Texeira (7.17) & Yuri Daberkow (13.9) both took out their second round repechage heats and Leco Salazar (New Advance) finished with the highest second place finish (11.4) to progress into the third round.
Stand Up World Tour 2015 – Sunset Beach Pro – Day 2 LIVE FEED above

Highlights from Day 1 of the 2015 Sunset Beach Pro. Big surf, challenging conditions and stand out performances.
Press release from the Waterman League. The Mens Trails Day 1 on the 12/02/15
#SunsetBeachPro open's in dramatic fashion on Day 1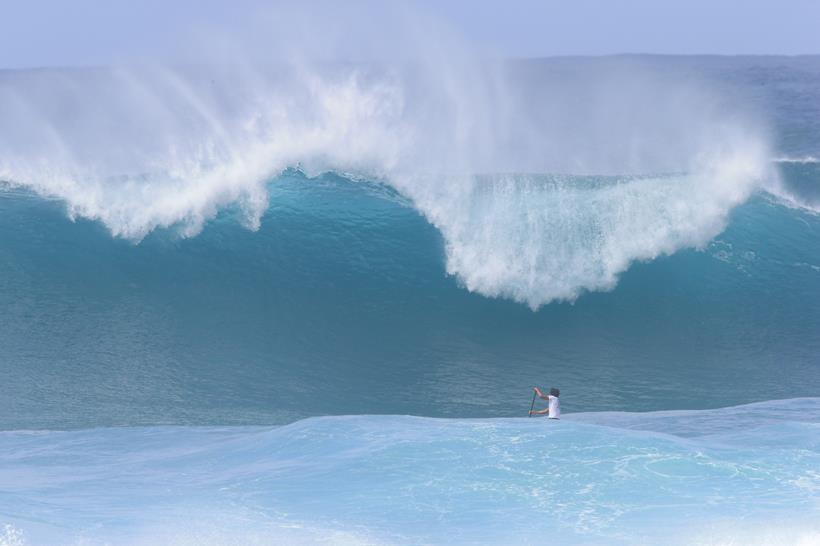 The first stop of the 2015 Stand Up World Tour kicks off in big surf and light winds at the #SunsetBeachPro on the North Shore in Hawaii.
After strong off-shore winds prevented organizers from running on the first two days of the waiting period, winds eased off and 10-15ft waves swell hit the North Shore of Hawaii. World Tour Director, Duane Desoto & Waterman League CEO Tristan Boxford gave the green light for the Trials to get underway here at Sunset Beach.
With the top eight trialist's progressing through it mean't there was definitely fierce compeition in the opening heats.
Justin Holland & Kai Lenny put on Stand Out performances at Sunset Beach
Justin Holland (Starboard) scored the highest heat total (14.17pts) on Day 1 of the Main Event to progress straight through to Round 3. Coming back from injury, missing the last two #SUWT 2014 events, the Australian started his 2015 campaign strongly with some impressive surfing, scoring an 8 on his first ride. Justin's wave selection was impressive picking to ride just 3 waves, making sure he secured two scoring waves as he went straight into Round 3.
Kai Lenny (Naish) surfing in Heat 1 as well, posted the second highest score of the day (13.66). Winning the 2014 #SUWT Championship, Kai open his 2015 account with some strong manoevers using his power to impress the Judges. Picking up 8 waves in Round 1, Kai just couldn't find that excellent range wave to top the Heat, but progresses straight into Round 3.
Josh Riccio, Austin Kalama & Julien shine in the Trials to make it into the Main Event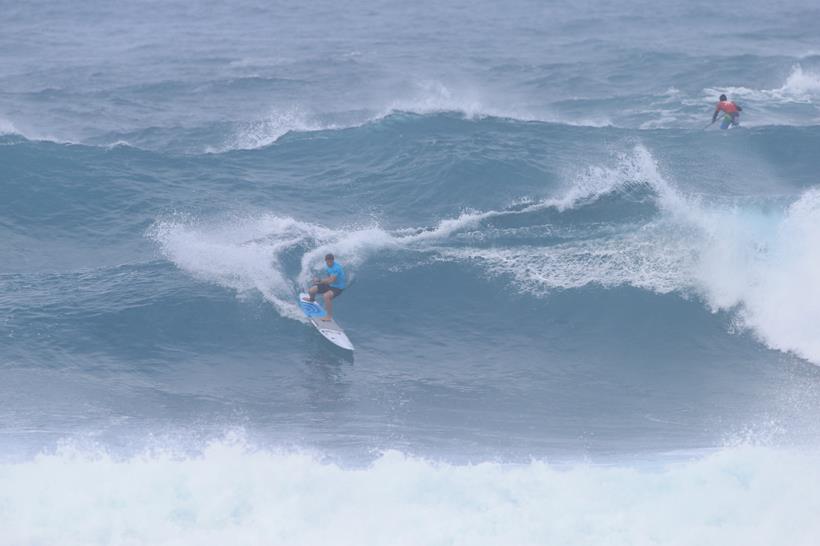 Josh Riccio (Rogue & 27N) scored the highest single wave of the day (8.27) as the American dominated the trials and earned his place in the Main Event. After focusing on his training throughout the winter on Maui the Judges awarded his style and flair with some excellent scores. We will wait with anticipation to see how he performs in the Main Event
Julien Bouyer (Naish) also excelled in the Trials. With a fluid style and power off the lip, the frenchman looked comfortable surfing here at Sunset. After surfing two rounds in the trials he had to head out for a third time for Heat 1 of the Main Event. Up against Kai & Justin he could only manage 4th place. The youngster earns a very well deserved nights sleep and will have another chance to progress in the Repechage heat when competition resumes.
Another standout performance in the Trials was Austin Kalama. The youngster from Maui grew stronger throughout the heats, finishing third place in Heat 1 of Round 1. In the second round of the Trials, Austin showed his real surfing talent and provided some great entertainment to the Sunset beach crowd finishing in first place and proggresing through to the main event. We look forward to watching him take on the best of the best in the Main Event.
Fiona Wylde & Izzi Gomez battle proudly with the men in the #SunsetBeachPro Trials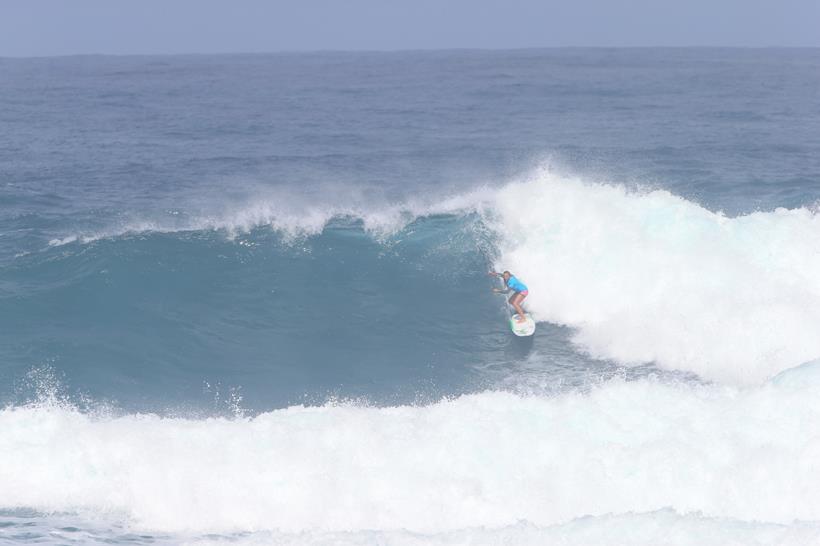 #SUWT Champion Izzi Gomez alongside Starboard team mate Fiona Wylde entered the Men's trials event and both excelled.
Fiona, who turns 18 this month, gave herself an early birthday present, as the youngster from Oregon showed she could match the guys and progessed into the Main Event demonstrating her excellent surfing skills.
Izzi, who is just 15, and the youngest ever World Champion, showed massive determination and guts to paddle out into some pretty heavy sets. Giving the guys a run for their money, she just couldn't find a backup wave in her second heat to progress with Fiona.
More action to come as we now wait for the call to see if DAY 2 of the #SunsetBeachPro runs tomorrow.
Check in again tomorrow morning at 7am (13th Feb) to see if we will be able to resume competition and what mother nature has in store for us here on the North Shore of Oahu.
Stand Up World Tour – Sunset Beach Pro – Day 1 LIVE FEED above.