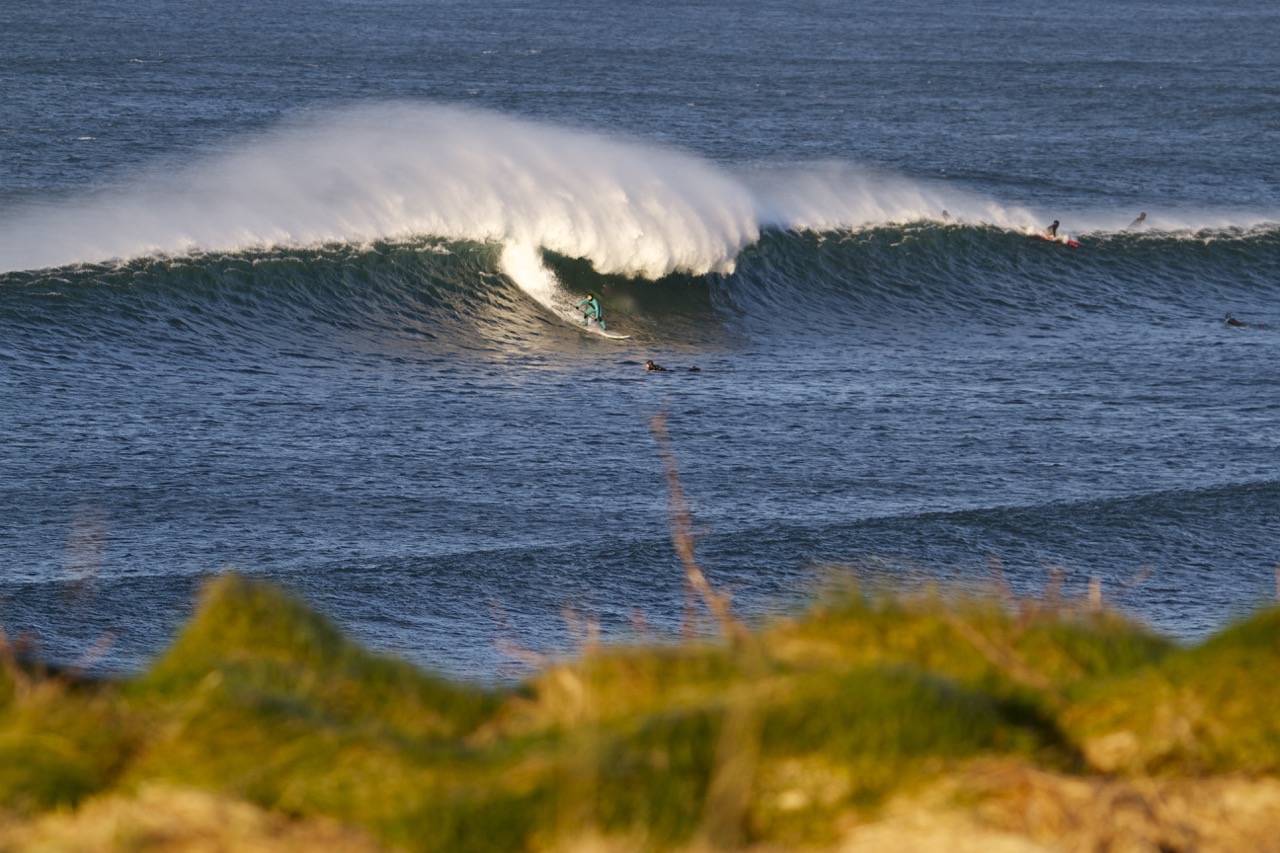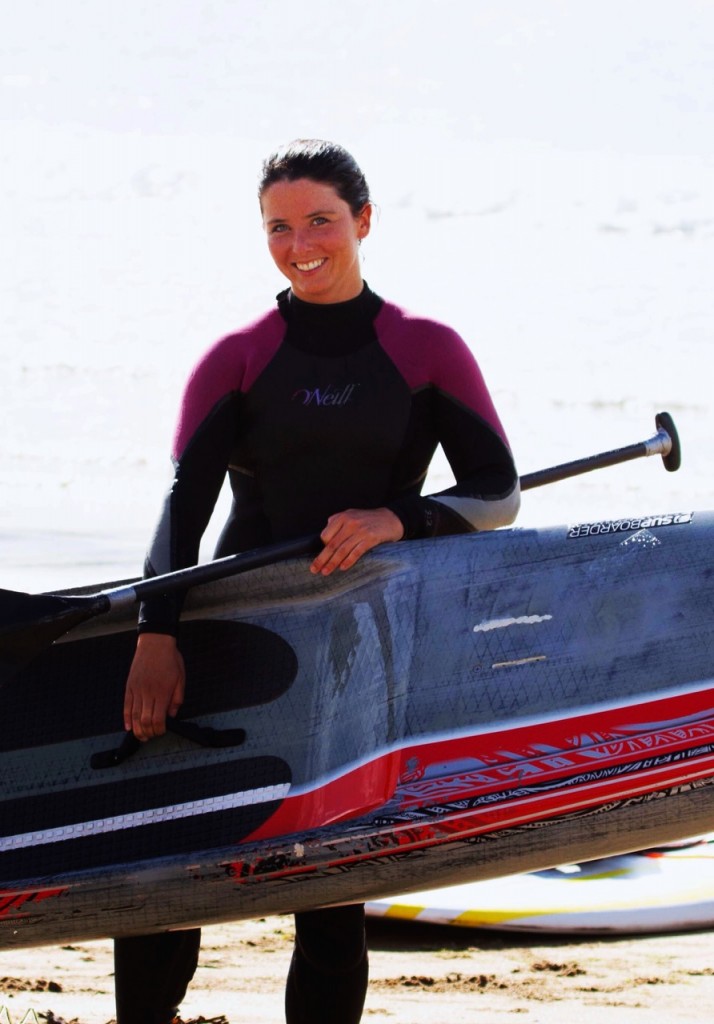 When there's a solid swell and some good beatings to be had there's one girl who's sure to be there!… Irish Ladies SUP Surf Champion Katie McAnena. From the West Coast of Ireland Katie is a true waterwoman. If she's not at the beach with a SUP she's there with her shortboard or windsurf kit looking for the best waves to be had. We're not sure how Katie manages to do it all!… traveling the world, competing at international SUP and windsurfing level and working as a doctor. Katie is also well known for her friendly and bubbly personality. When she's not out on the water, she's out having a laugh with the girls or enjoying a guinness with the lads!

SUPboarder caught up with Katie to find out all about her stoke for SUP, SUPing in Ireland and how she survives those big beatings!…
SB/ Tell us a little about yourself Katie where are you from and what is your occupation?
KM/ I'm 28. I come from Galway on the West Coast of Ireland and I currently live in a county called Sligo in North West Ireland. The place is littered with every kind of break imaginable and there's rarely a day when I can't either SUP, surf or windsurf…. providing I wear some super thick neoprene! I'm a medical doctor working in the hospital on a GP specialist training scheme. It demands most of my time but thankfully living this close to the beach I can squeeze in a few cheeky water sessions fairly regularly!
SB/ How did you get into SUP?
KM/ It was just one of those random fortuitous days…. I was down in Kerry and we'd just finished a windsurfing contest. It was 2009 and SUP was pretty much unknown in Ireland. My boyfriend Finn Mullen took myself and a mate out on some big 12′ boards we'd borrowed from Jamie Knox and like most people I spent the whole time floundering around and falling in. But I was hooked, I loved it! So I bought a Starboard 10′ Drive the following Summer and started cruising up and down Galway Bay on it. People thought we were nutters… and I guess we were. One time a random lady saw me out in the bay and called the police because she thought we had lost the plot altogether. Classic!
SB/ What is your favourite thing about SUP?
KM/ It's so universally accessible. No matter what your standard or what your water medium you can get up out of the house and enjoy what's on your doorstep. It's the perfect addition to my windsurfing because you enhance your surf knowledge and stay fit while maximising conditions at all times.
SB/ What equipment do you use?
KM/ Currently I have an 8'0 x 28″ Starboard Carbon Pro set up as a thruster. It is SICK! I tend to prone surf smaller days to improve my surfing technique but on the bigger days I take my 8'0 out and it rips! It can make the drop on big waves but it's also super maneuverable. For paddles I use KeNalu, I find it really light and easy to use especially for an all round rider in waves and racing…. and it hasn't broken despite some major beatings…. winning!
SB/ Where is your favourite place to SUP at home and abroad?
KM/ At home I could mention 100 spots along the coast and on their day they all make me smile! From beach breaks, to reefs and point breaks there literally is no place like home. I'm lucky to live in a surfing village where I can literally walk out my front door and hit the water. But anywhere in Ireland has its day and is magic in its own way. Abroad I'd have to say Maui as that's where I've spent most of my time but I've also had some killer sessions at Punta San Carlos Mexico and Pacasmayo Peru.
SB/ Can you tell us about the SUP scene in Ireland?
KM/ Ya it's class! It's just going from strength to strength. Most importantly there's an up and coming group of women who are pushing their level harder and harder and every time I surf with them they have improved exponentially. It's a family really and there's a special camaraderie amongst us. For sure it has to be the fastest growing sport in Ireland at the moment.
SB/ We've noticed you seem to like bigger waves and wipeouts and are famous for windsurfing Jaws. What are your tips for bigger waves?
KM/ Ya it's something wrong with my hard-wiring! I think it comes from learning to windsurf in Ireland where there is rarely a day when it's windy and the waves aren't macking… so it's all I've ever known.
"There is an amazing joy when you drop down the face of a monster and even though you know you're inevitably going to wipe out it's worth it for that one moment. For me it's all about pushing your limits whilst still maintaining a deep respect for the sea."
In Ireland the sea and the weather are extraordinarily volatile so respecting your environment and acknowledging your abilities are paramount. Start small and work your way up. SUP has an easy entrance level which is what makes it so great and so accessible but it can also propel you into an environment that you're not ready for. I've been windsurfing for 15 years now and have worked my way up from knee high waves to some fairly sizeable stuff. It's a progression and it's important it happens in a step-wise manner. I'm grateful to have my background in wavesailing which has taught me survival techniques and common sense and I try to translate it to SUPing waves. The key to taking a beating is to relax and always have a contingency plan. When you're in the midst of a wipe out, it is not the time to be thinking "hmmmm what should I do"…. it needs to be mechanical and pre-prepared so your energy is spent wisely and not wasted unnecessarily.
SB/ You compete in racing and waves, do you have a preference?
KM/ Ya for sure it's the waves but that's probably because I don't have enough training or exposure in racing. I'm Irish Ladies SUP surf champion and 12'6″ technical race champion currently. I'm also 5th in Ireland among the men. I have loved competing in both, especially having the support of Starboard and being surrounded by the Irish SUP community. I'm really looking forward to competing at home and abroad this year in both disciplines and seeing how far I can push my level.
SB/ What advice could you pass on to women progressing in SUP?
KM/ Get out there and do it!! Ignore anyone who knocks your confidence or doubts you. Guaranteed they're the ones sitting in their cars letting life pass them by and not going for it. Expect to fall in and crash and look silly. I look ridiculous 99% of the time and I've learnt not to give a hoot! Laugh it off and get back up and you'll be stronger and happier than ever.
SB/ Describe your perfect SUP day?
KM/ Ireland, big, sunny, cold, Finn and my other SUP mates out, laughing our heads off and falling in all the time! Followed by a hot bowl of soup and a pint of Guinness 🙂 Heaven!
SB/ Words to live by…
KM/ Believe in yourself because if you don't, no one else will. But don't take yourself too seriously because if you do, no one else will!
So… next time you see an Irish brunette charging a big wave out back, chances are it's probably Katie McAnena! SUPboarder wishes Katie all the best for 2015 and hopes she finds some good swell and podium finishes which she well deserves this year.
To keep up to date with Katie's news follow her on twitter @katiemcanena and check out her blog here.
Katie is sponsored by Starboard and KeNalu paddles.
Photos by Finn Mullen.