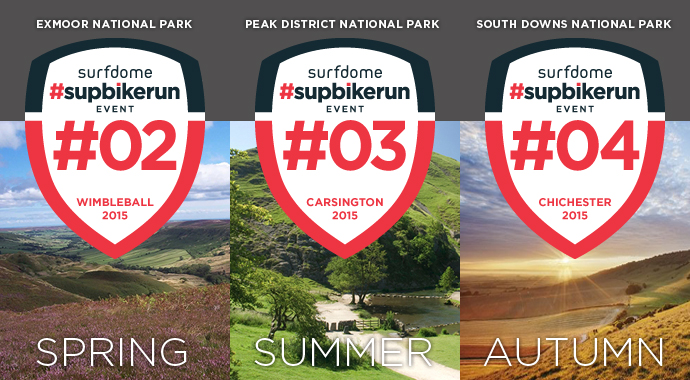 SURFDOME PRESENTS #SUPBIKERUN AND THE 2015 SERIES OF TRIATHLON EVENTS
After a massively successful first event, #supbikerun presented by Europe's leading action sports retailer Surfdome, is back with a 2015 series. This year will see us treated to not one, but three events all hosted within National Parks across the UK. The event is certainly living up to its tag line 'From the Lakes to the Mountains', spreading far and wide to some awesome, challenging and scenic locations. The series is set to build on the success of Event #01: the largest SUP event in the UK to date. Triathletes, SUP'ers, mountain bikers, trail runners and outdoor enthusiasts will be provided with even better events, and all set within stunning locations.
Each venue will present a different challenge to the participants, with fixed distances of 3K SUP, 30K MTB and 5K Trail Run. Each event will be limited to 250 participants with a series ticket also available.
Event #2 – Wimbleball Lake, Exmoor National Park, Somerset – May 17th 2015 – Set in the rolling hills of the West country in the stunning Exmoor National Park, with its steep valleys and purple heather. The surrounding trails and facilities of Wimbleball Lake are perfect for #supbikerun. This is certainly not one to miss with plenty of camping, accommodation, places to eat and proven sustainability programme.
Event #3 – Carsington Water, on the edge of the Peak District National Park, Derbyshire – July 12th 2015 – Right on the border of the beautiful Peak District, the lake is surrounded by lush gradual green hills as they rise up to the Peak District National Park in the near distance. Fantastic facilities, plenty of camping and a superb visitors centre make this venue a must for the 2015 series competitor.
Event #4 – Westhampnett Lake, on the edge of the South Downs National Park, West Sussex – 20th September 2015 – Back to where it all began, with strong support and feedback from the Event #1 participants,  #supbikerun will be returning with a new bike course and challenging event. Who can blame them for going back to the event's roots, with far reaching views over the Solent and to the Isle of Wight in the distance. Why not come back and beat last year's times!
Pre-Event Training and Taster Sessions – Due to the popularity of pre-event SUP taster sessions in 2014, #supbikerun will be running SUP training and taster sessions in partnership with Fanatic on the run up to each event at each of the three venues. Taster sessions will be available for complete SUP newcomers and advanced sessions for those people looking to improve their skills, technique or simply test out a Fanatic SUP board.
#supbikerun is proud to announce the 2015 sponsors and partners:
Surfdome – Headline sponsor and retail partner, Surfdome bring a lot to the table in support and offer a great retail element to each of the events and taster sessions
Mitsubishi – Automotive partner for Project ASX (pre-event video series) and supplier of the phenomenal ASX vehicle for event marshalling both on site and off-road in challenging locations.
Fanatic – SUP Sponsor. As market leaders of SUP, it was a natural choice for us to continue a great relationship with Fanatic from Event #1
Specialized – Mountain bike sponsor. Back again after the success from event #01, Specialized are returning with even more support.
Little Miracles – An exciting triathlon event requires an equally exciting hydration partner. Little Miracles provide an exciting and unique range of refreshing organic energy drinks.
Muc-Off – Official cleaning and lubrication partner. Muc-Off is a global leader in the production and supply of innovative cleaning and maintenance products for automotive, bike and electronics.
Surfdome, the leading online sports retailer, and proud presenter of SUP Bike Run is again throwing themselves full heartedly at this new event format. Justin Stone, Managing director, said 'After a great event #1 we sat straight down with Sam Lutman-Pauc (Events Director #supbikerun) to work out the delivery of the next three awesome events. For our customers it's a great opportunity to come and join us at these super fun events, to take part, to try before you buy, to watch or to try SUP at any of the numerous taster sessions at some of the most stunning venues the UK has to offer.'
For more information on the event and ticket sales see the #supbikerun website.