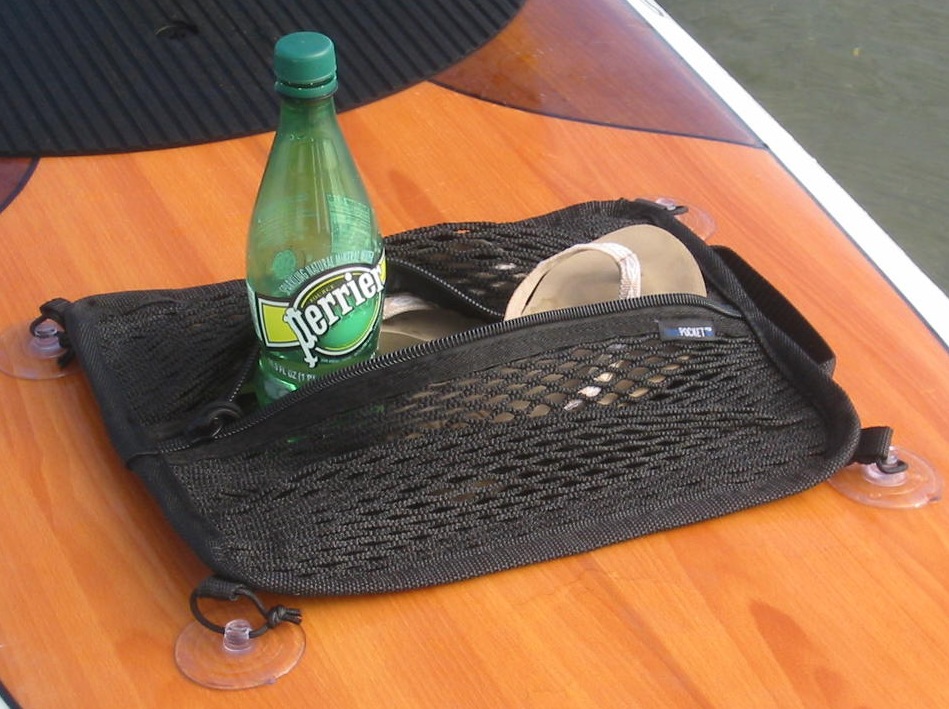 The must have storage pocket for your hard SUP… the 'supPOCKET'.

Now available in the UK.
The new supPOCKET attaches to your SUP board allowing you to carry personal items such as water, flip-flops, sunscreen and snacks with you on your paddle journey or regular paddle exercise regime.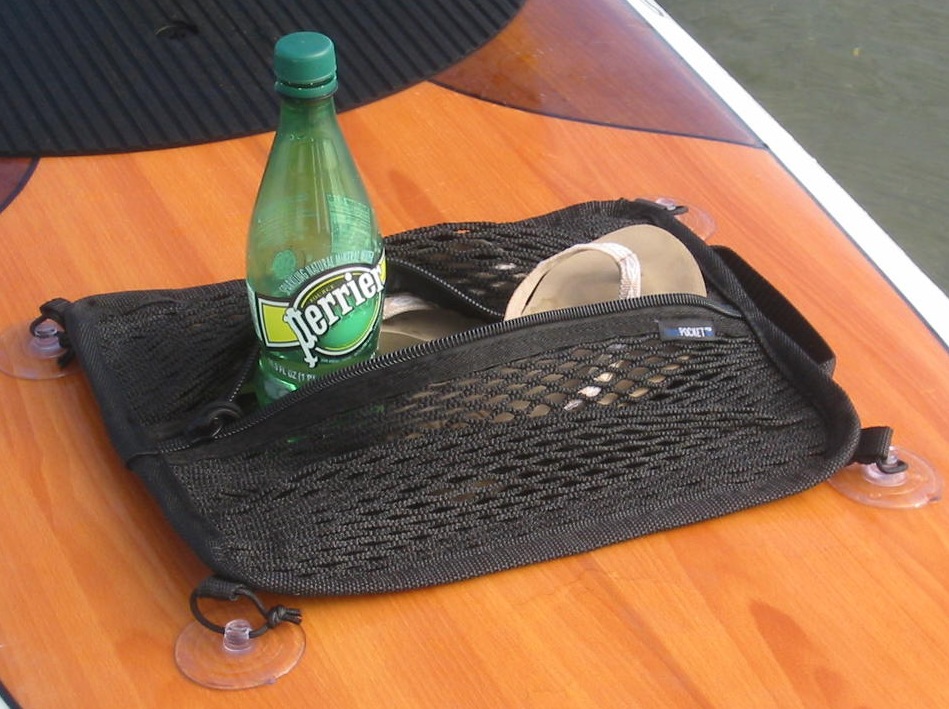 Made in the USA and previously only available in North America, The supPOCKET and The supPOCKET Net are now available in the UK from Bray Lake Watersports and through their online shop at www.braylake.com.
Fitness and stamina: Until now, carrying items on a SUP board has been tricky, and many alternative products such as kayak deck bags and even bulky coolers have been experimented with to resolve the on-board storage problem. That's why The supPOCKET is a real game-changer for SUP boarders. It has been designed with a super low profile meaning it's less affected by wind or water and therefore does not impede progress. Feedback from existing supPOCKET customers also confirms that it's possible to go further and for longer because their essential items are stored with them on-board; not on the shore!
Made from high quality components and materials, The supPOCKET is extremely durable and comes in two different designs – The supPOCKET and The supPOCKET Net:
The supPOCKET – the original tough pocket made from heavy duty durable material with a zip-up feature that expands to hold all of your belongings on board. The supPOCKET measures 12" x 15" x ¾" when empty. Retails at £38.99 via www.braylake.com/sup-products.html. Black in colour.
The supPOCKET Net – a simple but effective stretchy net design that keeps your essential items secure on your board using the four super-strong suction cups. The Net measures 12" x 15" when empty. Retails at £21.95 via www.braylake.com/sup-products.html. Black in colour.
Bob Allen, The Big Boss at adventurePOCKETS comments:
"We have been thrilled with the reaction to The supPOCKET from the UK, and we're happy that customers can now purchase the product from the Bray Lake Watersports shop, or via their online store. Our current customers tell us that, with The supPOCKET, they can paddle further and for longer on their paddle adventure because they don't need to go back to the beach, shore or river-bank."
Simple To Use…
The supPOCKET is extremely easy to attach and remove so that you can pack and un-pack items in the car or at home before you set off on your journey.
To fit the supPOCKET, you simply attach the four super strong suction cups to the board.
The netted zipper design keeps your items securely attached to the board, and the strong netting will expand to hold items such as water bottles, flip-flops, sunscreen, rash vest, snacks or whatever you may need with you.
Note: The supPOCKET and The supPOCKET Net are designed for use in calm waters.
Kim James, experienced SUP racer, after the 31 mile Chattajack Race said:
"The race was a great experience and I am thankful I had a supPOCKET. It really helped and I know I will be using it on a regular basis!"
SUPboarders Verdict…
During the summer, the SUPboarder team have been using a supPOCKET on various paddle excursions and trips.
"It's been great for just putting your own flip-flops in plus some water. Or all your mates flip-flops, suncream and much more! Due to its fantastic stretchy netted fabric they really can hold a large amount of equipment. It's very easy to attach and stays on securely even when the swell picks up. This really is a great product and it is fantastic that it's now available in the UK."
To get your very own supPOCKET head to Braylake or enter the SUPboarder competition below.
Win a supPOCKET…
To win yourself a fantastic supPOCKET all you have to do is – 'Like' this post and tell us what you would put in your supPocket if you had one! (in the Facebook comments below)
The supPOCKET is an ingenious invention from the team at adventurePOCKETS who have created a number of on-board storage solutions for a variety of products including SUP boards and motorcycles. adventurePOCKETS is currently working on additional on-board storage solutions such as fishing boats and bicycles. For further information, please visit www.adventurepockets.com, or follow us on Twitter @suppocket, or on Facebook at The Suppocket page.
For further information regarding The supPOCKET range check out www.suppockets.com.