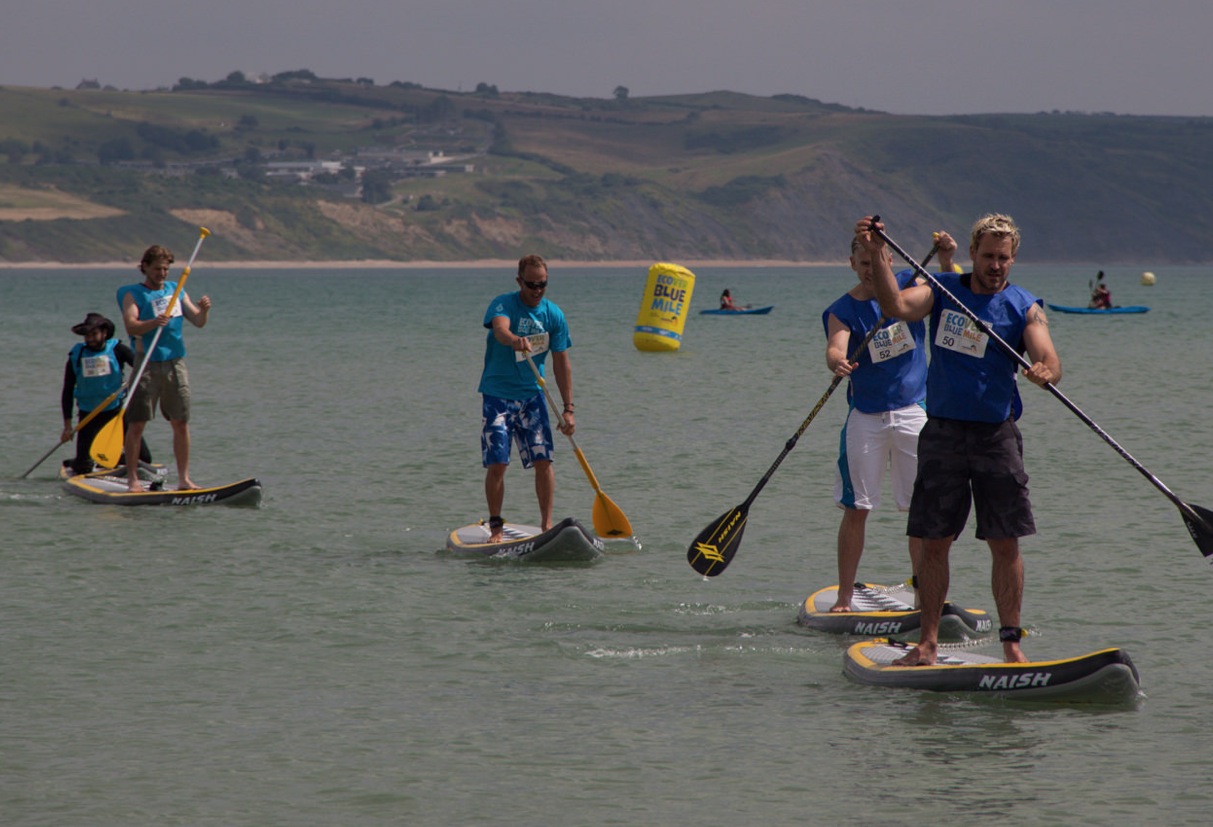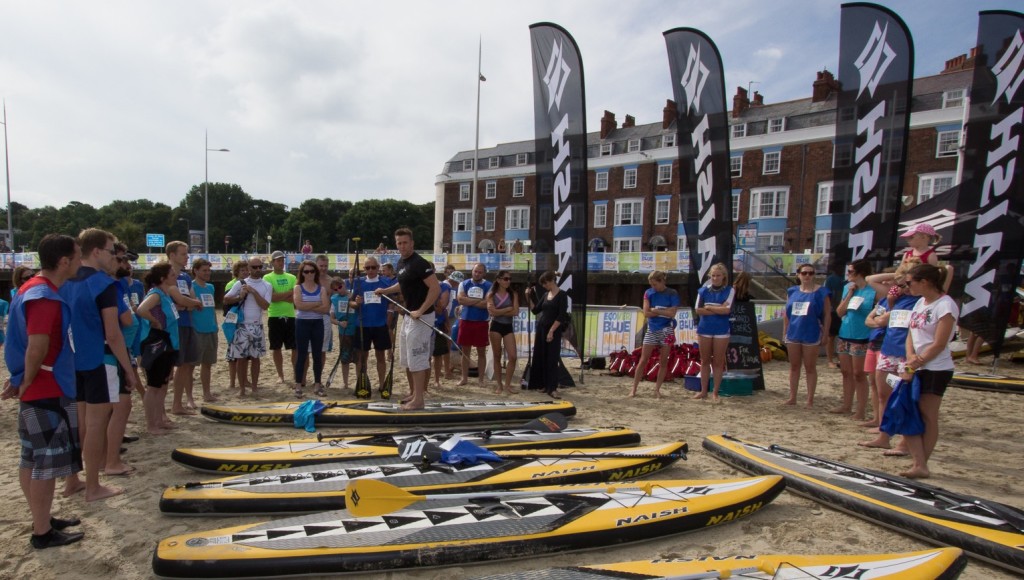 The Naish N1SCO SUP race series at the 2014 Ecover Blue Mile in Weymouth saw over 40 competitors battle it out in a full day of action in perfect conditions on 20 July.
Entry numbers were more than double compared to the 2013 event and competitors ranged from experienced riders, teenagers – and even members of the GB sailing team. With all the riders using Naish One 12.6 inflatables and a seeding system, it meant there was a level playing field where everyone had something to paddle for.
While the races took place at the Ecover Blue Mile end of Weymouth's main beach, scores of enthusiasts of all ages also jumped at the chance to try out SUP in 30-minute taster sessions for just £3.
Alex Tobutt of Naish UK said the event was helping the sport to take off in Britain: " We sold out on spaces for the event this year which is very encouraging and we hope to open it up to more next year. This sport is only going one way – and that's upwards. It's so encouraging to see a real diversity in competitors and their paddling experience. The atmosphere between the competitors on the beach has been great."
The N1SCO race series consists of three separate races during the day. The event starts with a 750m race around a square course. Positions from the first race are used as a seeding to split the fleet into 6 board sprint heats. After two rounds of sprint heats, competitors are whittled down into a semi-final and then final sprint.  After the action packed sprints that are always great for spectators, competitors come together again to paddle the final race over a mile. Results from all three races combine to decide the overall men's, women's and junior winners.
The winners at this year's Weymouth Ecover Blue Mile were Ben Fisher from Plymouth and Lily Young from Weymouth who won both Women's and Junior categories. Ben, who is unbeaten in the Naish One races this year, said: "The wind started to pick up which affected times. But I got a good start and a good turn and I managed to position myself well."
Lily, 15, added: "That was quite tough because of the wind. But what a great competition!"
Lily and Ben's prizes are an all-expenses paid trip to Germany to compete in the Naish N1SCO World Championships in September.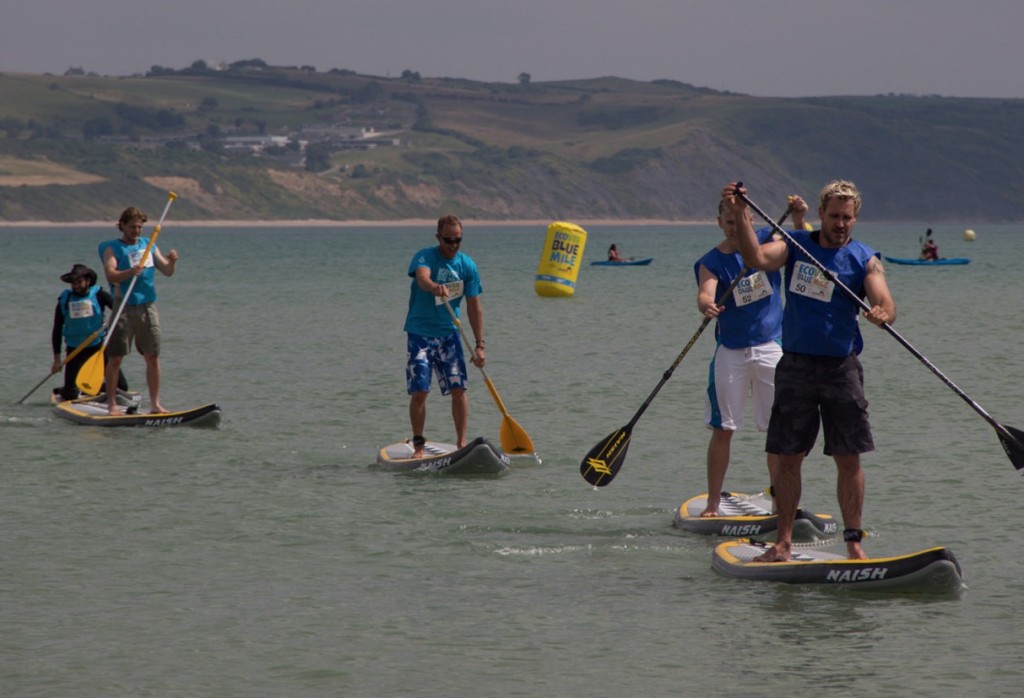 Among the SUP racers was top GB sailor, Weymouth-based Sophie Weguelin, who with partner Eilidh McIntyre is ranked Number 3 in the world in the 470 Class. Sophie, who had only "pootled a bit" at SUP before, reached the final and said: "I'll definitely be doing more of this in the future, it was brilliant fun."
The sprint series ahead of the 1-mile decider was won by Sophie's GB colleague Lily Devine, who is physio to the British sailing team: "That was great fun!" said Lily. "It's great to see so many women taking part in this and it's also nice to be supporting a local event that gets people into water sports."
The taster sessions were kept busy over the entire Ecover Blue Mile weekend of 19-20 July and especially on the second day, when the hot sun brought hundreds of people to the beach.
Many took up the chance of a 30-minute lesson. SUP instructor Alex Sergison from Weymouth College said: "This is the sport that all of the kids want to do – they love it and you can see why. It's easy to pick up so you can go from zero to hero in half-an-hour. Plus it's great fun."
One of the youngsters who took part, 12-year-old Jodie from Weymouth, summed up what's so brilliant about SUP: "It's great fun and it's easy too." So does she think she'll carryon SUP riding? "Yes, definitely!"
Organiser of the Ecover Blue Mile, Conrad Humphreys, said the aim of the event was to get more people active on the water and to learn about marine conservation at the same time – the event is a fundraiser for the UK charity, the Marine Conservation Society.
"This is only our second event in Weymouth and already we've seen a big increase in participation in the paddling, which is brilliant. The taster sessions have introduced a new generation to SUP, which is one of our main aims."
It's a world away from the early days of the sport when people didn't know what to make of it, according to experienced Naish rider Jan Sleigh. Jan, who took part in the Weymouth Ecover Blue Mile, is best known as a wave rider and has competed around the world.
"When I started in around 2006 it wasn't really known about much. But since then it has grown and grown and I think it's going to keep growing. These Naish inflatables are so accessible and people can learn very quickly. It's good for fitness, you can do it for fun or leisure and you can take part in races – this sport has everything."
More pictures here : https://www.flickr.com/photos/thebluemile/sets/72157645978757815/
Words : Alex Tobutt