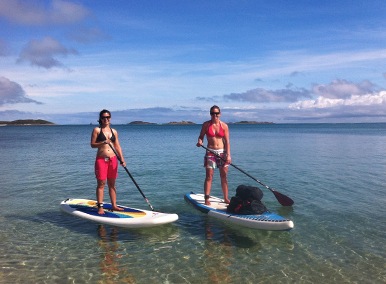 Stand up paddleboarding is one of the fastest growing water sports today. It's primarily conducted in flat water with amazing core fitness benefits. Stand up paddleboarding (SUP) reaches out to people of all ages. The boards are big and buoyant making it easy to stand and paddle in the flat water. The focus is on having fun on the water, enjoying nature while exercising and getting fit. However, unless you have some basic stand up paddleboarding safety knowledge, it's easy to find yourself in dire straits! As with any sport, there are always some guidelines to follow.
The 'Academy of Surfing Instructors' (ASI) provides you with 10 basic SUP tips to help keep you and those around you safe while you stand up paddle.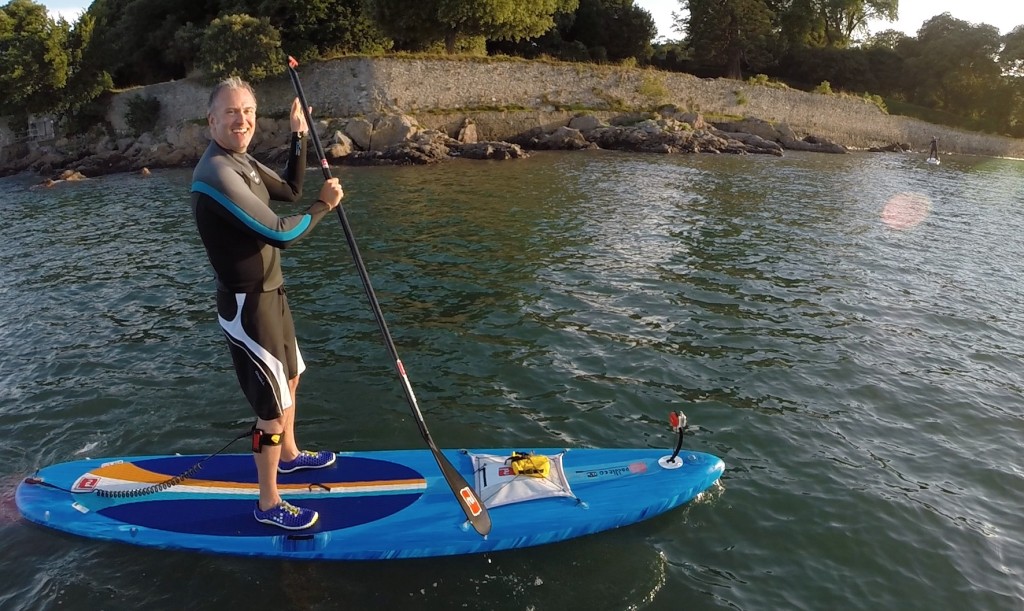 Photo : Chris Jones enjoying a flat paddle.
1. Always learn to paddle in flat water. Choose a SUP location with flat water. Rivers and lakes are ideal. Know the location, and its associated hazards. Stay away from boats, moorings, submerged tree branches or anything that you could fall onto.
2. Wear your leash / leg-rope.  Your leash / leg-rope is your life line. It attaches to your ankle and the board. Wear it all times. SUP boards travel very easily and fast over the water. If you fall off your SUP board, it could mean a long swim to retrieve your board.
3. Watch the wind. Don't paddle out if it's windy. Wind can easily blow you far away from your starting location. And it is very difficult to paddle against the wind.  You will soon tire yourself out. Check weather conditions before you go out. The wind could change from one second to the other and you will struggle getting back to your starting location. As you spend more time on your SUP you will be able to assess the weather more accurately.
4. Avoid fast flowing water. Only go out in still, slow moving water. Flowing water makes it difficult to paddle and can carry you far away. You can become tired quickly if you have to paddle against flowing water.
5. Stay close to shore. You can travel quite fast whilst SUPing and before you know it, you can be a long way from the shore. If you tire out, you don't want a long way to paddle back to shore. Always keep a watch on the shoreline, and change direction regularly, to make sure you are close.
6. Knee drop. If hazards are close by, or you are feeling unsteady, paddle on your knees. This lowers your centre of balance and you have less risk of falling off and onto the hazards.
7. Keep a 360° awareness. While out on the water, have constant awareness. Watch out for other water crafts such as jetskis, boats and other water users.
8. Use the 'buddy' system. Go out with a partner. It is always good to have someone there to help you out if you need it. If you must go out alone, bring some form of communication with you, for any emergencies.
9. Be SUP Savvy. Knowing more about the sport will ensure you SUP safely. Take some stand up paddle lessons, check out your local SUP shop and get as much information about SUPing before you hit the water.
10. Relax. Take time to enjoy your surroundings, and remember to have fun! While stand up paddling is excellent for your fitness and balance, part of the SUP experience is to enjoy the nature around you and give your mind some rest from the day's work. Your confidence and skills will grow immensely every time you paddle out and before you know it, SUP will take a permanent slot on your to-do list.
Stand up paddleboarding is a great past-time that can be enjoyed by all. The more educated you are about stand up paddleboarding, the more fun you'll have, the easier you'll find it, and the safer you'll be.
Have lessons from an ASI accredited stand up paddleboard instructor and ASI accredited SUP school, to ensure you are receiving the proper education.
ASI is an international adventure sports training and accreditation organisation, specialising in surfing, stand up paddleboarding and bodyboarding for adventure centre operators and career instructors.
ASI accreditation sets the international standard. It is the mark of high professional competence recognised and sought after by employers and the general public.
Words by : ASI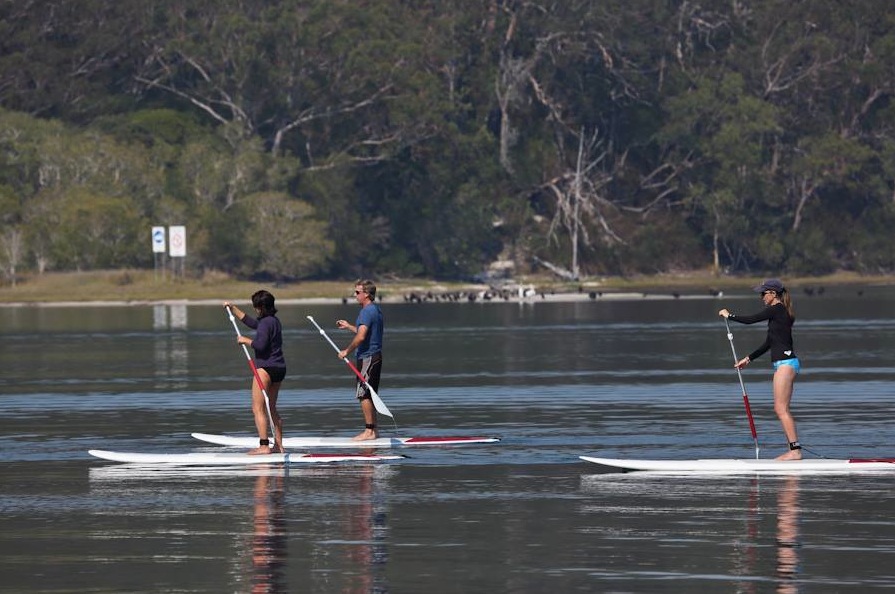 Photo : courtesy of Pacific Palms SUP School.
For more information about the 'Academy of Surfing Instructors' check out the ASI website and facebook page.