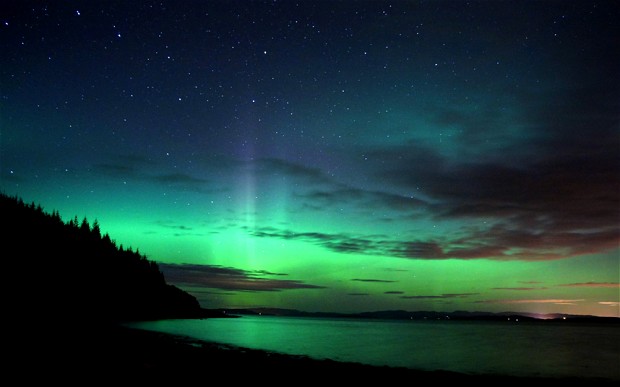 Matt Gambles, from Paddle Surf Scotland, tells us all about his recent SUP road trips and why Northern Scotland with a SUP should be on your to do list this summer…
The far north of Scotland is wild, rugged and untamed. It's a real 'out there' destination where you can get away from the rat race, and discover your own piece of SUP nirvana. In the last few weeks I have undertaken two SUP road trips to this incredible region. Staying in a van, with boards on the roof, myself and a fellow SUP surfer, Rich, were to find a land virtually untapped with potential for SUP'ing .
Roads narrow up here, houses are few and far apart (think miles and miles apart!) and every car that you pass, you find yourself giving a friendly wave to… simple pleasures in a grand landscape. Being as unpopulated as it is, the chances of being in the water alone (let alone on the beach) it really feels like you are the first paddle boarder to surf or paddle that spot. And in many cases, it will be the truth.
So, if vast landscapes, exploration, and peace and quiet appeal, then Scotland's far north could be the place for you. The weather here is extremely fickle so you may find that 1 ft surf forecast on magic seaweed turns out to be 40 mile winds and 10 ft monster swells. The trick up here is to be able to change your initial plans if needed and go with the flow. There are beaches and coves that can work in most conditions, so if your initial spot is blown out, check the map and drive on. Inland you will find lots of majestic lochs and rivers, where odds are you will be the first SUP to hit the water ever. The roads from Bonar Bridge and Lairg to Durness or Tongue, will get you into places with incredible touring potential.
Back on the coast, Oldmoreshore (near Kinlochbervie) on the west coast is easily accessible to get to and is a beautiful sheltered beach which can get some great surf in tropical looking waters. If it's flat then the touring and exploring opportunities are endless too.
Sandwood Bay is a very remote beach further on, which involves several hours walk in to it (inflatables could be the way forward here), but the rewards are incredible views and camping potential. It is said that if it is flat at Sandwood, then everywhere in Scotland will be!
Driving up the west coast, we reach the north coast at the straggled coastal village of Durness. It has accommodation, two shops and two pubs… a real metropolis up here, so make sure you stock up on provisions. It has three surf beaches, Balnakeil, Sango Bay and Sango Beg. They all face different directions so can hoover up any swell going. On our last trip, Balnakeil was flat as a pancake while Sango Beg was firing. All the beaches are in majestic surroundings as well, so make sure you get the chance to SUP in the far north west of Scotland.
Driving east from Durness, the single track road is slow going, but the unbelievable scenery certainly makes up for that, the grand landscapes of Loch Eriboll enticing you onto the water. Towards Tongue and Talmine, there is again real SUP exploration potential, especially out to the Rabbit Islands.
Driving on, the next little village is Bettyhill, which houses two incredible beaches, Farr Bay and Armadale. These can hold a hell of a lot of surf and have great access. You can check the surf from the roadside and they are a great place to surf and are sheltered from the prevailing winds, which can be a godsend.
Carrying on driving westwards, Melvich is a rivermouth break that can be fantastic – just watch for rips. The Nuclear reactor at Dounreay looms over the coast next, best to avoid the beaches in its vicinity methinks!
After Dounreay, the landscape changes dramatically as we leave the county of Sutherland and enter Caithness. The land is flatter, characterized by stone slabs in the fields as stone walls, and the opportunities for surf change too. Caithness is the home of world class waves breaking onto shallow reefs. Beaches are at a premium, so make sure your surfing is up to scratch as it can be board (and bone) breaking territory! Its certainly worth taking time to visit the mythical waves of Brims Ness, Shit Pipe and Thurso East. You may get to see pro surfers tear them to shreds (or themselves to shreds if it goes wrong!).
Thurso is the main (and indeed, only) town on the north coast, so its time to stock up on supplies, check out the mighty Thurso East and get used to seeing traffic lights, Tesco and people again.
Leaving Thurso, we continue east towards John O' Groats. On the way, Dunnet Beach is one of only a few beaches in Caithness and after frothing on watching the pro's in Thurso, you can get on the water in safe conditions and a bit of surf. John O' Groats, valhalla for sponsored walkers, is where the north coast ends and the east coast begins.
Just outside John O' Groats, a small side road leads to Duncansby Stacks. Here, 200ft high cliffs drop into the North Sea and three equally huge cliff stacks lie just off the coast. Initially here just to admire the views, we found glassy conditions on the water. With a twinkle in our eyes, we both said how incredible it would be if we could find a way down the cliffs and go out on our boards. Upon further inspection, we found a steep but doable
path down to the water. The decision was made, this was too good an opportunity to miss, so we geared up and scrambled down the cliff (inflatables are highly recommended). Onto the water, and with skuas and puffins flying about us, we got a unique view of this amazing landscape. If any other stand up paddlers have also had the honour of doing this before us, I would be very suprised.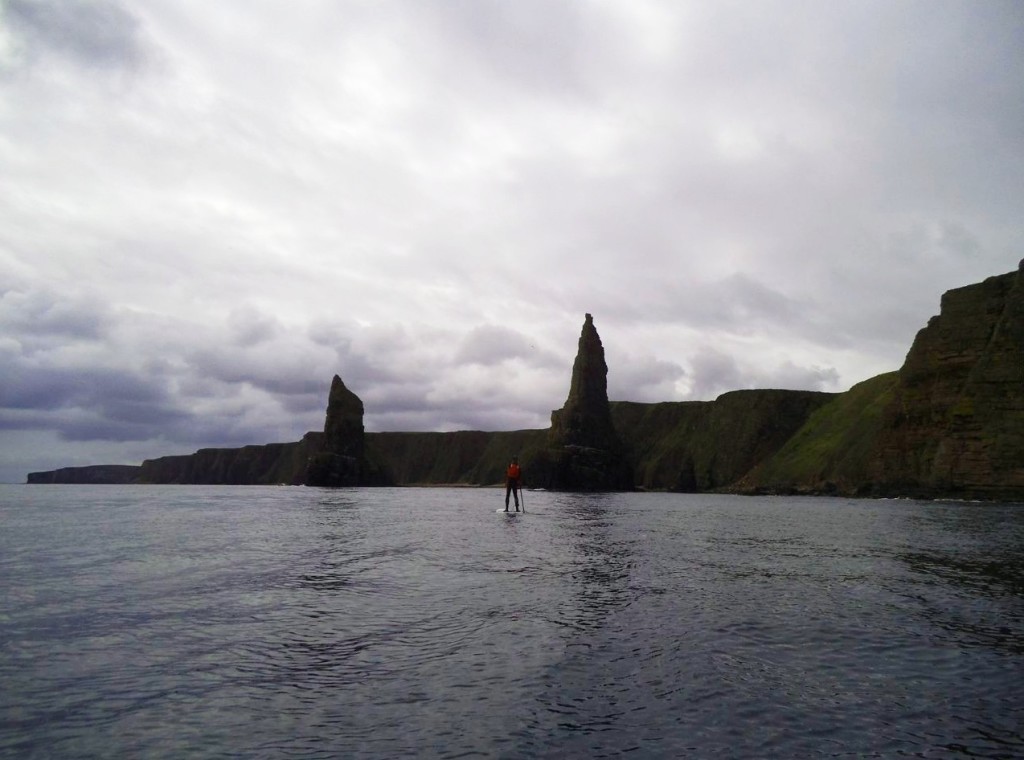 Buzzing after the Duncansby Stack paddle, its time to drive south to Sinclairs Bay, just north of Wick. It is a huge crescent shaped beach which has access at both ends of the beach. At the south end, and by the grand Ackersgill Tower we got to surf some nice 3 foot swell. The surf didn't stop there and a few hours south the beach break at Brora served up more juice for us.
Tired and exhausted, it was time to put pedal to the metal for the long drive home. The far north of Scotland again delivered with great surf, an unspoilt, varied landscape and the knowledge that I have to return to this amazing place.
Words by Matt Gambles, owner of Paddle Surf Scotland.
For more information about Paddle Surf Scotland check out their website and Facebook page. Or contact Matt on 07852988758 or info@paddlesurfscotland.com.
With amazing surf and scenery, Scotland sounds like the perfect place to explore with a SUP this summer. So what are you waiting for?!!…