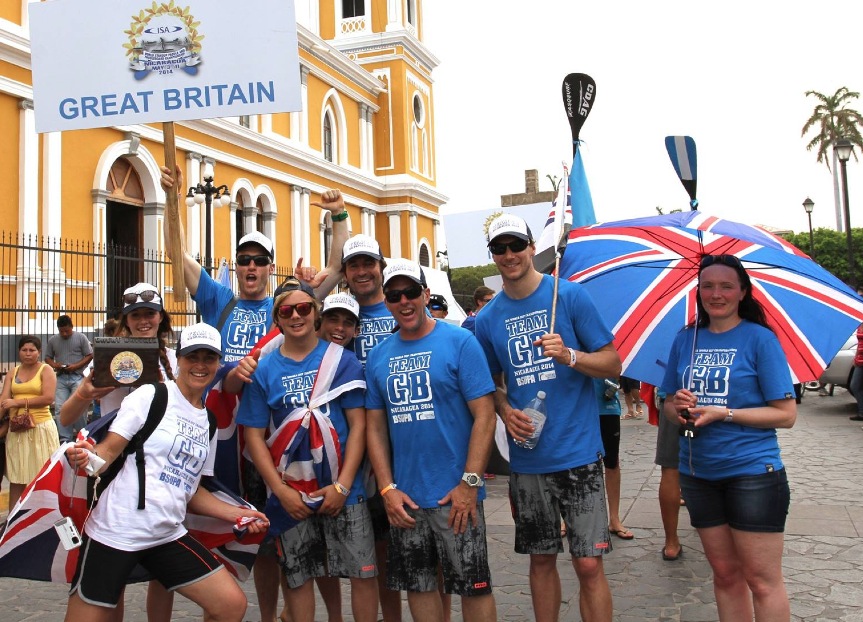 There's definitely no doubt that the 2014 ISA World Standup and Paddleboard Championships held in Nicaragua was a great success. The excellent event organisation, and media coverage meant the event not only ran smoothly for all the competitors, but was also followed by keen SUPboarders all over the world. A big congratulations to all the teams that took part. At SUPboarder we've been following Team GB closely, who finished a well deserved 12th out of 27 countries. To find out 'Who's who?' in Team GB click here.
SUPboarder caught up with the team members to find out how representing Team GB at the Worlds was for them…
SB / Sum up your first impressions of Nicaragua in one sentence?
Ollie – A beautiful country but very hot and humid!
Holly – Awesome place, with really nice people and great surf.
Andre – Hot hot and hotter!! It was drier than I thought but amazing scenery and brilliant people, really friendly and proud of their country. I think Robbo made a few special friends!!
Matt – The first day was muggy and I was suprised how hot it was even in the shade.
Marie – HOT, HOT, HOT!!!!
SB / What was the atmosphere like at the worlds?
Ollie – There's always a great atmosphere at the worlds and having that team element included makes it even more so.
Holly – The atmosphere was great. Everyone seemed to be enjoying Nicaragua. All the people of Granada came for the opening ceremony while all of the competitors walked the streets down towards the lake with their flags. During the competition everyone was really friendly and most people seemed to be enjoying the fact that they were surfing for their country.
Andre – The atmosphere was brilliant. All the competitors there were really proud to represent their countries, but at the same time there was a really nice friendly and stoked atmosphere.
Matt – The opening ceremony was the highlight. Meeting your competitors was fun before heads went down for the competitions.
Marie – The Worlds is all about the team spirit & this really shone through throughout the competition. Especially during the Opening & Closing ceremonies where the atmosphere amongst the teams in all their team attire was amazing!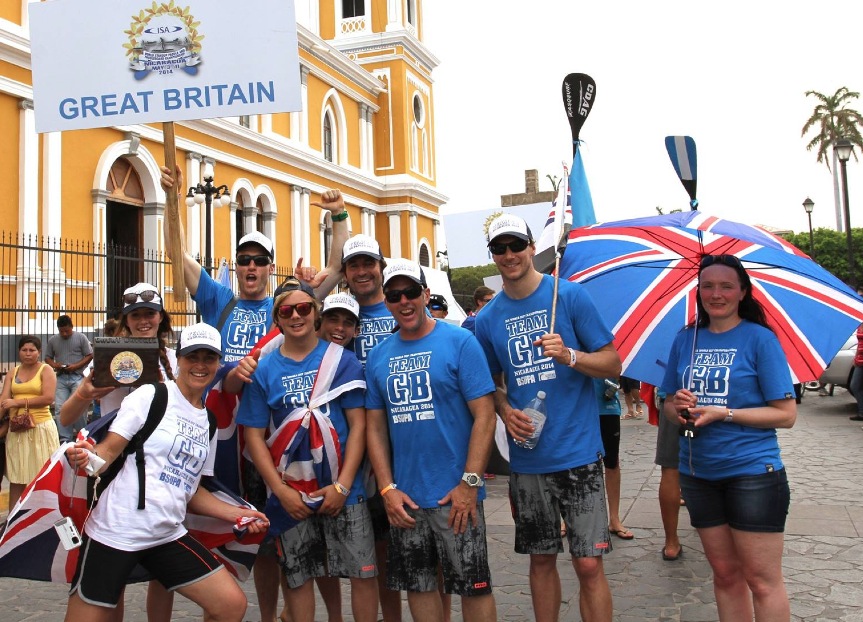 SB / What was the biggest challenge you faced on and off the water?
Ollie – The biggest challenge off the water is trying to stay healthy in South America. I've struggled the last two years. On the water it's the heat. It's very difficult coming out of winter here to race in very hot humid conditions.
Holly – On the water, for me, was the waves. They were very different to what I have been used to, but I managed to get to grips with the water after a couple of days. Both on and off the water the heat was an issue for everyone – we all had to make sure we were taking on lots of water.
Andre – The biggest challenge was by far and away the heat and humidity we had to deal with, making sure you drunk enough liquid. I mean when the Australians and South Africans are saying its really hot… you know its hot!
Matt – Driving an hour and a half to the beach (surf location) every day was hard. Having two competitions in different locations was not easy .
Marie – On the water, the biggest challenge for everyone I think was coping with the heat & humidity, keeping on top of hydration especially with racing on consecutive days. Off the water, our biggest problem was getting our race-boards to Nicaragua in time for the racing and in one piece. We chose to ship our boards out two weeks prior to the race and only just received them the day before the first race, luckily with no damage. They still haven't arrived back to the UK…. I don't need to say much more!
SB / How did you do? Were you happy with your performance?
Ollie – 12th in the distance and 14th in the technical racing. In the distance race I couldn't have done anymore. The food poising I got a couple of days before the racing just wiped me out. I gave it everything and 12th just behind Casper was a good effort. Unfortunately I didn't have enough time to recover from the distance race for the technical final the day after and the wheels came off a bit. I guess the way things turned out I'm pretty disappointed.
Holly – As my final result I came 11th which I was very happy with, considering some of the women surf professionally all around the world at different breaks.
Andre – I did the prone distance and sprints, getting 15th and 16th. I was pretty happy but would of liked to have been closer to the top ten! Saying that though, to be around a minute a km slower than the winners of the distance was pretty good!! A massive improvement from last time.
Matt – I really enjoyed the opportunity. The waves were a little bigger before the contest started which was annoying. Surfing smaller waves for the contest with shifty winds was challenging but I was happy to proceed through a few heats until last years no 1 ended my fun and your viewing…. sorry !
Marie – I finished 7th overall in the distance race and 8th in the technical race. Yes, I think the competition amongst the top woman was tougher this year with at least 3 of the top 5 woman being full-time athletes!  Considering I came straight from work & a much cooler UK climate, with no acclimatisation to the heat & humidity I was pleased with my result & overall performance.
SB / If you had the chance would you like to represent Team GB again next year? And if so is there anything you would do differently?
Ollie – Of course I love the event. I might stay away from the beef I ate before I got sick! 😉
Holly – Most definitely. I think if anything I would try and get more time on the water before I went out to the comp.
Andre – Of course I would !! It doesn't get better than representing your country does it ?? If I was doing the prone again I would get my own prone board which would make training a bit easier.
Matt – Well… more training, new boards, usual stuff.
Marie – Yes, but I would do things differently! Ideally, I would take time out from my work as a physio and dedicate this to training somewhere warm over the winter months. I would also allow for a longer training period immediately prior to the competition, getting used to the host countries climate & conditions. Also, I would have to fly WITH my raceboard. If my board doesn't fly with me then I don't go… simple!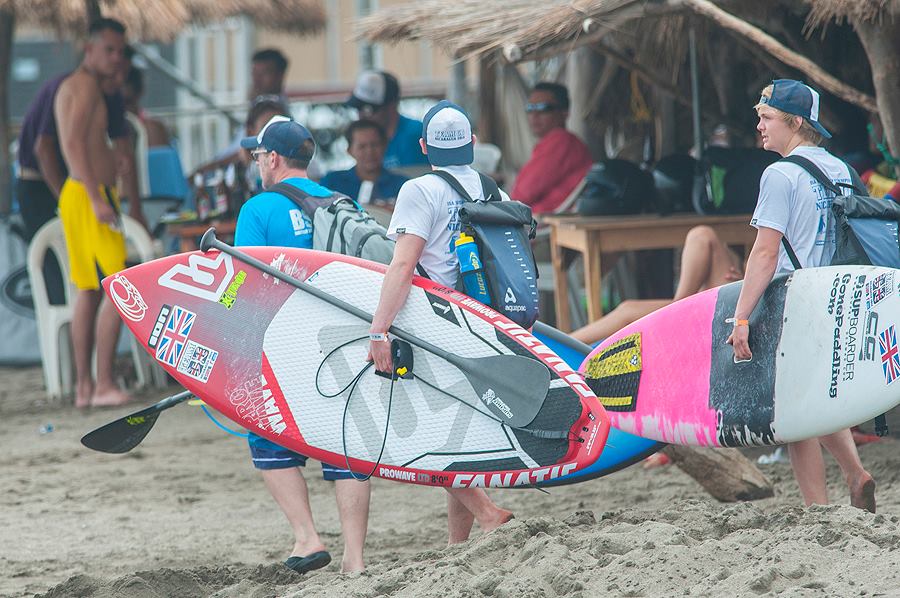 SB / What advice would you give to a fellow Team GB member representing their country for the first time?
Ollie – I think the main thing is to prepare as best you can because it's a whole new level competing on the international stage. Try and get as much information as you can from the guys who have been before but make sure you enjoy the experience.
Holly – Just make sure you're prepared for all outcomes, and make sure you have spare kit in case anything gets broken. Other than that, enjoy the experience because it was so much fun.
Andre – My advice would be… train hard, practice and just go there, do your best and above all enjoy it!! Its a fantastic experience.
Matt – For the surfing – a pre and post diet / stretching regime for getting the best out of your performance for each individual heat.
Marie – Go for it! It's a fantastic opportunity & unforgettable experience. A few challenges along the way but with lots of rewards!
SB / For you, which worldwide SUP athlete impressed you the most and who should we all be keeping a close eye on throughout 2014?
Ollie – Casper Steinfath. To win the technical race the way he did after the distance race the day before was impressive.
Holly – For me it was Shakira Westdorp. She was really nice to compete against and was an amazing paddle surfer. As well as this there was Jenny Kalmbach who was great to compete with too.
Andre – Well I think everyone who competed gave it 100%. I was really proud of every Team GB member – they gave it 110%. For me 3 people stood out. Shakira from Australia to medal in the surfing and racing! Well that's pretty amazing!! I think the young girl from USA, Shay will be one to watch in the future – only 15 and 2 medals!! Also I was hugely impressed with Ollie as he was so ill in the days before the racing, and he was right in the mix with the best in the world. I would love to see what he could of done if he had been well?? Think he could get some great results this year!!
Matt – The Peruvian 'Tamil Martino' was looking smooth , but Jackson Close 'Aus" would be the one to watch in my eyes… superb!
Marie – All the girls that I raced with were really friendly and encouraging. For me, the standout female SUP racer was Lina Augaitis from Canada, winning gold in the distance race and silver in the technical race. She is an incredible athlete and a massive inspiration & one to watch this year!
SB / Would you recommend Nicaragua as a SUP holiday destination?
Ollie – Nicaragua is a great place, nice people, with warm water and incredible surf. What more would you want?!
Holly – Yes… where we surfed was La Boquita, which was a great place to go. But also there are many different breaks around Nicaragua that are said to be amazing – definitely worth the travel.
Andre – Nicaragua is an amazing place and has some great waves. It's warm, cheap and pretty much always offshore on the west coast, has some great setups and beautiful places to paddle, the people are friendly and there is some great places to visit aswell. I was lucky enough to stay and travel around for a bit after the event with my girlfriend and had an amazing time. Also the flights are just over £500 so well worth a trip!! I am pretty sure I will be going back!!
Matt – It's a lil raw round the edges but yes fantastic. Better in a larger group of 3 or more. As a couple looking to get away for an easy 2 week holiday with some SUP,  costa rica would be better. As a destination to explore for a few weeks it's safe but definitely for the more savvy traveller.
Marie – To be honest, I didn't really get a chance to see much of Nicaragua. But if I had a chance to go back as a tourist and explore the country more with my surf SUP board & iSUP I would!
SB / Anything else you think we should know!?
Ollie – It's not the easiest place to get a race board to the competition. If anyone has seen my bark racing board in the Nicaragua area I would like it back:) Andre – I would like to say a massive thankyou to gonepaddling.com without them I would not have had a board to use at the worlds so check them out they have some great kit! Also I would like to thank Tim Rowe, John Harvey and Jim Richardson for doing a lot of work behind the scenes to help get the team and their kit out there and hopefully back!! To Hatstone Lawyers and Tako Apparel for helping me get out there, and finally to all the support from home!! It really helps to push you with all the kind words and inspiration from everyone, thanks!!
Matt – Isa president Fernando Aguerre told me its either going to be in Mexico or Brazil next year !
Simon Bassett BSUPA joint head coach was also out in Nicaragua with Team GB. Here's what he had to say about the team.
"At the ISA worlds in Nicaragua I was there watching the team before their heats and events. It was interesting seeing how each team member had tuned themselves up to compete. The first part of the comp in La Boquita was super hot so with the the top competitors in each heat it put each riders preparation under pressure. As the event then shifted to Lake Nicaragua the pressure built for the team results and individual placings in technical distance and prone.
I watched Matt surfing the first free surf day. He is a powerful, strong SUP surfer. He had really put the work in physically with lots of training before the event, with attention to diet, no boozing and plenty of stretching. He had put loads of work into his board and spent the first three training days testing out best fin combos for the comp. Even between heats the wet n dry paper came out to make sure channels and rails had max grip in the surf. We joked with Matt that he was Mr Competitive. He reckoned he wasn't but Matt had worked through every detail to make sure nothing would stop him getting as far as he could. Just before the heat Matt would go into the quiet zone, with Phil Collins on for the final preparation.
Aaron's approach is completely different.. a 17 yr old youth, a ripping surfing style and what seemed a diet of coke and chips was the polar opposite to Matt! His training regime is also different. He just surfs, SUPs, surfs more, and does plenty of distance paddle surfing and events. I watched him free surf and he was charging before the event. During his heats in the comp the waves were intermittent and he didn't get to show his full potential. Before the heat Aaron has this casual approach, or it looks that way! Underneath there is a serious competitor in there – who when the right surf rolls in can unleash a spectacular surfing style.  Aaron like Matt had worked on his board and knew exactly what he needed to compete on.
Holly had worked hard before the event on physical training and preparation for the worlds. As her Dad its always hard watching your kid in the heats. You want to give out some advice but I've learnt now it's my time to keep quite. Holly has a steely determination and won't back off in the surf. Her strong paddle technique keeps her where she needs to be in the comp zone. She watches the heats and in her head she already has decided how to manage her comp time. Before the comp she gets ready early and wants to be alone before her heat. I reckon Holly had realised she had nothing to loose by giving it full beans in every heat .
Olli had been sick (infact bedridden) before his event. It was hard to understand how he psyched himself up for the first of his technical races. He seemed to have a diet of boiled eggs and water before his event so wasn't in the best of shape. When we watched him before the first heat I didn't think he would get through but he powered his way into the next round. Olli I think has a switch where he can turn the pain off. It must have been hell in that heat and feeling so unwell the previous few days. His powerful paddle strokes and tactics brought him through the event and if he had not had food poisoning he would have been higher placed. I think his quiet approach to competing hides the steely determination and skill – he is good in the surf too.
Marie is a serious and experienced competitor. Serious I mean with many great results under her belt. Watching her get ready for the comp was different to the others. The hydration – she was drinking what looked like gallons of water. Plastic bags full of different types of food. She was organised then, suddenly unorganised. Panic and then back to being organised. It was quite fun to watch. On the water she is a machine and once the process has been started she is on it in a big way. Great to watch her on the water. She is a very strong competitor, really knows her stuff and always manages a smile.
The prone surf team part of Team GB, Robbo and Andre had their tactics dialled in by the master himself Andre. Robbo, a quiet but very strong prone paddler had tuned himself up for the event and is a pretty fearless guy who will just keep going. Andre, a super experienced SUP wave champ SUP surfer, long boarder, short boarder and prone paddler. Andre I think is Jerseys secret weapon! His technical event knowledge and tactics have been a big influence on the Jersey boys. I listened to him at La Boquita giving tactical advice, scoring waves, understanding placings for the next heats – he really know his stuff and is a great guy to have around and on the team."
Words & photos : Simon Bassett – Joint Head Coach BSUPA , 2XS, X-train Prosport Suncream
So… if you want to represent your country at the ISA Worlds next year, get paddling and get training. You can do anything if you put your mind to it.