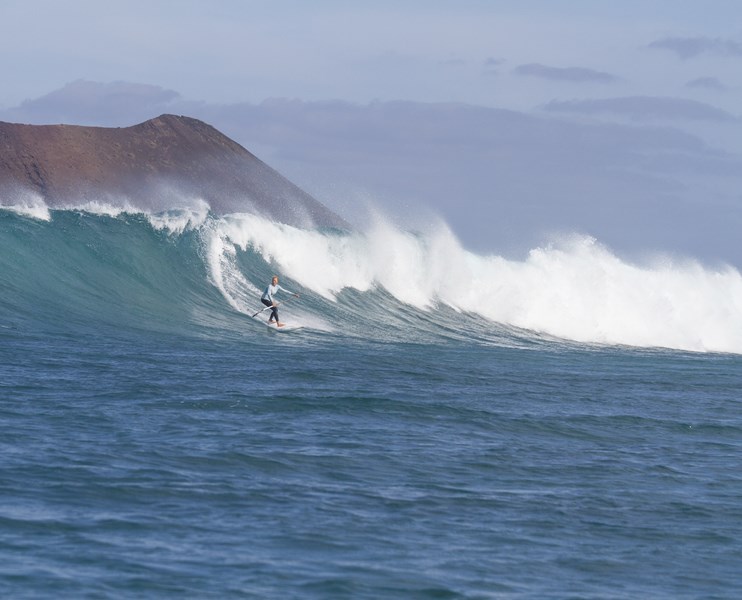 Who can you thank for getting you into the world of SUP? Who do you look up to and wish you could be more like when on the water? Who motivates you to push your SUP level further? For many of us there is one person who stands out. One person in particular who we can thank and aspire to be more like.
SUPboarder Lucy Robson talks about the girl who she looks up to. A truly outstanding athlete and SUPer, originally from Fuerteventura but now traveling all over the world with SUP… Sonni Honscheid.
At 32 years old, this German surf and SUP champion inspired me to get on the water and my own first-timer experience. This is the girl that made me want to surf better and never wimp out. Be better than I thought I could be and challenge myself.
I am often asked what got me into watersports, windsurfing in particular, and in most recent years, SUPing. I didn't have particularly sporty parents or exposure to watersports when I was younger but what I lacked in these foundations, I made up for in enthusiasm, and plenty of it!  As soon as I grew out of my teenage years, got some money together from summer jobs and started traveling, my eyes were opened to the ocean. On my first visit to Fuerteventura around 15 years ago now, I found myself on the North Shore watching the surfers at El Hierro. My eyes were drawn to the single girl in the line-up, and in my view, the best surfer out there. Her bright blonde hair and her incredibly dynamic style made her stand out both on the water and in my memory. Many years later, I now regularly share the line-up with that very same girl, Sonni… one of the nicest, most down-to-earth yet hugely talented water-women you are ever likely to meet.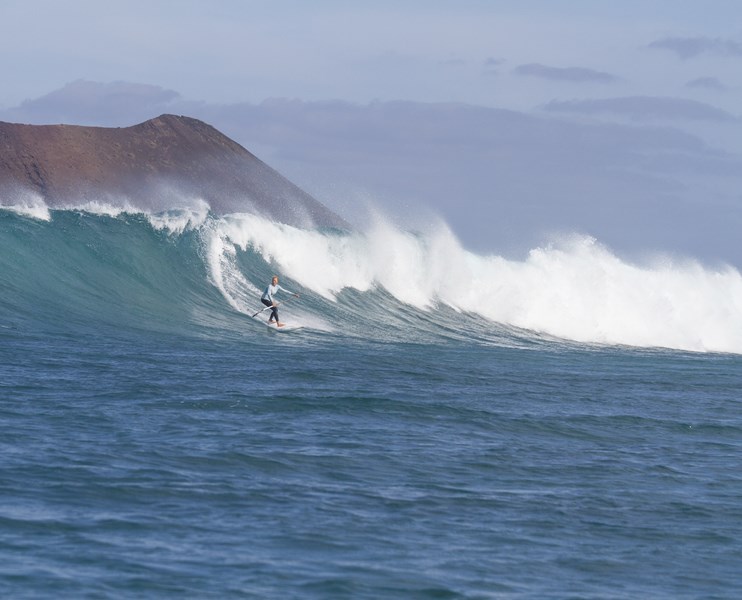 LR/ So Sonni, whereabouts are you at the moment and what's happening?
SH/ I'm sitting on the plane on my way back from Maui. I was there for two weeks with the SIC Team training and taking part in the first downwind races of the season (paddle IMUA and Olukai). Before that I was in Carolina for the "Carolina Cup".
LR/ You have a very impressive CV and most SUPers reading this who windsurf, will be familiar with your dad's contribution to the sport of windsurfing, and in particular, board design. Was windsurfing /surfing /SUPing an integral part of your upbringing and did you always know that you had a future as a waterwoman and that's what you wanted to do?
SH/ My dad always traveled with the whole family around the word to compete and train and I grew up on the beach, so it was natural to do something related with the ocean. There was windsurfing, surfing, boogie boarding… my parents never pushed us to anything, but they always gave my sisters and me the chance to do watersports.  When I was 10 I started to play tennis, I got really into it and I guess I wanted to try something different. I got my license as an international tennis teacher. My dad was surfing all these empty perfect spots all by himself for all those years. And then at 14 I totally fell in love with surfing!  Since that time I haven't missed a day without being in the ocean.
LR/ When did you start SUPing and how did this come about?
SH/ In 2008 we saw the first Stand Up Paddler on Fuerteventura and my dad shaped two boards right after we saw  "that person walking on the water", "or was he sweeping the ocean"?!  It was really exciting to stand on the board with the paddle in my hand trying to move forward.
LR/ When was your first pro-contest and how did this feel?
SH/My younger sister Janni and me were invited to the "Jever Worldcup" in Hamburg in 2009. As surfers, we were just always going on surf trips searching for perfect waves and now paddling in the middle of the city!?  It was an amazing experience!! I won this race and became world champion – a really good feeling!
 You have a much respected standing, not just on Fuerteventura and the German surf scene but also on a world level.
LR/ What challenges you to SUP, grow and improve on a personal and competitive level?
SH/What I love about stand up paddling is the freedom, adventure and challenge. Paddling my SIC F16 Unlimited Board (best race boards on the market!) in the last years Molokai to Oahu race was probably one of the biggest sense of freedom I have ever felt!!  Surfing wind swell in the middle of the ocean, in deep blue water, surrounded by turtles, flying fish…. it is an amazing experience. Making the podium and becoming 3rd in this prestigious race was a long-time dream of mine. This year I have the chance to take part again and I am going to try to top my result from last year… see what happens! I love to sometimes push myself to the limits, paddle hard, be competitive. But besides races, I enjoy so much to paddle out with my whole family and friends, catch some waves, find new spots, explore and have fun. Even if the waves are not that good, we always have a good time.
LR/ You must have visited some amazing sports during your career? What place(s) stand out in your memory and would you always want to re-visit?
SH/ All the places I traveled to, have something special for me, but especially Maui, Hawaii. I have been going there quite often in the last couple of years. We spent a lot of time there when my dad was competing, and my older sister Bitsy even went to school there. It´s a really special place for me and besides having the best downwind run in the world (famous Moliko – Kahului Harbour) I have really good friends there, the waves are good and I get a lot of inspiration there for my art.
 SUP is obviously a very fast-growing sport and more girls than ever are challenging their level and getting into competition.
LR/ What would be your advice to them and how to stay focused?
SH/ Try to get in the ocean every day, whether it is choppy, waves, upwind, downwind, flat, do sprints, long-distance… every day  do something different. It is going to help you to feel comfortable and confident on your board. It doesn't matter what kind of conditions are on the race day – you're ready for it! Also, train with someone who is faster than you. Sometimes it can be really frustrating, but it helps to improve.
LR/ And finally, what are your plans for the year and where can we expect to find you?
SH/ I'm going to be in Europe until July for some races and then back to Maui for the summer races and the Molokai to Oahu. After that, I have a couple of races on the mainland in US and then will see what comes up next. Maybe I'll go for a little surf trip to Indonesia. Besides all that I'm painting and getting prepared for my next art exhibition "Peace Love Sylt II" in north Germany from the 15th August – 6th October. If I'm on Fuerteventura in between, I'm working in our surfshop "North Shore" in Lajares. It's a family business. Whoever is there, runs the shop! At the moment my mom is running it. In december Janni and I are doing the "Chiemsee Surf Camp" in the Robinson Club in Agadir.
Thanks again, Sonni, and we look forward to hearing from you soon.  Enjoy Maui!!!! Words by – Lucy Robson

"I would like to thank my Family, friends and Sponsors ( SIC Maui, Chiemsee, Capri Sonne, North Shore Fuerteventura, Bluesmiths, Maui Jim) for the support! 
And Lucy Robson and SUPboarder mag for this interview, see you on the water!" – Sonni
So SUPboarders… who do you look up to in the world of SUP?!!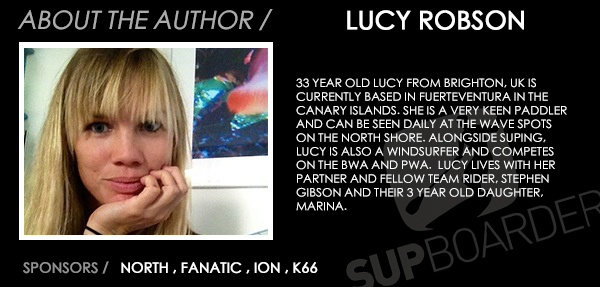 Lucy Robson regularly runs girl's SUP camps out in Fuerteventura. A week designed specifically for girls that want to SUP and enjoy a healthy and fun week away. Learn all the fundamentals of SUP and achieve the confidence to get on the water and master the basics, starting with flat water paddling and then progressing into the waves.
Afew places still available on the 13-20 Sept 2014 SUP Camp.
To find out more info and to book a place email looloorobson@hotmail.com.