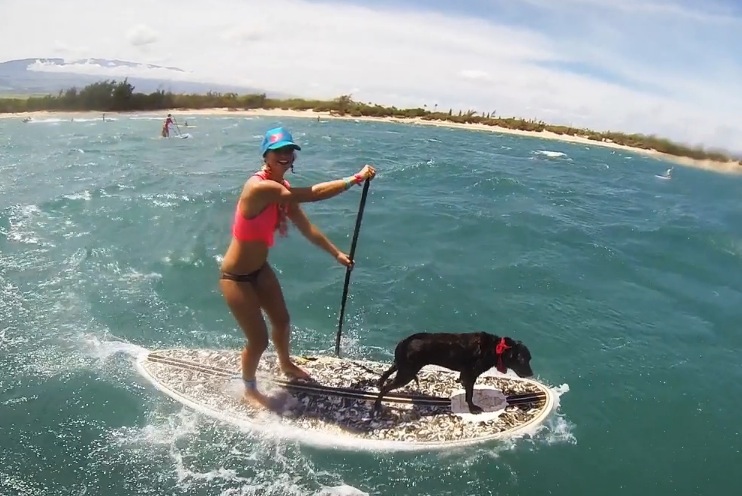 The Butterfly Effect just gets bigger.
Fresh from her return from the inaugural Butterfly Effect Whistler Snow Edition, event Founder Tatiana Howard and her team prepared for the main Butterfly Effect of the year in Hawaii. The 8th Annual Butterfly Effect Maui will took place on April 26th, 2014 at Baldwin Beach Park.
The annual aloha, non-competitive, inspiring and all-women 3 mile downwinder starting from Baldwin Beach Park has become an integral part of the Maui community since its inception in 2007. In what has now become Butterfly tradition, the day started with over 400 women unloading their boards and checking in at Baldwin Beach. The girls gathered around for a Hawaiian blessing on the beach and a hula-infused yoga warm up before they headed out for the downwind group adventure. Launching around 10am from Baldwin Beach Park under flowers that were dropped for them from the sky, they headed out in the challenging and rewarding three mile course. The event brought women together of all ages and abilities, who paddled beside Olympic and professional athletes for tips and support.
The conditions were extreme and challenging. The winds were 25+ knots and there was a section during the paddle where everyone had to pass through some waves. With the choppy waters and strong winds you would have thought these women would have given up, but instead they became stronger than ever, helped one another and all accomplished the downwinder together. The camaraderie was beautiful and it was a day no one will forget. These women set the bar high for women world wide in water sports and they should all be very proud of themselves achieving this downwind paddle in the hard conditions!
Upon arrival at Kanaha Beach Park, the Butterflies will be greeted with leis given by Kai Lenny and his waterman friends. The beach festival concluded the day with tips from the pros, artists of all genres, yoga/fitness, DJ's, water sport instructors, live music by Mishka, dancing, local food, aerial silk dancing, photo booth fun, beach clean up, lots of product prizes and special surprises!
Paddle and Plant
This year The Butterfly Effect created Paddle and Plant, which meant each Butterfly equals one native tree planted on Maui. On April 27th, who ever wanted to came up to Kula and planted native trees.
For more information about the Butterfly Effect visit their website here.