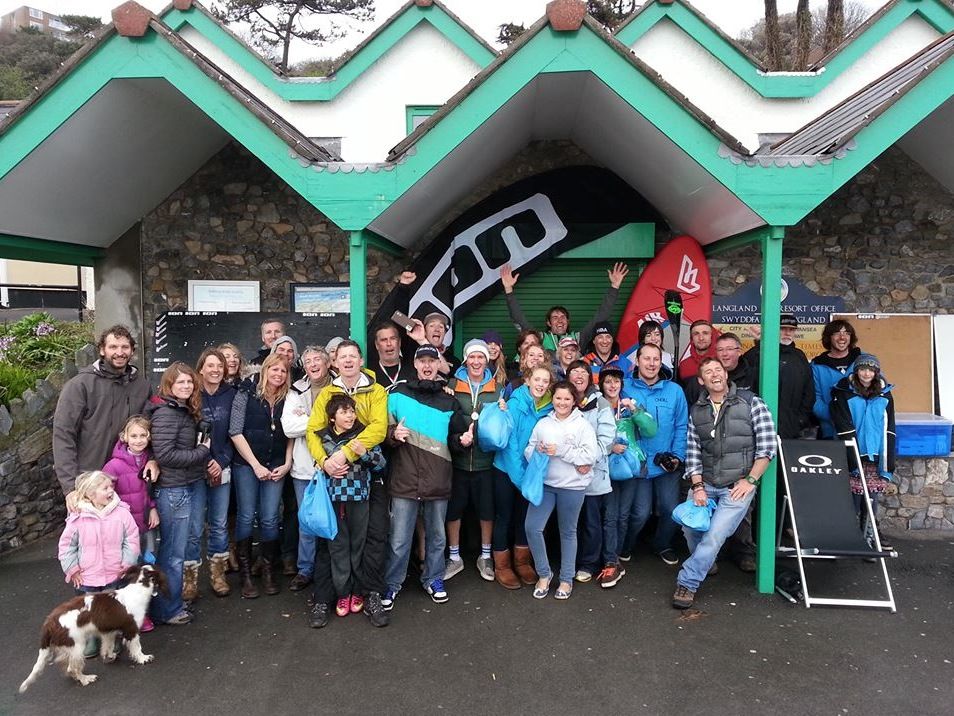 Last weekend (5th April 2014) saw the first Welsh National Stand up Paddle Championship take place at Langland Bay, Gower, Swansea, Wales, UK. This event was held to select a team to represent Wales at the ISA World Stand Up Paddle and Paddleboard Championship in Nicaragua in May. Event co-coordinator and entrant Glyn Ovens gives a review of this fantastic first time event;
The hotly talked about inaugural event, was attended by some of the top paddle boarders from around the nation of Cymru (Wales). Competitors were met with typical Welsh winter weather: grey and light rain. But the hardiness of the competitors shone through, with enthusiasm and 'froth' all round.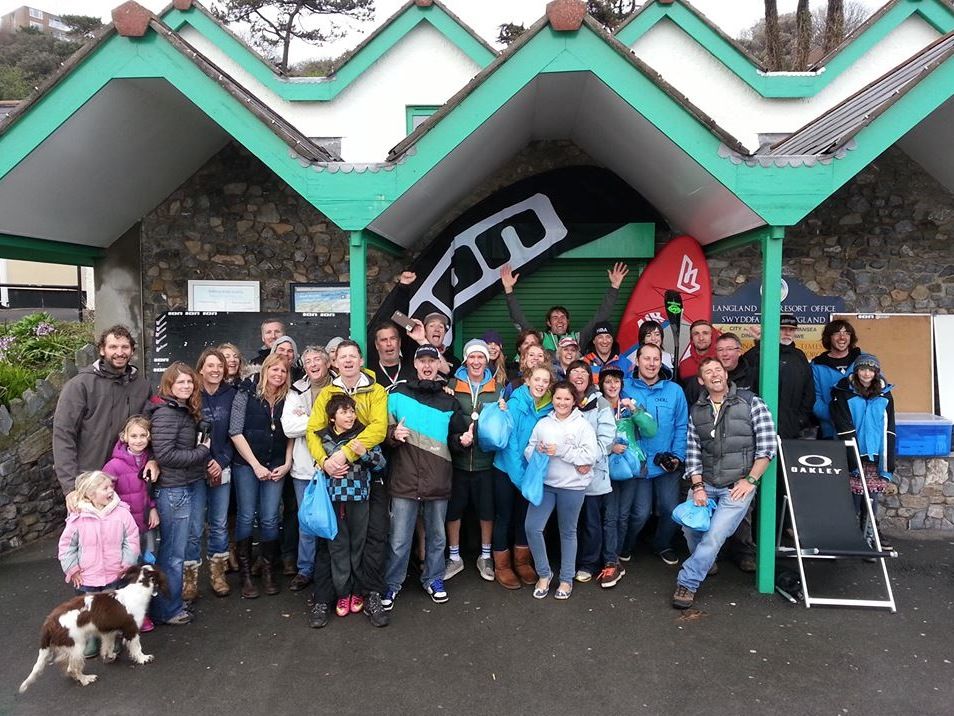 Proceedings began with the distance racing. Both men's and women's racing taking place together, with a staggered start.
In the men's race, up at the front there was a close battle for 1st and 2nd between Jim Richardson and Chris Vaughan, with Jim having a strong start and holding Chris off,  for almost half of the race, but Chris was relentless in his paddling and managed to claw his way past Jim and establish a good lead himself, eventually rounding the final mark and crossing the line to take the win. 3rd and 4th was also a well fought affair, with Andy Dalrymple and Tim Leary within a few board lengths of each other  for most of the race.
In the women's race there a was an impressive show of ability, as all competitors set about eating into the 200m staggered start  between themselves and the men's division. In the end it was Abi Barker Smith who managed to hold off the rest of the field to take first place.
The junior race featured two fearless competitors, who despite the wind and chop were not phased to make their mark in this event. Bethan Richardson and Tom Horn both battled well with the elements to complete and place 1st and 2nd respectively.
Men's distance results:
1st: Chris Vaughan
2nd: Jim Richardson
3rd: Andy Dalrymple
4th: Tim Leary
Women's distance results:
1st: Abi Barker Smith
2nd: Jay Doyle
3rd: Emily King
4th: Mi Richardson
Junior distance results:
1st: Bethan Richardson
2nd: Tom Horn
The afternoon gave way to slightly kinder weather and a lower tide. It was time to get the surfers in the water.
The men's surf open began on the 'reef' with small clean rides available to all, both left and right. A good standard of surfing was displayed by all, with both progressive short board style manoeuvres, along with more traditional flowing longboard styles. There was something for all the judges, no matter what their taste.
This was followed by the juniors. The youngsters took little time getting to work on the small waves coming through. Competitors were on a mix of different board designs, including Tom Horn on a Fanatic Inflatable. Ultimately the winner Ollie Laddiman from Rhosneigr, Anglesey, showed that he was more than adept to making the most of what was on offer, and took first place over Bethan Richardson the only female junior in the event.
As the tide went back through the day, the judging area was moved to the Outer and Saga Point, offering some shelter from the increasing wind. The rest of the event would take place there.
The women's surfing final was a very competitive affair with the lead changing many times between all competitors, leaving the judges with food for thought. Careful score sheet checking was required before it was declared that local girl Kath Jones had been victorious, narrowly squeezing out her fellow competitors.
The men's surfing final featured a raft of talent including British squad, British Champ, European top 5 and newly crowned Welsh Junior. Proving that Wales is a hot bed of talent when it comes to SUP surfing. The surfers were split in their decisions on where to surf moving between the outer point and saga point. Fierce exchanges of surfing were displayed despite the swell size, tight cutbacks, paddle transitions, big snaps and even a helicpoter. But experience and knowledge proved to be key as the 47 year Chris (Guts) Griffiths was to be the man with both. The Langland local, found the waves he needed and surfed them to the victory, in a display of graceful SUP surfing.
Men's Surf results:
1st: Chris Griffiths
2nd: Matt Barker-Smith
3rd: Glyn Ovens
4th: Ollie Laddiman
Women's  surf results:
1st: Kath Jones
2nd: Abbi Barker-Smith
3rd: Jo Ibrahim
4th: Mi Richardson
Junior Surf results:
1st: Ollie Laddiman
2nd: Bethan Richardson
3rd: Tom Horn
When asked about his win Chris remarked: "In the past I competed a lot in both traditional surfing and long board, but at 47 years old it is great to still be up there. I hope this will inspire a few more people to get out there, you're never past it!" and laughs.
Finalist and event co-coordinator Glyn Ovens said: "I am so pleased to have seen so many people turn up to our little event. This is just the start, and we hope to see a number of future events throughout the year, hosted by the WSF".
The event was greatly backed by ION, Fanatic and Oakley, of which without their unwavering support would have not been possible. A big thanks also to all the officials from the Welsh Surfing Federation and their support crew, for enduring the elements and delivering an ever professional event.
Words : Glyn Ovens