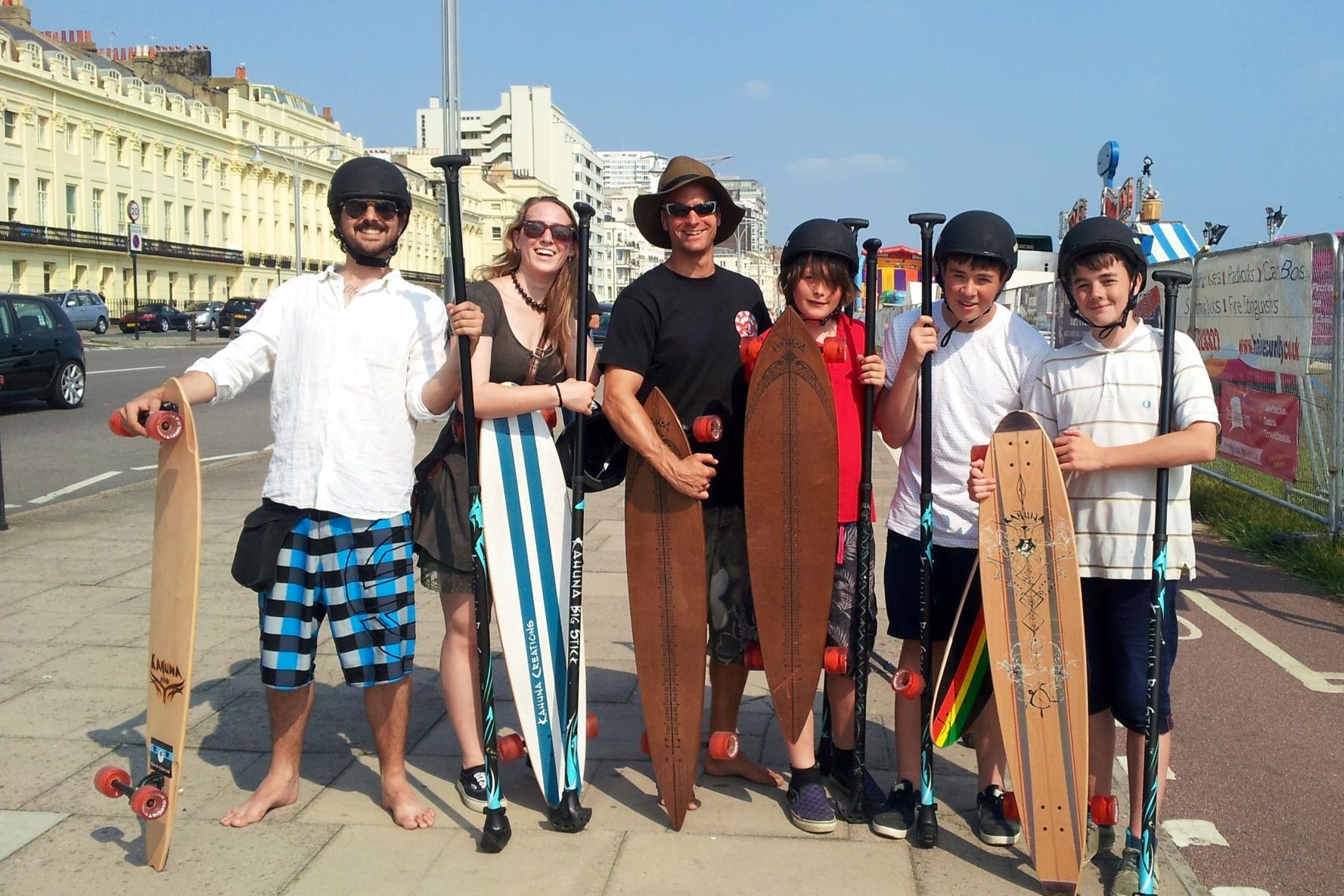 Brighton Land Paddle bring you Land Paddle For Sport Relief 2014
What is Land Paddling?
Land Paddling is born out of Stand Up Paddle Boarding (SUP) that has seen a massive growth in popularity  across the world, and Land Paddling is heading the same way.
The paddling action when Land Paddling almost exactly simulates Stand Up Paddle Surfing. 
It is a fantastic cross training tool for SUP enthusiasts giving you a total body workout including core, back, shoulders, arms and legs.
The land paddle allows you to power yourself on any longboard, skateboard, mountain board or pretty much any board you would normally ride on the street.  
The combination of the longboards and land paddles give you increased stability making it accessible to a wide range of people, young and old. 
If you have never skated before you will be surprised at how easy land paddling is to pick up. If you are a seasoned skater, Land Paddling will give you a completely different skating experience. Once you have tried it you'll be hooked and grinning from ear to ear. Words : Land Paddle UK
The Land Paddle for Sport Relief event is on this Sunday in Brighton. Brighton Land Paddle,  Land Paddle UK and David Samuels bring you 'Land Paddle for Sport Relief 2014.' The UKs 1st Land Paddle race is to be held on Sunday 23rd March. A 3 mile race starting at 10.00am on Maderia Drive Brighton. The road will be all ours to tear up! £15 entry and all proceeds go to Sport Relief.
"I'm confident that this will be the biggest gathering of Land Paddlers in the world to date, cant quite believe the response we have had."

Gary Evans, Land Paddle UK
David Samuel contacted Chris Laing from Brighton Land Paddle and asked him if he would be interested in getting a group together to do a Land Paddle demonstration race before the main Sport Relief Runners went off. Chris contacted me at Land Paddle UK and asked if i would get involved to help promote and sponsor the event.  We have had a fantastic response with nearly 70 people registered for the event. There are representatives from Central SUP, SUP North, Perch Rock Paddlers SUP, Jay Manning and his South East Area SUP guys, as well as Land Paddlers from all over the UK. There will be some serious racers and also Land Paddlers just coming down for a leisure paddle along Maderia drive. There will be awards for 1st, 2nd and 3rd boy and girl racers and also awards for 1st, 2nd, and 3rd childrens race.
Land Paddle UK and Brighton Land Paddle will have the latest Kahuna Creations Long Boards and Land Paddles available to try out. Everyone is welcome and we will do our best to get everyone up and riding.
So if you're in the Brighton area this Sunday, check out this great event for a great cause. It's not too late to enter.
Check out the Facebook Land Paddle for Sport Relief event page here for more information.