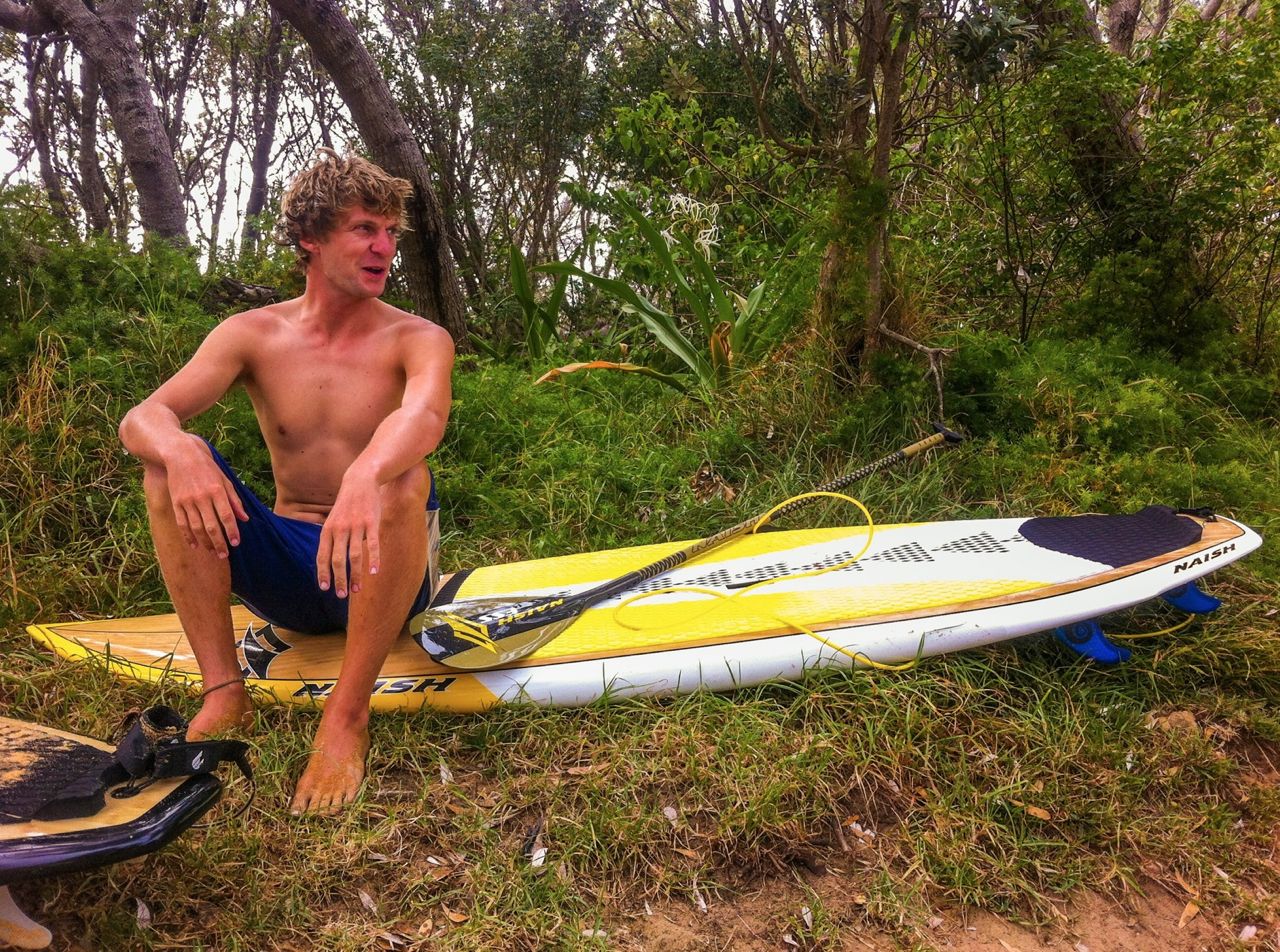 Cloudbreak, situated around a mile off the island Tavarua Fiji, was discovered by a man called David Clark and his brother in 1982 when they camped out at the spot and found a perfect left hand wave resulting in them leasing the land and the surf spot. Then further more making them the created and owners of Tavarua Surf Resort that is very popular today. Cloudbreak has been known to get to as big as 23ft!! It can require a whole range of surfboards, and the best swell is said to be anything huge and from the South.
Today Cloudbreak is a very popular surf spot, with many top name surfers being seen riding it on the big days. But what's it like to ride it for the first time? Professional paddleboarder Kristian Butler recently surfed Cloudbreak for the first time on what the Fijians would call a "smaller day!!" but it still looks pretty good to us! Freelance journalist Emily Furness interviewed Kristian, to find out more about becoming a professional paddleboarder and surfing his dream wave;
So Kristian, tell me a bit about yourself?
My name is Kristian Butler. I've been surfing for fourteen years. My passion is riding waves in any shape or form. I have been instructing boardsports for the past three years, including kitesurfing, windsurfing, paddle boarding, surfing and I hope to be a snowboard instructor by the end of this year. As an instructor I believe in coaching a student at their pace, allowing them to enjoy themselves while learning.
Was your trip to Fiji part of a short holiday, or is it part of a full time career?
It's part of my full time career as a professional waterman. I spend the summer season in England training, teaching, and competing.Then in the winter months I spend partly doing the same thing in Australia but also exploring other surfing destinations on the way back, which broadens my knowledge of the sport, but it's also really good fun. It also Broadens your horizons in terms of the people you meet and things you learn.
Why Paddle Boarding?
Paddle boarding was introduced to me in 2010 on the PWA Windsurf World Tour by Kai Lenny and Robbie Naish. I couldn't get over how manoeuvrable such relatively big boards were by simply using a paddle. Also, coming from the South Coast of Devon SUP opened up a lot of different waves that weren't usually accessible (or just looked stupid for surfing) and a lot of the time it is flat, so paddle boarding enables me more water time too. I got home after the PWA tour and went to my local shop to buy a Naish paddle board and have never looked back! In fact the feeling and stoke I get from paddling my small paddle board is so good I hardly ever surf my shortboard anymore.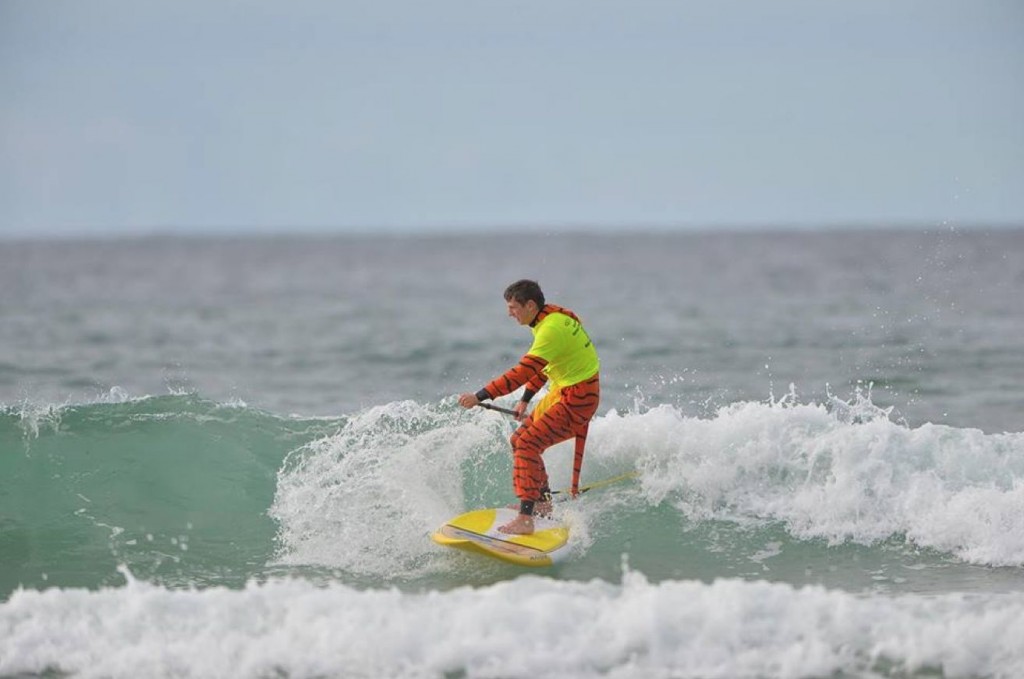 How have you become a professional paddle boarder?
I had just finished university in Falmouth and had been working in the film Industry for a year and a half. However, the work pretty much dried up over the space of a few months, then I decided to retrain to instruct all the sports that I love. Engaging with that came the opportunity to compete at national level and with the support of Naish International in Australia, Maui and the UK I have had the equipment that I need available to me. The idea of being a professional waterman has changed however as in the last few years. It's not just about winning the competitions anymore because they don't pay as much. So, how do you get paid? You have to make a living doing what you love! So, I teach.
Has it always been a dream of yours to paddle surf it?
No, but it became something I wanted to do after finding out Cloudbreak is in Fiji. I've heard the word Cloudbreak thrown around a lot amongst my friends that are surfers and on videos. I've come all this way and your surfing changes completely apparently and I can now say it definitely does.
How did your surfing change completely?
The waves are so technical, you have to be in the right place at the right time, to actually make the right section of the wave. To have your confidence in your ability to not end up on the reef. The
waters so clear, the guys that take you out on the boat trip from Fiji surf company are so knowledgeable and friendly with their "Bula" vibes. They make you feel welcome and like you've achieved something afterwards.
How nervous were you beforehand?
I wasn't nervous, not at all. I knew it was going to be fairly small, so not many bad things could really happen. I was just super excited and couldn't sleep at night thinking about going until the day we went out. Then we had a five hour wait in the morning! That made me anxious though.
What was your first thought when you looked down from the peak of the 4-6ft waves?
Urm, F**k! that's shallow. Don't f**k up, if you come off, fall flat. I can see the bottom! Ok just do it. Wooooooo! Yeah! Something like that.
In one emotion how would you describe the whole experience?
Humble, but content. (After ten minutes of trying to decide between the two, I let him have both)
What was your biggest concern upon surfing it?
Riding head high peeks that break onto knee deep water and razor sharp coral.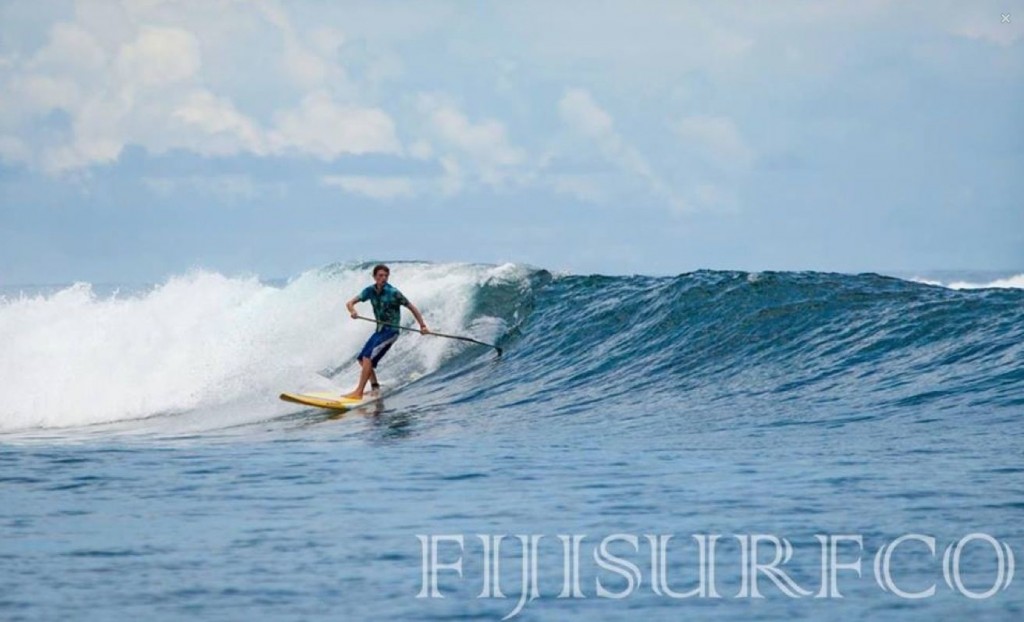 Has it inspired you to push your boundaries?
I guess, I never considered myself a big wave rider. However, the lifeguard from Fiji surf told me that he can see a big wave rider in my eyes when I charge for a wave. That made me think back to my kitesurfing and paddle boarding in general when I have gone big, like 8-12ft. And how much grounding that gives you as a human.
That's interesting, what do you mean by it gives you grounding?
I suppose you could say in a spiritual way (without sounding lame) just like Dr Mark Renekir (who is a mavericks surfer) said In an interview for the film Riding Giants. Riding potentially dangerous waves cuts out all the bullshit, just like traumatic experiences and surviving terminal illness, he found people actually start living almost for the first time. Although Cloudbreak wasn't particularly big that day, it literally felt just like that. It was amazing.
Are there any tips that you would give to anyone else looking to ride it for the first time?
Definitely book with Fiji Surf Company, it works out the most cost effective if you have your own board. But more importantly, they all ride Cloudbreak themselves and they're completely honest.
So as a level two kite surf instructor, windsurf instructor and professional paddle boarder, what's next on the cards for you in terms of board sports?
Applying my transferable skill set to snowboarding, something I don't have a lot of experience in which is exciting because it's a new thing to learn. I also want to progress my windsurfing, because before I left the UK to go traveling, I had just got into a harness and foot straps which is a whole new ball game!
Words by Emily Furness.
Kristian Butler is sponserd by Naish UK.
Kristian shows that if you work hard to follow your dreams, you can do anything. Have fun and enjoy it. And keep an eye out for Kristian at a beach near you.