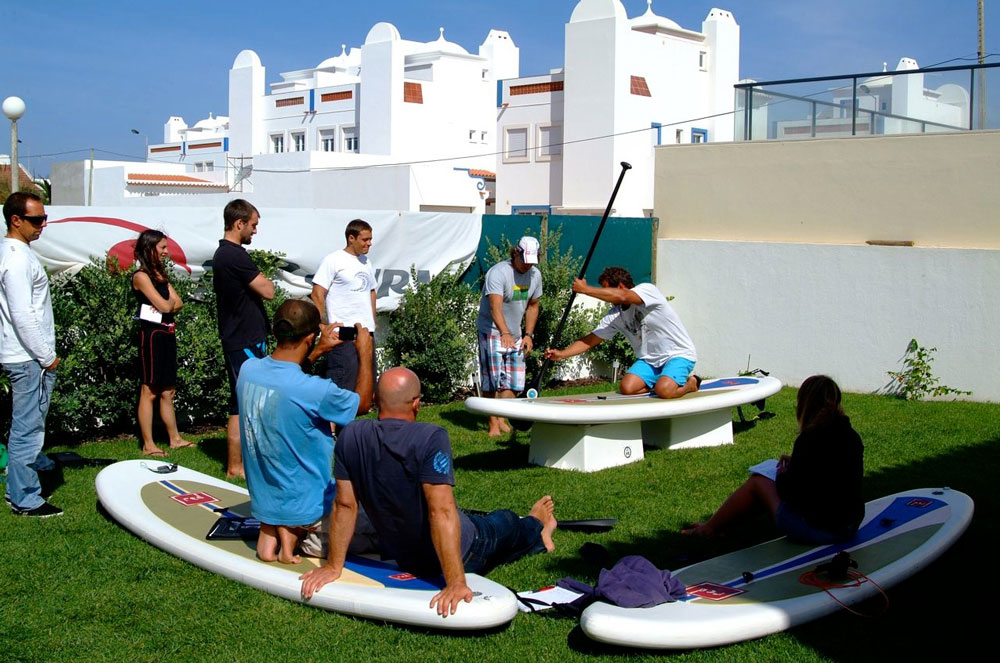 Who is ASI SUP?
ASI (Academy of Surfing Instructors) is the world's leading expert in SUP education, safety and standards. ASI commenced operations in 2003 providing surfing education and standards.  ASI is a training organisation, not a sports organisation. In Australia it is a Registered Training Organisation, with courses and all aspects of development, delivery, assessment  audited by the Australian Education Department.  It has the equivalent status to an Awarding Body in the UK, issuing QCF qualifications. ASI's head office is in Australia, with offices in the UK, USA and Bali.   ASI delivers training and has trainers across many other countries including the UK, Europe, Asia, USA, South America and Pacific.
In 2008, ASI created the stand up paddle education framework for learning to SUP, instructors and SUP schools. ASI are the first and only organisation to do so. Starting from a blank sheet of paper, ASI worked closely with SUP leading experts, Jamie Mitchell, Will Anido, Darren Borg and Steve West to identify and developa range of SUP levels from Level 1 to 5 in both flat water and surf streams. ASI also identified 4 x SUP location types (enclosed flat water, exposed waters, surf, downwind) according to skill and conditions and then applied safety standards.  These are reviewed and updated regularly to meet the changing requirements of the industry.
The world's first stand up paddle workshop was delivered by ASI in January 2009.Only in recent years, have some sports organisations set up stand up paddle instructor courses, however these have primarily been one level courses only.
ASI now has over 5 years expertise in SUP education including delivering instructor workshops, and accrediting SUP schools in locations around the world. ASI has issued over 2,500 unique SUP instructor certifications, accredited 95 SUP schools. Over 250,000 students have participated in learn to SUP classes at ASI accredited SUP schools around the world.
Government Regulation
ASI is in constant contact and consults to government agencies around the world. The ASI has extensive expertise in regulation, drafting licencing agreements for the tender of SUP and surf school permits, advising on and assisting with government implementation of safety regulations.
In Australia, which is highly regulated, ASI are one of only two organisations approved by 3 levels of government – Local Councils, National Parks and Maritime (coast guard), to deliver SUP training. In the UK, ASI works with AALA  (Adventure Activity Licencing Centre.)
 
Become an ASI Accredited SUP Instructor
ASI has an extensive range of SUP instructor courses and skills clinics courses. And more courses are continually being added. If you live inland or by the ocean, there is an ASI instructor level to suit your skills and business requirements.
Flat Water Stream:
Level 1 SUP Instructor (Enclosed Flat Water)
Level 2 SUP Instructor (Exposed Waters)
Level 3 SUP Instructor (Downwind & Distance Racing)
Level 4 SUP Instructor (Advanced Racing)
Surf Stream
Level 3 SUP Instructor (Beginner Surf)
Level 4 SUP Instructor (Intermediate Surf)
Level 5 SUP Instructor (Surf)
Other
SUP Instructor Water Rescue Award
SUP Yoga Instructor
SUP Surf Judge
Clinics
Ready to Race SUP Skills Clinic
Flat Water SUP Skills Clinic
Surf SUP Skills Clinic
Become an ASI Accredited SUP School
ASI accredited SUP schools can display the ASI SUP school logo as a mark of quality operations and training. ASI SUP schools are audited to ensure they meet the ASI worldwide standards. They are also listed on the ASI website and worldwide map.
In addition, ASI has developed an operational administration system to assist SUP schools in their day to day operations, training and safety management, with member online access. SUP school owners don't need to worry about the having the right paperwork in place, we've done it all for you. The documentation includes procedure manuals, risk management plans, operational forms such as waivers, incident report forms, employment forms, safety checklists.
ASI also provides insurance to instructors and schools in Australia and the USA, where insurance is very expensive.
 
ASI Learn to SUP Programs
ASI has developed 'Learn to SUP' programs for a range of locations and skill levels.
·         Enclosed Flat Water
·         Exposed Waters
·         Beginner Surf
·         Downwind
These courses come complete with learn to SUP workbooks and logbooks and certificates. They are ready to use for ASI accredited SUP School owners to deliver to their learn to SUP clients.
ASI – The Future
ASI invests extensively in education and continues to provide leading edge solutions for the general public, career instructors and SUP school operations. There are more and exciting educational programs and products continually being released. When you are part of ASI, you are part of the ASI worldwide network of instructors and schools. Whether you want to work in the industry, or simply learn to SUP for fun, ASI can help you get there.
Words by : Tania Nesbitt from ASI.
For more information check out the ASI website here.