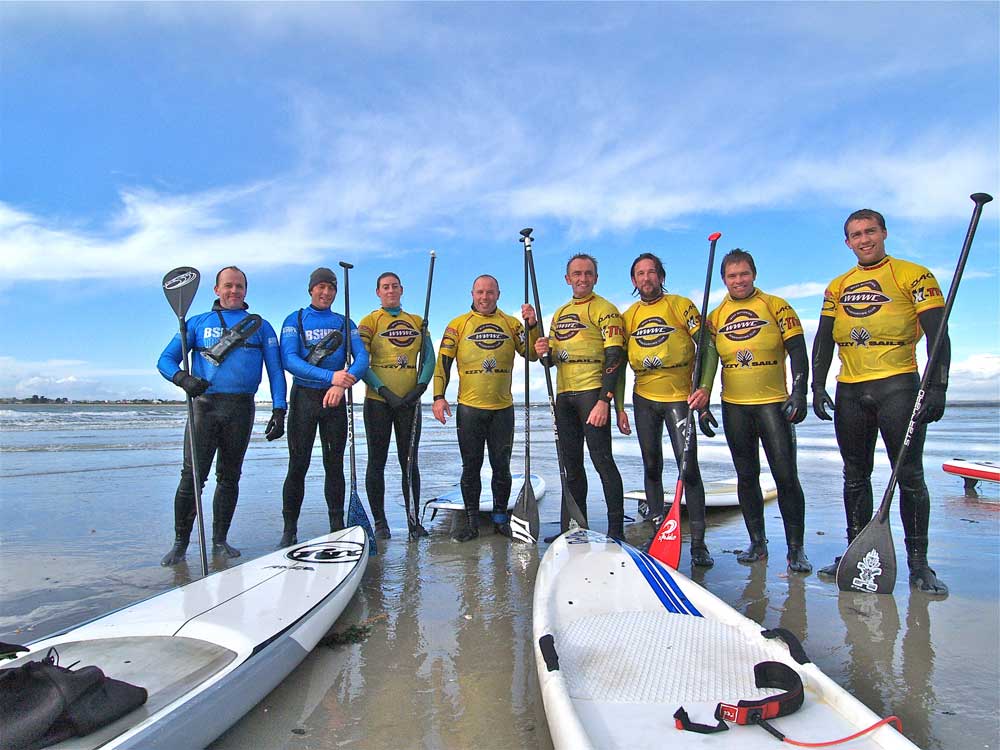 BSUPA are the largest SUP organisation in the UK. Their aim is to lead the development of the sport of Stand Up Paddleboarding in the UK through a series of national contests, training/coaching schemes and to work with the SUP industry and other organisations. Simon Bassett from BSUPA explains what it's all about. One thing is for sure they're definitely all about SUP…
The British Stand Up Paddle Association was originally  set up from an idea at Watergate Bay in September 2007. Olaus Mcloud came up with the idea himself, a passionate SUP rider who that year paddled across from the Scilly Isles to Sennen. The concept was that paddle surfers should be represented by paddle surfers in the UK and join together to form an association. Within a few months others joined to help Olaus, including Bill Fitzhugh, Grant Winter, Matt Argyle and myself. And BSUPA started to grow.
In 2008 BSUPA created and ran a National Ranking Series of Events around the UK in both distance and surf. We were the first in the UK to do this and created the first UK nationally ranked champions in both distance and surf.  At this time paddlesurfing was a very small sport with low numbers taking up the new watersport. Since 2008 a 'BSUPA National Championships' has been held each season.  In 2013 BSUPA National Champions in both mens, women and juniors fought hard and a BSUPA sanctioned 'UK team' will be heading out to Nicaragua for the ISA Worlds in May 2014.  BSUPA also ran the first 'National Club Championships' in Eaton Downey in 2013. For 2014 Rich Marsh has already listed the BSUPA events,  and there will also be more fun events coming this season.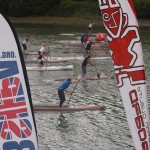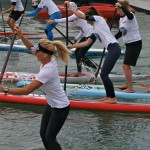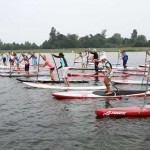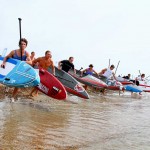 We have applied for National Governing Bodies (NGB) status. This can take some time (years) so we are building our organisation so we can meet their requirements.  BSUPA are presently working closely with a number of NGB's to raise awareness to the sport of stand up paddleboarding, through safe working practises and joint competitions such as Legend of the Bay with British Kite Sports Association, and Surf Live Saving of Great Britain – Swell Festival
The BSUPA actively promotes SUP in the UK. For example recently Starboard Team Rider Marie Buchanan featured in the Financial Times Weekender Magazine teaching journalists to paddle surf. This was organised through Rich Marsh and Simon Harrow. BSUPA driven PR has seen paddlesurfing on Country File, BBC News and World service, Local TV stations across the South and plenty of newspaper and magazine features.  We have represented paddlesurfing at ROSPA conferences, Outdoor shows, National Boatshows, and RYA conferences. Also sending information and corresponding with PR agencies, and having meetings with Surfing GB & SLSGB.
BSUPA COACHING
The BSUPA SUP coaching scheme (first in Europe) has been a project we have worked hard to deliver. Our resources are very small compared to other commercial and larger non paddle surfing organisations but since the first idea in 2007, to starting teaching SUP in 2008, and the launch of the coaching scheme in March 2010 at West Wittering, we now have 430 instructors who have been through the BSUPA Level 1 "Ready to Ride" instructors course.  38 BSUPA accredited schools and 15,000 students have learnt to paddlesurf through the BSUPA coaching scheme.
Andy Gratwick and myself developed the instructor scheme and the Level 1 "Ready to Ride" course for students – from an instructors perspective. The logical pathway to take a beginner through the key learning stages in a safe and structured way.  We know if you stick to the system we can teach new students to learn to paddlesurf safely and quickly and develop good technical skills. We are currently updating the Level 1 manual and constantly fine tuning the scheme.
The scheme is split into BSUPA Level 1 "Ready To Ride" (beginners on flat water) then BSUPA Level 2  "Ready to Surf "and "Ready To Explore." There are plenty of good schools and instructors who have been through the scheme and who use the teaching system. Here is a mention of afew – Nik Baker (Fanatic),  Manor House Activity Centre, Wild Diamond in Tiree, Rockley Watersports in Poole, Peter Hart, Ant Baker, Crantock Bay Surf School, John Popkiss (Nah Skwell), Adventure Activity, Marie Buchanan, Dave White, Wouter Arden (RRD) & Kialoa, Edgebaston Watersports, Datchet Watersports, Robbie Richardson, Centerparcs , Weymouth Watersports, Kirsty Jones (Pro Kiter), Neilson and Falmouth Marine School through Watersports instructor training as apart of their Foundation Degree in Marine Watersports. BSUPA has also run courses at the Royal Navy HQ on Whale Island – and have new instructors who will running BSUPA paddle surfing courses for the Marine Training Watersports Centre near Lympstone .
BSUPA are very conscious to keep our scheme fun and safe with a solid teaching practice. It needs to work for the client, school and instructor. We are very experienced in UK schools and work with AALS, RNLI, RYA, SURFING GB and other relevant organisations. We even found that the senior coach from the BCU, Owen Burson had attended one of our courses recently!
The BSUPA coaching team also includes Sam Ross and Simon Frost from Bray Lake. Both good paddle surfers who help with training instructors and schools around the UK.  Sam and Simon along with Rich Marsh helped run the BSUPA National Club Championships at the Olympic rowing venue Eaton Dorney in 2013. Sam is also assisting BSUPA with its club scheme.
When we first started our BSUPA coaching program we were told there was was no need to become a qualified BSUPA instructor for paddle surfing. But this has been far from the facts and we now have a career pathway for BSUPA  instructors.  Due to demand we will add an international addition to our instructor certificates, as we increase our BSUPA schools and instructor qualifications overseas.  In 2014 we have dates for BSUPA revalidation courses, BSUPA Level 1 / Level 2 Conversion Courses, BSUPA 2 day Level 1 Instructor Courses and BSUPA Level 2 Instructor courses.
CLUBS
With many clubs around the country doing great work, we were asked by a few clubs to help them overcome one of their most difficult areas, namely insurance. There are already options for clubs and groups of paddlers to get insurance but many of these only covered members during official club activity. One of the great thing about SUP is the ability for members of clubs to not only paddle in large numbers through organised club events but also get out with a couple of mates or a training partner for a quick blast. So we were asked to provide something so that clubs could cover their members in and out of club activities and keep the cost as low as possible.
The current scheme allows clubs to pay a one off affiliation fee of £50 to register and then purchase BSUPA club memberships for £10 a head. This membership is a full BSUPA membership, but at a subsidised rate for those people involved with their local club. This means that whether members are paddling with their club or not they still have 3rd party insurance out on the water.
Sam Ross is  on call to help point people in the best direction for funding or help people link up with their local county sports partnership, to help increase membership as much as possible.
THE BOARD
The BSUPA  board is made up of a volunteer force who spend lots of unpaid time trying to manage different parts of BSUPA. Each one firstly is a dedicated paddleboarder on flat water or surf. There are some expenses to cover for specific projects but so much time is given to building BSUPA and the future of SUP in the UK.
Si Harrow is the current chairman (until Feb 2014) He runs his own SUP school and mighty fine boozer and riverside restaurant 'The Crabshell' plus  'Waterborn' in Kingsbridge He is a regular in the lineup at Bantham, and paddles and teaches in Kingsbridge. His son Louis is 'Junior British BSUPA SUP Wave Champion'.
Si has personally helped with the BSUPA new database/website. He has even put a levy on a pizza he sells to raise money for the BSUPA team at the worlds.
Rich Marsh who spends lots of time paddle surfing in Cornwall is the BSUPA Event Mister and runs the National SUP Wave Championships at Watergate. Aswell as other BSUPA events including the NWF in Hayling, BSUPA Ladies Invitational in Southampton, BSUPA  National Club Championships in Eaton Dorney, Legend of the Bay in Watergate, Surf and Turf in Kingsbridge, and the BSUPA National Flat Water Finals. He also attended SUP club meetings at Bray lake and many RYA conferences… so he is a busy guy!
Rog Turner is our finance guy and is based out of Poole. Again a passionate watersports enthusiast and converted to paddle surfing he works closely with Andy Gratwick. Rog works with Rich on events in Poole and Hayling and gets to send invoices out following any instructor courses. He is the BSUPA paymaster general. Rog is pretty handy with a camera too.
Andy Gratwick is the coaches coach. He sits quietly in his office and gets on with the job. Andy is very experienced and a talented instructor and trainer. His experience for BSUPA has allowed us to deliver our teaching scheme and the instructor training side. He is keen paddle surfer who rides Kimmeridge when its good, spends all winter in Brazil ,WA and Barbados and runs his own BSUPA school Easyriders in Poole, where ladies night paddle surfing is big event. Andy is also head trainer for British Kitesports and works closely with ISAAF.
Simon Bassett is one of the founder members of BSUPA and one of the first 10 paddle surfers to paddle surf in the UK. He is a passionate paddle surfer mainly in waves and works closely with Andy as Joint Head Coach, working and developing new teaching ideas and practices. He is currently updating the BSUPA Level 1 Manual.  Simon teaches SUP regularly at his school X-train in West Wittering. Simon has paddle surfed in stacks of different locations including Maui, Baja, France, Spain, Canaries and lots of venues in the UK, plus a channel crossing with BSUPA and SAS to raise funds in 2010.  Simon has worked his entire working life in the watersports industry and has taught watersports for 32 years. Holly his daughter is 'BSUPA Womens and Junior SUP Wave Champion' in 2013.
There are plenty of others who help with advice and sound practical help, and give up free time to assist BSUPA. Jim Richardson, who is helping organise the BSUPA Team to the Worlds (John Harvey helped last season) Ollie Orielly who is web lord for BSUPA,  Louise from Easy Riders who helps process the instructor information, and Martin Tillman who helps with events. Neil Gent, Matt Argyle and Gareth Grant are also always on hand to help with issues at surf events.
BECOME A MEMBER
When you join BSUPA you are supporting the UK SUP scene. BSUPA represents many paddle surfing issues including safety with the RNLI, or trying to unravel the inland access issues. We represent paddlesurfing when councils try to ban paddlesurfing access, and we help support BSUPA paddlesurf schools. As a BSUPA member we have numerous events and will be rolling out more local based fun events in 2014.  You get a monthly news letter, and 3rd party insurance which covers you for everything. All for £25 a year.
BSUPA FUTURE
According to Laird Hamilton paddlesurfing is like a water bicycle… the realisation we have made at BSUPA is paddlesurfing, paddleboarding, SUP or whatever you want to call the sport has so many disciplines. For some its just racing or surf – its fitness, mind relaxing, yoga, its family fun, its charging whitewater, its downwinders, its just going slow… hell you can even go fishing on a paddle board! We realise this is a sport like no other and BSUPA are going to be right in the middle of it!
Words – Simon Bassett
For more information check out the BSUPA website www.bsupa.org.uk
Or contact the training department – training@bsupa.org.uk, membership department – membership@bsupa.org.uk or chairman – chairman@bsupa.org.uk