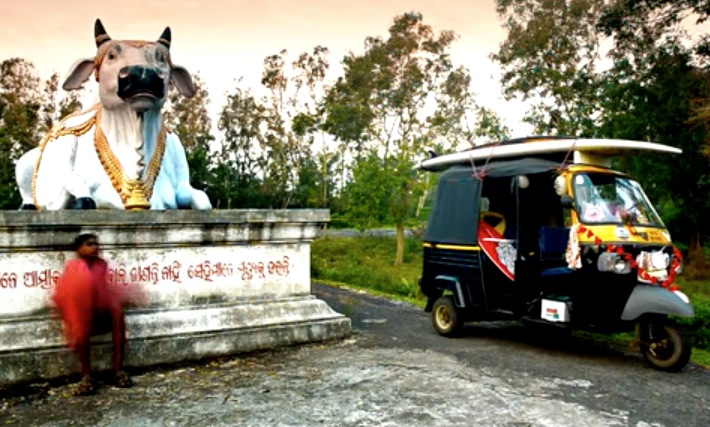 If this promotional video is anything to go by, the India Surf Festival (ISF) is going to be a right laugh!
Here's what the founder of ISF, Sanjay Samantray had to say about the event which will be taking place on the 14-16th February 2014;
"Ramachandi beach on the Puri-Konark Marine Drive will be the hottest place to be in Odisha this February. India Surf Festival 2014 is set to ignite the swell and sands with surfing, music, and art from February 14 to 16 bringing together not only surfers from across the country and abroad but also artists, musicians, designers and famous lensmen.
The third edition of the festival, however, promises to transform the niche realm – restricted to a handful despite the country boasting of more than 4600 mile coastline and wonderful beaches – to a sport accessible and participatory for the common man.
The festival will emphasise on mainstreaming of surfing by introducing concepts and developments that can be easily adopted by the common people and also promoted for tourism. It will promote the Walk on Water Stand Up Paddle (WoWSUP) in a big way inviting people to take part. WoWSUP is a rage in the world today as it combines exercise with fun without the dangers of taking on the waves.
Indians as it is are not attuned to water activities. Even a miniscule know swimming or are enthusiastic about it. We are trying to change this attitude by promoting SUP which is simple yet thrilling, safe and can be undertaken on any water. Considering the rich water resources that Odisha boasts of, WoW can be used to push tourism in the State.
The festival while hosting events in surfing, SUP and other water and beach sports activities will also lay the canvas for famous photographers from India and abroad along with the photography enthusiasts from the State to vent their creativity. 'Hungry Lens' as it is named will also strive to foster competitive spirit among the lensmen community.
In a major community initiative, the ISF will also undertake an afforestation drive and beach cleaning project as part of its three-day celebration. The region has taken a big hit due to Phailin where a substantial chunk of its vegetation has been uprooted. Participants and volunteers will undertake an exercise to plant trees and clean up the beach.
As many as 80 surfers including over 30 from abroad will be joining the festival this year along with music bands, digital artists, designers and performers. The ISF 2014 expects to draw more than 3000 visitors over the three days."
So if you fancy a sunny SUP event with a difference… head to India in February.