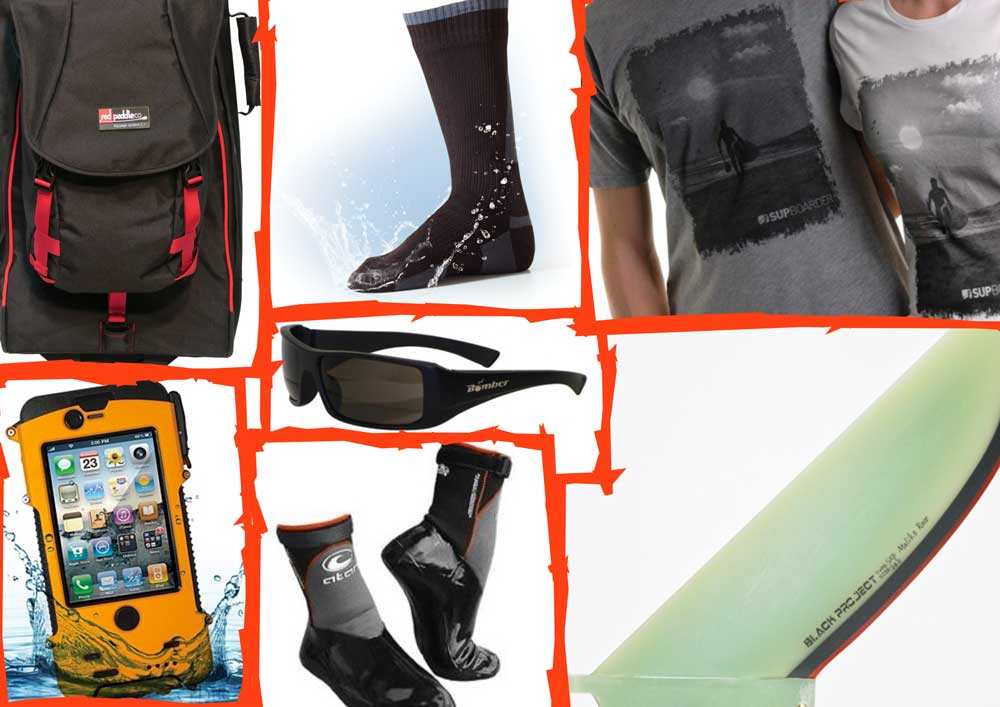 Once again Christmas is nearly upon us, and no doubt many of you are looking forward to the big day but still have the dreaded xmas shopping hanging over you! Lost for ideas? Worried about whether they'll like what you've bought them? Don't worry… if you're buying for a SUPboarder the following gift ideas will be sure to go down a treat. Or if you've been good this year and need afew more ideas of things to put on your own christmas wish list or to treat yourself with in 2014, check out SUPboarders top SUP gift ideas…
Sealskinz socks
Sealskinz socks are perfect for those chilly flat water paddles during the winter. Fully waterproof, windproof and breathable, so perfect to wear under your chosen footwear to ensure your feet stay dry and warm and you can keep paddling all year round. Ankle/mid/knee length socks and various thicknesses available. And other Sealskinz accessories (including hats and gloves) also available, all with a 2 yr guarantee. Prices vary from £22 – £45. Check out the Sealskinz website here to find out more information about the UK brand, to order online or to find out where your nearest stockist is.
Bomber sunglasses
Specifically designed for the active lifestyle and to float! These cool looking sunglasses come in a range of styles and lenses for guys and girls. The range includes polarised lenses to reduce reflective glare on the water. Flexible, strong, lightweight, comfortable, a great fit and virtually unbreakable these glasses make the perfect SUP accessory for both summer and winter paddling. Prices vary from £12.95 – £58.95. For more information about Bomber Eyewear check out their website here.
SUP SXP Maliko Race Fin from Back Project
Designed especially for flat water and downwind racing, the latest unique fin design from Black Project increases stability, speed and greatly reduces the chance of catching weed. Strong and robust the Maliko Race Fin is less likely to be damaged on and off the water, and can withstand any tough racing conditions. Available in one size to suit all riders and conditions. Price £160. For more information and to find out where you can buy the Maliko Race Fin, check out the Black Project website here.
SLXtreme iPhone case
A fantastic rugged, waterproof, solar-powered and battery boosting case for your iPhone 4/4S, 5 so you can take your phone wherever you paddle this winter, without the worry of it getting wet. Featuring an integrated battery that doubles the life of your iPhone, and integrated shutter button allowing for underwater or on the water photography. Waterproof to a depth of 2 metres (just incase you get wetter than planned!) The perfect SUP accessory to help you keep safe paddling this winter and to capture those magical SUP moments. Price £79. For more information about SnowLizard products check out their website here.
SUPboarder Sunset T-shirt
Available in both men and ladies, the Sunset T makes the perfect gift for any SUPboarder. A premium quality T-shirt with a monochrome half-tone SUPboarder print on the front. Made by the South West hard wearing clothing company Supersaturated, and designed for paddleboarders by paddleboarders. Price includes t-shirt, FREE SUPboarder sticker and UK mainland delivery. Available to buy online from the SUPboarder shop. More SUPboarder  clothing coming in 2014 so stay tuned! Be proud to be a SUPboarder! Price only £19.99!
SUP Lesson
A SUP lesson or excursion is the perfect gift for someone who loves the water and is looking to try something new. Check out where your nearest SUP Club/School is via the SUPboarder directory map. Many SUP Clubs/Schools are open all year round, however if you think they'd prefer to wait until its warmed up a bit many SUP Clubs/Schools will issue vouchers valid for 12 months so they can choose the perfect weather to try SUP next summer! Bray lake Watersports and Blue Chip SUP school run SUP lessons for all levels. Ask at your local SUP Club/School to find out what gift vouchers they have available.
Atan Boots
A great light, flexible, comfortable, warm and durable neoprene surf boot with an incredible supple "barefoot feeling" sole. Available in 3mm and 6.5mm thickness and separate or split toe. Prices start from £35.95. They are available at Juice Boardsports, and Blue Chip.For a full list of retailers visit Seasprite Sports.
iSUP Backpack
If you've already got an iSUP why not upgrade the carry bag so you can get exploring in comfort and with ease! The Red Paddle Co front loading backpack, with integrated wheels, internal load straps, padded shoulder and waist straps and side grasp handles makes the ultimate solution for easy iSUP travel and storage. Price £79. For more information check out the Red Paddle Co website here.
If you've had any other good Christmas SUP gift ideas or have already got some on your 2014 wish list, let other SUPboarders know about them by posting below… You can never have too many SUP accessories hey?! Happy Shopping!