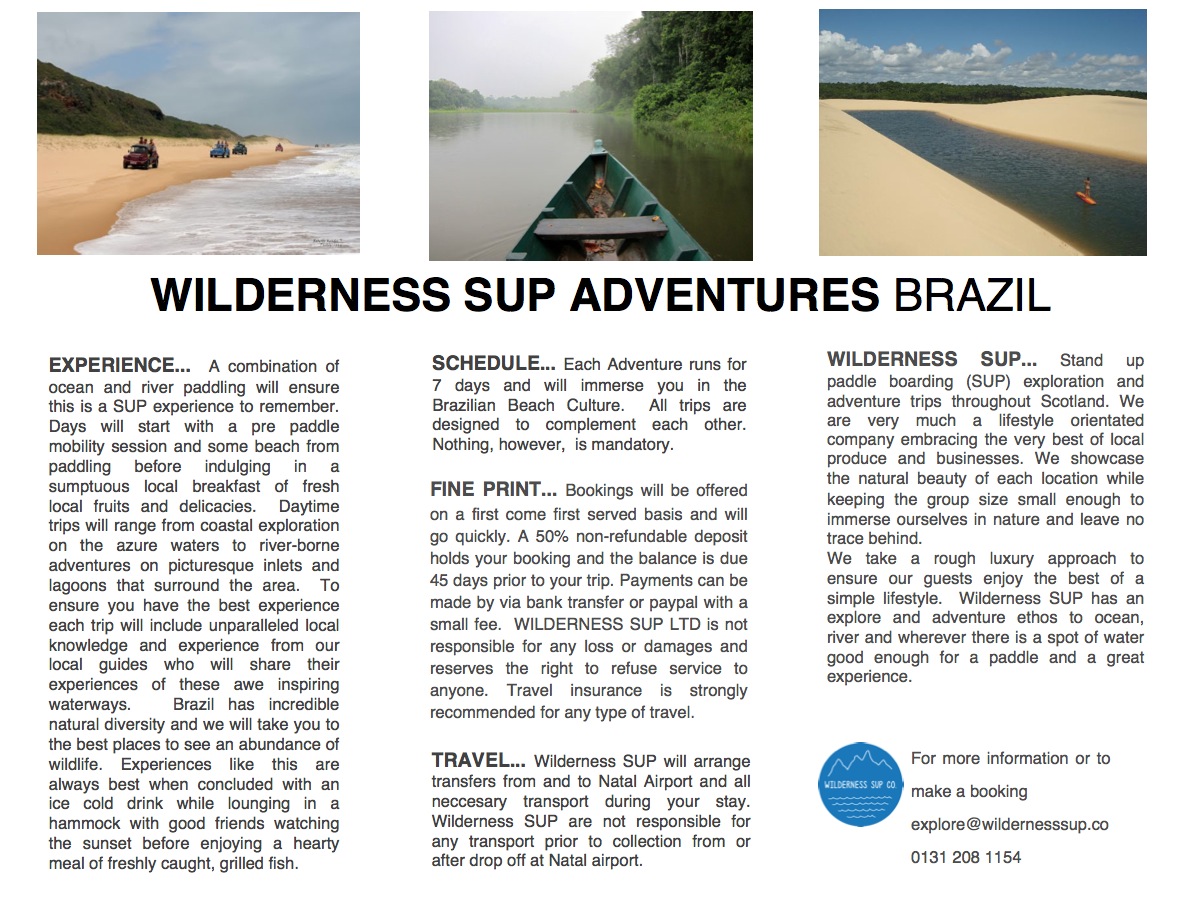 Do you fancy some SUP and surf action in the sun in January? If so… then a 7 day SUP adventure to Brazil with Wilderness SUP may be just what you're looking for! Read on for more info…
Wilderness SUP is delighted to host some luxury, Brazilian 7 day SUP Adventure retreats throughout January 2014 in a really stunning, small Rough-LUXE boutique hotel secluded villa overlooking the Atlantic coast of Brazil and it's stunning beaches and surf breaks for all levels.
Each morning and evening, to avoid the wind, we'll explore the inland and coastal waters of Baia Formosa, which is a small fisherman's village and is like taking a step into the past. With more than 300 days of sunshine per year Natal is known as the bride of the sun and temperatures have never dipped below 18 degrees in the last 100 years. Our trip here will combine both ocean and river SUP coupled with a visit to a manatee reserve where we can paddle with these magnificent animals. Also there are several great spots close by such as Barra de cunhau, Sagi, Barra de Camaratuba and the chic beach town of Pipa. In between, or after the SUP sessions we'll squeeze in a daily SUP-focused yoga session on our shady terrace overlooking the coast whilst looking forward to a relaxed evening of really good food, drinks and a chat as the sun goes down.
This is an all inclusive trip, so from the moment you get on the plane you can switch off the brain and let us take care of everything else. We'll have a core Wilderness SUP team on hand the whole time, plus Ernesto and his Pousada La Bonita www.pousadalabonita.com team to look after your every need… well, perhaps not every need!
From £1350 (that's about $2175/ €1609) per person per week.

Dates
Choose one or more of the following package weeks:
Week One 11th Jan — 18th Jan
Week Two 18th Jan — 25th Jan
Week Three – Email explore@wildernesssup.co
__________________________________________
Rates
All prices quoted are per person per week and based on 2 people sharing a room.
A 15% single occupancy surcharge on the full, double-occupancy, room price is available if you are on your own and would rather have a room to yourself. Please enquire for further details.
__________________________________________
Booking
Our prices are listed in UK£ (your booking is made with our UK company) but via Paypal/Credit Card we accept all major currencies including INR, USD, AUD & EUR.
Please contact explore@wildernesssup.co for all Brazil booking enquiries and questions.  We will email you back to finalise the booking.
Please Note:
There is a 3% sur-charge if paying by credit card or Paypal. No extra if paying by bank transfer.
A 15% single occupancy on the full, double-occupancy, room price is available if you are on your own and would rather have a room to yourself.
__________________________________________
Includes:
Luxury A/C room some with terraces in rustic Brazilian style
Delicious, healthy breakfast, lunch & dinner each day prepared to our specification by our local chef.
All drinks: Water, soft drinks & selection of alcoholic beverages (beers & spirits)
Morning and afternoon SUP Adventure or Exploration guide sessions Sunday to Friday.
3 morning Yoga sessions.
Driver, van and local guide for SUP and Surf Trips.
Airport Transfers (Natal) at designated times.
All paddle adventures and equipment included.
But not:
Flights to Brazil
Surf Lessons — We can arrange a private (or small group) lesson at £20 for 2 hours incl. Board, wax & rash vest.
Meals out of the villa if you choose **
* There will be 2 transfers on each arrival and departure day. We can advise a comfortable lounger near to the airport to kill a few hours if you arrive earlier than the transfer times.
** We will eat out in one/some of Pipa's, a chic beach town, restaurants.www.pipabrazil.com/EN/barrest.html
__________________________________________
Facilities:
Boutique cliff top Pousada,  swimming pool over-looking the coast with loungers, free internet, shaded terrace and dining area, large double-height lounge, cafe area with tea & coffee making facilities.
__________________________________________
Booking Details
We require a 50% deposit per person to secure your dates on a first-come, first-served basis – please don't book your flights until we confirm we have received your deposit AND accepted your booking. The balance is then due 45 days before arrival to confirm your place (If it's difficult to do this for some reason contact us and we'll see what we can do)
 Payments can be made via Paypal or bank transfer to our UK account. Contact our team with your payment preference and we will send you details of how to pay. For our booking contract and cancellation policy please see our Terms & Conditions wildernesssup.co/wp-content/uploads/2013/06/WILDERNESS-SUP-Holiday-TsCs.pdf

__________________________________________
Insurance
Please ensure that you have adequate travel insurance that includes the activities of Stand Up Paddleboarding and Surfing.
__________________________________________
Travel

Flights from the UK and Europe's other main hub airports tend to be in the £550-£750 range per person, the main airlines are most major European carriers and TAM Airlines. TAP Portugal offers good connections with Brazil. From the USA it's a flight straight down to Brazil with prices varying from whichever airport you are near. Some cheap deals though. From Australia flights tend to go via Los Angeles. We tend to browse both Skyscanner & Kayak to get the full picture as they seem to offer different deals from different airlines.
Please contact explore@wildernesssup.co for all Brazil booking enquiries and questions.