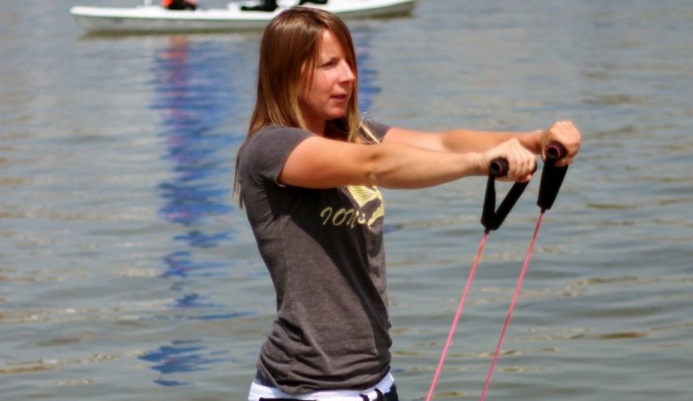 Throughout the summer, SUP fitness guru Lucy McCormick will be introducing SUPboarders to a new 'SUP Move of the Week.' So why not get a SUP fit body this summer and have a go at;
Front Raises with Resistance Bands
Resistance bands are a great exercise tool to use on a SUP. There are a massive range of exercises that you can perform with them and add a different dimension to your SUP workout. Resistance bands are available in different resistances, so you can make your workout harder or easier depending on your goals. This is an awesome workout for the shoulders, as well as the chest.
Position yourself in a standing position over the carry handle of the board.
Place resistance bands under feet, stand with feet shoulder width apart.
Start with the handles resting on your thighs.
Slowly raise your hands out in front of you, until they are just above shoulder height.
Lower back down to thighs and repeat.
Depending on your fitness level, try to do between 2/3 sets of 12/15 reps.
REMEMBER: With all exercises, technique is the most important aspect – don't rush through the exercises, make sure you start slowly ensuring the correct technique.
Consult a doctor if you are unsure whether you should be taking part in a particular physical activity.