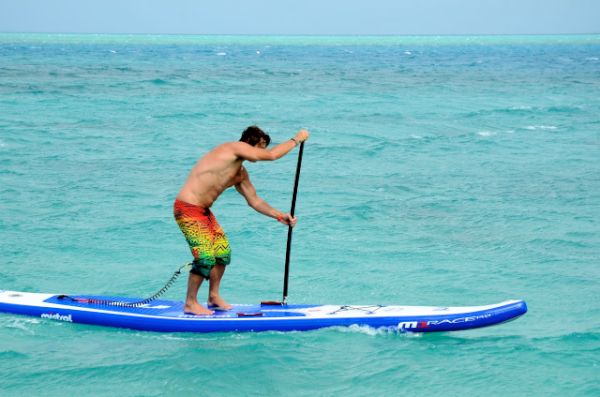 Leleuvia Island, Fiji – 7TH August 2013
In July of 2012, we spent some time in Bermuda. Up to that point, the idea of owning an iSUP was the furthest thing from our minds, let alone our budget. However when you begin considering travelling overseas to spend time in warm waters, the reality of having to leave your hard board quiver behind, balanced with the cost of rental or purchase on arrival, brings complete sense to the existence of iSUPs, as does ownership.
The boards we took to Bermuda, a well-known brand, were frankly heavy at near on 17kg, leaving just enough weight limit for toothpaste, toothbrush and a change of board shorts.
In addition they had all the qualities one associates with a springboard, but it's reasonable to say they served the purpose, up until the point one blew a seam and no amount of repair work made any difference. Down to one board we pressed on, while the blown iSUP was used at max pressure until a return to shore was made essential every 40 minutes or so as it blew bubbles into the warmth of the Atlantic Ocean. It wasn't a complete disaster and we had little to complain about when all was said and done, but I had hoped for more. My view of iSUPs remained dim as I am sure many first time experiences may.
Since July of 2012, much development of the iSUP has taken place and much has been said for and against, but I remain a pragmatist in believing iSUPs have their place in the pursuit of travel first and foremost, because they are fundamentally a convenient alternative, not a substitution or replacement for the rigid board per se, regardless of what their manufactures may market to us.
With plans to travel to Fiji for 4 months stint on Leleuvia Island Resort (www.leleuvia.com) to spend time with my long time friend Colin Philp who is currently managing the island, Mandy and I wanted to travel again with iSUPs in order to teach, demonstrate, enjoy downwind paddling in the trade winds and travel between islands.
The Mistral name is something we are both very familiar with on account of both having once been professional windsurfers through the late 70s and through the 80s.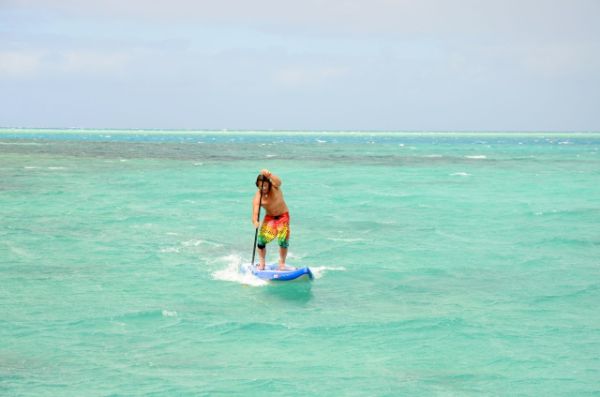 Associated with quality and a sense of style, it came to my attention while finishing my book, Stand Up Paddle – A Paddler's Guide (www.kanuculture.com) late in 2012, that Mistral were beginning to make serious headway with their SUP board development. Mistral have never done things by halves and with all the fuss being made of other brands, I was intent to find out what their iSUP boards were like.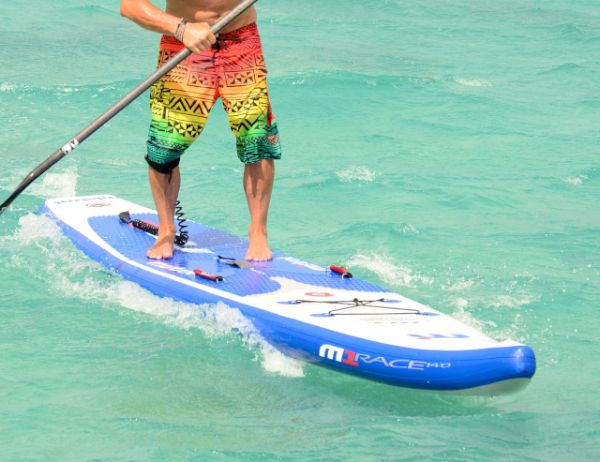 The very fact that they had set out to create 14' and 12'6" one-design styled race boards was a typical Mistral mind-set. Whether the one-design idea takes off, which it may in certain parts of Europe for the brand, the intent signals they mean business. Regardless, I wanted to try both.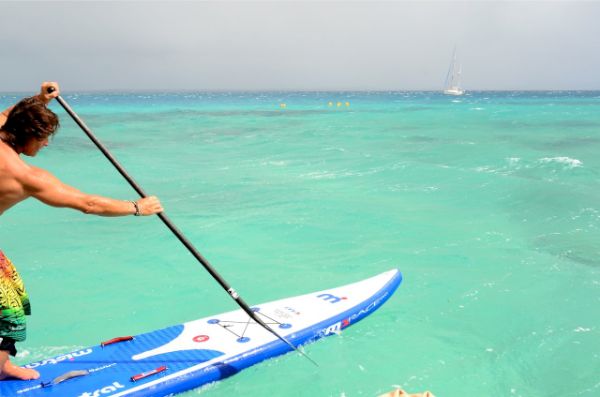 The first thing you notice is how light their boards are compared to most others. They are seriously light at around 12kg for the 14' and their high-pressure pump is a joy to use compared to others. Using their low-pressure pump first helps to get it up to 10psi quickly. Changing to their high-pressure pump finishes the job taking it up to 15psi (recommended). The boards were initially over-inflated to 20psi by error, but had to be deflated to 15psi in keeping with recommendations.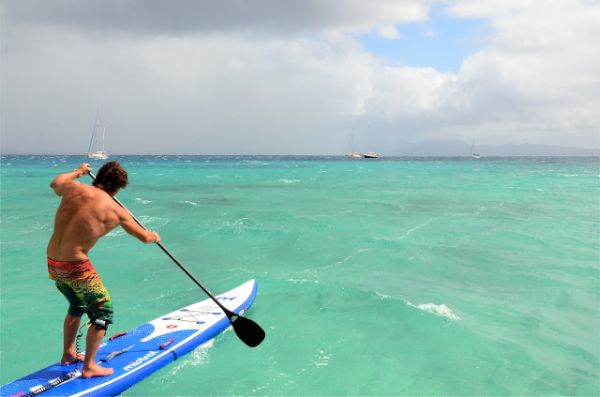 This exercise in itself, confirms what I suspect, that pressure is not the be-all and end-all when seeking longitudinal rigidity, after all air is air, it bends at any pressure. Importantly, the internal structure seems the more important element. While many iSUP manufacturers brag about very high pressures in excess of 25psi, the reality is this seems a diversion to the problem.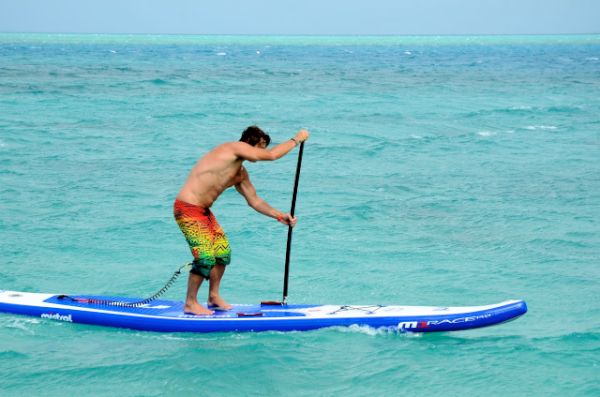 We choose the 14' boards for speed and glide, pure and simple. There are many things I love about this board (also common to the 12'6"). Mistral, are not width obsessed, which I am stoked about. Being only 27" wide, they remain very stable and the added speed trade off far outweighs any concerns. Here is a board that mirrors a fast downwind rigid board designs, with a few sexy add-ons, such as the grab-handles, deck-webbing, carry-handle and paddle clasps. Detail, that's what separates this board out from many others. Intellectual effort on every level has been applied, even down to the single fin rather than the fixation with tri-fin set ups and it's so easy to push and clip-in and remove.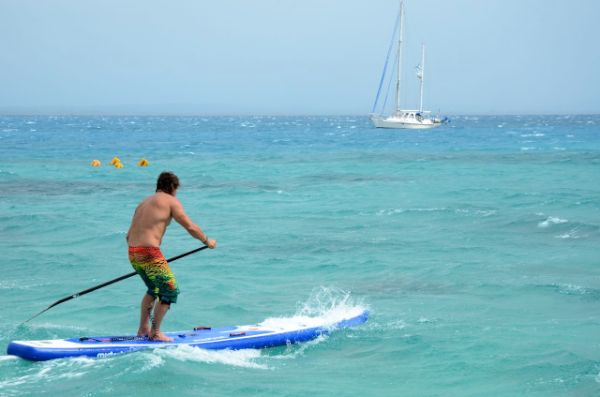 The graphics are typically Mistral. Red, white and blue, the colour scheme is strong and distinctive with the a smattering of text indicating this and that, so as to complete what looks and feels a very professional, fit for purpose product. A month of hard use has only put a smile on our faces.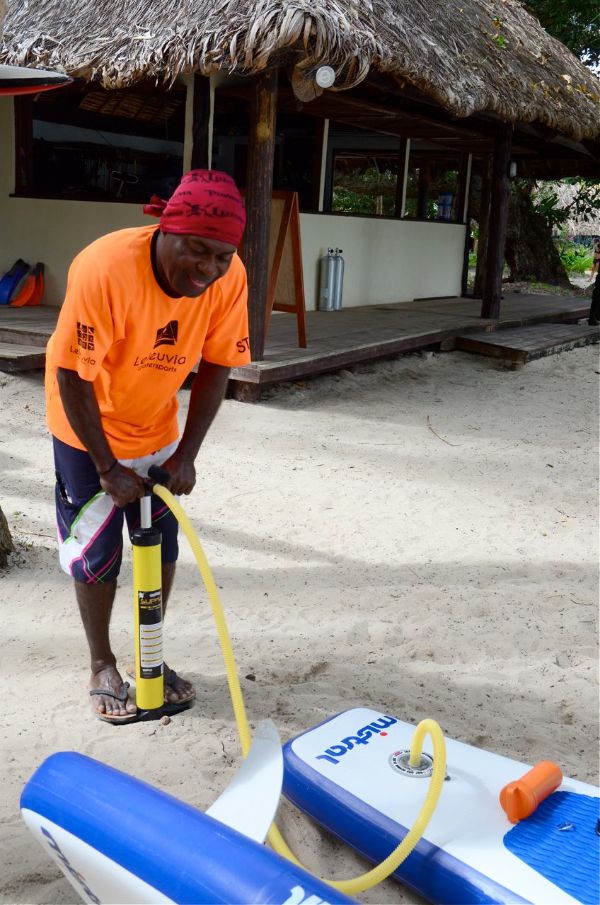 More soon.
Vinaka from Fiji.
Steve West is sponsored by Mistral – www.mistral-sup.com, and Mistral SUP UK distributors whaSUP Custom Board Bags – www.whasup.co.uk.
Carly Greatrex, Social Media Marketing Coordinator, WhaSUP, Dorset.