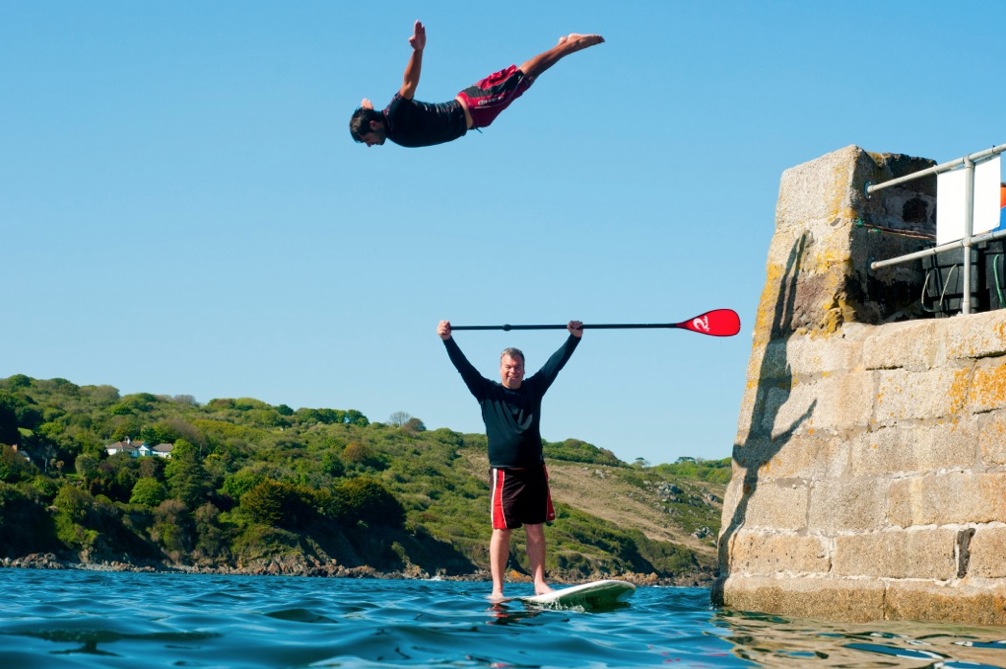 There's nothing better than going out for a SUP on a hot summers day when the water's like a mirror and the sun's warm on your back. But it's important to;
– Plan your route carefully
If it's a particularly hot day… be realistic when planning your paddle. If it's a route you often do no problem, be aware that it may take you longer on a hot day. Or if it's a new route take into consideration the fact you're likely to be paddling abit slower due to the heat and needing a few extra stops along the way.
– Slap on the suncream
Love it or hate it… it's a must when you're out on the water. It may feel cooler if there's a sea breeze and you may not think there's a need for suncream but the combination of a breeze and the reflection of the sun on the water means you're even more likely to get sun burnt than when ot paddling. Don't forget the tops of your feet! And it's worth putting it on at least 1/2 hour before you hit the water so stop it running into your eyes when you start to sweat. Also don't forget to rub the suncream off your hands by rubbing together a handful of sand before you leave the beach or on a handful of grass on the river bank. There's nothing worse than a slippery sun creamed paddle!
– Consider your sunglasses
Sunglasses are just sunglasses right? Wrong! If you're going to be paddling regularly it's definitely worth treating yourself to a pair of polarised sun glasses. Not only will they stop you squinting and damaging your eyes when paddling into the sun. Polarised lenses also allow you to see everything so much clearer when looking down into the water. You'll be certain to see those spider crabs and big fish that you always knew were there! And also those sneaky low tide rocks when you're cruising around the rocky coastline. Once you've tried them you won't want to wear anything else!
– Wear appropriate clothing
You're going to get hot and sweaty paddling so make sure you wear thin, breathable, and quick drying fabric. Paddling in a bikini or with your shirt off is fine for short periods but it's always worth taking something to cover up with and to escape the sun if you're going for a longer paddle. And don't forget a hat too. Sun stroke is a sure way to ruin your sunny summer paddle and make you feel awful for the rest of the day.
– Take plenty of water to drink
You might not normally take a drink with you when you go for a paddle but on a hot day its vitally important you do. So either take a water bottle in a back pack, take a hydration pack or clip a bottle onto your board.
– Undo the pressure valve on your board
This is especially important if you plan to leave your board in a hot car/van or you bought your board and did the valve up on a cold winters day when the air temperature was significantly lower. The last thing you want is an exploding board! But just remember to do it up again!
– Think about where you leave your board when it's out of the water
If you use wax on your board it's important to keep your board out of the sun otherwise there will be none left on it when you come to use it! If you have an iSUP the warmer air temperatures are an advantage as they will increase the pressure inside the board and help to make it feel harder and more rigid. Leaving your iSUP in the sun is also a great way to straighten out any fins if they've been bent whilst the board has been rolled up in a bag.  Also if possible keep your leash out of the sun to stop it perishing and reduce the chances of it breaking on that next big hold down!
– Take a camera
Whether you're paddling on your own or with mates, take a camera and capture those magical summer SUP moments. If you have a camera on your phone get yourself a waterproof case so you can take it with you. Or get yourself a waterproof camera and have fun taking photos above and below the water. Who knows how long the summer weather is going to last so get some summer snaps whilst you can!
– Make the most of your SUP
SUP's are not only great for paddling but also … fishing, snorkelling, spear fishing, frisby and fun with mates, carrying a picnic, taking the dog on, or for finding that secluded beach! Think outside the SUP box!
– And remember some money for an ice cream stop on the way back!
So, get your SUP, get planning and get out on the water and enjoy the sunshine.