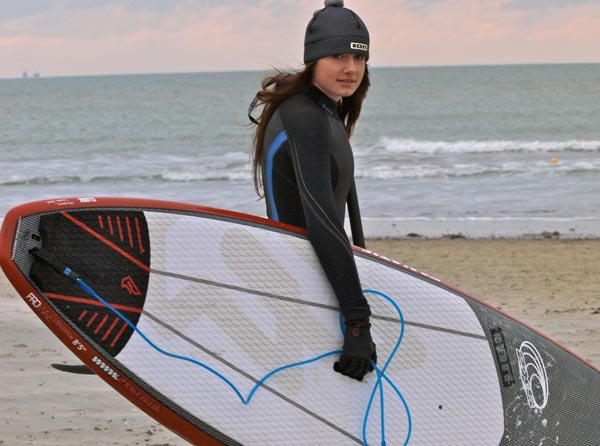 The next up and coming SUP competition star to be interviewed by SUPboarder in the Young Guns Features, is Holly Bassett.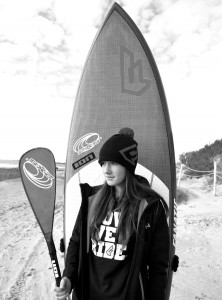 Holly is 14 years old and currently the BSUPA Under 16 girls Paddlesurfing Champion. Holly has pretty much grown up in the water… windsurfing from the age of 3, and SUPing from the age of 9. Not surprising as her parents own a watersports centre at West Wittering beach!  Holly can frequently be seen out enjoying the surf at her local spot at West/East Wittering, or down in Cornwall. As well as traveling further afield to top SUP spots in Maui. Only a year after getting into SUP Holly started competing in the BSUPA National Championships where she has already obtained some impressive results… 2nd U16 girl in 2008, U16 girls champion in 2011, and again in 2012 where she also only narrowly missed out on the chance of getting into the women's final which she also competed in. Holly is sponsored by Ion, Fanatic, and 2XS/X-Train.

SUPboarder caught up with Holly to find out more about her and her SUP plans for 2013;
SB/What was your first SUP board?
HB/My first sup board was a jimmy lewis 10ft.
SB/You learnt to windsurf at a young age. Do you think it helped you with your paddleboarding?
HB/I definitely think windsurfing has helped with my understanding and knowledge of the water and also helped with balance etc…
SB/Do you still windsurf and have you tried wind SUPing?
HB/Yeah I have wind SUPed. I have recently been out in Maui and have done a few downwinders wind SUPing using a quarto board, down to kanaha beach park and kite beach.
SB/Where are your favourite places to SUP?
HB/My favorite place is Maui. There are some really nice clean waves that come in to Kanaha Beach Park and also over on the other side at Lahina there are perfect lines rolling in. Also back in the UK, Watergate Bay can get really good and the occasional pumping day down at my local break in West Wittering.
SB/You've mentioned about SUP surfing. What other SUP disciplines do you enjoy and/or compete in?
HB/Currently I only compete in the surfing events. I haven't really done a lot of distance although I think it would be a good discipline to start, as it looks fun and also helps to keep your fitness up.
SB/Give 2 reasons why girls should get into SUP.
HB/Firstly, there aren't many girls who paddle surf. And secondly, its so much fun, you don't have to be great but it gets you out on the water and is really easy to pick up.
SB/What is it about SUP that you love?
HB/I really enjoy the surfing side to it… I just love it! My board adds to the enjoyment of my surfing as it is light and easy to turn, making it a whole lot more enjoyable. Also the other paddlesurfers who are all enjoying paddlesurfing for the same reason… to have a good time, and get out on the water and have fun.
SB/Whats in your SUP kit bag at the moment?
HB/My Kialoa Methane Paddle and 8'5 Fanatic. When I SUP in the UK I usually have my 5,4 ion winter wetsuit and gloves, beanie and boots for the winter. But in the summer, a summer suit or shorty.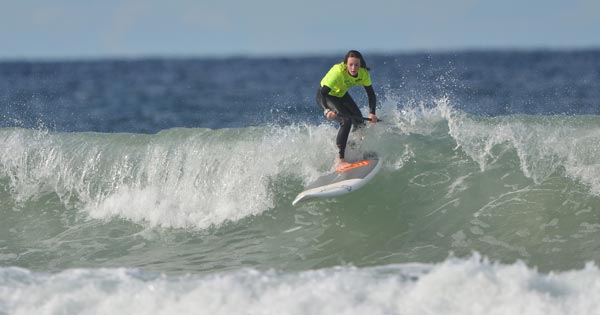 SB/What SUP events do you have planned for 2013?
HB/
For 2013 I plan to enter the Watergate Bay BSUPA Nationals Event in both juniors and women's event and also in any other fun events that come up. Also I may go to some of The BLU (British Longboard Union) comps as they have a SUP category on offer for competitors.
SB/Where in the world is on your SUP wish list?
HB/Byron Bay, Baja and Id like to surf some more waves in Hawaii.
SB/Do you manage to keep paddleboarding throughout the cold winter? If so have you got any tips on how to stay warm and motivated?
HB/Yes throughout the winter I have been going out in the cold, but I make sure I have all the necessary neoprene kit to keep warm…it really does help!! And if the waves look good and you're warm it helps to keep motivated!
SB/2011 and 2012 BSUPA National Wave Girls SUP Champion. What are your goals for 2013?
HB/For 2013 I am hoping and aiming to place in the women's category in the BSUPA national event and hopefully get some more sponsors!
So keep an eye out for Holly on the women's SUP podium this year… she's definitely one to watch out for! And SUP girls if you're reading this, why not get into SUP surf competitions yourself this year and give Holly and the other girls a bit of competition?!! More girls/women are getting into SUP every year, but in the UK the heats are still small so it would be great to see more of you getting involved in the competition scene this summer. Competitions don't have to be serious and scary. They can be great fun, and a great place to check out the top level riders and all the latest kit.
Find out about the different fun SUP events happening around the country this year on the SUPboarder events calendar.
What are you waiting for? You can't be a SUPboarder young gun unless you get involved in SUP!