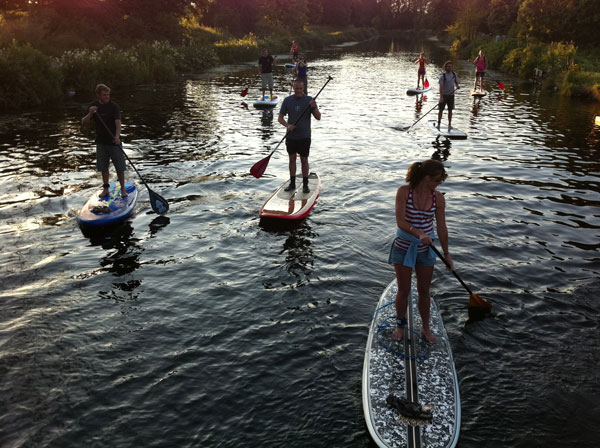 When buying your first SUP it's important to consider;
– Your SUP ability level
Are you a complete beginner who's never stepped on a SUP before, or do you already have some paddling experience and are now looking to buy your own board? This will determine the size and type of board you're looking for, whether it be a larger beginner board, an all-round board, or a more advanced specialist board. One of the biggest faults is going too small too soon (often because it fits easier in the car!)
– Your size (weight and height)
Whether you're 60kg, or 160kg will influence what is the most appropriate size and volume board. Generally a lighter person can use a smaller board, and a larger person requires a larger board with more volume. However it also obviously depends on your SUP ability level too.
– What do you plan to use your SUP for?
There are many different types of SUP boards on the market. Some are designed for good all-round use and others are for more specialist disciplines e.g racing, surfing, whitewater. It's important to consider what sort of paddling you will be doing most of to ensure you choose the most appropriate type of board.
– How often will you be getting on the water?
If you're going to be getting out on the water every weekend you're likely going to improve much quicker than somebody who gets out only a few times a year. Therefore you might want to buy a SUP that is suitable for not only your current ability level but which will also allow you to progress and not outgrow your board too soon.
– How do you plan to transport/store your SUP?
If you have a large van and a large garage then you won't be restricted by space and your choices of SUP are endless. However if you have a moped and one empty cupboard under the stairs then you'll have to think more carefully and an iSUP may be a more appropriate choice! Find out more about iSUPs v hard SUPs HERE.
– Who else will be using your SUP?
If you're planning to take your kids or dog onboard too, or share your SUP with your partner who's at a different SUP level, then it's important to consider this too when choosing what size board to go for.
– Try before you buy
There's no better way to get a feel for a board than trying it out on the water for yourself. So paddle as many different boards as possible in a variety of water states, to find out what shape and size you like the feel of. The best way to do this is to demo as many boards as you can at your local SUP shop or club/school or keep an eye out for a SUP demo day near you. Check out the SUPboarder SUP club/school directory and events calendar to find out whats going on near you.
– Talk to other SUPboarders
Make the most of others SUP knowledge and experience, especially if they're a similar size and SUP ability to yourself. Everybody who owns a SUP will have had experience of buying their first board so they will more than likely have some useful tips too.
– New or used?
Whether you're going for a new or used board it's important to make sure it's the right board for you and not just the right price! Obviously when buying a new board you can be confident that it's in good condition with a full warranty. But with a used board it's important to check the board closely to make sure you know what you're buying and are aware of any damage to the board e.g dents, cracks and areas of delamination (usually caused by water getting inside the board through damage to the outer surface causing separation of the layers) By pushing your thumb down on the board surface it should feel hard all over. If it feels spongy or soft in one area delamination may have occured. Often making the choice between buying a new or used SUP comes down to money! So make sure you're clear about how much you plan to spend before you start looking!
– Where to buy?
A good SUP retailer should be able to clearly talk you through the boards they have for sale and advise you on their suitability for you by considering all of the above factors. Many retailers sell both new and used SUP's giving you lot of choice. Or if you know what you're looking for then you can often pick up some great deals on used SUP's sold privately. Check out SUPboarder classifieds HERE.
Summers here and there's no better time to buy your first SUP. So happy shopping and happy paddling.